If you are looking for the best free log viewer software for Windows then you have come to the right place. Log files are very crucial and need to be easily accessible. The log file viewer not only helps you open large log files but also edit them. The software also allows you to print the log files. The software helps you to open log files in any format and size.
There are many log file viewers available but choosing the best one is a complicated task. To choose the best software you should focus on the features offered by the software. 
Many log viewers let you open the larger files but some of them restrict the file size. Some of them offer advanced features while some are equipped with only basic features. 
10 Best Log Viewer Software for Windows
We have gathered the 10 best log file viewer software which is highly recommended and offer a great set of features and will also suit your needs. So, without any further delay let's start with the article.
1. Log Viewer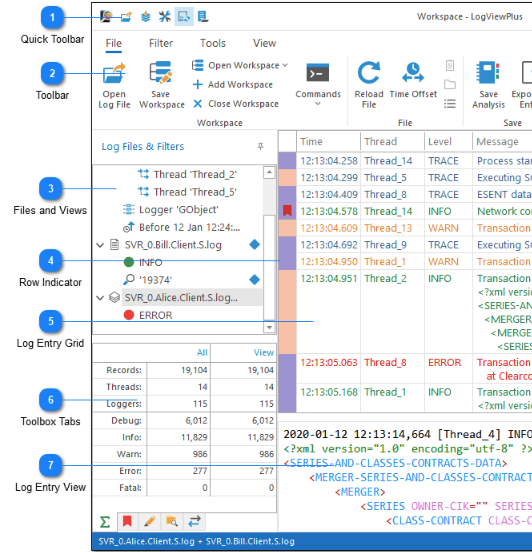 Log Viewer is a free log viewer tool that enables you to open small and big log files quickly. It also offers a feature of exporting log data from one device to another. With its search option, you can easily search for the desired information in log files. Apart from several search options, to increase the search capability it offers a cumulative search option.
2. Universal Viewer
Universal Viewer is another popular log viewer for Windows which can open large files within a few seconds. It takes less than one second to open a log file of size 1 GB. It offers various filters which you can apply to your searches to get appropriate results. Apart from this, it also allows you to convert log files into different codes like binary, RTF, Text, etc.
The software may not allow you to edit log files but offers a great set of features. One of its amazing features is a print feature which lets you preview a file before grabbing its printout. 
3. Glogg
Next, we have Glogg which is an open-source log viewer. The software has some amazing features to offer and one of its highly amazing features is a real-time update of search results. It offers a great user interface with several amazing features. It provides you with three kinds of searches; fixed strings, wildcards, and regular expressions.
It also offers other features like adding a filter, and patterns and determining foreground and background colors. Apart from this, you will also get features like seeing line numbers, setting encoding, and seeing font and font size. 
4. Legit Log Viewer
Legit Log viewer is one of the handy log viewer software available for Windows PC. If you are using it for the first time it will provide you with a demo log file and know its features by using this demo file. It allows you to open multiple log files into different tabs.
It offers various features like capturing live logs, exporting log files, and encrypting/decrypting log files. It supports multiple file formats like Xlog, Llog, text, and logs for both export and import. 
5. Bare Tail
Bare Tail is another log viewer for Windows that you can consider to open small to medium-sized log files. It comes in free and paid versions. In its free version, you will access the basic functionalities. It lets you open multiple log files into different tabs.
It supports various coding standards like ANSI, ASCII, etc. It is a portable log file viewer so you do need not to install it on your PC.
6. Dynamic Log Viewer
Dynamic Log viewer is another powerful log viewer software that you can use on your Windows PC to open large log files. The interface is quite attractive and also offers you a lot of customization settings. With its highlight feature, you can emphasize the significant part of your logs.
It supports multiple including English, Slovak, and Czech. It offers various features like auto-scrolling, restricting empty lines, print options, full-screen mode, and many others. 
7. File Viewer Lite
File Viewer Lite is a robust tool that you can use if you want to open especially large log files. It is quite faster than other log viewer tools as it takes only a fraction of a second to open the larger files. It displays the metadata and other information like file size, location, etc. of the opened log file. It also allows you to search for text in the log file. 
The software allows you to edit the log files and offers features like cut, copy and paste. You can also export the exited log file on your PC. 
8. File Peeker
File Peeker is a lightweight log viewer for Windows which lets you open larger files quickly. You can specify the portion of the log files that you desire to view. The software lacks a search function.
It only lets you perform basic functions but the regex-based search is not supported. It is suitable software for those who want to view a specific part of the log files.
9. GamutLog Viewer
Next, on the list comes is GamutLog Viewer. It is available in both free as well as paid versions. The free version includes all the basic features. In this log viewer for Windows, you can specify your own log parser and also save them for further use. It provides both normal and regex searches.
The regex search is available in the paid version only. The paid version offers various advanced features like splitting log files into multiple files, saving color filters, and many others.
10. Log Expert
The last name in the list of best log viewer software for Windows PC is Log Expert. The software is acceptable for opening small log files but it is not adequate for larger files. It supports different types of encoding including ASCII, UTF8, etc.
It allows you to open multiple logs in different tabs. It also lets you edit log files and save them on your PC. It also presents the list of recently opened files so that you can quickly access these files.
FAQs
What is the best log viewer?
The best log viewer software helps you in many ways such as opening large log files and supporting different types of encoding. The above-mentioned are the best log viewer tools that you can choose to execute your work. 
How do I view Windows log files?
Follow the given below steps to view Windows log files: 
Open the event viewer and expand the Windows logs node and click on system. 

Go to the action pane and click on open lead to save the log. 

Then go to the setup.etl file. The file is available in the %WINDIR% \ Panther Directory by default. 

The log file contents are visible in the Event viewer. 
Does Windows 10 have a log viewer?
Windows 10 have an Event viewer app that provides a log detailing information about important events on your PC. The information is about automatically downloaded updates, warnings, and other errors. 
Also Read