MIDI editor software helps you in performing several tasks like changing time signature and key signature, adjusting tempo, adding new tracks, drawing new musical notes, and many more. The MIDI editor also lets you add notes of Piano, Guitar, Strings, Bass, Trumpet, Accordion, etc. The features allow you to create fresh musical compositions. 
In this article, we have listed the top 10 MIDI editor software. Some of them also support Karaoke files as well as other popular music formats like OGG, WAV, MP3, etc.  
MixPad

MusicScore

Crescendo

SynthFont

RoseGarden

Aria Maestoso

Denemo

MIDISwing

Brels MIDI editor

Klavarscript
10 Best Free MIDI Editor for Windows 11/ 10 PC
Let's get started to know more about the best MIDI editor software and its features.
1. MixPad
When we talk about the best MIDI editor software, MixPad deserves to be in the first place. It is multitrack recording software. The software consists of several tools that allow you to merge multiple audio tracks, add effects, record clips, cut sections, etc. This is one of the useful editors for professionals as it has several advanced MIDI editing tools. 
The software is available in free as well as paid versions. It allows users to export musical notes in different formats like M4A, OGG and many others. If you want it for personal use then you can use it for free. 
Features
Compatible with Mac devices 

Export files into multiple formats into OGG, RAW, AMR, etc. 

It lets you upload your files to the cloud storage 

It allows mixing an unlimited number of audio tracks 
2. MuseScore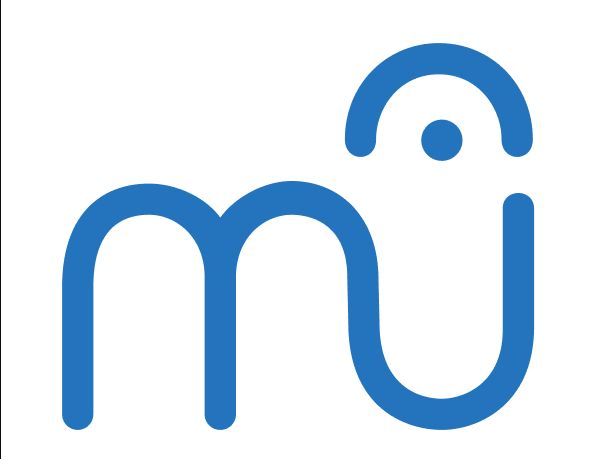 MusicScore is one of the best MIDI editors software that enables the creation of a wonderful composition. It has an amazing set of mixing tools that offers you a great experience of using MuseScore. It is a musical notation tool that lets you edit MIDI files.
Some of the tools offered by MuseScore are key signatures, repeats and jumps, tempo, time signature, grace notes, piano keyboard, concert pitch, synthesizer, and Clefs.
MuseScore is easy-to-use software with a clean interface. It supports multiple formats including FLAC, MP3, OGG, and WAV. 
Features
Supports multiple plugins 

Import and export MIDI and Music XML

It offers drum notation

Advanced mixing tools 
3. Crescendo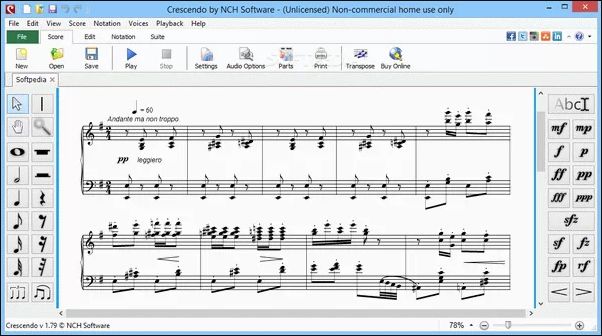 Crescendo is one of the popular MIDI editor software for Windows which is packed with multiple features. It is musical notation software for windows. You can import MIDI files and edit them.
It is free for non-commercial use only. Using this software you can create wonderful musical compositions. The software also allows you to change the time signature, key signatures, notes, and many more. You can also export files to MP3 and WAV formats. 
Features
It has a multi-tab interface

Supports multiple audio formats including MP3 and WAV

Save sheet formats in PNG, BMP, RAS, GIF, PDF, and many more

It supports VSTi instruments like Piano and violin 

It has a smart dashboard
4. SynthFont
Next on the list that comes up is SynthFont. You can use this software to create and edit MIDI files. Using the software you can delete notes, edit note properties, put new notes, edit the including notes, etc. It comprises a batch edit feature that enables you to change multiple notes at once.
Using the MIDI event tab you can edit events, delete events, or duplicate events. The software is the best at creating unique and incredible tunes. It also lets you add VST effects to the soundtracks. 
Features
It supports MIDI file creation and playback 

Display details about loaded MIDI files

It has a playlist feature

It includes VST instruments 
5. RoseGraden
RoseGarden is a well-known MIDI editor software for Windows. The software helps you create astonishing music compositions. It is open-source and free software that allows you to edit files in Matrix editor, event list editor, notation editor, and Matrix Percussion editor.
One of the features you get in RoseGarden is that it includes a Guitar chord selector tool. Some of its best features are a pitch tracker, merging MIDI files, media recording, managing synth plugins, MIDI mixer, and managing MIDI devices. 
The editor allows you to add key changes, musical notes, adjust rests, pedal release, etc. Apart from being a MIDI editor software, it is also a MIDI sequencer software. 
Features
Consist of great audio tools 

Beginner-friendly

Best software for composers, musicians, and small studios 

Compatible with DSSI synth plugins 
6. Aria Maestoso
Aria Maestoso is a popular and open-source MIDI editor software for Windows that offers you a great set of tools. With Aria Maestoso you can perform several tasks like deleting notes, putting in new notes, and duplicating them. You can edit more than one music note at a time with its multiple edit Feature.
The software allows you to delete duplicate tracks. It also offers a recording tool. You can also modify key signatures, and time Signatures, make new notes, delete the present one, And set the measure bar. The software is simple to use and you get all the major features that a MIDI editor software should have.
Features
Can record from a MIDI instrument

Save the sheet in PDF or XPS format

Multi-tab interface 

It has a recording tool
7. Denemo
Denemo is another popular and feature-packed MIDI editor software for Windows. It has several advanced tools to edit MIDI files like check note pitches, advanced edit, run object editor and input device setup. The software allows you to print the notation of the developed musical score.
Denemo is editing software that comprises multiple tools like time signature, clefs, keys, chords and many more. You can also change tempo, add a dynamic marking, add or remove a trill to the note, etc. It uses Lilypond to create sheet music to the highest publishing standards. 
Features 
It supports WAV and OGG audio files

Score layouts

Scripting interface

Load .denemo files, import midI, lilypond, and music XML
8. MidiSwing
MIDISwing is a prominent MIDI editor for Windows 10 which is best for both beginners as well as professionals. The software helps you in playing the right notes in the correct order. If you are a beginner and don't know how to use this software then don't worry it provides a demo.
It also includes several input methods like an acoustic microphone and MIDI controller. It allows you to edit MIDI files and compose your melody. You can adjust parameters like tempo, volume, pitch blend, pan position, etc. 
Features
It can communicate with the external midi devices

It can play the midi file using Java SoundBank or SF2 or DLS sound font

You can choose among 128 midi instruments 

Adjust different parameters
9. Brels MIDI Editors
Brels MIDI editors is a free MIDI editor for Windows that contains some of the best advanced features and tools. The software is also available in the paid version. It is easy to use with a simple user interface. Apart from MIDI, it also supports other file formats including MP3, FLAC, and WAV. Y
ou can edit the MIDI files by setting the tempo, muting tracks, setting instruments, removing notes, adding notes, etc. The software also allows you to add text, markers, lyrics, and tags to the music sheet. 
Features
Screen enlargement

Track for displaying on the screen 

Installing instruments

Add lyrics to the music sheet
10. Klavarscript
We can't and the list without mentioning Klavarscript as one of the best MIDI editor software. You can set up MIDI devices using this software. You can also use this software for changing the time signature, Tempo, and set velocity. It also allows you to edit stems and beams, text anchored to timestamps, etc.
The software helps you in printing the musical notation. It is the best software for those who don't have a MIDI keyboard. The playlist options allow you to listen to recently created MIDI files. It lets you add different musical instrument notes like Piano, guitar, etc. 
Features 
It has a built-in virtual keyboard

Allows you setup MIDI devices

Lets you change the time signature and tempo

Print musical notation
Conclusion 
Above mentioned are the most prominent and popular MIDI editor tools. We have gathered them in one article after having great research. All these tools offer considerable features and support almost all formats. Most of the editors support multiple platforms.
All of them have their own specialties which make them the best MIDI editor software. Read the article and understand their features one by one after that choose the most suitable software which satisfies all your needs. 
FAQs On Midi Editor Software
What is the best MIDI editor?
In the above article, we have listed the 10 best MIDI editor software. You can select any of them to edit MIDI files. I recommend you to choose Musescore as it is equipped with extraordinary editing tools.
The software is highly customizable and helps you to create great musical compositions. 
Can I edit MIDI files?
Yes, you can edit MIDI files using MIDI editor software. There are several MIDI editor software available that consists of several powerful tools. It supports several audio formats including OGG and M4A.
Some of the MIDI editor software is free to use and some are available in paid versions. 
What is the best free MIDI editor?
Rosegarden is the best free MIDI editor software that lets you edit MIDI files. It allows you to merge MIDI files, remove tracks from MIDI files, etc.
It is a prominent tool for music students, composers, and musicians. 
How can I edit a MIDI file for free?
You can download any free MIDI editor software and edit the MIDI file for free. Let's take the example of Rosegarden. Following are the steps you need to follow to edit a MIDI file:
Firstly, download the software.

Now, import the MIDI file you expect to edit.

Use the editing tools to make a change in the files. 

At last, save the edited files in the desired formats. 
Also Read