Capturing clear images in the dark could be a challenge, especially if you don't have any of the best night vision apps installed on your device.
The best night vision apps for Android and iOS devices ensure you get nothing but clear images and videos even in poor light. Check out 6 of the best night vision apps for Android and iOS devices and their major features below.
6 Best Night Vision Apps for Android & iOS
1. Virtual Night Vision (iOS)
The app supports thermal imaging and green mode with other options to help users capture high-quality photos. It also provides users with several handy options like 8x zoom, multiple effects, light increaser, and so much more. 
Major Features
Supports a clear 8x zoom to view images in better night light

Comes with 20+ effects to spice up the night viewing experience

15-level light increases to see extra dark areas without stress

Comes with 2+ shooting modes to capture night vision images and allows independent adjustment
2. Night Mood Camera (Android)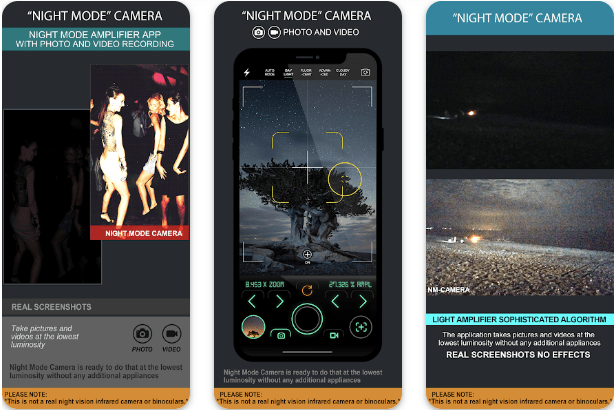 Users of this Android night vision app gain access to an advanced color layout for better night visibility. The app also supports most Android devices with basic features to produce high-definition images in areas with poor lighting. 
Major Features
Comes with a high-precision binocular mode

Has HD quality even in very low-light areas

Provides night vision support for Android 4.3 devices and higher with 8MP cameras or better

Has color and brightness balancing for better night capturing
3. Night Vision Flashlight Thermo (iOS)
The app comes with a functional thermal vision camera for comfortable night viewing (the full version is only available to paid users). It also offers handy options like manual screen adjustment, thermal vision, and much more. 
Major Features
Allows color mode switching to support night viewing through different hues

Supports manual adjustment for screen brightness to allow users to customize their viewing experience without the hassle

Has a thermal vision filter to allow users to view unique night images with better effects

Comes with a handy night flashlight to see all images and capture photos in better quality
4. Night Vision Simulator (Android)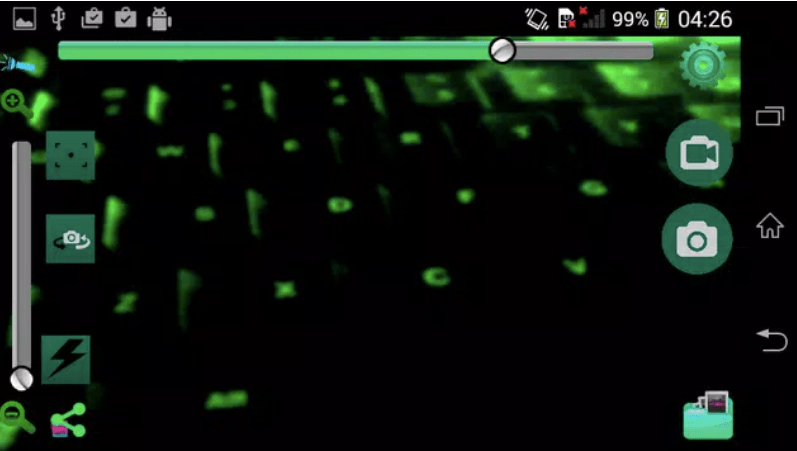 The Android Night Vision Simulator allows users to capture night images without secondary lighting set to get clear photos in dark areas. Users can also capture high-quality images and save them directly to their library. 
Major Features
Comes with adjustable affect sensitivity to capture clearer images 

Can take images in 2048 x 1080 resolution

Saves images directly to the user library

Can shoot videos and capture photos
5. Night Camera Lite (iOS)
The Night Camera Lite comes with 6x digital zoom to magnify targets at night and capture clear images with ease. It is also one of very few night vision apps to support multi-format recording, memory lock-in, and other great features. 
Major Features
Provides support for all regular viewing formats on iOS devices

Allows full-screen mode so users can see every detail and capture night images with ease

Comes with a memory option to lock in and use set parameters after first-time installation or post-setup customization

Captures night images with no visible blurs
6. Night Vision Camera (Android)
The Android night vision app comes with camera enhancement to equip users with tools to capture high-quality images under poor lighting. It also offers multiple color modes, automatic lighting, and other handy features to see clear photos in dark places with no hassle. 
Major Features
Comes with multi-threading support to capture images in better quality

Preinstalled with a VR mode to support connections with virtual reality apps

Supports automatic lighting adjustment to provide better night image quality

Allows camera enhancement to support users keen to capture high-resolution images at night

Provides support for 3+ color modes
Also Read