Note-taking app is one of the must-have apps we all should have on our windows PC. Whether we are preparing our shopping list, to-do list, or list of other things like passwords, log in information which we should need to remember. These note-taking apps play a vital role in our daily busy lives. 
There are mainly two types of note-taking apps available one is cloud apps which store your notes on the company server and the other one is offline which saves your notes to your device. While choosing the appropriate note-taking app you must consider the features of both types of apps. 
Many note-taking apps are available for Windows 10 and 11. Some of them also work as a text editors which helps you to edit your notes by applying different colors and fonts and if you wish you can also add images and hyperlinks.
7 Best Note Taking Apps for Windows 11, 10
We are going to list the 7 best note-taking apps for Windows all of them have their own uniqueness and features. So, read the article and choose the most suitable note-taking app for your device.
1. Google Keep
The list of the best note-taking apps for Windows 10 and 11 starts with Google Keep. It is a simple yet straightforward browser-based app from Google. You can write a note on the text field given in the search bar. You can also share the notes in Google Docs. You can add images and color code the notes to find them faster.
Features 
It comes as an extension for chromium based browsers

It lets you add timed reminders 

You can sync up with Google Docs 

It is useful to dictate notes and automatically transcribe them
2. One Note
One Note is another useful note-taking software for PC users. It is available for free but also offers a premium plan with additional features. It comes with every Windows install. Apart from Windows, it is also available for macOS, Android, iOS, and in the cloud.
With its Microsoft 365 subscription, you can get features like Math assistant. The app is suitable for students as it is equipped with various educational features.
Features 
Sync notes to the cloud 

You can add audio and video to the notes 

It has a web clipper 
3. Ever Note
Ever Note is another helpful note-taking app that is loaded with various editing tools. You can add checklists and hyperlinks to the notes, add superscripts and subscripts, and insert images, audio, tables, videos, documents, and various other things to make it more engaging. For beginners, it offers various templates which you can use to create notes.
Features
The app can work on two devices simultaneously 

Offers a free trial 

You can share the notes

You can sync Evernote on Windows, Mac, iOS, and Android device
4. Todoist
If you are looking for a note-taking app that has an attractive user interface then Todoist is the best app for your Windows. The developer team works on the app and frequently releases updates to offer more advanced features in both free as well as paid apps.
It has a board view feature that lets you create a view of all the notes you have drafted. It is considered to be the best task manager and to-do list app.
Features 
You can link the app calendar, voice assistant, and other tools 

Allows you to set reminders 

Lets you personalize your task view
5. SimpleNote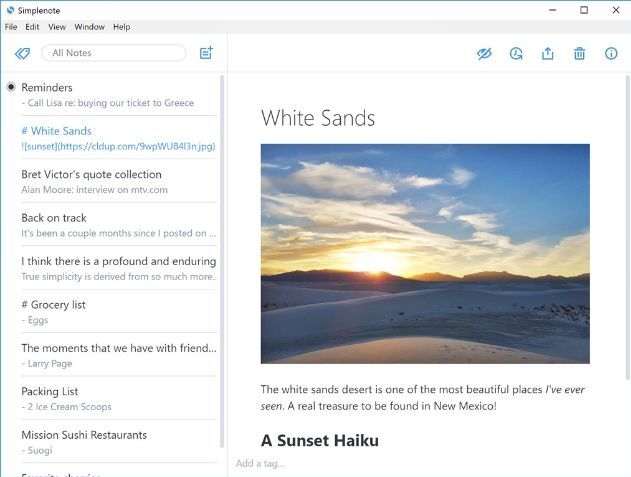 Like its name, SimpleNote is a very simple and outstanding note-taking app that is useful to create notes easily. It has a simple user interface that works on multiple platforms. This is a very lightweight app that doesn't occupy so much space.
It also offers a mobile version for Android and iOS. You can sync the notes across all the devices that share a similar account. 
Features 
It lets you invite people into your accounts to collaborate on notes

It works similarly to a notepad

A focus mode helps you get distracting free experience 
6. Notion
Notion is a stand-alone application but also has a browser version. It offers a free version that is useful for personal users. Apart from the free version, it also offers team and enterprise versions. It is loaded with boilerplate templates which can be used to create blocks. These blocks can have images, text, tables, and videos. This app also integrates with other apps like Slack and Git-hub. 
Features 
You can protect the notes by setting a password 

Includes rich text editing features 

It can export notes to PDF and HTML files 
7. Scrble
The list of the best note-taking apps for Windows cannot be completed without naming Scrble. It is a great app and consists of all those features which are necessary to create a note. It is easy to use and has a freehand writing feature. You can write notes by using your fingers or a stylus. It offers two versions; Scrble Ink and Scrble Lite.
The Scble lite is a free version that has features like drawing sheets and recognizing languages. To use Scrble Ink you have to purchase it and equipped with exclusive features.
Features 
Allows you to import and export PDFs
Offers custom colors and shapes 
Lets you change the style of paper 
Also Read