Video editing has multiple uses starting from movies, shows, video adverts, TikTok videos, Instagram reels, wedding videos, and whatnot! In the world of social media, video marketing plays a key role in spreading the word. Interesting videos can grab the viewer's attention instantly.
About 86% of marketing professionals make use of videos to create brand awareness. According to statistics shared by Cisco, video streaming alone contributes to 82% of global internet traffic. 
Hence video editing software is in demand. However, users are always on the lookout for open source video editing software as they are free and easy to customize by altering the codes. 
Fact Check: 85% of the internet audiences prefer watching videos online in the US as per a report from Statista.
10 Best Open Source Video Editors In 2023
So, here is a blog that would make you aware of 10 open-source video editors that will help you create tailor-made videos for engaging your audiences.
1. OpenShot
Curated with powerful features, OpenShot is an award-winning, easy-to-use best open-source video editor with cross-platform (Windows, macOS, Linux) support. It runs on GPL version 3.0 and is available in 70 different languages. You can seek technical assistance via email and calls.
Key Features:
It is enabled with an animation framework, 3D animations, and more.

Helps to quickly trim and cut videos.

With OpenShot, you can add watermarks, audio tracks, background videos, and more.

Offers several video effects, title editor, and allows visualization of audio files as waveforms.
2. Shotcut
Shotcut is a free and open-source video editing tool that is compatible with platforms like Linux, Windows, and macOS. A simple and easy-to-use interface with a portable version for Windows makes this a preferred choice for video editors.
Key Features:
Enabled with FFmpeg libraries, this app supports widely used audio/video formats.

The tool can be extended easily to a second monitor.

Supports stereo, mono, and 5.1 surround sound support.

Easily synchronizes with JACK transport.
3. LiVES
Though LiVES comes with cross-platform support, it is unable to support the Windows operating system. Currently, this app is available for Linux and macOS Leopard. LiVES can be controlled with a keyboard, MIDI, and Joystick.
Key Features:
It helps to edit videos in real time.

Offers multi-track support and plugin support.

It offers various effects frameworks like LADSPA audio, project, etc.
4. Kdenlive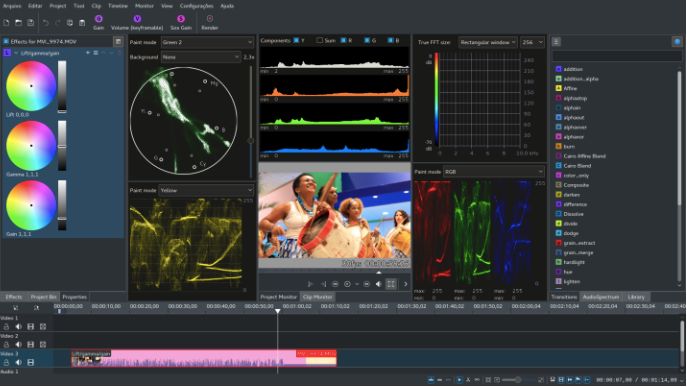 A free open-source video editor, Kdenlive is a simple tool built on Qt and the KDE Frameworks libraries. It works with Linux, macOS, and Windows; however, for Mac, the tool has to be manually installed. Here are the key features of Kdenlive.
Key Features:
Supports multi-track video editing.

Based on the FFmpeg libraries, this tool supports a wide range of audio and video formats.

Helps to create 2D titles and key frameable effects.
5. Blender
Blender is a unique video editing software that is available for Windows, Mac, and Linux platforms. It offers professional-grade video editing features despite being open-source software.
Key Features:
Offers an entire suite of 3D creation tools.

Also supports 3D game development.

Integrated with Blender Video Sequence Editor.
6. VidCutter
VidCutter is a good open-source video editor for performing basic editing. It supports all three platforms – Windows, macOS, and Linux. It is also available for Flathub.
Key Features:
It helps in cutting, splitting, and adding different video clips.

Supports all major video and audio formats.

Offers keyframe viewing.
7. Avidemux
Available for BSD, Linux, Windows, and macOS, Avidemux is great for beginners because it comes with a simple interface and easy-to-use features. Currently undergoing active development, find out from the features below why we are recommending this tool.
Key Features:
Supports a wide range of video formats.

Helps to cut and trim videos easily.

Offers numerous filters.
8. Flowblade
Flowblade is a free video editor that works only for Linux. It does not support cross-platform. But, it brings you many advanced features and tools that can enrich your video-editing experience immensely.
Key Features:
With advanced timeline control, it is easier to use your video-editing tool.

It offers a multi-tracking facility while editing your files.

FFMpeg libraries support different audio/video formats.
9. Natron
For those into motion graphics and VFX, Natron serves as a good point. You have to install it and the installation process is pretty simple. It offers a keying tool to meet your production needs.
Key Features:
It gives way to a powerful tracker 

Natron provides an open FX plug-in support

It brings in the shader toy and G'mic tool 
10. Cinelerra
With Cinelerra, you have different versions which offer you different features. but, the best part is that Cinelerra is a free video editor that can help you in times of your need.
Cinelerra GG undergoes regular maintenance and works together with some of the most advanced features.
Key Features:
Stabilizes videos and offers motion tracking support.

Helps masters audios

Corrects colors in million different ways 
Conclusion On Best Open Source Video Editing Software
So, to have a wonderful and hassle-free video editing experience, you need to utilize one of the aforementioned tops 10 open-source video editing software. You can pick a tool that best suits your needs to create stunning videos.
However, you have to choose them based on your expertise and skills. Do share your opinions in the comments box below and press the subscribe button to get recent updates from the tech world.
Note: Linear editing, non-linear editing, multi-source editing, theme-based editing, bespoke editing, and simple editing are the types of video editing.
Pro Tip: When a scene is shot from multiple camera angles, it is advisable to use 45 degrees shots for the subject.
FAQs
Is there any open-source video editor?
Yes, there is numerous open-source video editing software available easily nowadays. 
Is OpenShot really free?
Yes, OpenShot is an award-winning, free, and open-source video editing tool for Linux, Mac, and Windows.
Is OpenShot safe and legit?
Yes, OpenShot is 100% safe and genuine when downloaded from the official site. It doesn't contain malware and is available in more than 70 languages.
Is OpenShot better than Filmora?
Both video editing tools offer interesting features. However, when you need to compare, OpenShot is better in terms of quality and timeliness and Wondershare's Filmora is better in terms of offering customer support.