Remember the time when you got a new PC and you were not leaving it alone for a second. But as time passes, every laptop or computer starts lagging, hanging, and slowing down. We don't even want to open it once a day. But it's a temporary issue and can be solved. There are many best PC Cleaner for windows PC out in the market, some are free and some are paid.
If you have any issues with your PC like slow speed, junk files, disk space then these best free pc cleaning software will help you to boost up the performance of your Windows PC to a great extent.
Best Free PC Cleaner Software for Windows 10
Latest Version: NA
Compatibility: Windows 10, 8.1, 8, 7, Vista and XP (both 32bit & 64bit versions)
Free Version: Free Trial Available
Iolo System Mechanic is the best PC cleaning software for Windows 10 which has added a new feature called the 'Ultimate Defense' version which makes it an ideal choice. This software has features like Shield, ByePass, DriveScrubber, etc. that make it the best choice for PC cleaning. This is one of the best CCleaner alternative
Features
System Mechanic- For complete boost and performance optimization.

System Shield- For Real-time Antivirus Protection

Malware Killer- On-demand Blocking of Malware 

Privacy Guardian- Full-proof Online Privacy Protection

ByePass- To Secure & Manage Passwords

DriveScrubber- To Erase Whole Drives

Search & Recover- To Recover Deleted Files & Data
Latest Version: 1.11.4
Compatibility: Windows 10, 8.1, 8, 7, Vista and XP (both 32bit & 64bit versions)
Free Version: Free Trial Available
CleanMyPC deeply scans the Windows PC, clears GBs of disk space, and imparts a brand-new touch to your system (Cool, isn't it?). The reason behind the poor performance of any PC is the cache, logs, and other junk files. It wipes away every single byte of these files and cleans up the PC in a few clicks.
Features
An Uninstaller to remove all unwanted applications, software, and stubborn programs.

An Autorun to disable all the startup items that are no-more-required.

Registry Maintenance to keep the Windows Registry clean and safe from crashes.

Hibernation tool to get rid of all the hibernate files on your PC.

Remove or turn off the unwanted Plugins, Add-ons & Extensions and keeps the important ones only.

A Shredder tool that shreds your sensitive data and makes it impossible to recover.
3. Advanced System Optimizer
Latest Version: NA
Compatibility: Windows 10, 8.1, 8, 7, Vista and XP (both 32bit & 64bit versions)
Free Version: Free Trial Available
Advanced System Optimizer has kept its place as the most powerful Windows PC Cleaner Software since the year 1999. It does a great job of cleaning the unwanted, unnecessary, and junk files on your PC. It is an affordable and easiest solution to boost the speed of your PC.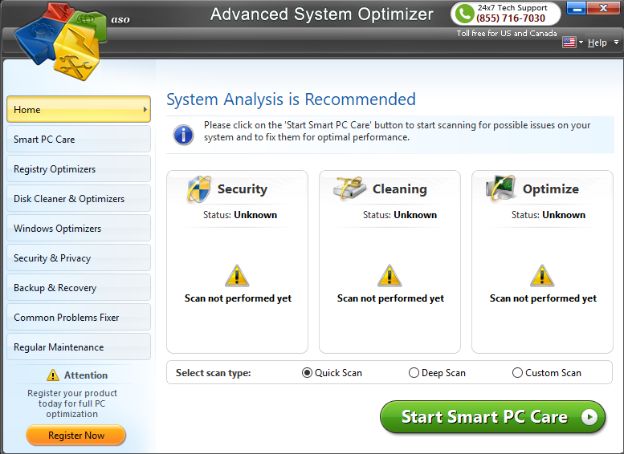 Features
A System Cleaner boost up the system performance by erasing the obsolete and junk files from your PC.

A Game Optimizer to remove all the obstacles and issues from PC and turns it into a dedicated game machine.

A Driver Updater to update the out-of-date drives automatically and thus reducing system crashes.

A System Protector to keep your PC safe from hackers and cybercriminals and guard your sensitive data.

A Disk Optimizer to defragment disks that are more reliable and have the least chances of any crashes.
4. CCleaner Professional
Latest Version: v5.82
Compatibility: Windows 10, 8, 7, Vista, and XP
Free Version: Free Trial Available
It is an advanced and feature-rich tool for PC optimization, trusted by millions of users at the global level. It has been in trend for a very long time and it keeps updating frequently with more engaging features. The reason behind its popularity is the easiness, only one click and your computer gets cleaned within a few seconds, that too in background guarding your privacy. It clears every part and concealed corner of your PC and delivers satisfying and noticeable results.
Features
One of the best pc cleaner for windows PC

Fast, Smart & Scheduled Cleaning

Monitors the system and browsers closely and erases the junk files, cookies & history automatically.

Easy & Convenient to use.

Automatic Updates and Privacy Protection

Clears out the errors and broken settings in System Registry.

Its Defraggler keeps the hard disk run efficiently.

Recuva, one of the many tools, keeps a backup of every deleted file so you can easily recover any file, anytime.

Also, have Speccy spot bugs & issues easily.
5. WinUtilities Pro
Latest Version: NA
Compatibility: Windows 10, 8, 7, and XP
Free Version: Free Trial Available
WinUtilities Pro is the next name on this long list of best PC Cleaners for Windows 10 PC. It optimizes and boosts up the performance of your Windows PC to the grand level. It is a complete solution to clean the disk drives, to safeguard your system from any malware attacks, provide online safety, and erase the cache, browser history, and other junk files.
Features
Locates and deletes all junk from your system and provides an amazing experience to work on a renewed PC.

1-Click Maintenance feature wipes away unwanted registry entries, fix the bugs, and improves overall performance.

It is quite easy to use. A few clicks and your PC will get optimized.

From disk cleaning and defragmenting to privacy sweep, it takes care of everything.
Conclusion – Best Free PC Cleaner 2021
So these are the best pc cleaner for windows 10 8 and 7 In 2021. Stay connected with us and get more articles about similar topics. Also, you can comment with us below about any queries or suggestions.
Also, Read