Are you looking for the best PDF Printer for Windows PC? If yes then you have landed on the right platform. Most users need a PDF printer to print documents in PDF format. Windows doesn't provide any option to directly convert files to PDF and that is why you need to get a third-party PDF printer program to do the work efficiently.
With a PDF printer, you can solve a lot of your printing issues and many nowadays come with professional PDF repair software.
What is a PDF printer?
PDF printer for Windows is software that will allow you to create a PDF file from any other type of document in Windows. A PDF printer is capable of easily converting a word file into a PDF file and the process is quick and instantaneous. Consider being with a pile of virtual files that you need to convert to PDF, and you need a PDF converter, what is it that you will look for in it?
Check for these qualities when choosing a PDF printer:
Background of your print

How user-friendly your printer is?

Content of the print clarity

Print options

Batch printing ability

Multiple print mode ability

Efficiency and speed of the prints in the PDF printer
Pro-tip: Did you know that PDF printers are the name given to the conversion of different file types to PDF.
Why do I need a PDF printer?
Mostly you will need a PDF printer as it can help turn your word and XPS document format into their PDF formats easily. We have described each software in detail along with its features so you can make a better choice. 
Best Free PDF Printers for Windows 11, 10, 8 & 7 PC
Here is a list of the most popular PDF printer for Windows 11 / 10 pc that you can use for your conversions.
1. PDFelement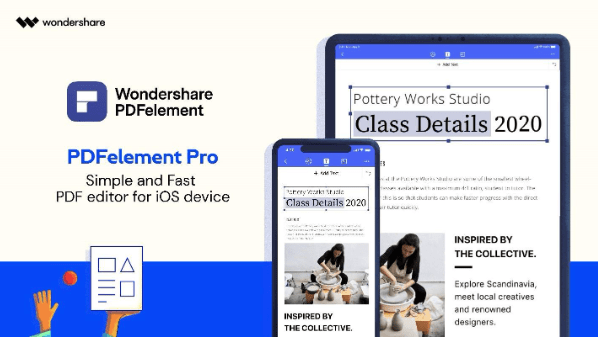 It is one of the best PDF printers found and apart from being accessible in all the Windows versions, it is also available as a free PDF printer. It is capable of batch printing and comes loaded with numerous valuable editing features.
Exciting features
The format of the document is maintained after completing virtual printing.

Editing PDF is smooth

Conversion of scanned PDF copies to editable formats is easy
2. Advanced PDF Manager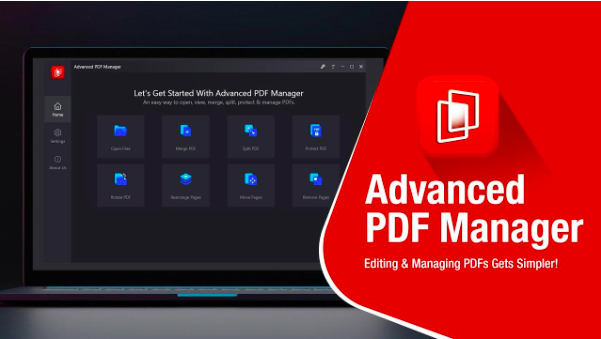 It is a free PDF printer and with this tool, you can always make PDF document notes. It has many powerful and stylish features for a PDF printer. This feature rich app makes it easy to view, print, open, split & merge, protect PDF files, and do much more.
Features:
You can highlight and add free handwritten notes with its help.

Use it for bookmarking your navigation.

You can access multiple viewing modes with this app.

Facilitates easy duplication of single or multiple pages or entire PDF files.
3. EaseUS PDF Editor
You can use this PDF printer to mark up documents and annotations. You can also save digital signatures as you can do with Adobe Acrobat. It is a free PDF viewer, writer, and markup technology. Furthermore, you can use this app to add text, remove watermark, and much more.
Features:
You can add sticky notes and annotate as well as highlight the PDF files as and when you need them.

Facilitates conversion of PDF files to over 10 popular file formats.

Allows conversion of images and MS Office docs to PDF.

Supports OCR feature.
Fact: Always try to have the one which is just not free but also has a lot of good editing features for free.
4. Adobe Acrobat
It has a print to PDF paid version and one of their plans has a free 7-day trial period. Due to its feature-rich functionalities, it is by far the most popular PDF generator even to date. You can view and convert PDF files and convert them from Word, Excel, PowerPoint, and even can convert images.
Features:
View different pages altogether when editing.

It provides easy navigation with a clean and clear interface.

You can add watermarks if you want in your PDF file.

With it, you can generate striking graphics and features.
5. Xodo
You can use the PDF printer to mark up documents and annotations. You can also save digital signatures as you can do with Adobe Acrobat. It is a free PDF viewer, writer, and markup technology, and its free PDF writer feature make it popular.
Features:
You can add sticky notes and annotate as well as highlight the PDF files as and when you need them.

It syncs well with Cloud storage services like Google Drive and Dropbox.

With the app, you can support zooming, searching text, and conversion to other document forms.
6. Bullzip Free PDF Manager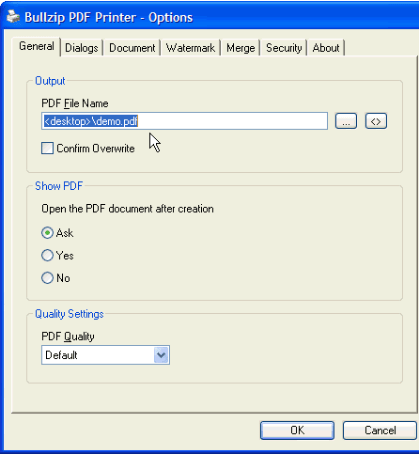 Bullzip Free PDF Manager is compatible with all different Windows versions. The editing and conversion features of the PDF printer are though quite limited and it can work as a PDF printer allowing you to convert different document types into PDF.
Features:
Bullzip Free PDF Manager is entirely free to use and its different features are available with the free version.

It is an easy-to-use printer application and even newbies can be at ease with it.

It is a simple-looking PDF printer yet supports different output printers like TIFF, PCX, JPEG, PDF, and even PNG.
7. PDF-Xchange Printer
With advanced editing feature options, this plain-looking PDF printer is a treasure house for those who want to use a free PDF printer. You can annotate documents before printing, and even edit when a PDF file format.
Features:
It is extremely lightweight and has a wonderful user-friendly interface.

Highly able editing features make this PDF printer indispensable.

Its file quality is awesome when optimized.
8. Cute PDF Writer
One of the best PDF printers for Windows, it can do wonders. It can convert old files as well as help create new files. It is a free PDS printer and is one of those that have some of the best PDF printing features. The good part of using it is that during the creation of new files, they will also provide you with new templates.
Features:
You can have files with password protection facilities.

Reference pages can have footnotes that can be placed at the bottom of the page easily.

They will also have a built-in editor for different text documents.

CutePDF Editor's user interface is extremely user friendly.
9. PrimoPDF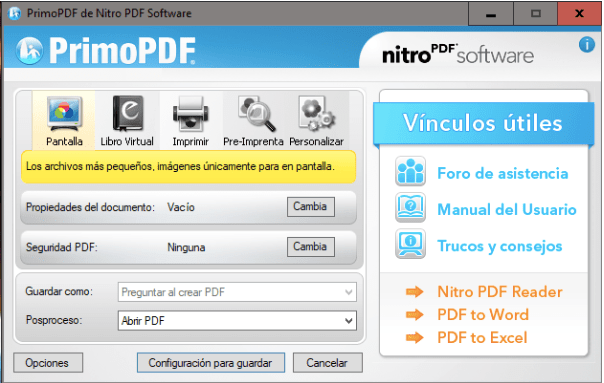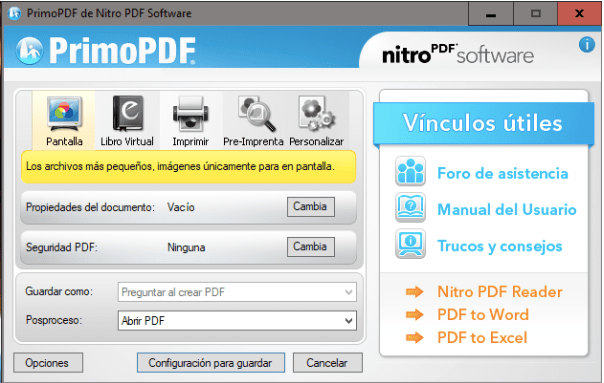 Primo PDF is one of the best PDF printers that come with different facilities like encryption, password protection, and so many more such facilities. It is a great tool for anyone who needs high-quality PDFs.
Features:
Batch conversion of files is easily possible with the PrimoPDF printer.

It can support multimedia printer formats like JPEGs and BMPs.

The paid version will be a single time purchase and allows you innumerable printing and conversions.

It helps in bringing up high-quality files that are not just the text file types but also other different file types.
10. Expert PDF Printer
If you do not need too much editing of files, then this is the best printer for you. It allows you light editing and is wonderful if you don't need to use too many PDFs. Despite fewer editing features, it is still one of the best PDF printers around.
Features:
The user interface for the printer is amazing.

It converts PDF files from 200 different formats and vice versa.

Editing facilities are quick and easy to operate.
11. Microsoft Print to PDF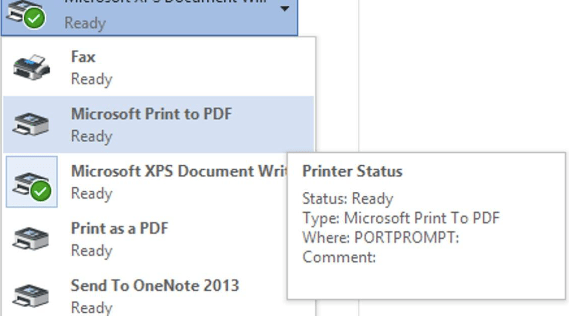 Microsoft Print to PDF is a free PDF printer for Windows that is used to convert Word Files to PDF files. It takes a few minutes to complete the installation process and facilitates multiple prints.
Features:
With it, you can choose to print the ones you like and you don't have to print them all.

You can customize the header, footer, and also the document's borders.

You can either use landscape or portrait printing options.

It is an in-built software that comes with Windows for its users.
Conclusion On Best PDF Printer
We all need PDF printer tools at some point of time. It not only helps you to print documents in PDF format but also saves your energy and time. In the above article, we have tried our best to list the best PDF printer software which will fulfil your needs.
All the features the above printers offer are great. So, read the whole article, understand all their features and then decide which PDF printer you want to choose. 
Faqs
Which PDF printer is the best?
You can refer to the list given above to find out the best PDF printer that suits your convenience.
Which is the best free PDF printer?
Above is a list of printers for Windows that you can use for yourself and in the list are some of the best free PDF printers.
Which PDF program is the best?
Usually, all of the PDF programs mentioned above have one or the other advantages and if you think any of them is useful, you can refer to the list for yourself.
Is the Adobe PDF printer free?
No, it has a free trial version but it is not entirely free.

Note: You must know more about their features before deciding the best one for yourself.
Also Read