Sometimes for just fun's sake people want to click photos of themselves as a cartoon character. This can be done with the help of photo to cartoon apps. The picture-to-cartoon apps can change your overall look and make you a cartoon character. You can click a new selfie or apply live artistic filters to the saved image. You can also share those cartoon photos with your friends on social media platforms for adding humour.
In the ocean of cartoon apps, it is quite a tricky task to pick the best app which offers the most cartoon characters and other filters and features. We have made it easier for you by providing you with a list of the 10 best photo-to-cartoon apps.
Along with the details of each app we have also mentioned its incredible features so that you can decide the most appropriate cartoon app of your choice.
10 Best Photo to Cartoon Apps for Android and iOS
Whether you are using an Android or iOS device these cartoon apps will work on your device. So, let's not waste further time and start with the article.
1. ToonCam
ToonCam is the best photo-to-cartoon app and if you are an iPhone user then it is a great app to turn your pictures into cartoon characters. It offers varieties of cartoon characters, ink, pencil effects and other necessary features which you need to create a distinctive cartoon photo.
You can use the real-time preview feature to know how your image or video will exactly look after applying the effects.
Features 
You can share your cartoon images on the social media platform 

Provides quick customer support 

Customize images with several effects 
2. Cartoon Yourself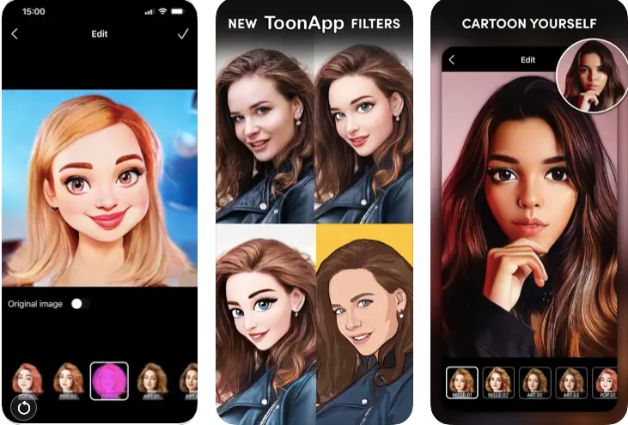 Cartoon Yourself is a picture-to-cartoon app which allows you to turn your photos into cartoons. It doesn't let you take photos and record videos, but you can use this application efficiently on your Android device to take a photo of a cartoon character.
It is very easy to use this application as you just need to select the desired image and then apply effects by choosing them from the wide collection of stickers and cartoon effects.
Features 
It has a decent UI

Perfect cartoon app for beginners 

Loaded with efficient cartoon effects 
3. Cartoon Photo Editor
Another name we have on the list is Cartoon Photo Editor. This app has occupied the name in the list due to its simple nature. It consists of a lot of artistic filters and cartoon effects.
You can add these effects on the new or existing image. It is loaded with various features including oil painting, sketches, thermal vision and many others. 
Features 
Share your photos on social networking sites like Twitter, Instagram and other popular sites 

It contains pro camera filters 

Loaded with a wide range of effects 
4. Prisma Photo Editor
Prisma Photo Editor is a great photo-to-cartoon app for Android and iOS which consists of a huge range of filters. It releases new and unique cartoon effects every day for a better experience.
Previously Prisma was a widely used and the most popular application to create cartoon images. Although it is not as popular as it used to be, you can use it. It is equipped with various art filters and makes your image look as if it is painted by the greatest artists in the past. 
Features 
It updates the cartoon effects daily so you will not be bored with this app

Allows you to save the edited images in SD and HD quality 

Offers tons of art filters 
5. Clip2Comic & Caricature Maker
Currently, Clip2Comic & Caricature Maker is one of the best photos-to-cartoon apps available for iOS devices. It is completely free and works well on every iOS device. You can easily use this app to convert pictures to cartoons.
You can also use its real-time preview camera to create exciting cartoon videos. Using this app you can turn your pictures into cartoons, sketches and caricatures within a few seconds.
Features 
It has a live preview camera feature

Create cartoon images in HD quality 

Save videos up to 1080p
6. Camart
Camart is a free picture-to-cartoon app which is widely used by thousands of users. It lets you take photos, selfies and videos by applying real-time artistic effects. It provides various amazing filters like pencils, comics, cartoons, oil paintings, watercolors and many others.
You can tap on any area of your screen to autofocus or pinch to zoom the image. Moreover, you can share your cartoon images with your friends through email and social networking sites.
Features 
Apply cartoon effects in real time 

You can easily switch between the back and front camera 

Loads of artistic filters
7. Cartoon Pictures
The next name in the list of the best photo-to-cartoon apps is Cartoon Pictures. It works efficiently on your Android device and lets you create your cartoon photo. You can turn on the selfie mode and easily takes cartoon pictures of yourself.
It offers an easier photo editing process. With just a single click you can turn your images into impressive cartoons. You should once try this application if you search for a quick cartoon app.
Features 
Offers various cartoon animation filters 

Apply effects within seconds 

One of the easy application to use.
8. Artista
If you are bored of clicking those regular photos and selfies and want to try out some unique filters or effects including cartoon characters then you should try out Artista.
It is a great app for both iOS and Android devices. You can add filters and artistic effects to photo slideshows, movies and documentaries. It has multiple luxurious frames which you can add to your photo to enhance its look. 
Features 
Change your look to a cartoon with just a single click 

Provides you with 50 free picture filters 

It is loaded with advanced picture editing tools 
9. Painnt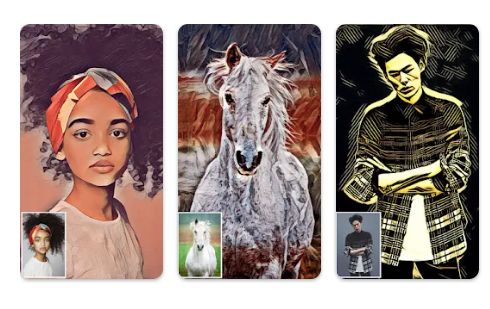 Painnt is a widely popular and highly effective picture-to-cartoon app which offers you more than 50 art styles and 1000+ filters to create remarkable cartoon images. One of the best things about the app is that the characters and the filters regularly update so that you can add new effects each day to create different looks.
If you use the free version you will restrict many features like adding a watermark to the image, doesn't support higher resolution and displaying ads. All this can be abolished if you upgrade to the premium version.
Features 
Regularly updates for more filters 

Allows you to adjust the transparency, brightness and saturation of the image 

It has more than 1000 filters 
10. SketchMe
If you are a frequent user of Instagram and looking for a cartoon app to make your photos look like a cartoon character then you should once try SketchMe. It is a considerable app for Instagram users and lets them draft a sketch or create amazing cartoon pictures within seconds.
It works well on both iOS and Android platforms. You will get various effects like black strokes, white strokes, color sketches, hatching and many others which will let you turn your image into a cartoon. 
Features 
Turn your images into sketch 

It has a straightforward UI

Share your images directly to the social media platforms 
FAQs
What is the best picture-to-cartoon app?
Finding the best picture on the cartoon app is like finding a pearl in the ocean. But we have accumulated a list of the best picture-to-cartoon apps which includes various cartoon avatars and filters to make your photos or videos interesting. Some of the best pictures to cartoon apps are:
Cartoon Photo 

Artista Cartoon

Cartoon Yourself 

Sketch Me 

Painnt 
How can I turn a picture into a cartoon?
You can turn a picture into a cartoon by using pictures to cartoon apps. Many apps are available which provide multiple cartoon characters and artistic filters and let you add to your photos in real-time or the existing images saved in your gallery.
Is there a free photo-to-cartoon app?
Yes, there are many free photo-to-cartoon apps available that you can use to click photos, selfies or create videos by making yourself look like a cartoon character. Some of the best free photo-to-cartoon apps are: 
Cartoon Photo Editor 

Camart 

Art Camera 

ToonCam

Clip2Comic & Caricature Maker 
Conclusion 
In the above article, we have mentioned the most prominent and feature-rich applications that will help you to convert photos to cartoons in a matter of minutes. You can turn your simple photos into cartoon avatars and animations emoticons.
All these cartoon apps work well on Android and iOS. You can easily download them using Google Play and Play Store for free. So, why waste time? Choose the one and start clicking the photos to look like your favourite cartoon characters.