Selecting for the best podcasting tool can be time-consuming and more of a frustrating scenario. When there are various podcast hosting sites and platforms out there, you end up checking out and keeping track of the new services that are coming into the market. 
Just think about it. A poor and bad quality podcast hosting service will demote your progress. A good quality podcast hosting provider will do wonders for your podcast. It will simply help in managing your files, improving your audience rate, and promote your episodes.
Definition of Podcast Hosting
Providing RSS feed and file hosting is what podcast does. Here the hosting companies will upload your audio file and they will tell the hosting platform regarding the show details and provide the feed. So, as soon as a user subscribes to your podcast hosting plan, it will distribute the audio files and media directly to the platform. 
Best Podcast Hosting Sites 2021
 Well, for most people (i.e. the majority of them) it is exciting to begin a new podcast. The best part is that you can create podcast episodes regarding the news you are interested in, purchase brand new equipment, record audios, and share them with the rest of the world.
Sounds good! But you have to keep in mind that for this to be successful, you need the best podcast hosting service provider. So, let's check some of them – 
1. BuzzSprout
As one of the easiest podcast hosting sites, this is the perfect one for beginners. BuzzSprout has been in the business for more than a decade and has created some of the strong community of podcasters.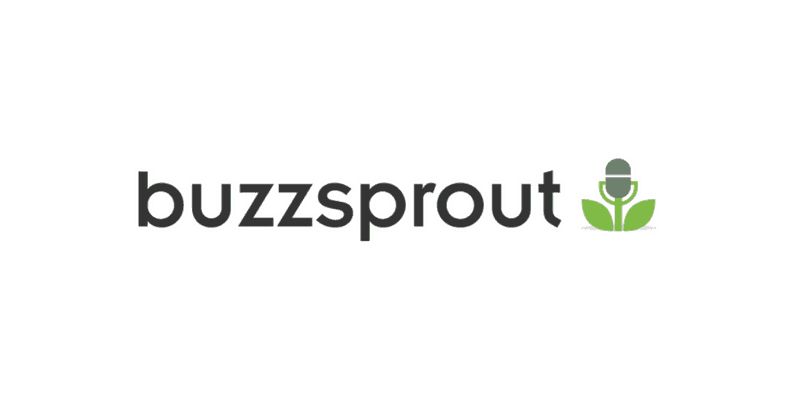 Features
Contains a straightforward and intuitive analytical dashboard for gaining invaluable insights for improving your marketing and podcast strategies. 

Easy to add episode chapter markers for assisting listeners to view details of the episodes at a single glance.

This podcast hosting platform makes it easy for publishing episodes on podcast channels like Google Podcasts, Spotify, Alexa, etc. 

Provides podcast transcription service
Pricing
The paid plan of this best podcast hosting sites starts from $12 and contains unlimited storage. Also, the on paid plans help to host your files indefinitely and allow one to build a library of episodes. 
2. PodBean
PodBean is one of the best podcasting hosting service providers you might find in the market. As one of the top-rated podcast site, it allows you to submit the podcast episodes to various directories like Google Podcasts, Apple Podcasts (which was called as iTunes), Spotify, etc.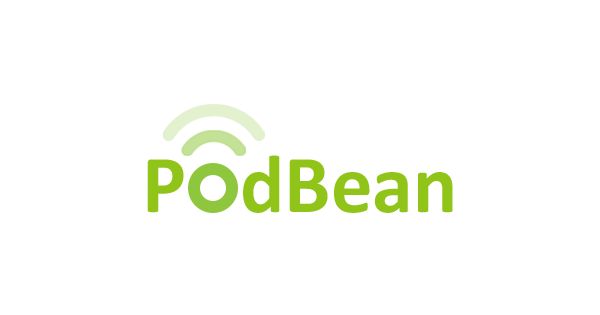 Features
Offers unlimited podcast hosting plans with various unlimited bandwidth.

Contains beautiful design tools for hosting your website with the best customizable themes.

Easy to embed the Podbeann podcast player into the WordPress pages and posts.

Podcast promotional tool for automatically submitting your episodes to all the top podcast directories.

Offers the advertising marketplace to help podcasters monetize their content. 
Pricing
The pricing of this best podcast hosting site is budget-friendly. The premium plan begins at $14 per month along with unlimited storage and bandwidth for audio podcast files. Enterprise plan begins at $129 per month and has a good set of features.
3. Transistor
The transistor is considered as one of the popular podcast hosting sites available in the online market. It is not only powerful but easy to use and is one of the best free podcast hosting services for beginners and professionals.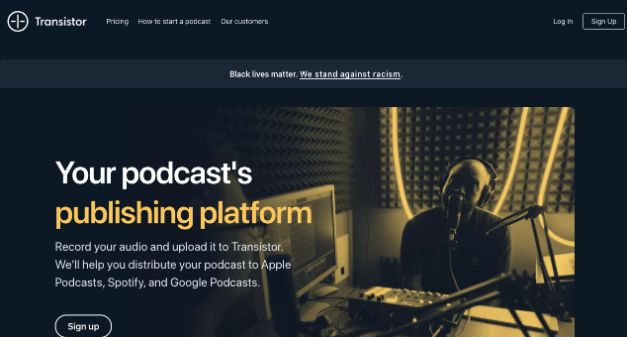 Features
Easy to upload media of your podcast and publish them.

Provide podcast analytics so that you can view each episode that is uploaded.

One of the

best podcast hosting sites

to integrate seamlessly with other marketing services like Drip, ConverKit, and MailChimp

Contains embedded code that allows you to easily add each episode to your WordPress pages and posts. 

Interactive dashboard for displaying various stats, like average download per episode, number of subscribers, etc. 
Pricing
All the plans of this best podcast hosting service provide unlimited uploads. Here pricing is based on the number of downloads and users per month. For two users, it costs $19 and 10,000 downloads. For $49, it supports five users and 50,000 downloads. 
4. Captivate
It is one of the best podcast hosting sites that is focused on assisting you to grow your audience. As soon as you sign up, Captivate will create the website for you automatically and you have the option to customize it.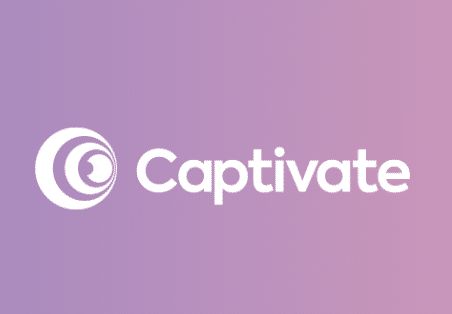 Features
Its podcast and website audio player has readymade call-to-action links. These encourage listeners to share and subscribe to your podcast and even sign in to your mailing list. 

Contains various plans that are customizable and filled with a mobile-friendly website along with donation support built-in. 

Using podcast player call to action, you can create your email list and new leads. 

Captivate works with the Interactive Advertising Bureau (IAB) for developing better insightful intelligence that monitors the performance of your show. 

The podcast marketing tool present in this

best free podcast hosting

site helps you to automatically create links to place at Pocket Casts, Overcasts, etc. 
Pricing
The pricing of Captivate is based on the number of downloads each month. Initially, it begins at $19 for up to 12000 downloads and then goes to $49 for up to 60,000 downloads.
5. Castos
This is one of the best podcast hosting sites for WordPress users. It contains various feature-rich podcast hosting plug-ins for various WordPress websites.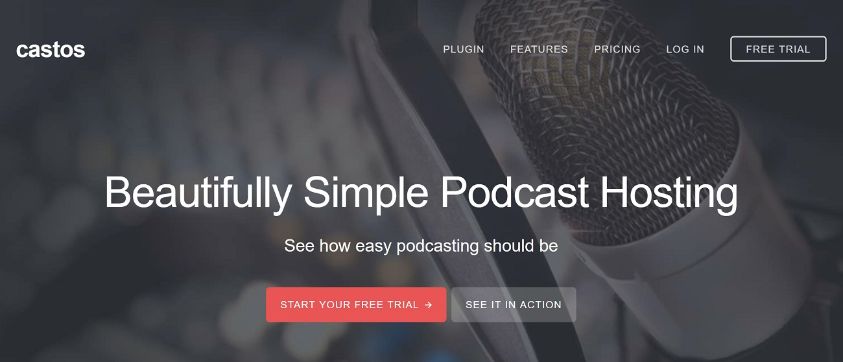 Features
Automatically publish your episodes on all the various distribution channels like Google Podcasts, Apple Podcasts, etc. 

Provides video podcast hosting and you can utilize the services for republishing your episodes on YouTube.

Automatic transcription features help you to upload your podcast episodes easily. Also, transcription will be created on your dashboard in minutes. 

Easily download the PDF version of the transcription or copy and paste it to the website. 

Provides discount for religious and non-profit organizations along with the podcast editing services
Pricing
The majority for the plans of this best podcast hosting provider contain uploads, podcasts, and downloads. Here the prices begin from $19 per month. You would need to upgrade to the Growth plan at $49 per month for getting the YouTube feature. 
6. Libsyn
One of the top best free podcast hostings, this is often used for branding and monetization. This is considered to be one of the most famous podcast platforms for monetizing each episode along with multiple features like premium paywalls and double-opt-in ads.
Features
Provides easy to use platform for placing your brand on the center and assists in promoting your podcast through many platforms, devices, and apps. 

Offers podcast hosting plans with various storage limits each month but with unlimited bandwidth

Provides monetization options, WordPress integration, detailed analytics, etc using a plugin called Libsyn Publisher Hub.

Focuses heavily on the promotion of your brand and podcast through various distribution platforms and apps. 

Experienced and speedy customer service team that assists you in getting the most out of the podcast hosting platform. 
Pricing
The pricing for this awesome podcast hosting sites begins from the Classic 50 model that is priced at $5 having 50MB of storage space and goes up to the Advanced 800 mode that is priced at $40 having 800 MB of storage space. 
7. Simplecast
Simplecast is known throughout the industry as one of the best podcast hosting service providers. This feature-filled podcast hosting service is affordable at $15 per month. 
Features
Provides all the necessary key features you expect from the

best podcast hosting

provider.

Contains additional tools like Recast that allows you to create, share, and schedule your snippets related to your episodes on social media channels for podcast promotion. 

Easy to add various team members in a single account, thereby making collaborating easy.

Provide podcaster powerful tool at any stage of podcasting using a single-click publishing, fully-functional website, various kinds of web players, etc. 

Ability in coordinating with various podcast managers in a single account. Gaining unlimited storage, uploads, and distribution to all major platforms. 
Pricing
All the plans for this podcast hosting sites come with unlimited storage. The Simplecast costs roughly around $15 for 20,000 downloads each month, $35 for 50,000 downloads per month, and $85 for 120,000 downloads each month. 
8. AudioBoom
The most popular sites and best podcast hosting sites for providing you simple distribution, hosting, and embedded player. They easily assist in podcast monetization.
Features
Low-cost podcast hosting platform for independent podcasters.

Best podcast hosting

site providing quality tools for episode distribution to various platforms like iHearRadio, Apple Podcasts, etc. 

Provides embeddable players for your social media and website account. 

Ability to collaborate with a co-host or even invite others to run your podcast. 

As soon as the podcast reaches 10,000 plays for each episode, this tool will assist you in monetizing your content using dynamic sponsorship and ad opportunities. 
Pricing
With AudioBoom, you can host various platforms. For hosting a podcast, it will cost roughly $9.99 per month, and for each podcast. 
9. SoundCloud
This is the best podcast hosting sites and great music podcast hosting platform. The best part is that you can embed any type of podcast episode right from the SoundCloud. 
Features
This is free up to three hours of uploads. 

The free plan is best for beginners that want to test the water first. 

Embedded audio allows you to display and share your podcast episodes right on your social media and website. 

The timed-comments help listeners to attach their comments on specific parts of the audio clips. 

Easy to use and one of the most customizable and flexible podcasts hosting plans. 
Pricing
It contains a free plan that provides three hours of upload limit. The paid plan starts from $6 per month. 
Final Verdict
It might not be easy to choose the best podcast hosting services. No doubt, you would have to do thorough research and find out the various features and pricing. Ultimately, you need to make the decision taking into account these aspects so that your podcast remains successful.