PlayStation 2 is one of the leading video game consoles designed by Sony. The gaming system was released in early 2000 and as of July 2022, it had sold almost 158 million units across the world. The console held a significant place in the market and all credit goes to its powerful hardware, and amazing range of accessories it offers an extensive library of popular games it supports including GTA: San Andreas, God of War, Shadow of the Colossus, and more. 
Since PS2 is no longer in production, several individuals find it difficult to get their hands on unopened PS2 consoles for sale. Therefore, a lot of users looking for an alternative to enjoy the experience of playing PS2 on their computers and smartphones. The alternative solution is using a PS2 Emulator. In this guide, we'll focus on emulating PS2 on iPhone & iPad devices. 
5 Best PS2 Emulator for iOS Devices
Before we start, it's important to note that using an emulator to play games that you do not own or have not legally obtained can be illegal and impact the gaming industry. So, it is always recommended to respect intellectual property and use emulators responsibly.
1. RetroArch
RetroArch is one of the most powerful and flexible emulator apps for iOS that provides a unified interface to enjoy retro games. The application supports a wide range of platforms and gaming consoles, including NES, SNES, Game Boy, PlayStation, and more. 
HIGHLIGHTS: 
Apply various visual effects to the games to enhance the overall experience. 
Allows multiplayer gaming over the Internet. 
Recording and streaming the gameplay is also possible. 
Highly versatile holds the ability to run a wide range of OS, including Windows, Mac, Linux, Android & iOS 
2. PPSSPP
PPSSPP is a widely popular, free, and open-source PS2 emulator that you can consider using in 2023. The app is designed to replicate the hardware of the PlayStation console and supports a wide range of game titles, including God of War, Final Fantasy, Grand Theft Auto & more. 
HIGHLIGHTS: 
Controller support to enhance your gaming experience. 

Ability to save current stats and use cheat codes. 

Enable various game modifiers. 

Highly compatible with Windows, macOS, Linux, Android & iOS. 
3. Happy Chick
Happy Chick is the best PS2 emulator for iOS that allows users to enjoy a variety of retro games, belonging from popular consoles like Game Boy Advance, PS1, Nintendo Switch, Xbox & more. The best part is, the app doesn't require any special permission for installation or set-up process. 
HIGHLIGHTS: 
Free to use PS2 Emulator for iOS that works well on all popular versions. 

Play demanding PS2 games like GTA, Call Of Duty, and God Of War.

Game data is stored on the cloud. Hence, you can sync your device anytime & which lets you play games anywhere. 

Doesn't expose your device to any external threats. 
4. NewGamePad
NewGamePad is the Best PS2 emulator for iOS that supports replicating the environment of popular gaming consoles, including PS2, Game Boy Advance, SNES, Nintendo DS, and more. Using the emulation app is pretty straightforward, all you have to do is launch the app, hit the More option to load games stored on the iPhone & you're all set!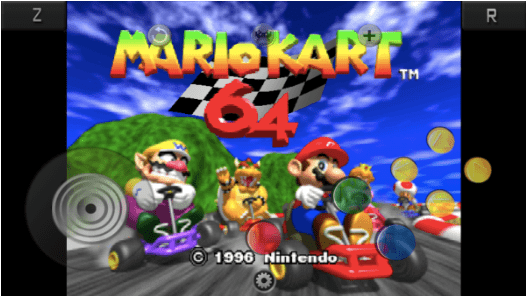 HIGHLIGHTS: 
Ability to categorize games as per genres. 

Maintain a list of your favorite games. 

The default skin of the handheld console is imitated completely with big red buttons that act as controllers. 

Holds the ability to control the game speed, especially for speedrunning. 
5. PlayJS
Last but not least in consideration, PlayJS deserves a place in our list of Best PS2 Emulators for iOS. It's a web-based emulator that allows users to play a variety of retro games, including games from consoles such as the PlayStation 1, PS2, and Nintendo 64. If you are looking for a PS2 emulator for PC then you can check this list of tools.
HIGHLIGHTS: 
It marks the milestone of 600 playable games!

Faster state loading and saving are supported. 

Works well on iPhone/iPad, macOS, Windows, Android, UNIX & popular browsers. 

Their developers dedicatedly work to improve compatibility issues with a variety of games. 
Our Recommendation For Top iOS Emulator For Playing PS2 Game
We personally love using RetroArch for enjoying and recreating the experience of PS2 game titles on iPhone. It has a modular design and uses "cores" as the emulation engines for various gaming consoles and platforms. Hence, you don't need to switch to different emulators for simulating the environment of different gaming consoles like NES, SNES, Game Boy, and more. 
Do you know any other PlayStation 2 emulator app for iPhone that should have been a part of this list? Feel free to share your suggestions in the comments section below!
Also Read