When we regularly use our phones at some point in time we start facing issues like battery draining, less storage, and many others. This is because of having a lot of junk files, duplicate files, cache files, and all other unnecessary files which are just occupying storage space and affecting device performance. With the help of RAM cleaner apps, you can clean and optimize your android device to free up space on it.
The RAM cleaner application is like a boon for your Android phone to make it run like a newly purchased one. It is capable of searching all the unwanted files which are acquiring storage space and helping you to remove them instantly.
RAM-cleaning android apps will not only remove unnecessary files but also boost your device's performance, and speed, increase its battery life, and helps it run without any lags. 
10 Best RAM Cleaner Apps for Android
We are here to help you and that is why we have listed the 10 best RAM cleaner apps which you can use on your Android phone to boost your phone's performance. 
1. CCleaner
CCleaner is the best RAM Cleaner app for Android with its extremely advanced features and the capability of boosting the device performance quickly. It also works well on Windows and macOS. It can fully optimize your Android device, declutter it and recover lost precious memory. The tool will let your phone run faster than ever before and also make it smoother.
Features 
It comes with a storage analyzer feature 
It has a system monitoring tool that lets you keep an eye on the CPU usage of multiple apps
It can clear clipboard contents
2. SD Maid
SD Maid is a tool that makes your Android device cleaner by removing junk files and helping you declutter your device. With the help of this software you can remove all the unnecessary apps, deletes the remaining files, and eliminates duplicate files. The tool is available in both free as well as pro versions. With the pro version, you will get extra benefits like scheduling your cleaning routine. 
Features 
The storage analyzer gives a detailed overview of the device's storage 

Deep cleaning of your phone 

It has a clean user interface 
3. Avast Cleanup
Avast Cleanup is a genuine tool that works well on your Android device and keeps all the clutter out of your phone. It is already a popular company for producing antivirus software but it also offers a great utility to clean the RAM of your device.
It allows you to put unwanted applications to sleep or delete them. The app comes in both free as well as paid versions. With the paid version you will get extra features like a photo optimizer. 
Features 
It includes an image analyzer
It has an integration of cloud storage 
Helps you get rid of junk files 
4. Files By Google
Files By Google was initially a file manager and was used for offline file transfer. You can also use this tool to clear the RAM of your Android phone. It is highly trustable and also doesn't display any ads.
It suggests you remove photos, unnecessary apps, old memes, duplicate files, and many others that are occupying storage space. Although it lacks various features which you will get in other RAM cleaners you can give it a try as it is reliable.
Features 
It offers recommendations to clear the file 

Doesn't display any ads 

Has user-friendly interface 
5. Ace Cleaner
Ace Cleaner is one of the powerful tools which works extremely well as a RAM cleaner for your Android phone. It is loaded with multiple features which are required to clean your phone's memory and boost its speed.
The tool is responsible for removing junk files, cache files, RAM junk, leftover files, and APK files and includes all those files which are occupying storage space unwantedly. 
Features 
It has a duplicate cleaner that removes duplicate images 
6. Norton Cleaner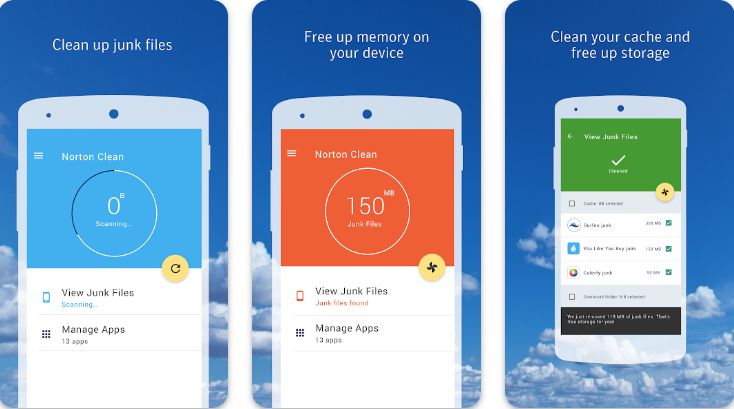 Norton is the most popular name for developing antivirus tools and now it also has introduced its RAM cleaner for Android devices. It ensures the safety of your privacy and deeply cleans your phone. It also removes the residual files left after removing apps and other files. The tool can also remove bloatware and manages apps. 
Features 
It allows you to clear the cache of individual apps 

You can move apps to SD cards 

It has a reminder feature that let you know when to clean junk files
7. AVG Cleaner
AVG Cleaner is an all-in-one tool that works as a RAM cleaner, photo analyzer, file manager, and memory booster. You can shut down all the apps that are running in the background and affecting your device performance.
Also, it has a battery saver option for increasing the battery life. You can use this tool to remove junk files and cache files and it also removes those applications which you have not used for long. 
Features 
It can locate the apps which are making your device slower

Photo analyzer removes bad quality and duplicate images 

Fully optimizes your device 
8. One Booster
One Booster ensures freeing up device space and boosting your Android performance. It removes junk files, cache files, and residual files to free up storage space. This application has a user-friendly interface so it is easy to use and you can easily go through multiple sections of the app without any trouble.
It can also manage leftover data and junk files. The battery-saving feature lets you stop all those files which are frequently draining batteries. 
Features 
It includes a CPU cooler feature

It has an antivirus also

Ensures removing all the junk files 
9. Droid Optimizer
Droid Optimizer is one of the best RAM boosters for Android which is available in the market for so long. As it is quite older than other RAM cleaners listed in the article it is having outdated UI. It allows you to schedule regular cleaning to clean up all the unwanted files from your Android device.
Features 
It also offers dark themes 

Allows you to set up the app on auto clean up

Completely ad-free
10. All-In-One Toolbox
Last but not the least, All-In-One Toolbox is a reliable name in the list of the best RAM cleaners for Android. It can optimize your device memory and remove all the clutter from your device to run it smoothly.
It includes all those necessary features which will enhance your device performance to the utmost. The tool ensures to get the best experience on your Android phone. 
Features 
Loaded with 30 tools to improve the functionality of your phone 

It has a boot speedup feature

Provide you option for batch installing and uninstalling apps 
FAQs
Do RAM Cleaner apps work?
Yes, RAM cleaner apps work, and when you start facing storage issues and slower device performance then you should use RAM cleaner apps to get rid of junk files and other unnecessary files and boost RAM. 
Which is the best RAM cleaner app for Android?
The market is full of RAM-cleaner apps for Android but when it comes to choosing the best one it becomes quite difficult. Here is the list of apps according to their performance:
CCleaner

SD Maid

Avast Boost

AVG Cleaner

All-In-One Toolbox 

Files by Google 
Is cleaning RAM good?
Yes, cleaning RAM can free up storage space and can also boost the device's performance. Many apps are available that offers RAM boosting and task-killing feature. But the task killing may harm your Android's performance. 
How do I clear my RAM faster?
You can use any RAM booster app to clear the RAM faster and optimize your device. In the above article we have listed the topmost application, choose the best one and install it on your device and follow the steps to clear RAM faster.
Also Read