Do you ever wonder why your computer slows down over time? Your PC's performance suffers when you accumulate more junk, duplicate files, and install new software.
To reclaim that fast performance, you'll need to clear out the rubbish and optimise RAM in order to run your computer at its optimum. Because manual cleaning is both time-consuming and inconvenient, you'll need the best auto RAM cleaners to get the job done.
Best RAM Cleaner & Booster for Windows 10
This post will go through the 10 best RAM cleaners software available to help your PC perform at its best.
1. IObit Advanced System Care
iObit is one of the best RAM cleaners, boosters, and optimizers which allow you one-click PC cleaning and optimization in a matter of seconds. You may increase the system's available space by deleting temporary files, cache, unneeded applications, system trash, and other unnecessary items. Your data will be safe with this application, and it will even speed up your internet connection with its special "Internet Booster" feature. With this tool, you may now remove any unwanted items from your Windows 10 PC.
Features
Its Internet Booster tool boosts your internet speed.

It also protects your information from hackers by erasing any privacy traces.

This software fully minimizes memory consumption in order to optimize workflow.

It also eliminates all of your device's unnecessary startup programs.

It also has a completely configurable menu bar for simple and quick operations.
2. iolo System Mechanic
Iolo System Mechanic, a competent RAM cleaner for Windows 10 PC, is a must-have software for removing any type of unwanted programs block and bloatware, resetting unneeded autorun features, cleaning RAM, and many other tasks. It is a toolbox for optimizing and improving the effectiveness of your system. It will undoubtedly increase the performance of your PC and eliminate all traces of your browser history. As a result, you may utilize this to keep your Windows 10 PC safe.
It is free software that checks a large number of file fragments throughout time and makes the read/write operation incredibly quick.
Features
It has an unwanted auto-run feature, which adds to its usefulness and makes it quite popular among the general public.

It can eliminate even the smallest trace of program trash from your PC, ensuring smooth running.

This software has a simple and easy user-friendly UI.

It creates backups of the data.

It can clear your internet cache, browser history, delete unnecessary data, and delete all system logs while running the needles program.
3. CleanMyPC
CleanMyPC is another best RAM cleaner for Windows 10 PC, because of its multitasking cleaning features and user-friendly UI. Aside from clearing RAM and boosting PC speed, this software may also repair damaged or incorrect Windows data entries.
Features:
This tool helps to gets rid of all the unwanted trash and hibernate files.

It includes a file shredder tool for completely deleting files or directories.

This tool will manage all of your browser extensions in one location.

It enables you to quickly disable autorun things in order to make your Windows PC boot faster.

It has an uninstaller tool to assist you in entirely removing unnecessary programs.
4. Ashampoo Winoptimizer
Ashampoo is one of the best RAM cleaner tools available for your PC, and adopting it may be quite beneficial to your system. It will function flawlessly if you're about to complete the install of a memory-holding game or application. It will notify you that your system must be restarted since the PC is full. It will allow you to organize the memory for future usage. It stimulates the feeling of a new system restart. Memory Clean works by removing inactive memory from Windows. Associate in Nursing is best utilized after you have completed an intensive program that you do not intend to use again for a few hours.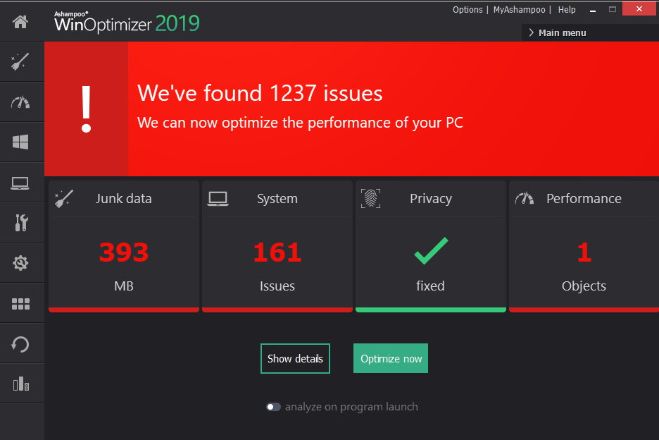 Features:
It has a user-friendly interface and can easily discover and eliminate broken database file, system trash, cookies, unwanted data, unwanted applications, and other unnecessary items.

It has a function of disk defragmentation that can defrag your hard drive to free up space.

This tool also optimizes your startup programs, which improves the general stability and performance of your Windows PC.

It may also be used to organize a system scan.

It can make a data backup in order to avoid any unintended losses.
4. CCleaner
It is another most popular and best RAM cleaners of all time, whether for your phone, laptop, or PC. It is the ideal program for cleaning and optimizing your device's memory. You may discover a broad range of tools that can assist you in speeding up your PC's processing and cleaning up trash files. The program has a simple interface and massively enhances your computer's performance. However, the premium edition of this program allows you to access the sophisticated capabilities that provide real-time device protection.
Features:
Its user interface is simple and allows for quick operating and navigation.

It cleans up GBs of RAM to lowering system strain.

This software also enhances your device's processing and response speed.

It also enables scheduled system scans for improved results and top speed.

It can effortlessly internet cache, delete system cache, cookies, download history, and other undesirable things from your computer system, allowing you to free up valuable disc space.
5. CleanMem Free
CleanMem is now a set-it-and-forget application that is completely free. After you install CleanMem, the Windows Task Manager will execute it every fifteen minutes. It's set and forget once it's in place. Even though it has always been the case. You'll use CleanMem to experiment with more complex features including log files, only lists, and ignore lists. CleanMem Settings will configure them in the start menu.
Features:
It automatically cleans your system every 15 minutes.

You don't have to look after it regularly. All you have to do with this tool is set it up and then let it go.

It is Free for Windows 10 and simple to set up and use.

It makes your PC feel lighter and helps to clear out the junk files.
6. MemPlus
MemPlus is the next entry on the collection of RAM cleaners for Windows 10,8 and 7 PC. It is an appropriate tool for cleaning, optimizing, and evaluating the memory of a machine. Because the application is portable, there is also no risk of it clogging up your computer. It will provide detailed RAM use data. The tool will run in the background, not interfering with what you are doing in the foreground. Its incredible capabilities make it the ideal program to select. It will recover the RAM specifications in TEXT, CSV, or any other data types.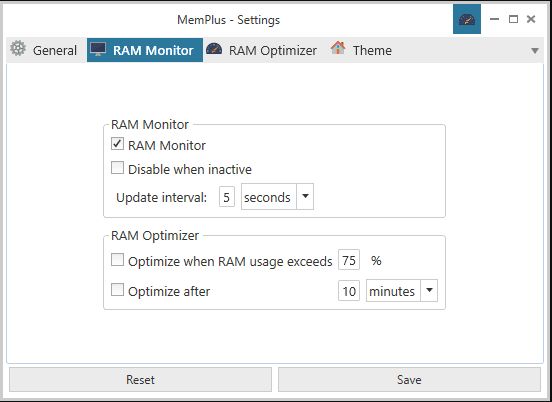 Features:
It has a clean and informative UI.

This tool has different options for optimizing RAM.

It allows you to modify the theme based on your needs and comfort.

On the desktop, there is a 'Clear memory' option for optimization.
7. Wise Memory Optimizer
There is software that operates in the background while using physical memory on the computer, frequently disrupting the user's work. Wise Memory Optimizer is software that may free up physical memory while also adjusting it up. The advantage of this RAM cleaner software is that it just consumes a tiny storage space and CPU power. It is not limited to Windows 10, but you may get it for any PC.
Features:
It can simply eliminate all of the superfluous files that clog your PC RAM.

This is a free automated RAM cleaning software for PC that works flawlessly with all windows operating system.

It has a user-friendly easy to use interface.

It has Reclaims system RAM for improved and more reliable device operation.
9. RAMRush
RAMRush is a strong RAM cleaning program for Windows 10 PC that you may use to enhance and optimize your computer's RAM. It will efficiently optimize your Windows PC's memory usages, free up physical RAM, and construct your system to run faster. You can improve your device's performance and keep your PC running smoothly without overheating. The program is simple to be used for all users, and it will undoubtedly improve the performance of your Windows 10 PC. For a more accurate study, you may see real-time RAM and CPU consumption.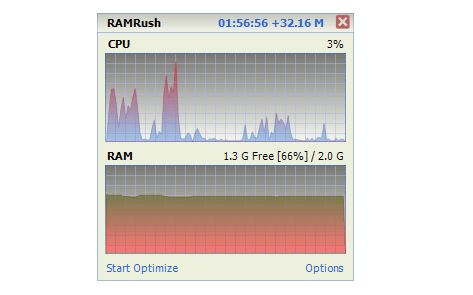 Features:
It will assist you in recovering memory.

It has a basic and clear UI.

This tool has the ability to defragment your disc space.

It improves reaction time and controls startup conditions to prevent system crashes and freezes.

It is a fantastic tool for efficiently managing your physical memory.
10. Mz RAM Booster
Mz RAM Booster is yet another best RAM booster and optimizer software that is specifically meant to clear your PC and improve its overall efficiency. It improves your laptop's speed by auto-recovering RAM and excellent standardization of several Windows PCs settings! It makes use of little resources and almost no C.P.U. time. Increase free RAM, speed up your machine, and reduce memory leaks.
Features:
It makes your system more manageable by clearing RAM and boosting overall system performance.

It is compatible with all versions of Windows.

This software will fasten up your system by preventing any memory leaks and boosting free RAM.

It will take very little CPU time.

It has advanced features such as auto-recovering RAM.
FAQ
Q: What is the best RAM cleaner for PC?
ANS: CleanMyPC is the best RAM cleaner, booster, and optimizer for PC.
Q: How do I free up RAM on my PC?
ANS: Close apps using the Windows Task Manager to free up RAM so that any Important software you need to run can run faster. 
To free up RAM follow the given steps below :
Open the Windows Task Manager.

Choose "processes"

Right-click on the app that you want to close.

Click on "End task"
Q: Do RAM cleaners really work?
ANS: Yes, Most RAM cleaners reduce physical RAM use, and To free up RAM, they usually move all processes to virtual RAM and delete the actual RAM cache.
Q: Are RAM cleaners good for windows 10?
ANS: Yes RAM cleaner is good for windows 10, It provides the user with a variety of tools for clearing.
Q: What is the best RAM optimizer for PC?
ANS: CCleaner is the best RAM optimizer for PC.
Q: How do I optimize my RAM software?
ANS: In RAM software, Set optimized limits in a given variety of options.
Also Read