Have you tried any of the RGB controller software? If not, read through for we have listed the best RGB controller software you must use in 2023 to get the most out of your RGB light setup. 
Recent advancements in RGB technology have made controlling the RGB from our computers easy. This software allows you to customize, synchronize, and manage your RGB lighting devices. It will give your visuals a genuinely cinematic appearance with features like advanced color editing, synchronized music effects, and game & movie presets. 
Some RGB controller software enables you to sync multiple devices across various platforms, giving your entire setup a uniform appearance, depending on your selected platform. This article examines some of the most effective and feature-rich RGB controller programs accessible for PC, allowing you to select the software that best suits your needs.
7 Best RGB Controller Software For PC
1. Corsair iCUE
One of the finest RGB controller programs with extra features is Corsair iCUE. The Corsair iCUE's keyboard key function, fan speed and mouse DPI parameters can all be customized to suit the illumination.
FEATURES
Complex keys can be configured, and key mapping can be managed. 

You can preset lighting effects by default. 

Make profiles for specific applications.
2. Signal RGB
One of the most well-known all-in-one RGB control programs and software to sync RGB on your PC is SignalRGB. With the help of this software, which works with many video games, you can increase immersion by matching the lighting to the in-game graphics.
FEATURES
Complete hardware compatibility, lighting effects, and CPI control are all included in the free version. 

Popular products from well-known companies like EVGA, Corsair, Logitech, Razer, Steelseries, and others are supported by SignalRGB. 

You can manage your RGB devices however you want with SignalRGB. 

With the paid membership, you can access additional effects, game integrations, and an audio visualizer.
3. RGB Fusion 2.0
RGB Fusion has to be your best option if you're looking for software to sync RGB on your PC. In addition to its sync function, you can customize individual controls.
FEATURES
Sync various effects across all hardware.

It works with many motherboards and is compatible with most RGB devices. 

It provides an improved method for adjusting the lighting effects on all compatible devices.
4. OpenRGB SDK
This program is highly compatible with all RGB devices because it is independent of the manufacturer's software.
FEATURES
Third-party software can manage every aspect of your RGB. 

The RGB lighting can be controlled on the graphics card, mice, keyboards, RAM modules, coolers, motherboards, mouse mats, and other gadgets. 

Corsair, Gigabyte and ASUS are just a few manufacturers it supports.
5. MSI Mystic Light
This application may be helpful if you want to control every RGB-capable device instantly. The renowned gaming hardware maker MSI created this software. It is superior to tools like Corsair's iCUE or ASUS Aura Sync because it syncs RGB across MSI and non-MSI products.
FEATURES
This program offers reliable RGB functionality. 

Mystic Light can connect your RGB keyboard, CPU cooler, GPU, motherboard, case fans, and RAM. 

You can create an all-around RGB PC to brighten your entire gameplay rig. 

Support for RGB components other than MSI.
6. ASUS Aura Sync
Aura RGB LED lighting was designed to match your gaming setup for a true expression of individuality. Aura RGB provides a virtually limitless range of colors and patterns and even the ability to synchronize lighting with gameplay, music, or CPU/GPU temperatures.
FEATURES
The software can synchronize lighting with Aura Sync products like motherboards, graphics cards, monitors, and accessories. 

Neon lighting can be found all over a complete RGB gaming setup, just like in the movie Tron: Legacy. 

This software can control every RGB light in your house.
7. JackNet RGB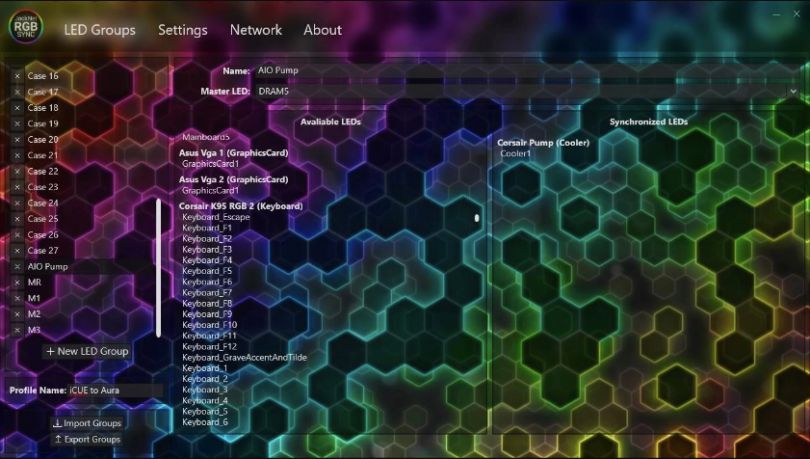 The RGB controller program JackNet RGB is straightforward and efficient. This app is the best for controlling every RGB device from a single place. The manufacturer's program must be installed and launched to use this app.
FEATURES
JackNet's ability to recognize each RGB component makes it more useful for users. 

You can use it to implement a variety of RGB effects and synchronize them with several different devices. 

This software is easy to set up. Its straightforward user interface makes it simple to use with any RGB device.
Conclusion
The best RGB controller software is required because it lets users customize their experience concerning lighting effects and coloring completely. It aids users in creating original visuals for various uses, such as gaming or home entertainment setups.
Given that it enables them to be adjusted for the highest levels of safety, this software also contributes to extending the lifespan of different components like fans and LEDs.
We have listed the best software for your comfort. Feel free to try one of the RGB controller software mentioned above and do not forget to subscribe to our blog today. 
Also Read