The need for Screen recorders is rising day by day due to their extremely useful nature. Screen recorder helps us to record the entire screen or the specific area as per our requirements. The software is really helpful to record presentations, academic lectures, gameplays and other desktop activities. 
Due to the availability of many free screen recording software, it is quite difficult for the users to choose the best tool. In this article, we will be going to list the best free screen recorder which will satisfy all the needs of professionals as well as beginner users. 
10 Best Free Screen Recorder For Windows 11, 10 PC 
So, without any delay let's come to the point and learn about the best screen recording software for Windows 11, 10 PC.
1. Apowersoft Unlimited
Apowersoft Unlimited is the best screen recording software for windows 11, 10 PC . It is compatible with multiple platforms including Mac, Windows, Android and iOS. This is a handy tool which can be used for multiple purposes like recording presentations, tutorials and software demonstrations. 
It is a free online screen recorder software that lets you customize keyboard shortcuts. It allows you to choose from multiple video formats and also lets you add annotations while recording. This tool lets you save recordings in GIF format and also lets you upload it on YouTube. 
Features 
Allows you to add webcam video into the screencast

Offers multiple recording modes

Supports multiple video formats 

Real time screencast editor 
2. Filmora Scrn
Filmora Scrn is at the top of our list of best Screen Recording Software for Windows because it consists of many special features. You can use this software is free and there will be no watermark in the video after editing.  You can do various tasks by using this software such as trimming, editing, etc. Apart from editing, you can also use animations and annotations in your captured videos.
Features
It helps you to record full screen which is the most interesting feature of this software.

Many editing features such as trimming, change the volume or speed of the video, insert any animation, and so on. 

Edit your videos quickly. 

This software provides you a smooth recording experience.
3. Free Cam 
Another screen recorder we have Free Cam which is having a very decent interface which makes it easy to use. It contains video and audio editors that helps in editing the screen recording video. It lets you capture the entire screen or a specific part of the screen. 
Using this software you can also record background music, voiceovers, etc. In this software, you will get multiple features for removing noise, trimming video and many other editing features. It also enables highlighting the mouse cursor. You can upload the video directly on YouTube with just a single click. 
Features
It can record system sound

Allows you to highlight the mouse

Recording voiceovers

Trim unwanted parts of the recordings 

Share videos right away
4. OBS Studio
OBS stands for Open Broadcaster software which is the best free screen recording software that has the capability of recording screen as well as streaming. It doesn't compromise the quality of the video and ensures screen capturing in high definition. Using this tool you can easily capture the entire screen as well as the partition of the screen. 
The screen recorder offers an audio mixer to facilitate the creation of videos with smooth recorded sound. This is one of the best tools for professionals because of its great screencasting features. 
Features
Customizable hotkeys 

Video broadcasting 

Has an instinctive audio mixer 

Noise removal
5. BandiCam
BandiCam is considered to be a good screen recorder for windows pc due to its simplicity and its easy use nature. This software facilitates users to record not only screen but also gameplay. It is a high-quality free screen recorder which records screens in 4 K ultra HD videos at 120 frames per second. 
One of its special features is that using this software you can also record videos from Apple TV, PlayStation, IPTV, Xbox and many other platforms. It supports different formats to capture screenshots including JPEG, PNG and BMP. 
Features 
Compresses video when recording 

Records video in 4K Ultra HD 

Upload videos even without converting

It uses DirectX/OpenGL/Vulkan graphics technologies 
6. Camtasia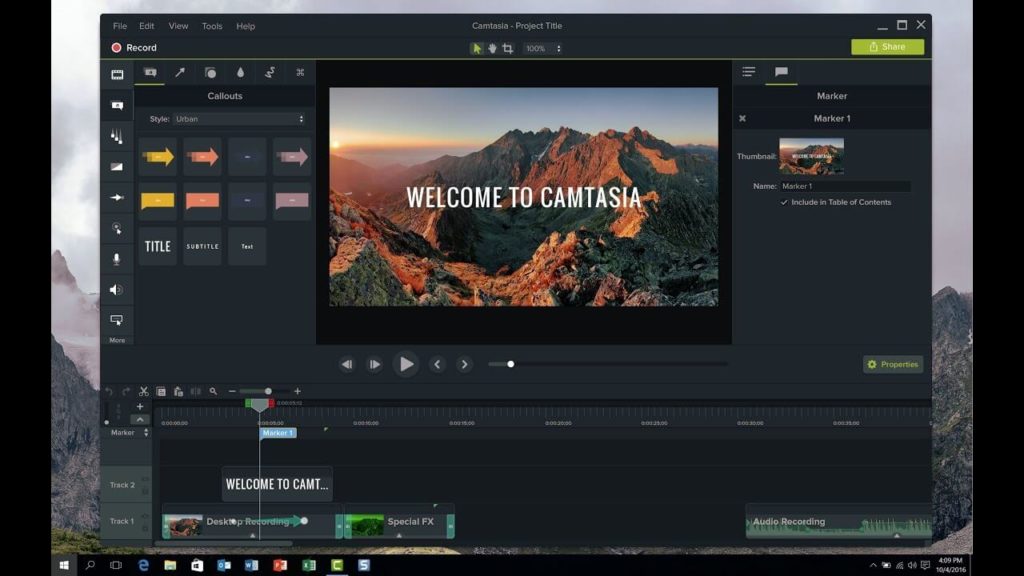 Next on the list, we have Camtasia as it is one of the best free screen recorders for professional works. It is available for free as well as a paid version that costs you $249. Using this tool you can create effective PowerPoint presentations by adding attractive recordings, titles and much other stuff. 
Not only on Windows, but Camtasia also works on iOS devices. It lets you record audio, video and even your webcam. The software is loaded with inbuilt video editing tools that help in developing professional videos.
Features 
Motion blur effects

Great customer service support 

Supports multiple video formats

Allows you to use video templates and add annotations q
7. ShareX
ShareX is a free screen recorder for Windows 10 that lets the users record the entire screen or a partition as per the need of the user. It is an open-source software which is packed with many advanced editing tools for professionals. 
The tools are devoted to advanced users like developers and power users. You can capture the screen using keyboard shortcuts and save images automatically. It also lets you upload the recordings and images to the cloud and share them online. In this software, you will also get a built-in photo editor that allows you to customize still photos. 
Features 
It consists of inbuilt hotkeys 

Allows you to add colour effects and watermark 

Contains many export options 

Can record the entire scrolling webpage 
8. Tiny Take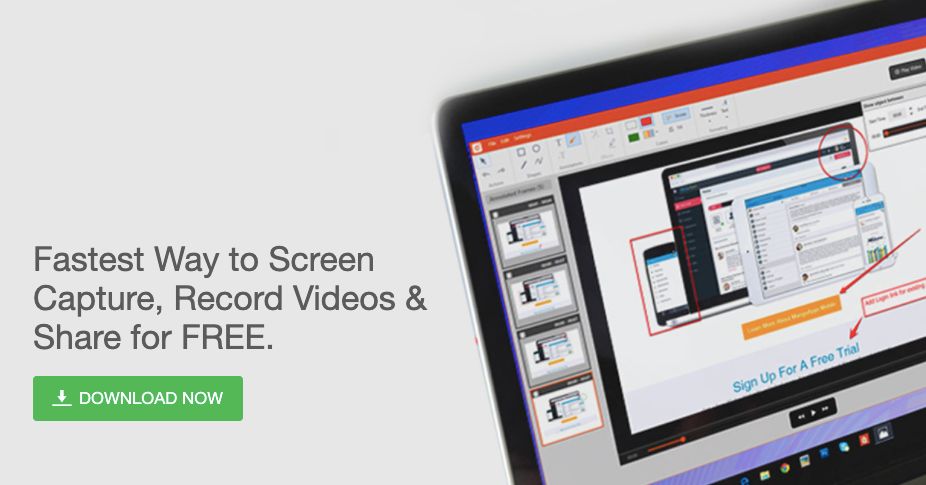 Here comes Tiny Take which is a screen recorder for Windows 11 / 10 PC. It allows you to capture the whole screen as well the specific portion. You can also add comments on the recorded screen and share them. 
Using this software you get the blur feature which lets you blur any part of the screen comprising sensitive content. It also lets you highlight things, and places text boxes and arrows on the recorded screen. 
Features 
Add annotations on videos

Share with anyone 

Allows you to copy on clipboard 

Save screenshots and videos in Cloud
9. FlashBack Express 
FlashBack Express is a screen recording software that lets us record the entire screen or partition without limiting the time and length of the video. It allows the recording of the screen, webcam and sound. It supports multiple video formats including AVI, MP4 and many others. 
Using the software you can record screens without placing any watermarks. It also enables you to record multiple screens across monitors. This is the best software for creating presentations, demos, recording games and other tasks. 
Features 
Allows scheduled recordings 

Join movies together

Lets you add annotations, text, images and sound

You can upload recordings on YouTube

Supports multi-monitor recordings 
10. Screencast-O-Matic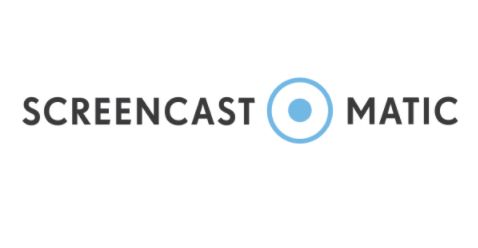 Talking about Screencast-O-Matic, it is a great screen capture software that allows us to record both webcam and screen recordings. This is the best application for those who want to share their informative videos or tutorials with their friends and community online. 
It enables users to share the video recordings on YouTube. It comes in both free as well as paid versions and supports multiple platforms like Mac, Windows, Chromebook and iOS. The only drawback is that it doesn't allow screen recording in HD quality. 
Features 
Add caption files

Allows you to trim videos

Freely add captions file 

Allows you to record screen and webcam
11. CamStudio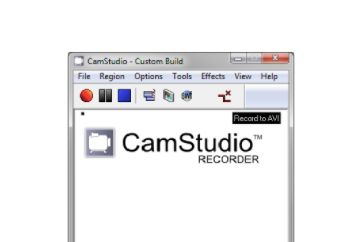 Last but not least we have CamStudio on the list. It is a great screen recording software for making more attractive videos. It is a free and open-source program equipped with many interesting editing tools. You can also use this software to capture screen, webcam and video compression. 
This is one of the easy to use software that lets the users add annotations and captions at the time of editing recordings. 
Features
High-quality recording 

Free and open source 

No restrictions on a recording time limit

User-friendly interface 
Conclusion On Best Screen Recording Software for Windows 11 / 10 PC
Whenever it comes to choosing the best software that can satisfy our needs it became the most difficult task. Whether you are a beginner or a professional it is important to choose the best software to accomplish your work easily. Screen recorder is the most useful tool used by both newbies and advanced users now it is a tough task to select the best one from the sea of screen recorder software that fulfils the necessities of the task.
In the above article we have tried our best and listed the top screen recording software for windows PC. I hope you can make a choice and select the best one as per your requirements. 
FAQs
How do I record my screen on Windows?
You can record the screen on windows using the screen recorder software. The Internet is full of amazing screen recorders that offer various editing features as well. Some of them are free and also paid. In the above article we have listed the best screen recorders that satisfy the needs of both beginners as well as professionals. 
What is the best screen recorder for Windows 10 free? 
Camtasia is a free screen recorder for Windows 10. It is loaded with multiple features. The software also offers a paid version with some advanced features. It can create professional-looking videos. 
What is the best way to screen record on a PC?
The best way to record a screen on a PC is by using screen recorder software. Some of the best screen recorder software is: 
Camtasia 

Free Cam

FlashBack Express

Screen-O-Matic

Tiny Take 
Is OBC a good screen recorder?
Yes, OBC is a good screen recorder software which is free to use. It is an open-source software which doesn't require any skill to use it. It offers multiple templates to add to recorded videos. This tool lets you also lets you broadcast your game streams on platforms like YouTube and Twitch. 
Which is better OBS or Streamlabs?
OBS and Streamlabs both are best screen recorder at their places. If you are looking for a budget friendly software then OBS would be the best choice for you. Streamlabs is equipped with multiple so many features which you will not get in other software as well not much required by most of the users. And that is why heavy on your system hardware.