If you were born in the '90s, then chances are that you remember playing classic SNES games like F-Zero, Contra, Super Mario, Shadowrun, Super Bomberman, Tetris Attack, and The Lion King. Despite the fact that gaming has improved in leaps and bounds over the years. But nothing can match the joyous experience of playing those retro video games. Right? 
Well, sometimes I genuinely crave to play those amazing SNES (Super Nintendo Entertainment System) game titles. But unfortunately, no modern game can ever offer that unique, nostalgic & comforting experience. Isn't? So, when I was googling different ways to play retro games on a computer or smartphone, I learned about SNES Emulator Software that can make it possible.
5 Best SNES Emulator For PC, Mac, & Android
It is recommended to try out a few different emulators before you invest your time & money in the one that works best for you in terms of compatibility and performance. Additionally, it is important to ensure that the emulator you are using is legal to download and use in your country.
1. Higan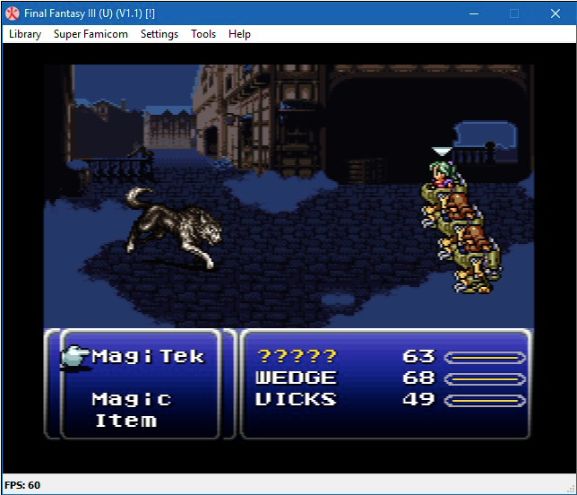 Formerly known as BSNES, Higan is a multi-system emulator that allows users to replicate the SNES, Super Famicon, Gameboy, and other systems' environments easily and conveniently. It is considered one of the most reliable, accurate & compatible tools in the category. Hence, you can enjoy an authentic reproduction of the original game on your PC. 
Features
The latest version is capable of running 12 different systems. 

Creates an exact copy of colors and animations.

Offers options for mapping keys, audio, and graphics drivers.

Supports up to 1280×960 in scaling the display. 
Note: Some users have reported that the user interface is not as user-friendly as other emulators, and it may require some technical knowledge to set up and use.
Platform Supported: (Windows)
2. ZSNES
ZSNES is a widely popular SNES emulator tool, programmed by zsKnight and _Demo. It has a high level of compatibility with a wide range of SNES games, including Super Mario Kart, Street Fighter 2, Castlevania, Earthbound, Final Fantasy 4, and more. ZSNES supports applying cheat codes, which can be entered to gain an advantage in the game. 
Features 
It offers a variety of video filters to enhance the visual quality of the games.

Enjoy the original sound of the SNES in addition to several sound enhancement options. 

Controller support for gamepads & joysticks makes it the best SNES emulator for PC. 

Lets you play your favorite game with other players on the Internet. 
Note: The only downside with the emulation utility is it is no longer maintained. So, you may face occasional hiccups. 
Platform Supported: (Windows)
Also Read – Best NES Emulator for PC
3. SNES9x
Next in the category of Best SNES Emulator for Mac & PC is SNES9x by Gary Henderson. It is a popular and open-source emulator for enjoying SNES game titles. The application is known for its accurate emulation capabilities and high compatibility with a wide range of retro games. It allows users to customize the graphic & audio settings to enhance the experience.
Features
An intuitive and user-friendly interface. 

Includes a speed-up feature that allows users to fast-forward through games. 

Allows users to play Japanese-exclusive SNES games too.

You can save & load states. This allows you to pick up where you left off later.
Platform Supported: (Windows & Mac)
4. RetroArch
RetroArch is another considerable option when it comes to choosing the Best SNES Emulator for PC, Mac and mobile Devices. It supports a wide range of retro consoles and arcade games, including the SNES, NES, Sega Genesis, Game Boy, and more. It offers a dedicated streaming feature that lets gamers broadcast themselves playing games to a live audience online. If you are looking to play PlayStation games on PC then check the list of free PS2 emulator
Features
Lets you run original game discs (CDs) as well within the emulator app. 

Hosts advanced functionalities like Netplay, Rewinding, Next-Frame Response Times, etc. 

Offers a slick graphical interface that makes running classic games an enjoyable experience. 

Play games released by Nintendo Wii, GameCube, Game Boy, 3DS, Sega Dreamcast, etc.

 
Platform Supported: (All Platforms)
5. ClassicBoy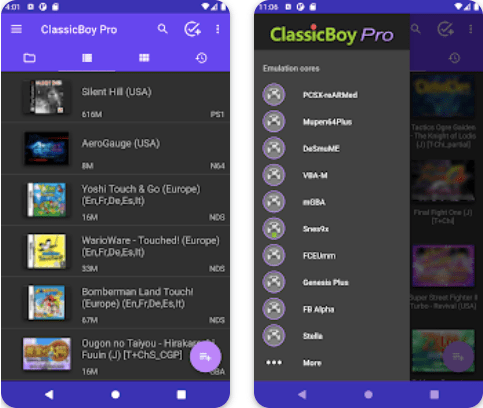 Here comes a great choice when it comes to installing the Best SNES emulator for Android. ClassicBoy lets you play games from a variety of classic consoles, including the PlayStation 1, Nintendo 64, Game Boy Advance, and more. It supports a variety of controllers like Bluetooth controllers & MOGA controllers that take the gaming experience to the next level. If you are looking for Nintendo Emulator then check this list of DS Emulators for PC which are available in the list.
Features
Supports saving states & cheat codes. 

Allows you to customize the graphic & audio settings accordingly. 

Offers an easy-to-navigate, making it accessible for users of all skill levels.

It supports the accelerometer to simulate D-pad & a calibration console for making adjustments related to tilting parameters. 
Platform Supported: (Android)
Our Recommendation
All the above-mentioned emulators allow users to play games that were originally designed for the SNES on their current device. Our recommendation for the Best SNES emulator for PC is SNES9x. It can be easily installed on popular Operating Systems, including Windows, Mac, Linux, Android & iOS.
Plus, it supports playing a wide range of game titles, that certainly cater to the list of my personal favorites.
Just remember, emulating copyrighted games without owning the original physical copy is illegal in most countries. Hence, we recommend our users choose reliable SNES emulation tools with ROMs (game images) of games they own.
Also Read