As a newfound enthusiast of SpongeBob's infectious laughter and vibrant personality, I embarked on a mission to find the best tools capable of transforming written words into his unique voice. Whether you're an animator, content creator, or simply a SpongeBob fan looking for some interactive fun. These top SpongeBob text-to-speech generator tools will help you create compelling and entertaining content. So, let's get started! 
What Are Text-To-Speech Generator Tools & How Do They Work?
Text-to-speech generator tools are innovative applications that utilize cutting-edge technology to transform written text into spoken words.
These tools use a sophisticated combination of natural language processing, machine learning, and voice synthesis techniques to analyze and process the text. Further, it uses pre-trained models and algorithms that assign pronunciation and linguistic properties to each word, and generate a lifelike synthesized voice.
Which is the Best SpongeBob Text-to-Speech Voice Generator tool?
In this guide, we'll be listing out a few AI-powered SpongeBob voice generator and translator tools that you can online or offline and elevate your entertainment game! 
1. FakeYou
FakeYou (formerly known as Vocodes) offers an extensive collection of over 2300 voices, including SpongeBob's voice.
Using FakeYou was relatively straightforward. I started by selecting a category, subcategory, and the specific voice I wanted from the filtered 'Voice' list. Once I had chosen, I simply typed in my text and clicked 'Speak' to listen to the generated voice.
FEATURES: 
Ability to generate audio from text. 
Allows users to speak as someone else. 

Supports lip sync video to audio. 
Note: The terms of service of FakeYou indicate that the produced voices cannot be used for commercial purposes.
2. TopMedia AI 
After using TopMedia AI, I must say that it truly lives up to its reputation as one of the premium SpongeBob text-to-speech generators available in the market. One of the standout features of TopMedia AI is its user-friendly interface, making it incredibly easy to navigate and utilize. Let's discover its feature set & see what it brings to the table: 
FEATURES: 
It uses realistic AI voices for instant text-to-speech production. 
Ability to create natural-sounding speech in more than 70+ languages & accents. 
It supports converting text to various file formats including WAV & MP3. 
3. Woord
After using Woord myself, I can confidently say that it lives up to its reputation as an ultrafast voice generator with exceptional text-to-speech conversion capabilities. One of the standout features of Woord is its extensive range of high-quality voices.
With 60 distinct voices available in 10 different languages, you can curate content as per your needs and preferences.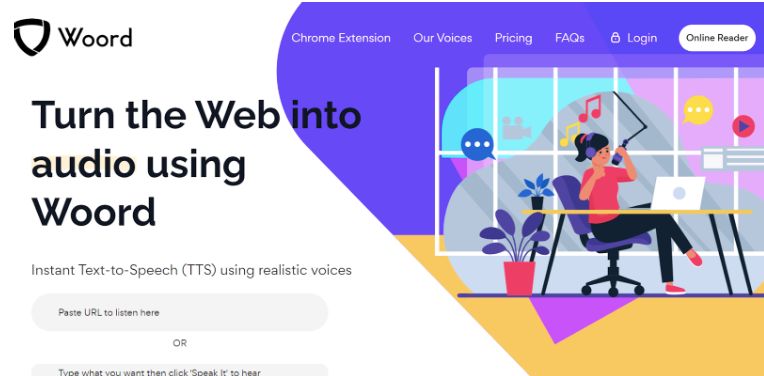 FEATURES:
Allows for seamless audio integration, enhancing the overall quality of your content.

Get access to a private audio library, license rights, and API access.

Supports 50 voices from 21 different languages. 
4. Underduck
Underduck is one of the most popular SpongeBob text-to-speech voice generator tools that you can worth trying.
It supports producing AI vocals and voiceovers using 5000_ expressive voices. Besides text-to-speech, Underduck can help you with – Grimes AI Voice, AI-Generated Raps, Custom Voice Clones and more. 
FEATURES: 
Allows customizing voices according to your likes and preferences. 
Create voices for characters, such as SpongeBob, Squidward, Plankton, Patrick etc. 

Download voices as a WAV file or play it online. 
5. Voxbox
Voxbox is an exceptional tool that combines the power of voice generation and recording. With its extensive language and voice options, user-friendly features, and high-quality output, it proves to be an invaluable asset for content creators, businesses, and anyone seeking a reliable and versatile AI voiceover solution.
FEATURES: 
Supports 11+ languages, 25 national accents & 3000 voices. 

Tools to import, convert, edit, delete, cut clips & more for a seamless experience. 

Supports batch export, enabling users to efficiently export multiple recordings at once.
6. UnicTool MagicVox
Here comes another effective SpongeBob text-to-speech voice generator software that you can try using. The program holds the ability to transform your voice using a wide variety of fun and hilarious effects.
From iconic characters like Darth Vader to beloved favorites like SpongeBob, the tool offers a diverse selection of voice effects to choose from.
FEATURES: 
Supports various audio formats, including WAV and MP3. 

Option to modify voice to sound of male or female, young or old & other customizations. 

Includes a built-in voice recorder & the ability to adjust the pitch and other factors. 
Unlock the SpongeBob Voice With The Top Text-to-Speech Generator Tools
In conclusion, the world of SpongeBob text-to-speech voice generator tools offers a variety of options to bring the iconic character's voice to life. In our personal recommendation, websites like FakeYou (formerly Vocodes) and desktop software like TopMedia offers unique features and experiences, allowing you to generate SpongeBob's voice and explore a range of other voices and languages. 
In the end, the best SpongeBob text-to-speech voice generator tool is subjective and depends on individual preferences and requirements. If you discover any amazing tool that should have been a part of this list, do let us know your recommendations in the comments section below! 
FAQs
How do you make a SpongeBob voice?
Access TopMediai text-to-speech online at the main website.

Type the content into the platform and choose the SpongeBob ai voice from the list of available voices.

Select "convert" after modifying the speech.
What text-to-speech do YouTubers use?
The best free text-to-speech tool is Speechify. You can film an introduction or an entire video. The software supports several languages and is accessible on almost any device.
How do you get Sonic text-to-speech?
Choose "TTS" from the drop-down menu on the home screen.

Choose "Sonic" as the character and "Games" as the genre.

In the blank area, type the text.

Select "Speak." and hold on for a few seconds.

To hear the playback, click the play icon.

You can download the audio version or copy the URL.