The right teleprompter apps ensures users read scripts of its direct screen or projector. However, it could be challenging to use standard teleprompter equipment on the field since most studio equipment may be too bulky. 
That's why several broadcasters now rely on the best teleprompter apps for iPhone and iPad devices to read scripts with ease. The teleprompter app allows users to project text on the go, and it could be a favored option for in-house script reading too. 
That's why this article provides details about the best teleprompter apps for iPhone and iPad users. Check out the top features of each product and what they have to offer; reading scripts can't get any easier after this for sure!
9+ Best Teleprompter Apps For iPhone & iPad
1. Prompter Pal
The Prompter Pal app allows broadcasters and script readers multiple tools to render text on their iOS and iPadOS devices as a regular teleprompter. 
Main Features
Supports customization options to tweak indenting, text alignment, scroll speed, and much more

Allows users to control the teleprompter with audio controls

Supports touch-tone wired remote controls

Users can control the teleprompter with Web server pages, game controller, or Bluetooth device
2. QuotTeleprompter
QuotTeleprompter is a free and paid teleprompter system designed to support filmmakers, broadcasters, and all public speakers. It offers enough tools as a teleprompter to devices running iOS 12 and iPadOS 12 or higher
Main Features
The lightweight design makes it easy to operate on several iOS versions

Offers a remote system that makes it easy to control text on your iOS with devices running other operating systems

Supports several customization options

Allows adjustment of scroll speed, text size, and much more
3. Teleprompter for Video
The Teleprompter for Video app offers a simple interface and several handy options users need to create professional scripts with an iPhone or iPad. It also offers users essential tools like self-tape auditions and voice-assisted script reading. 
Main Features
Voice-assisted reading aids lecturing with a teleprompter

Adjustable options for text size, appearance, scroll speed, and many more settings

Rich Text support allows users to read scripts with greater ease

Supports script transfer between iOS and macOS devices
4. Prompster
The Prompster teleprompter for iOS comes with advanced support to turn handheld devices into professional teleprompters. It also allows several essential options to change how text appears and move onscreen. 
Main Features
Reverse teleprompting allows users to project text from the iOS screen to other devices

Supports the importation of text files (.txt) from Dropbox and other supported sources

Text formatting is available using different basic options (highlighter, underlining, italicizing, bolding, etc.)

Live changes to scrolling speed, text size, and other settings
5. Video Teleprompter Lite
The Video Teleprompter Lite app offers users enough support to record videos and teleprompt on their screen at the same time. It is also one of the very few teleprompters that offer users unlimited characters and script support. 
Main Features
Has no limits to the number of characters or scripts you can create

Allows users to record in two modes – Portrait and Landscape

Comes with a Countdown timer to prep users for recording and script reading

Supports recording and teleprompting at the same time
6. BIGVU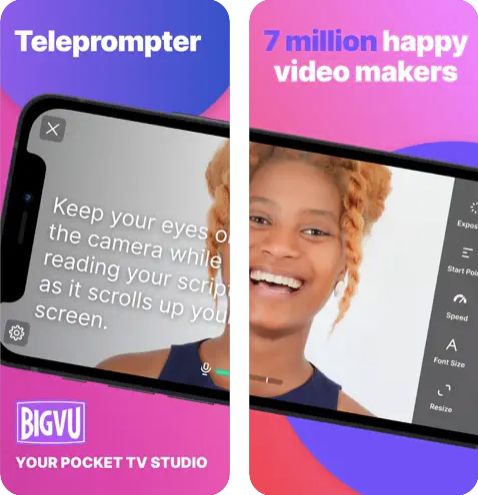 The BIGVU app offers comprehensive support to iPhone users as a teleprompter and video recorder. It offers iOS users the freedom to record videos while displaying texts on their screens. 
Main Features
Crop text screen in 2+ different formats

Apply themes with subheadings, colors, logos, and many more on your screen

Records videos on your iPhone while texting scrolls on your screen

Supports noncommercial musicals with text narration
7. Parrot Teleprompter
The Parrot Teleprompter app comes with full support to convert iOS devices into fully-functional teleprompters. The app comes with several high-end tools like real-time script editors, landscape mode, text mirroring, customization tools, and many more. 
Main Features
Allows users to change the foreground and background colors for better visibility

Supports text colorization, font selection, and many other customization tools

Allows transmission of files from a device's local storage to cloud networks in moments

Supports unlimited scripts as long as you want
8. Teleprompter
The Teleprompter app is a standard option for iPhone and iPad users. This app is an ideal choice to transform your iOS-ready device into a handheld teleprompter. It offers real-time script reading and recording, text customization, and other essential features. 
Main Features
The quick export option allows users to distribute scripts to other teams with ease

Users can manage the teleprompter from any browser linked up to a parent Wi-Fi connection

Allows users to customize the text size, color, and other options before onscreen rendering

Supports the creation and maintenance of as many scripts as you want
9. Teleprompter Pro Lite
The Teleprompter Pro Lite app is a top teleprompter app for iPad users. The app comes with several features that allow users to see and manage scripts or projects on their iPad screens just like a regular teleprompter. 
Main Features
Its simple build makes it a preferred option for quick use on the field

Comes with options to change background colors, fonts, and more

Supports Mirror Mode to render text to any teleprompter system compatible with an iPad

Free users can access its full-text screen for easier rendering
10. Apple Pages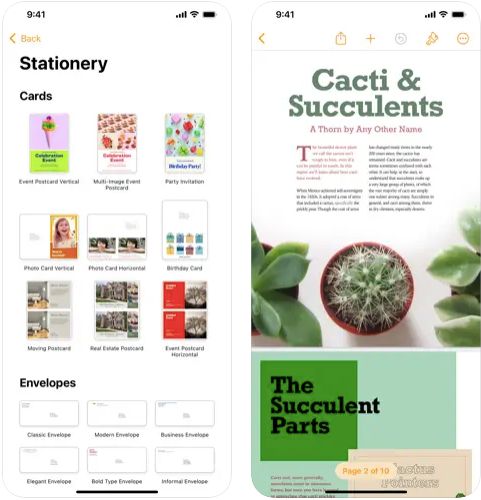 The Apple Pages app comes with a built-in teleprompter that allows users to launch scripts and read large-sized text with ease. It also operates as a script launcher that offers enough tools to read the text through its signature Presenter Mode. 
Main Features
Allows users to launch unlimited scripts

Comes with an advanced Presenter Mode to deliver better rendering of text as a teleprompter

Supports manual scrolling to allow users to gain access to text in different fonts and styles

Allows the inclusion of images alongside text material
FAQs
How can I use my iPhone as a teleprompter?
You can your iPhone as a teleprompter with an ideal app and connecting cables. iPads and other compatible devices can also connect to an external monitor and display video signals including text from teleprompters. 
What is the best teleprompter for iPhone?
Prompter Pal and QuotTeleprompter are the best teleprompter apps for iPhones. QuotTeleprompter is the best teleprompter app for iPhone with easy setup. Prompter Pal is one of the best free teleprompter apps for iPhone with a simple interface.
Is there a teleprompter app for iPhone?
There are 20+ teleprompter apps for iPhones and iPads. These apps offer significant tools required to convert handheld devices into fully-functional teleprompters. Some of these apps offer free tools while others demand one-time or subscription-based payments to use their teleprompters on iPhones.
How do I record a video on my iPhone while reading a script?
You can record a video on your iPhone while reading a script with a reliable teleprompter app. Some iPhone teleprompter apps allow users to record videos with the teleprompter appearing over its screen throughout.
Also Read