Are you looking for Teracopy alternative tools then you are in the right place. Teracopy is software that copies and moves files. Copy and Move are arguably the most frequent file management actions that we execute on our computers regularly. However, because the native copy and transfer operations of the operating system are typically sluggish and do not provide much in the way of additional options, there are several advanced file copy software for windows available, such as the highly popular TeraCopy, but if you are looking for its alternative software that is better then you check this list.
We have listed down the 10 best Teracopy alternatives for Windows 10,8 and 7 In 2021 which will help you to speed up file transfer.
10 Best TeraCopy Alternatives For Windows
1. EaseUs Disk Copy
Latest Version: NA
Compatibility: Support Windows 10/8/7/Vista/XP
Free Version: Free Trial Available
EaseUs Disk Copy is the best Teracopy alternatives software for windows PC. It simplifies the process of copying or cloning disc partitions and recovering data and partitions from backups. If you are dissatisfied with the partition backup, you should use the following option: the entire disc copy wizard. It is entirely portable and may be used to boot up your USBs, CDs, or DVDs. To complete the process, it employs a bootup method. Stages that are simple to follow can guide you through the specific steps without becoming confused.
It is an all-in-one disc clone program that allows you to manage disc partitions and duplicate them as needed. As a result, we may conclude that it is a suitable replacement for Teracopy.
Pros
It includes a built-in burning tool that can instantly produce a bootable CD/DVD or USB drive to transfer the entire disc quickly.

The Disk Copy interface is user-friendly.

Using the sector-to-sector copy functionality creates an identical duplicate of your disc or partitions.

It can relay disc space from other partitions.
Cons 
Non – technical users should avoid it.

Rather slow image creation speed.

There is a lack of precise information on system breakdowns.
2. Copy handler
Latest Version: 1.50
Compatibility: Windows 10,8 and 7
Free Version: Free Available
This is an excellent alternative to TeraCopy because it functions similarly. It is the best file copy software for your Windows operating system. A copy handler provides a quick and customized file copier, and it works nicely with all operating systems.
Pros
After a system restart, any operation is immediately resumed.

It comes with over 60 completely customizable alternative settings.

It has excellent multi-language support.

There is also queue support available.
Cons
When transferring big files, it occasionally displays errors/crashes.

The UI is awful, and it isn't updated very frequently.

It must be installed before use.
3. Ultra-copier
Latest Version: 2.2.4.11
Compatibility: Windows 10, 8, 7, Vista, and XP
Free Version: Free Available
It is another advanced TeraCopy alternative for your windows pc which is capable of considerably increasing copy/paste speed. This tool has various "copying engines" to reach the fastest possible performance. In addition, Ultra Copier helps users to add jobs to the queue. This file transfer software is compatible with virtually all major operating systems, like Windows, Linux, and Mac Operating systems.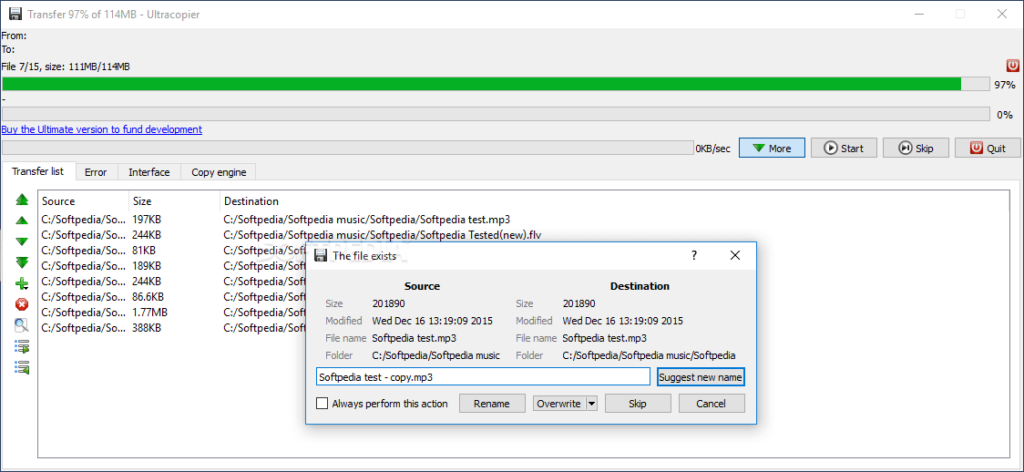 Pros
The files can also be accessed with a few mouse clicks.

There are performance limits that make it suitable for all Windows users.

It provides a substitute for file copy dialogues.

It also improves CPU speed and has an easy-to-use interface.
Cons
The speed is over average but not exceptional.

Errors cannot be repaired in files.

It is not possible to halt and restart copying.
4. File fisher
Latest Version: 1.0
Compatibility: Windows 10 / 8 / 7 / Vista / XP
Free Version: Free Available
File Fisher is a tool that can be transferred files to another PC using USB devices. It is the fastest file copy software for windows 10,8 and 7 PC. File Fisher, like any other file copy application, allows users to pause, resume, or terminate any current operation. However, File Fisher may also resume the previous procedure from the same place where you stopped it. As a result, File Fisher is another excellent TeraCopy alternative tool to consider.
Pros
When it comes to moving files, there is no need to go farther than file fishing.

It can transfer files at high speed.

This tool also has sophisticated filtering for extensions, which makes it pretty useful for your system.

Its best feature is a built-in interface that seems like a standard window.
Cons
There were some bugs in the software
5. Extreme Copy
Latest Version: NA
Compatibility: Windows 10,8 and 7 (both 32bit and 64bit)
Free Version: Free Available
Extreme Copy is another file copying software like Teracopy, but it contains various advanced features that make the application easy to use. Like TeraCopy, It can transfer or copy multiple files and folders at high speeds. Extreme Copy's additional features include configurable read/write buffer size, task queuing, auto-retry, and so forth.
Pros
It creates its distinct icon on the desktop, which makes day-to-day tasks easier.

This software has a configuration sheet that provides and configures several settings.

It also organizes the copying and moving of files.

It comes with adjustable read and writes functionality.
Cons
Except for settings, the basic version has no user interface.

It is terrible in network transfers.

Other copying applications provide free access to its pro features.
6. Unstoppable Copier
It is yet another excellent third-party application for copying and pasting files on Windows 10 PCs. This software allows you to pause/resume downloads. This software program offers a few additional capabilities like file/directory filtering, batch actions, etc.
Pros 
It simplifies the transfer list procedure and preserves it on the computer.

This software can copy almost all files from your computer and even fix them.

It can also be activated and deactivated directly from its settings page.

In batch mode, there is also the option of using a backup tool.
Cons
In concern of copying speed, it is sluggish.
7. Fast Copy
Fast Copy has many features that set it apart from the rest of the document replication programs on the market. This software helps you duplicate/move records between specified source/objective indexes and automatically selects one of two available options (Diff HDD/Same HDD).
Pros
It is the fastest Windows copy program.

It can also effortlessly copy, remove, and sync applications.

Once you have this setup, you will use UNICODE and many other features

It doesn't take ample space on your PC.
Cons
The user interface is quite primary and not particularly intuitive.

Uninstalling is difficult because you can't interrupt a transfer.

The command-line option is likely to be exhaustive.
7. Mini Copier
Mini Copier is unique compared to the other products discussed on this page. It's a lightweight tool that will undoubtedly give you the best transfer speeds. Mini Copier requires less than 20 MB of disc space to install.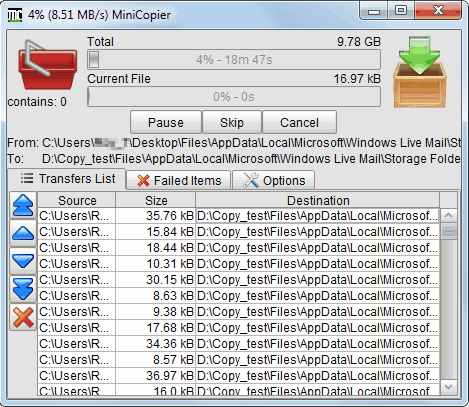 Pros
In terms of applications control, it has the best.

It provides greater convenience and control over file copying.

At the same time, it allows you to queue various file transfers without restriction.

It also comes with the most powerful copying features.
Cons
The interface design is quite simple.
9. Nice Copier
Nice Copier is another Teracopy alternative software. With good copy software, you can handle work such as queues and jobs all at once. This software has different features like pausing, resuming which helps to transfer files at a fast speed. Nice Copier helps to resume tasks after system shutdown or your system battery gets drained.
Pros
It enhances your Windows device's copy organizing abilities.

All copying and other operations are shown in a single window on the desktop.

It also facilitates data verification by verifying through settings and copy dialogue provides.
Cons
Functionality is limited.

There is no way to halt, stop, or continue the file transmission.
10. RichCopy 4
RichCopy 4 is another file copying utility created by Microsoft. Like all other file copy software, It supports file copy in parallel. Additionally, includes capabilities such as pause, resume, file/directory filtering, multiple sources, and so on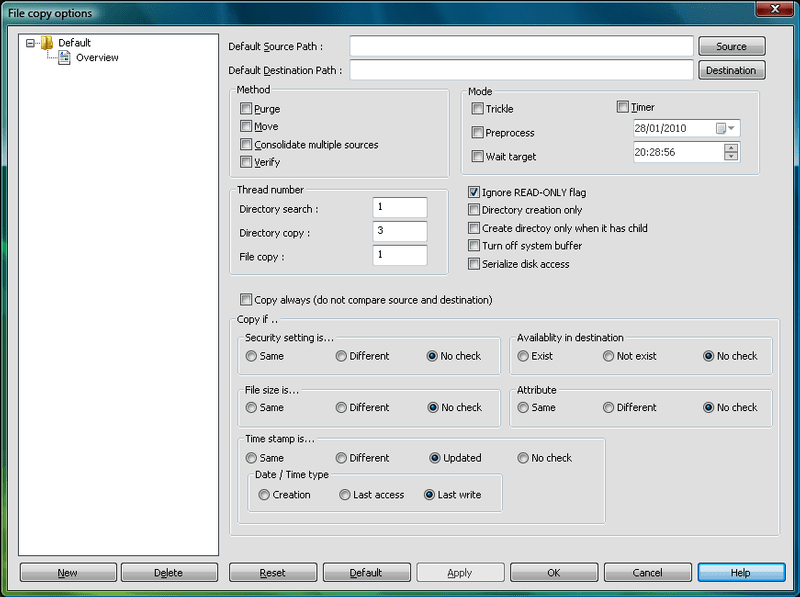 Pros
It is effective at transferring files quickly. The transfer is completed in minutes.

A copy that has failed to owe to an error can also be resumed.

It also supports the removal of file bundles.
Cons
Because software has so many functions; it might take some time to figure out which setup is ideal for our requirements.

It hasn't been updated in years.

Local copying is slow.
FAQs On TeraCopy Alternatives
Q: What is better than TeraCopy?
ANS: Easeus Disk Copy is the best TeraCopy alternative that can increase your computer's Copy and paste speed. Aside from that, FastCopy is another excellent free file copy application that will allow you to transfer files at a faster rate.
Q: Is TeraCopy faster than windows copy?
ANS: For large individual files, windows copy is faster than Tera copy, and For huge numbers, small files Teracopy is faster 
Q: Which is the best fast copy software?
ANS: FastCopy is the best fast copy software. Many people have tested FastCopy, and the results demonstrate that it is far the quickest copying application available for Windows. If you only need speed, this software is ideal.
Q: What is the difference between Copy and TeraCopy?
ANS: Copy is an in-build feature of windows used in file transfer. TeraCopy is a freemium third-party file transfer tool created as an alternative to Windows Explorer's built-in file transfer capability.
Also Read