It's quite inevitable to encounter slow speed & abrupt performance on your desktop/laptop from time to time. Fortunately, with the help of reliable PC Tuneup utilities, you can fix the potential problem and increase your overall productivity. Our personal recommendation for the category is CCleaner by Piriform. It's a multi-purpose tool that helps users to clean, optimize and protect computers in the easiest way possible.
The market has a variety of Tune-up software for Windows, that certainly do wonders to clean junk files, caches, cookies, and logs and declutter all kinds of digital debris that unnecessarily takes up precious memory and causes sluggish performance.
After trying and testing more than 20 computer cleanup programs, we realize that not all utilities live up to the hype. So, after going through their upsides and downsides, we've curated a list of the 10 Best PC Tune-up Utilities that claim to provide a wide range of effective system maintenance tools to clean hard drives and boost PC performance and fulfill all the users' requirements. 
Let's take a look at all of them and explore the top PC tune-up utilities for Windows 11/10/8/7 that are worth your time and investment. 
10 Best Tune-Up Utilities For Windows 11/10 PC
All the discussed optimization tools help in improving startup speed and reclaiming hard disk space for storing other valuable files and enjoying quick operations. 
1. CCleaner 
Latest Version:

v6.04.10044

Price:

Free, Professional – $24.95, Professional Plus – $39.95
Why Should You Consider CCleaner For Tuning Up Your PC?
Performance optimized to improve PC's speed up to 34% in a click. 

PC Health Check to discover, repair & tune-up performance. 

Take control of apps that consume most of the system resources. 

Update drivers to boost the performance of your PC hardware. 

Monitor and clean junk files in real-time. 

Clean up browser history, logs, caches, cookies & other residues. 

Privacy modules to recover lost files, track files, and more. 
2. Restoro 
Latest Version: 
Price:

Basic = $27.95, Premium = $41.95, Extended = $58.95
Why Should You Consider Restoro To Repair & Clean Your System?
Holds the ability to restore maximum performance in one go. 

Finds and replaces damaged Windows system files to ensure better stability. 

Detects & eliminates threatening apps before they cause damage to your PC. 

Supports complete Operating System restoration. 

Optimize Windows Registry to improve speed. 

Run a PC scan and assessment to take a quick peek into your system. 

Multi-device protection and repairing capabilities. 
3. iolo System Mechanic 
Latest Version:

22.5

Price:

$39.95
Why Should You Consider an Iolo System Mechanic To Optimize Your Desktop?
Finds and removes junk files & other redundant data that clogs up precious memory. 

Delete bloatware apps you don't need on your system anymore. 

Effective security modules to safeguard connected devices. 

Supports disk defragmentation to enhance overall speed. 

Repair your system automatically when the device is idle. 

Has a game booster to improve the gaming and streaming experience. 

Optimizes Internet settings in a way, so that you can enjoy faster downloads & better browsing experience. 
4. Norton Utilities Premium 
Latest Version:

6.0

Price:

Free, $39.99/Year
Why Should You Consider Symantec Norton Utilities Premium To Clean Your Windows PC?
1-click optimization to give your system a significant boost. 

Optimizes PC processing power, memory & hard drive. 

Automatically fixes potential issues that cause slowdown & crashes. 

Enable/disable startup programs that bog down PC performance. 

Frees up unnecessary occupied disk space. 

Maintain your digital privacy by cleaning up browsing data & downloads. 

Shred sensitive files permanently to prevent unauthorized access. 
5. Glary Utilities 
Latest Version:

5.195 

Price:

Free PC Tune-up software, $19.97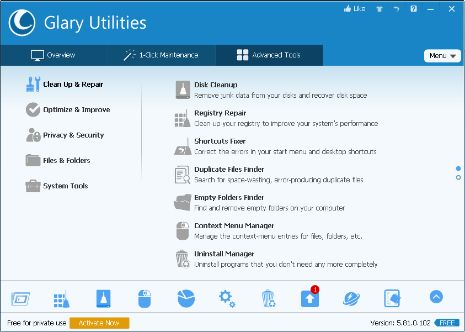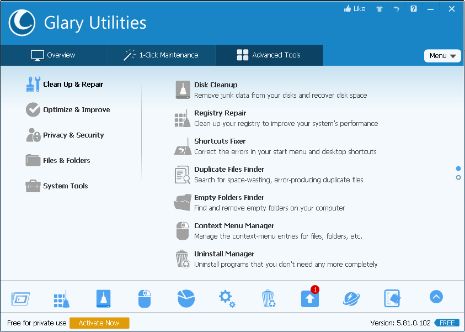 Why Should You Consider Using Glary Utilities For Optimizing Performance?
One-click cleaner to automate the optimization process. 

Fixes invalid registry entries. 

Scan & analyze your computer issues & make it run faster than ever before. 

Easily fixes annoying computer issues, crashes & freezing issues. 

Manage startup items & services to improve overall boot time. 

Backup, restore, and uninstall drivers. 

Remove duplicate files, empty folders & broken shortcuts. 
6. Advanced SystemCare 
Latest Version:

15.6.0

Price:

Free PC tune-up utilities for Windows, 1 PC Plan = $16.77, 3 PCs Plan = $19.99
Why Should You Consider Advanced System Care On Your Device?
Has an AI-powered scanning engine to detect what's slowing down the PC. 

Large file cleaner and real-time tune-up capabilities. 

Remove useless and invalid registry items that cause freezing issues. 

Optimizes browser settings in a way to boost online surfing by up to 300%.

Manage startup items to enhance boot time. 

Cleans RAM to reclaim space & store other valuable files. 

Clears your privacy traces including saved passwords. 
7. Ashampoo WinOptimizer
Latest Version:

25.0.14

Price:

Free PC Tune-up Program, For 3 PCs = $29.99
Why Should You Consider Ashampoo WinOptimizer To Improve Speed On PC?
Game booster to enhance gaming experience without any lags or glitches. 

Ability to manage system policies with User Rights Manager. 

Has effective memory usage to enjoy enhanced PC performance. 

Handy scheduler to run maintenance and optimization tasks. 

Supports cleaning multiple user accounts. 

Split up huge files with File Splitter. 

Disable unnecessary system services to achieve peak performance. 
8. Wise Care 365 
Latest Version:

6.3.7

Price:

Free PC tune-up software, Single Solution = $22.46, Family Pack = $29.96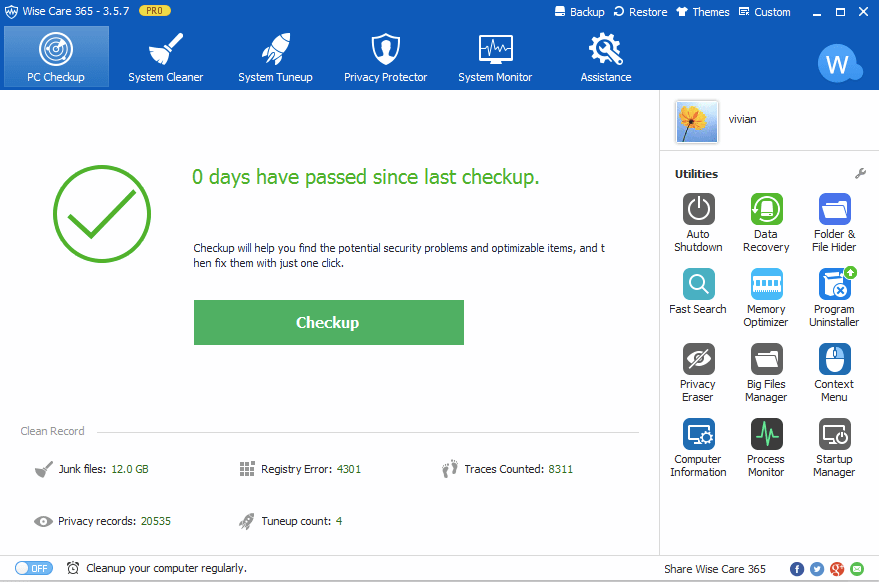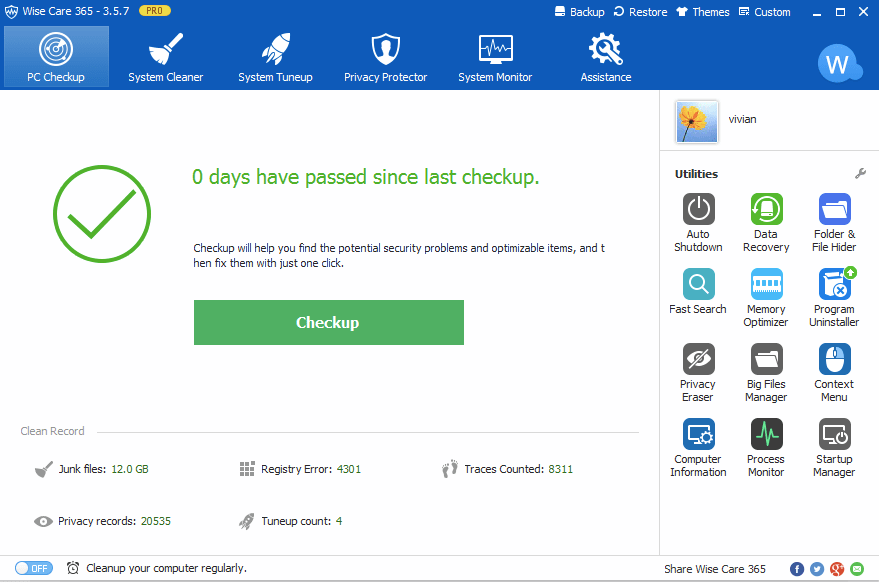 Why Should You Take Wise Care 365 As The Best PC TuneUp Program
Run a one-click PC check-up. 

Remove invalid Windows registry entries. 

Cleans temporary files, caches, browsing history, cookies & other useless files. 

Scan the local drive to clean files with specific extensions as well.  

Defrag the hard drive to make your computer run faster & make it more stable. 

File shredder to delete sensitive data permanently. 

Powerful hardware monitoring module to manage processes & background services. 
9. Comodo PC TuneUp 
Latest Version:

1.0 

Price:

Free PC tune-up program, $19.99
Why Should You Consider Taking Help From Comodo PC TuneUp To Improve Speed?
Scan your entire PC, discover and fix problems that degrade performance. 

Identify and delete junk files, log files, temporary files, and error reporting files. 

Fix registry problems that impact computer performance. 

Improve overall boot time by disabling useless startup items. 

Report critical Windows events. 

Scan your computer for potential malicious programs. 

Get expert help from reliable sources to maintain system stability tips and hacks. 
10. Outbyte PC Repair 
Latest Version:

1.1.3.60400

Price:

Free PC tune-up utility, $29.95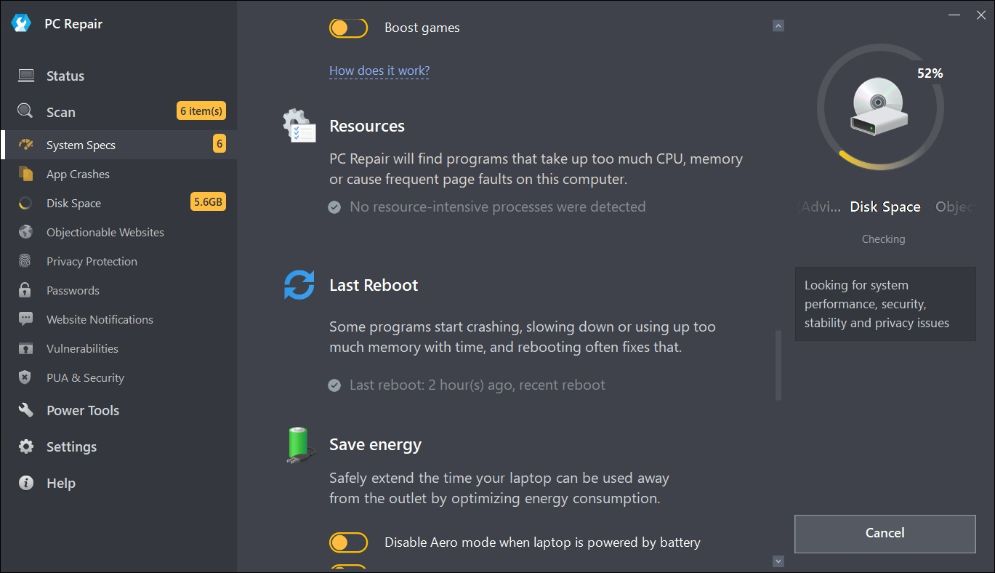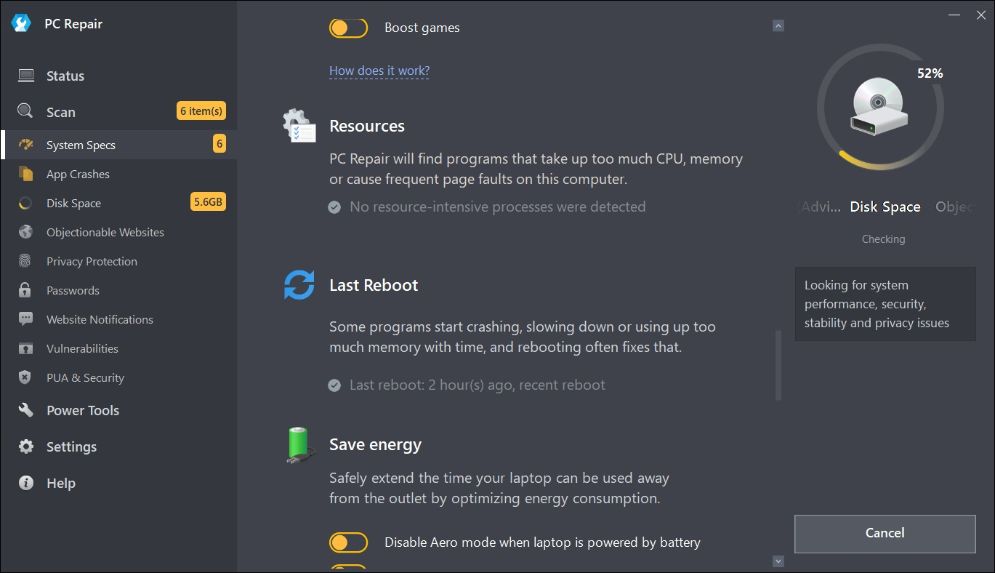 Why Should You Consider Using Outbyte PC Repair On Your Windows? 
Performs the necessary repairs to restore system efficiency and stability.

Identify and remove these files on your hard drive, to keep it in tip-top shape.

Discover and delete junk files, temporary files & redundant data that eat lots of space. 

Disable Windows telemetry features to control privacy. 

Real-time boost feature that switches priorities as you switch programs.

Get performs the necessary repairs where possible to restore system efficiency and stability.

Delete all of the tracking cookies in one go & alert you to potentially dangerous websites. 
Our personal recommendation for the Best Tune-Up Utilities is CCleaner by Piriform and Restoro which allows users to repair computers and optimize them in a way so that they can enjoy peak performance in a couple of clicks.   
FAQs On Best Tune-Up Utilities
Q1. What is the best utility program?
CCleaner by Piriform is one of the best tune-up utilities that allow users to clean, optimize and protect their computer in one of the most effortless ways possible. 
Q2. Is there a free version of AVG TuneUp?
Yes! There's a free trial of AVG TuneUp through which you can enjoy the premium product completely for 30 days. 
Q3. What does a PC tune-up consist of?
PC Tuneup program is equipped with a wide range of modules to clean up temp files, uninstall unwanted apps, fix computer errors, eliminate registry entries & do other optimization tasks. 
Q4. Is AVG TuneUp an antivirus?
Well, there's no AVG TuneUp Antivirus. But it does have a PC cleaner and tune-up software that helps users to protect digital privacy and safeguard devices from potential viruses and remove unwanted programs that may cause a malware infection. 
Q5. What are the utilities of Windows 10?
One of the most popular utilities of Windows 10 are: 
OneDrive 

Outlook 

Skype 

OneNote 

Microsoft Teams 

Microsoft Edge 



Also Read