If you searching for best uninstaller apps for Mac which can help you to remove apps easily. Here we're going to discuss about the best uninstaller software for Mac. The process of uninstalling an app on your Mac is look like an easy task but it's quite difficult to remove all the trash of the particular app. 
You might have think that uninstalling an Mac apps is going to delete the app permanently but there are some files and folders which are left behind. You have to remove them manually with the help of Mac uninstaller apps.
Here's the list of top best app uninstaller software to uninstall unwanted application on your Mac.
Also Read: Best Uninstaller for Windows 10
Best Uninstaller Apps For Mac 2020
1. Cleanmymac
This is one of the best Mac app remover software which helps to remove unwanted files and folders of the app. Cleanmymac X also helps to clean junk files, broken downloads, caches and helps in recovering storage space on Mac. This Mac Apps remover software protects your Mac from viruses, adware, malware and other malicious threats.
Features
Advanced Mac uninstaller tool
Single click work
Uninstall application in bulk
2. Appcleaner and Uninstaller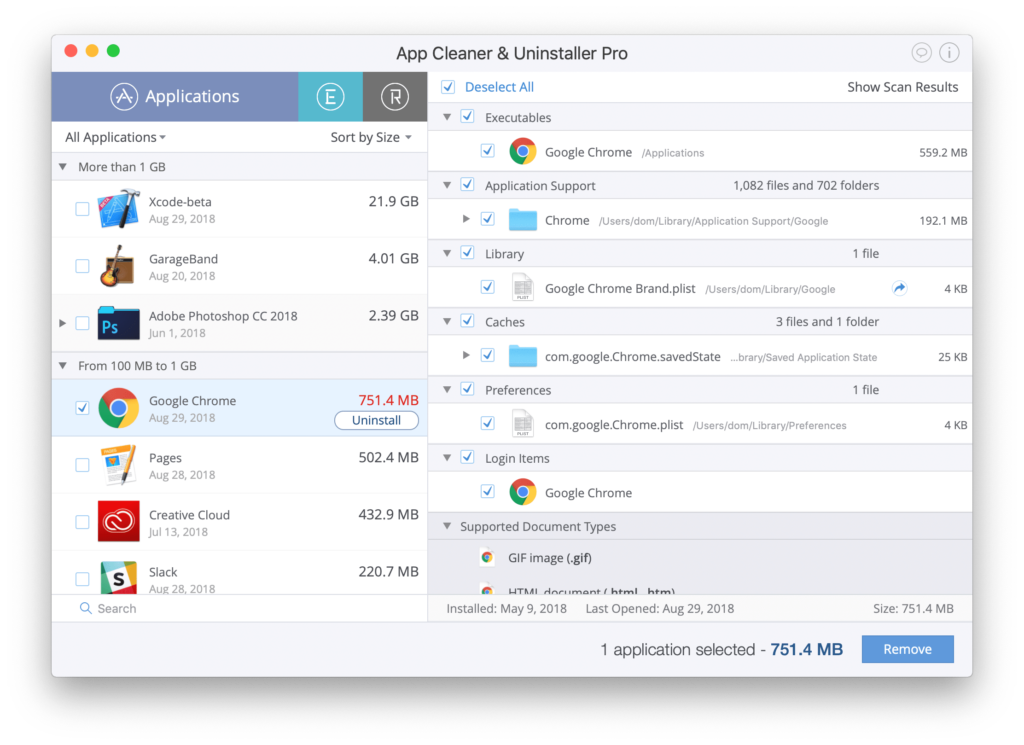 Appcleaner and uninstaller is one of the best Mac apps uninstaller after Cleanmymac X. The important function of this particular uninstaller is to completely scan your Mac and provide a list of application which are installed on your system. This tool helps to remove all the files of deleted app.
Features
Application size is quite small

It completes delete all plugins and widgets

Application get updated automatically

Open application are secured with this program
3. AppZapper
AppZapper has a unique interface which makes it quite interesting. This best free uninstaller apps for Mac follow the tradition of drag and drop. You can easily drag and drop an app if you want to delete in the AppZapper interface. 
This installer has a function which helps to find all the files related to the unwanted applications. This is one of the good application uninstaller from Mac as it secures and save your licence and also registration information of the app purchased.
Features
Easy to understand

Drag and drop functions are quite easy

It has a free trial
4. Iobit macbooster 8
This program is one of the best uninstaller programs for Mac and maximum users trust this program. This program is easier to use which helps in cleaning the unwanted files and junk files associated with the application. 
Features
Latest version is very effective and good user interface

The stool is available for cheap price

The working is quite simple

Completely remove the app
5. Omni remover 3
This is the last best uninstaller apps for Mac in the list. This program is finally got updated and there are a lot of features which makes it quite amazing Mac uninstaller.
This program provide a quick installation of the apps and has a good user interface
Features
User interface is very effective

Easy to process operations

Contains lot of advanced features
6. CleanGeeker
This is one of the best uninstaller apps for Mac which is developed by tunesbro.  It also has a good user interface which makes it interface quite amazing. This is the last in the list but have some mind blowing features.
Feature
Remove any application in one click

It easily scan and delete junk files

All associated files can be removed easily

Clean up memory and boost the overall system speed.
What is the Best uninstaller for Mac?
Cleanmymac X is top uninstaller for MAC. This tools has been continuosly ranked the list because of its smooth and easy functioning.
How do I uninstall a program on a Mac?
Using any of the tools listed above you are able to easy uninstall and remove applications on your MAC.
How do I empty my Mac cache?
These listed software has an inbuilt function of cleaning your cache. All of them has this feature.
Also Read
Comment below your suggestions. We are awaiting to hear from you