Are You looking for the best uninstaller for windows 10 then you are in the right place. We are usually troubled by the pop-ups to install some programs and they sometimes get installed automatically without our permission. We don't notice them at that time but they are quite harmful to our PC which is why it becomes important that we uninstall them from time to time. There are so many Uninstallers in the market that are available for free. You can boost up the performance of your PC, protect it from various viruses and uninstall all the unwanted programs. So read about the Best Free Uninstaller for Windows 11, 10, 8 and 7
Best Uninstaller for Windows 11, 10, 8 and 7 PC In 2022
Here are the Best Uninstallers for Windows 11, 10, 8, and 7 which will help you to uninstall any software in 1 click
1. Revo Uninstaller
Latest Version: 2.2.8
Compatibility: Windows 11, 10, 8.1, 7, Vista and XP (both 32bit & 64bit versions)
Free Version: Free Download Available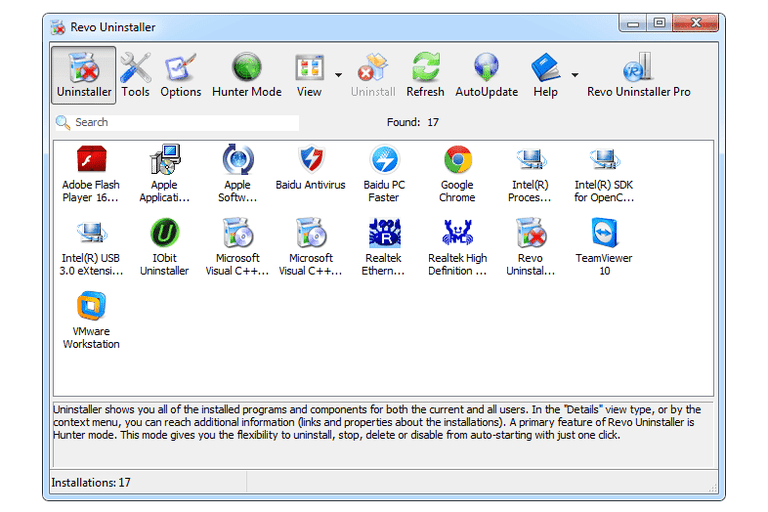 Revo Uninstaller is the best free uninstaller for windows 10 which removes all the unwanted software and programs very smoothly. One of the primary features of this uninstaller is the Uninstaller Module that first uninstalls the program and then scans the leftover data and wipes it away completely, no matter how stubborn it is. Also, it is very useful in case the installation is corrupted. This tool made it easy to remove software for windows 10
Let's discuss some of its exclusive features in brief-
Complete powerful software uninstall

Uninstall stubborn programs easily

Remove junk files and unnecessary program files

Quick Uninstall for one or more programs in a row

Compatible with all 32-bit and 64-bit versions of Windows

Free professional technical support

Customizable and flexible, easy to use user interface

Portable version for all your personal Windows devices
Platforms Available: Windows and Mac
2. IObit Uninstaller
Latest Version: 10.6.0
Compatibility: Supports Windows 11/10/8.1/8/7/Vista/XP (both 32bit & 64bit versions)
Free Version: Free Download Available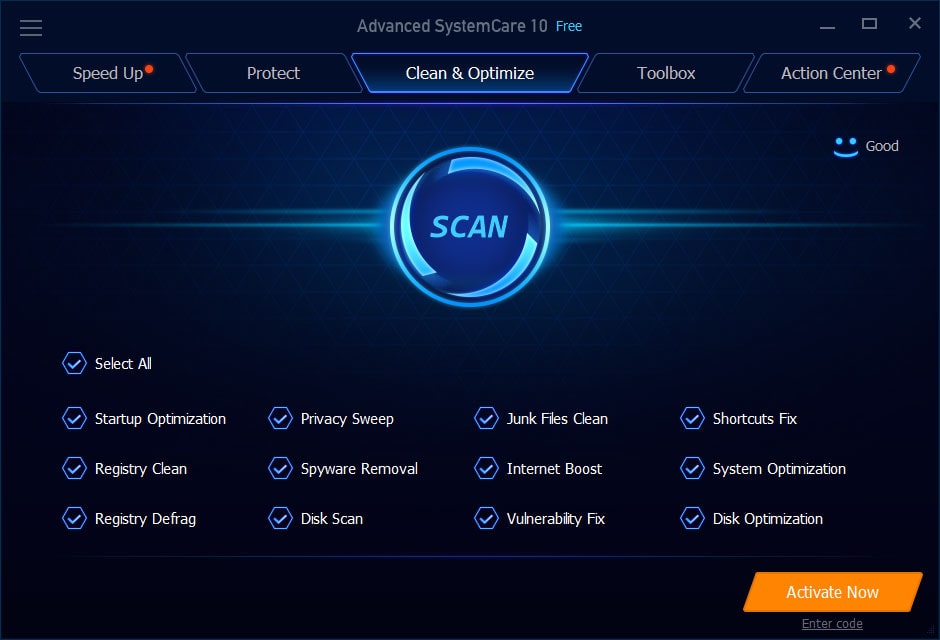 IObit Uninstaller is the best uninstaller for windows 10 is an effective software tool used to clean the Windows PC from unwanted plugins, Windows apps, browser toolbars, etc. It scans the PC and removes all the stubborn apps, injected programs, malicious activities, and futile leftovers automatically to provide a secure and faster internet surfing experience. 
Features
Uninstall all the unnecessary programs from your system and also undo all the changes it has made to the PC.

Software Updater automatically updates all the important programs and software of your system and keeps your system safe and secure from cyber-attacks.

The uninstaller wipes away the malicious plugins and toolbars from all the browsers to ensure a safer online environment.

It cleans all the unwanted leftover files, programs, folders, and registries smartly and keeps your PC healthy and new.
Platforms Available: Windows and Mac

3. Ashampoo Uninstaller
Latest Version: 10.6.0
Compatibility: Supports Windows 10, Windows 8 and Windows 7 (both 32bit & 64bit versions)
Free Version: Free Download Available
Ashampoo Uninstaller is another name in the list of Best Software Uninstallers, that boosts up the performance of your PC as well as safeguard it from any malware attacks or cyber threats. It is used to wipe useless programs and free up a lot of disk space. It cleans up your PC from all unwanted apps, browser plugins, and toolbars to give you a safer browsing experience. 
One of Ashampoo Uninstaller's most valuable features is the ability to log changes to your PC automatically so that they can be easily undone at a later time. It takes a 'snapshot' of your PC before and after the software is installed, allowing you to undo the changes swiftly. You may also take 'snapshots' of your system at any moment and compare them to see how it has evolved.
The option to do a deep check for the remaining files is selected automatically when you uninstall an application.
Features
Uninstalls all the complex programs and apps from the system without installation logs.

Permanently eliminates the sensitive data to interrupt the third-party intrusion into your privacy.

Clears the history, logs, cache, and unwanted plugins & toolbars with deep-clean technology.

Always safeguard your private data using military-grade file wiping technology.
Platforms Available: Windows and Mac
4. Wise Program Uninstaller
Latest Version: 2.5.1
Compatibility: Windows XP, Vista, Win7/8/10 (both 32-bit and 64-bit)
Free Version: Free Download Available
Wise Program Uninstaller is a free uninstaller for windows 10 and is a handy tool to uninstall Windows software quickly using its easy and user-friendly interface. It scans and deletes all the unnecessary and leftover files, folders, and registry items. The 'Forced Uninstall' feature uninstalls the software that cannot be uninstalled by conventional means. It scans your system and removes all the files associated with the software thoroughly like you never installed it. This software easily uninstalls programs in Windows 10.
Features
Modern and Intuitive Interface

Safe Uninstall and Forced Uninstall Together

Ensure clean and safe software uninstalling

Safe Uninstall removes the standard-uninstall-executable programs

Forced Uninstall to uninstall tough and stubborn non-standard programs

It is completely free to use.
Platforms Available: Windows and Mac
5. Advanced Uninstaller PRO
Latest Version: NA
Compatibility: Windows 10, Windows 8.1, Windows 8, Windows 7, Windows Vista, and Windows XP (both 32-bit and 64-bit versions)
Free Version: Free Download Available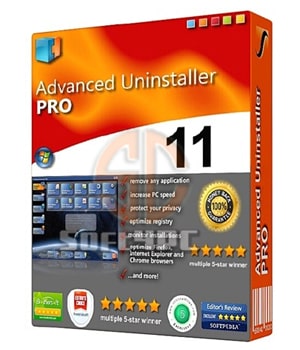 Advanced Uninstaller Pro is the best tool to clean and boost up your PC, uninstall unwanted programs, detect and remove viruses, wipe away the obnoxious toolbars and browser hijackers that are highly tough to remove. There is a range of options in this software that delete sensitive files permanently and optimize your PC. It is a very fast tool that allows deleting dozens of files within a single click. With the help of this uninstaller, it becomes easy to remove unnecessary files from windows 10 8, and 7.
Features
Helps your PC to run at full speed by freeing up the disk space.

Take good care of the Windows registry and services.

Detects and removes duplicate files.

Secure your privacy by shredding the files and folders in such a way that they won't be recovered ever.

Keeps track of all changes performed on your PC during software uninstallation
Platforms Available: Windows and Mac
6. Geek Uninstaller
Latest Version: 1.4.4.115
Compatibility: Windows 8.1, Windows 8, Windows 10(both 32-bit and 64-bit versions)
Free Version: Free Download Available
Geek Uninstaller is a free portable uninstaller, available in over 30 different languages making it available for every type of user.
The program lets you divide installed software into two categories: desktop apps and apps from the Windows Store. It allows users to remove Windows Store apps either manually or forcefully.
Geek Windows Uninstaller is regarded as one of the best free solutions for uninstalling unwanted software and apps on Windows due to its simple interface and numerous functions.
Features
It can forcefully remove unwanted, stubborn, and corrupted software.

Sorting and searching capabilities make it simple to locate and uninstall unwanted apps.

All Windows versions, as well as Windows Server 2008/2003, are supported.

It is a portable application.
7. Puran Uninstaller
Latest Version: 3.0
Compatibility: Windows XP/2003/Vista/2008/7/8/10(both 32-bit and 64-bit versions)
Free Version: Free Download Available
It is a free Windows Uninstaller that is minimal in size, easy to use, and effective. Puran, like other top Windows uninstaller software, can forcibly erase troublesome programs, as well as the files and folders linked with them. Puran Windows uninstaller software searches for every reference and registry file to remove any software that refuses to be uninstalled from the PC.
This Uninstaller is compatible with 32-bit and 64-bit versions of Windows, including Windows 10, 8, 7, Vista, XP, Server 2008, and Server 2003.
Features
Name, version number, publisher, install date, and size can all be used to sort programs.

It comes with an uninstaller that is both forced and batch.

Can detect potentially harmful software.

It has one of the most uncluttered and straightforward interfaces.
8. CCleaner
Latest Version: v5.83
Compatibility: Windows XP/Vista/7/8/10 (both 32-bit and 64-bit versions)
Free Version: Free Download Available
CCleaner is one of the most well-known PC cleaning and optimization areas. It includes many modules to improve system performance, including an uninstaller that aids in the detection and deletion of duplicate files, the management of starting programs, the secure deletion of files, and so on. It shows you an entire list of apps, and you may uninstall them all at once by clicking the Uninstall button. The user interface is simple to use, has been translated into 57 languages, and is portable.
Features
Cleaning and optimizing the system is scheduled automatically.

It has a clean and user-friendly interface.

It works with all versions of Windows.

It is possible to rename and delete program entries.
9. Absolute Uninstaller
Latest Version: 5.3.1.33
Compatibility: Windows 7/8/10 (both 32-bit and 64-bit versions)
Free Version: Free Download Available
Absolute Uninstaller is a free application uninstaller that can uninstall many apps at once, cutting down on the time it takes to clean your PC of unwanted software. It contains a user-friendly program sorting mechanism that includes time and frequency of use filters. Even if you accidentally delete the wrong program's entries, this tool can recover them. This tool is compatible with Windows 10, Windows NT, and Windows Server 2003.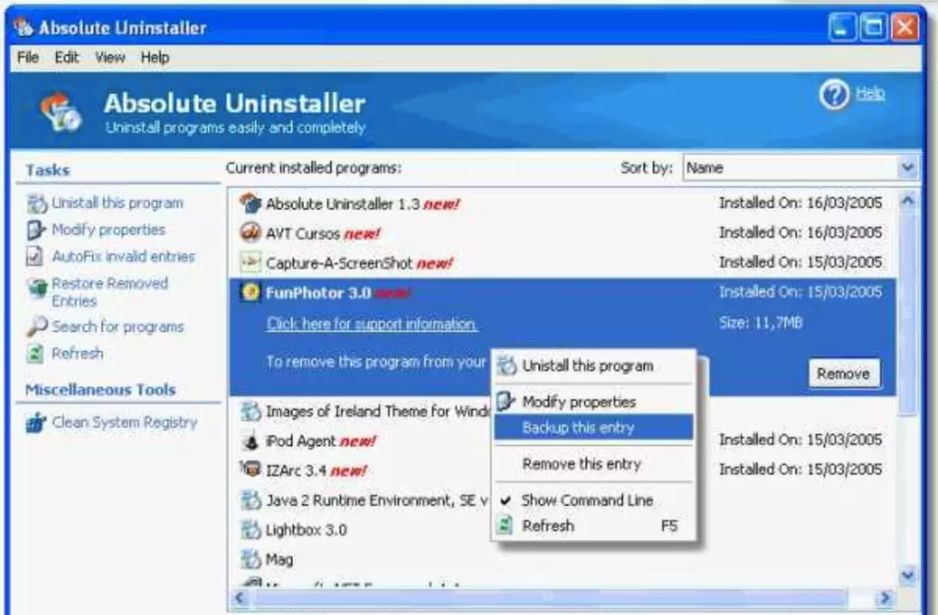 Features
It locates and validates incorrect registry entries associated with software that has been installed

.

For large programs, it provides a built-in organizer.

Supports bulk uninstalls.

Deletes an application shortcut that is no longer valid.
10. ZSoft Uninstaller
Latest Version: 2.5
Compatibility: Windows 7
Free Version: Free Download Available
The native Windows software uninstaller is considerably inferior to ZSoft Uninstaller for windows 10. ZSoft Uninstaller has an analysis option that you may use to trace which files are being added to your system during the first installation of programs. This would be a fantastic feature to verify that the uninstaller is capable of completely removing the program. However, there is no method to organize or filter the list of installed software, and it also does not show extra information such as the date of installation, publisher, or size.
Features
Analyze an installation so it can be completely uninstalled.

After you've uninstalled the software, look for leftovers.

Allows you to search through the installed software list.

Find and delete empty folders.
11. Anvi Uninstaller
Latest Version: NA
Compatibility: Windows, Windows XP, Windows Vista, Windows 7
Free Version: Free Download Available
Anvi Uninstaller does an excellent job of removing most apps, but it requires you to do so one at a time. You cannot even delete numerous programs in a row, making this program take a long time. It allows you to organize your files on your computer in various ways, including by size, date installed, and alphabetically.
You may also view all installed programs, newly installed programs, system patches, and any significant apps that you have installed from the main menu.
Unfortunately, unless you subscribe to the Pro edition of the program, you won't be able to use the Perfect Scan option, which allows you to scan the registry for "leftovers."
Features
Allows you to look for installed programs.

It helps in the better structuring of your program.

Removes patches that were installed via Windows Update.

It is portable, so it doesn't need to be installed.
12. Comodo Program Manager
Latest Version: NA
Compatibility: Windows 10,8 and 7
Free Version: 30 Days Free Trial
The finest uninstallers software made by Comodo is comodo programs manager. After installing Comodo Programs Manager, any new software installation will be watched in real-time to keep track of every registry and file system modification. Then, when you're ready to uninstall the program, it will do it thoroughly. The list of installed software can be sorted by name, business, size, frequency of usage, install folder, and install date. You can also create a backup or restore point if you accidentally removed any program. The downside of the program is that it's only compatible with Windows 8, 7, Vista, and XP.
Features
It also includes the necessary backup and restores features.

It also can remove Windows drivers and updates.

The software can be searched and filtered by name, company, size, and usage.

Monitors install to know how to uninstall the program.
13. Built-in Windows Uninstaller
The built-in Windows standard uninstaller is generally sufficient for basic software uninstallation. To get a list of all the programs, you can navigate Settings > Apps > Apps & features. The list includes both Windows Universal and regular desktop applications, so you should be able to find every software on your computer. When you use Windows built-in options to delete a complete desktop application, the process frequently leaves behind residual folders, files, and Registry entries. To delete an application entirely, it's recommended to use third-party uninstallers.
Highlights: 
Name, install date, and size can all be used to sort programs

Easy to access, the interface is smooth.

To see all the programs you can delete, go to Settings > Apps > Apps & features.

shows you both Windows Universal and standard desktop applications
14. Antivirus Software Uninstaller
Security software, such as antivirus products, can be uninstalled in the same way as any other piece of software. While it usually works perfectly, you may encounter problems when deleting a security application from your computer. If the removal fails, you may be in a difficult situation, as security software is usually firmly embedded in the operating system.
For this reason, some antivirus companies have developed special removal tools for removing or uninstalling their own software that would erase any file or Registry key associated with the software on the system, thus removing it from the system.
Highlights:
Full compatibility with 64-bit Windows.

It is a portable program.

Identifies the antivirus programs that are presently installed.

Most of the uninstallers support multiple languages.
Faqs – Windows Software Uninstaller Tools
Q: Is windows uninstaller good enough?
ANS: Built-in Windows Standard uninstallers are usually good enough. A third-party uninstaller is merely another system tool that adds needless complexity for doubtful benefits.
Q: Is IObit uninstaller safe?
ANS: Yes, it is safe. Many software download websites, such as CNet and Softonic, have tested and approved IObit Uninstaller. These are well-known websites that verify the legitimacy of software before uploading it and making it available for free download to the general public.
Q: Is uninstaller safe?
ANS: Yes, most uninstallers are safe, but Third-party uninstaller tools are rarely required in reality. Most people should avoid using them because each program's uninstaller does a good enough job, even if it isn't perfect.
Q: What is the best program uninstaller?
ANS: IObit Uninstaller is the best free uninstaller for windows. Apart from it, Geek uninstaller is also a good uninstaller with features like quick system scan and portable app.
Conclusion
Have you ever faced problems trying to install the new version of the software that you previously uninstalled? It is usually the case when you uninstall the software, but the remnants of applications are still there. It often leads to another problem filling up space. Let's face it, windows built-in uninstaller is not efficient in completely removing an application.
We recommend utilizing third-party windows uninstaller software to remove all linked files and applications in one shot. We've covered some of the most valuable uninstallers for windows ten apps in this post, including how to remove rogue software and reclaim unused storage space.
These are just a few names in the long list of Best Uninstallers software for windows, there are so many more in the market. Stay tuned with Windows Radar and we'll come up with more similar blogs. Comment below your choice of Windows uninstaller software.
Also Read