Consider the possibility that you lose your USB or that someone decides to access it without your consent. How would your data fare? It is time to check out the Best USB Encryption Software for Windows.
A USB encryption tool is software that runs on the USB and is intended to keep your important data safe from prying eyes. The primary advantages of USBs are their large storage capacity, lightweight, and particularly their portability, which allows you to carry them with you wherever you go.
In addition to their music, images, and videos, people frequently store their bitcoin, client deliverables, travel documents, bank records, and other items.
Listed are some of the best USB Encryption Software which will help you to protect your data.
7 Best USB Encryption Software For Windows PC
1. Rohos Disk Encryption
On a PC, USB flash drive, or cloud storage service like Google Drive, One Drive, or Dropbox, the Rohos Disk Encryption application generates hidden and encrypted partitions. With this software on your smartphone, the native two-factor authentication app enables you to quickly unlock your private data.
Features
Utilizes a 256-bit encryption key length and the NIST-approved AES encryption technique

Expandable virtual discs on Android, access encrypted folders

Zero chance of data loss

Your encrypted disc can be hidden in a media container

You can maintain a secured partition on a USB flash drive and access it from any computer.

securing desktop shortcuts

Moving any file or folder into an encrypted disc is simple
2. KakaSoft USB Security
Your confidential information is well-protected on USB drives by this USB Disk Security using the most robust encryption method. It can Protect your thumb drive, memory card, USB flash drive, and other devices with a password.
Features
Your USB drive may be locked in 3 easy steps.

Once the USB disc is plugged into a PC, your files are instantly protected.

Enjoy security whenever and wherever you choose without installation.

Without installation, you can lock and unlock USB drives on any computer.
3. Cryptomator 
Cryptomator is another best USB encryption software that can keep your files safe and secure. Your data is encrypted quickly and effortlessly with Cryptomator. Then you upload them safely to your preferred cloud service. It is an open-source software tool.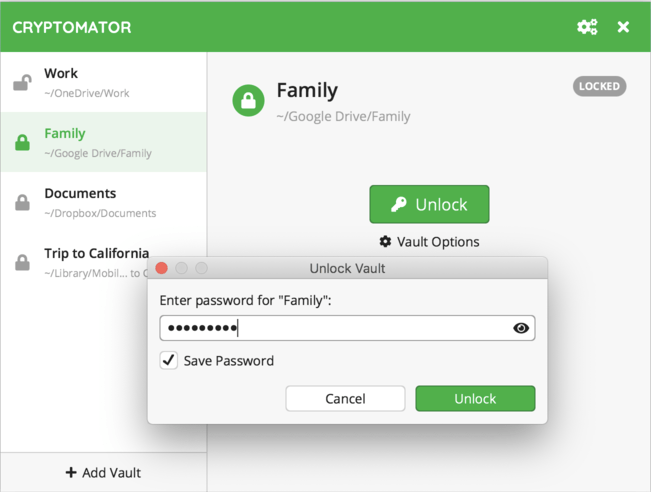 Features
Has a demonstrable code quality

Synchronises with your entire team through the cloud

Regularly and openly tested.
4. VeraCrypt 
It is a free and open-source tool for instantaneous encryption. The program has the ability to build a file-based, virtual encrypted drive that functions just like a physical disk. With pre-boot authentication, it can also encrypt a partition or the whole storage device.
Features
Accessible on Windows, MacOSX (10.7+), and Linux.

It has more security, and more flaws have been resolved

UEFI and MBR support for Windows system encryption

It strengthens the encryption algorithms used for systems and partitions

Makes the system resistant to advancements in brute-force attacks

It also addresses a number of security flaws and vulnerabilities.
5. SecurStick
SecurStick is another free USB Encryption software utility that enables file encryption on USB sticks and other storage media. It provides administrator-level security without requesting it. Users can enter their password to access a "secure area" that the software creates.
Features
Users can now finally encrypt their files via copy-paste or moving when a new disk drive is created. 

This software can also examine mobile data that is not secured. 

Any encrypted files kept on the USB can be used with any other operating system.

Defend mobile storage devices from unwanted access
6. EncryptStick 
EncryptStick is another free USB encryption software that offers absolute encryption (256-bit) with more security when transporting your files.
You can access your information anywhere and secure your files instantly with this software. Also, you get the most recent version of your files at all times to keep your cloud storage secure.
Features
Available with a fresh look!

It offers defense-grade encryption

It provides you with countless safe folders

Accessible on both Mac and PC

Backup capabilities

Intelligent synchronisation ENC's premium support
7. GiliSoft USB Stick Encryption
Through the creation of a password-locked safe section using the available hard disk sectors and the widely used AES encryption method, this USB Encryption program separates a USB disk into two areas: a safe area and a public area. It offers data protection for private, public, and commercial use.
Features
Encrypt a USB flash disc securely

Set a password for the USB drive

Automatically encrypting files

Fast hard drive backup for USB data

When disconnected, encrypted data is immediately locked.

Works with any type or format of USB drive

Operates on all Windows-based devices
FAQs Answered!
How can I encrypt my USB for free?
Your data can be encrypted and password-protected using numerous software. But the majority need administrator access to function on any one PC. You won't require encryption drivers on the local system because a portable disc browser can be set up simply on a flash drive. Therefore, you have access to protected data from any location.
How to encrypt a USB stick?
You can easily encrypt a USB stick if you follow some simple steps. Simply attach a clean USB drive and locate your USB in your file explorer. Now, "Turn on BitLocker" can be accessed by right-clicking your drive. Select the unlocking method you wish for your drive. Double-click a strong password to enter and determine how you want to keep your recovery key.
Can you encrypt any USB drive?
A flash drive can be encrypted and made to work with the majority of popular operating systems. However, if you move your data to a device without the same encryption software, you won't be able to decode it.
Can encrypted USBs be hacked?
Since the password comparison is performed on the USB device rather than on the computer, the Integral AES encrypted range of USB Flash Drives is immune to this attack technique.
So, these are the seven best options that you can try out for your data protection and security. If you use one of these software, you can rest assured that your data's confidentiality is well-maintained.
Also Read
How To Download & Update USB 3.0 Driver for Windows 11, 10, 7
10 Best USB Bootable Software for Windows 11, 10, 8, and 7 PC