You sure know how it feels to accidentally delete videos you want to see later. It's even more frustrating when such videos are difficult to retrieve or too stressful to re-download. The best way to see all your favorite videos is with a recovery app. 
That's why you need to check out some of the best video recovery apps for Android devices. These apps offer several vital features users need to recover permanently deleted videos on Android. Take advantage of these apps and recover lost videos on your Android OS devices without hassle!
9 Best Video Recovery Apps for Android 
In this article, you'll get to see the 9 best video recovery apps for Android devices and major details.
1. DiskDigger
The DiskDigger app allows users to retrieve deleted apps from their Android devices. Users can recover permanently deleted files from their memory card or device's internal storage. The app also allows users to upload recovered videos and other files to cloud storage or email accounts. 
Main Features 
Recovers videos, audio, photos, and other content

Email-sending support allows users to recover apps and send them to their inbox or drafts folder

Recovers files from memory cards and internal storage

One-tap recovery allows users to recover multiple selected files with one click
2. iSkysoft
The iSkysoft Android data recovery app offers users significant support to retrieve deleted videos in moments. Users of the app can easily get many deleted videos back along with other important data. The app also offers users several tools to recover files with its virus-free offline installer. 
Main Features 
The deep scan allows users to recover files from external memory and internal storage

Recovers data that disappears due to corruption of your storage

Operates offline and allows users to search all connected drives for deleted files

Simple interface perfect for beginner users keen to recover videos and other files
3. Data Recovery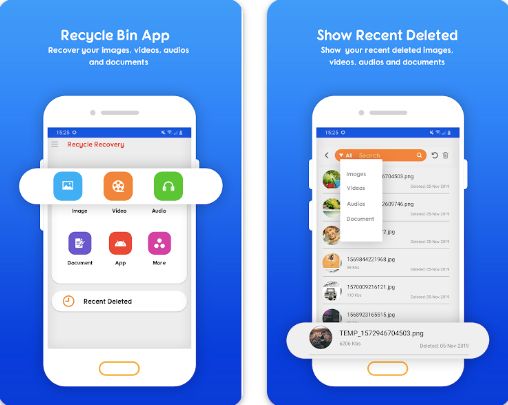 Data Recovery is a file recovery software from Daily Utility Apps and one of the top video retrieval apps for Android devices. The app operates with a smart algorithm to help users see and restore deleted videos, audio files, documents, and much more. 
Main Features 
Recovers videos, documents, audio, and much more

Operates as a recycle bin to get your deleted files on an Android device

The preview tool allows users to see content before recovery

Search bar to look up deleted videos on your local storage for recovery
4. Undeleter Recover Files & Data
The app un-deletes files from Android devices and is a popular recovery app on Google Play Store. It offers users enough tools to recover files like audio, archives, music, videos, and other content. 
Main Features 
Has an easy-click restorer to recover multiple files

Comes with simple interface beginners can leverage to recover deleted files

Supports recovery from local device storage or memory card

Allows upload of recovered files to external storage sources like Google Drive and Dropbox
5. Recuva
Recuva is a popular data recovery app for Android devices. The app offers users enough tools to recover lost videos and other files after deletion. It offers several essential services free with its paid version loaded with many deep recovery tools.
Main Features 
Recovers videos from local storage or SD card

Deep scanner finds fractions or full versions of previously deleted files

The beginner-friendly interface allows users to recover data at the first try

Allows recovery of contacts, call records, WhatsApp messages, and much more
6. Tenorshare UltData
Tenorshare is another video recovery app for android that offers users multiple tools to retrieve deleted videos with ease. The app also offers users data recovery for social media client apps like WhatsApp and retrieves audio, contacts, and much more.
Main Features 
Recovers messages without rooting the Android devices

Allows users to retrieve documents, audio, photos, and much more

Restores data lost to factory reset, system root, OS reset, and much more

Recovers videos and other content from all Android 4.0 devices and higher irrespective of model
7. EaseUs MobiSaver
The Mobisaver app from EaseUs is a premium video recovery software for Android and other devices. This app comes with tools to recover deleted but essential videos, documents, photos, SMS, and so much more. 
Main Features 
Simple-step recovery allows users to get deleted content after a few clicks

Allows users to recover videos, audio, photos, and other content 

Recovers data from external storage cards or internal memory

The preview tool allows users to see deleted files before recovery
8. Dumpster: Photo/Video Recovery
Dumpster currently boasts 30+ million downloads and is one of the most popular video recovery apps for Android users that can help you recover photos and videos easily. 
Main Features 
Instant recovery of deleted videos, audio, and music videos 

Offers backup storage of recovered files to cloud drives

Runs without requiring rooting 

Operates fully offline (apart from cloud uploads)
9. MyJad
MyJad works as a deleted video recovery software for Android devices to recover audio, video, documents, and much more. The app can retrieve content deleted from your SD card and internal storage.
Main Features 
Recovers deleted contacts, SMS messages, and more

Supports recovery on most Android-ready devices from v4.0 and higher

The selective scan allows users to choose and recover exact files from deleted content

Allows users to preview metadata of deleted files before recovery
FAQs
How can I recover a deleted video on my Android?
You can recover a deleted video from your Android device by installing a recovery app. The video recovery app can search through patches of your local storage and retrieve deleted content. 
Is there any video recovery app?
There are 30+ video recovery apps available on Android, Linux, iOS, macOS, and other operating systems. These apps operate to retrieve deleted videos from the local storage of devices. Most video recovery software are client apps and can operate offline. 
Can DiskDigger recover videos?
DiskDigger for Android can recover videos, photos, messages, and many other files deleted from your device's storage. The app offers several essential tools users need to retrieve essential videos and other files long after their deletion from most Android OS devices. 
Can permanently deleted videos be recovered?
Permanently deleted videos might be recovered depending on some factors. Top video recoveries apps like Recuva, EaseUS MobiSaver, and many more can restore permanently deleted videos, contacts, photos, SMS messages, and other files. 
Also Read