Do you know about WebP File Format? Well, it was developed and released by Google and brings a perfect blend of PNG & JPEG features. It supports both Lossy and Lossless compression and is used in websites to ensure the webpage stays lighter and loads images at a faster rate. Despite its smaller file size and smoother colour gradations, WebP image format has weak browser support and poor exporting interface.
Hence, a lot of individuals look for a tool that can help them to convert animated WebP to GIF which is more popular and can be easily shared anywhere, everywhere. If you are one of them, you've landed at the right blog! 
FlexClip
EZGIF
Picosmos Tool
Convertio.co
Online Converter 
ZamZar
reaConverter
Pixillion Image Converter 
WebPConv
Chasys Draw IES
In this article, we'll take a look at some of the 10 Best WebP To GIF Converter For Windows PC. 
Best WebP to GIF Converter for Windows 11, 10, 8, 7 PC
In this blog post, we'll get to know both online and offline tools that can help you easily convert WebP file format to GIF. So, without wasting a minute, let's dive into the pool for top 10 conversion programs to use on your Windows computer/laptop. 
1. FlexClip
FlexClip is an impeccable online platform that allows users to conveniently convert image files from WebP to GIF. The good part is, FlexClip is not just an ordinary conversion program, the tool helps users to create professional-looking videos.
It comes with a rich editing tool that helps you add text, filters, effects, stickers and other elements. In fact, it can turn multiple WebP files to Videos as well, without adding any watermark to the output file. 
Highlights: FlexClip 
Supports drag & drop functionality to make videos or convert file formats. 

Equipped with hundreds of templates to make promo or tutorial videos. 

Free online video converter and trimmer. 

Supports high-quality video export.  
2. EZGIF 
It's a simple and easy-to-use tool that supports hassle-free WebP to GIF conversions. Besides this, EZGIF allows users to make edits to the GIF file, it provides a variety of tools to crop, resize, speed up, add slow motion effects, rotate and more. The tool holds the potential to convert WebP files to other popular formats like PNG, MP4, JPG and vice-versa.
Using the tool is a pretty straightforward process, just upload the file you wish to convert > make necessary changes > hit the Save button to download the GIF file. 
Highlights: EZGIF 
Fastest WebP to GIF Converter for Windows. 

Tools to create, resize, crop, reverse, optimize & apply effects to GIFs.

Gets constant updates to enhance overall user experience. 

Independent tabs to rotate, split, and add text to files. 



3. Picosmos Tools 
Next on our list of 10 Best WebP to GIF Converter Software comes Picosmos Tool. The application is a blend of a photo editor, batch image converter, screen capture and more.
Besides, it lets you create GIFs from scratch by merging two or more animated WebP images. Cool, right? You just need to set the file size, adjust frames, manage background colour and that's it. Check out the highlights section to know what all Picosmos Tools have to offer:  
Highlights: Picosmos Tools
Quickly erase undesired clutter on the photos. 

Record the whole or part of the desktop area. 

Tools for beautifying your portrait images. 

Tools to add watermark, rotate, rename, add special effects etc. 
4. Convertio.co 
With a user-friendly dashboard, Convertio.co comes as another fantastic option to convert WebP to GIF file format. It's a web-based application, hence you don't need to install any additional program to get the conversion task done.
Using Convertio.co WebP to GIF converter, you can also edit your videos. It provided tools to flip, cut, crop and compress. Interesting, right? So, what are you waiting for? Try it now! 
Highlights: Convertio.co 
Supports more than 300 file formats for file conversion. 

Drag & drop functionality supported for fast and easy conversion. 

Since it's an online converter, you can use it on any device. 

Advanced options to alter aspect ratio, quality and more. 
5. Online Converter 
Here comes another incredible utility in the category of Best WebP to GIF file converters (2022). The web-based tool does a lot more than just simply converting your WebP file to GIF and other popular file formats like JPEG, BMP, TIFF, PSD etc.
Besides images, using Online Converter, you can easily convert PDFs, Videos, Audios, eBooks, Documents and more. It's certainly one of the fastest conversion tools, as compared to other alternatives mentioned here. 
Highlights: Online Converter 
Supports a wide range of file formats. 

Hassle-free & convenient interface to convert images. 

Allows users to convert Weight/Mass & other units of measurements. 

Easy to use and free WebP to GIF Converter Software. 
6. ZamZar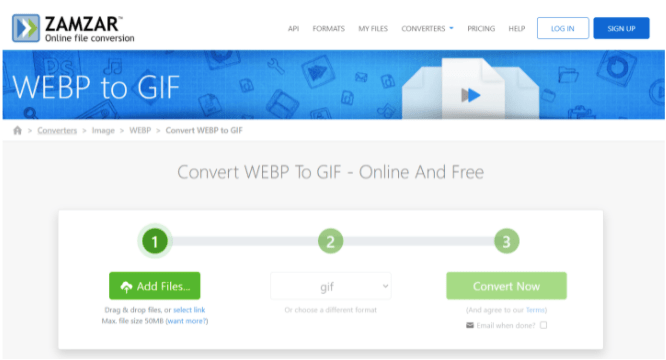 ZamZar is another popular WebP to GIF Conversion program that you can try using in 2022. The tool helps users to perform fast file conversion in a few clicks without installing any additional software on your device. The tool is simple and straightforward and convenient to use.
You just need to navigate to its website > upload WebP files to the conversion tool and hit the Convert button. You need to wait for a few seconds, before the tool can show you the file with the download button. 
Highlights: ZamZar 
Supports a wide array of documents, images, audios, videos, eBook file formats. 

Supports unlimited daily conversions at a faster rate. 

Easily convert files up to 2 GB in size in one go. 

Fastest WebP to GIF converter for Windows & other OS versions. 
7. reaConverter 
Comparatively new in the market, but does a great job when it comes to handling your images in a convenient way. reaConverter comes with a simple and clear user interface and holds the potential to manage a wide variety of file formats. It even provides tons of photo editing tools and supports batch processing.
Unlike other WebP to GIF Converter Software for Windows, reaConverter allows users to make Preset edits like cropping, resizing, rotating files and more. 
Highlights: reaConverter 
Converts files to various formats, such as GIF, JPG, PNG, WebP, PDF & more. 

Useful image editing options to refine the final output. 

Offers creative retouching options like anti-aliasing, shadow, noise & more. 

Options to add image, text, primitive or dynamic watermark. 
8. Pixillion Image Converter 
Our list of Top 10 WebP To GIF Converter Software will certainly be incomplete without mentioning Pixillion Image Converter. The application supports a wide range of file formats like JPEG, PNG, WebP, SVG, PSD, TGA, TIFF, RAW, HEIC, PDF and more.
You can even find a plethora of tools to rotate, resize and compress digital photographs. Additionally, you can use tools to add captions or watermarks to your final output file. 
Highlights: Pixillion Image Converter 
Ability to update metadata of image files. 

Convert WebP to GIF & other file formats in a couple of clicks. 

Works on both Windows and Mac Operating Systems. 

Both free and commercial versions are available. 
9. WebPConv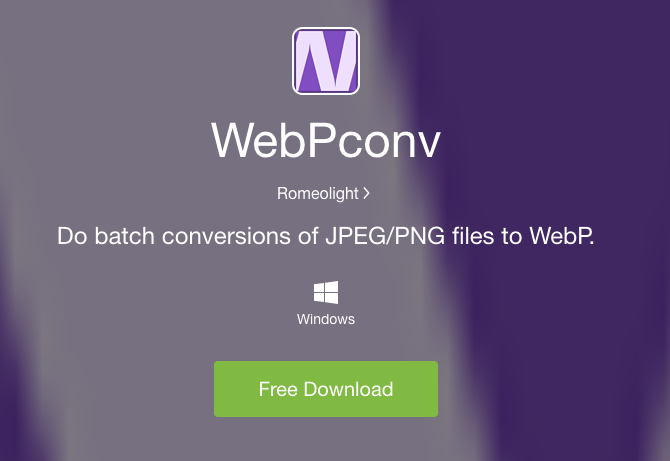 As the name entails, WebPConv is a fast and easy to use WebP to GIF converter for Windows PC/Laptop. Besides GIF file format, WebPConv also supports TIFF, PNG, JPEG and more.
The tool supports batch file conversion and compression. It adopts an elegant user interface with two tabs, dedicated to compressing and converting images. You can use the tool on Windows 10, 8, 7, Vista and XP (Both 32-bit and 64-bit). 
Highlights: WebPConv 
Modern and intuitive interface. 

Batch conversion with statistics. 

Conversion speeds are variable. 

It just needs a few clicks to convert files to compressed animated GIFs. 
10. Chasys Draw IES
We would like to conclude today's list of Best WebP To GIF Converter Software with Chasys Draw IES. It is one of the most popular solutions for converting pictures into animated GIFs in a couple of clicks. It comes with a simple, straightforward and easy-to-navigate interface, making it a suitable choice for a variety of users.
Besides hassle-free conversion, it supports photo editing. Get your hands on the tool and do not forget to share your experience with us in the comments below. 
Highlights: Chasys Draw IES
Tools to adjust the brightness and contrast. 

Supports resizing images in a few clicks. 

Includes a layer-based image editor with adjustment layers.

Free WebP to GIF Conversion tool for both personal and professional use. 
Conclusion On WebP to GIF Converter For Windows PC
So, which ones your favourite? Try them and let us know which one did you find the most useful and effective for hassle-free file conversion experience? In case, we missed any other important tool that deserves a place in this list, then do drop them below!
Also Read