By far, the greatest and most popular operating system for computer users is Windows. Nonetheless, Windows 10 Security problems continue to annoy customers. To begin, its customized services capture a massive quantity of data from your PC, including calendar details, website logs, location history, files accessed, and much more. You have no idea why this data is being collected or what will be done with it. Whatever the scenario, you don't have to worry about security because you can rely on all these 10 best Windows 10 privacy tools in 2021!
These tools help you to secure sensitive system data against hackers and a variety of malware or adware. While we work to improve security, attackers or hackers are developing similar advanced and complicated methods of breaking into your device. As a result, online security organizations upgrade their security tools to fight fraud, ransomware, malware, viruses, and other threats. It's a never-ending fight for domination.
Now, before your sensitive and private data falls into the hands of the wrong people, by infecting your system with a type of spyware, adware, or malware? Install these effective and best Windows 10 privacy tools to protect your system from possible security vulnerabilities.
Best Windows 10 Privacy Tools In 2022
1. Ashampoo AntiSpy
Ashampoo AntiSpy is an anti-spyware application that lets you customize security settings. It displays spyware warnings to assist you in controlling your PC. Most recent versions of applications can be discovered by Windows update scanners.
With this Windows 10 privacy feature, you get high-level security whether you are surfing the Web, using email, or simply accessing the Windows sidebar search engine. It has a PC optimizer also, so you can use a PC optimizer to speed up your computer.
Features
It provides a 1-click tracking function.

It disables Windows 10 telemetry to the utmost possible.

This Windows 10 Privacy Tools prevents Google, Office, Bing, device manufacturers, and others from monitoring users.

It can rapidly reverse modifications.
2. O&O ShutUp 10
O&O ShutUp 10 is best Windows 10 Privacy Tools that allows you to eliminate any Windows 10 data. As soon as you start the tool, you will notice a large list of data settings that you may disable, each of which is split into its own category. To turn off any information, just flick the switch beside it.
When you stop certain data, there's a risk you'll lose certain Windows 10 functionality as well. To address this, O&O ShutUp 10 provides advice on which data may be securely deactivated without affecting functioning. In addition, if you don't even mind losing functionality, you may turn off all data.
One of the most amazing features of this software is that the tool allows you to export and import settings. This is incredibly useful for backing up or sharing your privacy settings with other people.
Features:
It is free for private users, businesses, and educational organizations.

It works well with the latest version of Windows operating system, Windows 11 and Windows 10.

This tool is available in various languages: German, English, Italian, French, Spanish, Chinese and Russian.

It can control location services.
3. Advanced System Optimizer
A comprehensive Windows tuneup utility functions as an excellent Windows 10 privacy solution. It's a single tool that serves several functions, including protecting a user's privacy. It checks your system and lowers the danger of security theft.
It is capable of resolving many of the most frequent issues that you may have with your device. Although this application is promoted as being compatible with Windows Vista and Windows 7, it also performs with Windows XP. This software is used to correct numerous problems on your computer and make it operate faster and smoother than ever before.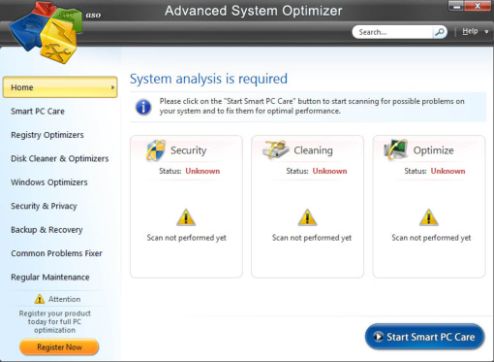 Feature
It cleans out unnecessary trash and junk files on your computer to free up system resources.

It will defragment your hard disk to improve data allocation and read speed.

By verifying the storage drive at startup, you may avoid unexpected crashes and slowdowns.

It shows saved data with other files and file types that use up disc space.
 4. WPD (Windows Privacy Dashboard)
It is another best Windows 10 Privacy Tools that helps users personalize the privacy dashboard with various add-ons. Its tasks and functions include hiding history, establishing macros, blocking websites, and identifying viruses. You may also use the WPD's advanced functionality to remotely operate your PC.
The software just has to be configured once, and then it will search for the new data every time you boot your machine. As a result, your boot time is reduced since all unnecessary apps are removed during startup.
Features
It features a simple user interface.

It allows you to customize Group Policy, Services, Tasks, and other data collection and transmission options.

This tool is simple to uninstall pre-installed Microsoft Store apps or any other application.

It disables telemetry IP addresses.
5. Destroy Windows 10 Spying
If you are really concerned about your privacy and think that spyware is lurking on your machine, this software can assist you. It is a powerful anti-spyware application that helps you to customize security settings. Additionally, the program provides a thorough spyware report to assist you.
Delete Windows 10 Spying uses Windows updating scanners to locate the most recent versions of applications. It also has a boost option to help your PC run faster.
Features
It uninstalls all malware modules.

It uninstalls spying applications.

This tool is an addition to host spying domains.

It disables Office 2016 telemetry.
6. Debloat Windows 10
Debloat Windows 10 is a set of Powershell scripts developed for particular tasks relating to Windows 10 privacy and inconveniences. There is a script that removes most of the default applications, another that blocks telemetry hosts & services, and another that makes hundreds of privacy-related changes to the OS.
You can use a text file for auditing the scripts, so you know what they are doing. The disadvantage is that you must have some knowledge to grasp what is happening. There is no backup or restoration option.  
Features
It's a store for PowerShell scripts.

It is designed for administrators who are technologically competent.

This Windows 10 Privacy Tool modifies common settings and adds essential application components.

It disables telemetry hosts and services.
7. Blackbird
If you don't want Windows to be monitor your every move? Don't want to spend hours tinkering with privacy controls that will ultimately lead to data collection? Do you believe your personal information belongs only to you? Or perhaps you simply want a speedier PC and dislike all of the additional "features" that Windows provides. So, That's why Blackbird was created.
Features
It prevents Windows malware from running on both the app & network levels without modifying the hosts file or firewall settings.

It uninstalls all Windows telemetry updates.

This tool supports wireless and Ethernet connections, as well as IPv4 & IPv6.

It helps you to eliminate all Windows built-in advertising as well as any pre-installed software.
8. Privatezilla
Privatezilla is a simple Windows 10 privacy settings tool recently released by well-known Windows software developer Builtbybel. It was originally known as SpyDish; Builtbybel rebuilt it from the ground up and published it as an open-sourced application called Privatezilla.
Privatezilla gives you total control of your Windows 10 privacy settings, including the ability to disable telemetry, app permissions, trials, and other elements that might allow Microsoft to gather your usage data.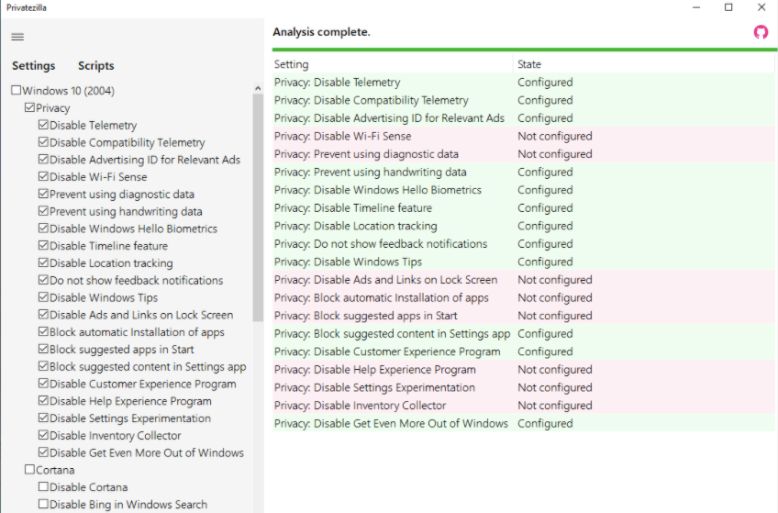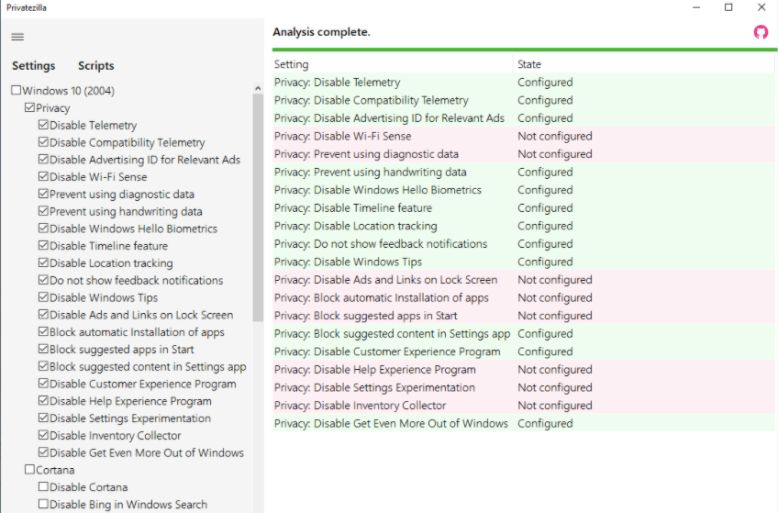 Features
It features a simple user interface.

It contains the most basic privacy settings in Windows 10.

This Windows 10 Privacy Tool helps you to easily run a privacy check against such settings.

It helps you to smooth Windows 10's numerous settings and manage your privacy without having to navigate through a variety of menus.

This tool is Windows 10 compatible.
9. Privacy Repairer
Privacy Repairer is really simple to use. There's no need to be concerned with complicated and overdone interfaces when each choice comes with only a single toggle switch! & if you ever get lost, thorough information on all of your options is easily available. And keep in mind that any modifications you make are always recoverable! privacy repairer is a privacy-protection utility for Windows 10. It has over 60 choices designed to carefully configure your system in the most favorable way for your privacy.
Features
This tool is entirely free.

It has over 60 choices developed to carefully configure your computer in the most favorable approach for your privacy.

This tool is very simple to use.

It includes several advanced features that increase your privacy but may reduce your security.
10. Spybot Anti-Beacon
The idea of Anti-Beacon is basic: it prevents tracking & telemetry concerns in Windows. If you really don't want Microsoft to receive data about your Computer activity and aren't aware of stopping everything via native settings, here is the solution for you.
It has only one button titled Immunize. The software will stop all available tracking features, such as telemetry services, telemetry hosts, & applications that use your ads ID. If something goes wrong, there is an undo option.
Feature
Its purpose is to resolve privacy issues.

It is concerned with the telemetry of major browsers as well as certain pre-installed manufacturer applications.

This tool is intended to be extremely simple to use.

It disables personalized advertisements.
FAQs On Windows 10 Privacy Tools
Q: How do I stop Windows 10 from spying?
ANS: You can use any of the tools listed above to stop Windows 10 from spying by tweaking some settings.
Q: What is the best privacy setting for Windows 10?
ANS: Turing off your personalized ads ID by any apps is the best privacy setting for Windows 10.
Q: Is Windows 10 privacy bad?
ANS: Windows 10 has privacy issues. Microsoft will not handle your local data with any more privacy than it does your data on its servers. It may upload your local data to its servers at any time—unless you stop it.
Q: Does Windows 10 have built-in spyware?
ANS: No, Windows 10 does not have built-in spyware.
Also Read