If you're looking for an effective yet easy-to-use PC Optimization Software, choose none other than CCleaner by Piriform. The computer cleaning software comes packed with a variety of modules to run PC maintenance tasks like junk cleaning, disk cleaning, uninstalling apps, managing Startup items, updating drivers, removing browser history, caches, cookies, and whatnot. Keep reading about the PC Cleaner Program and learn how it works!
CCleaner Professional Review
CCleaner, designed and distributed by Piriform, is a wonderful computer cleaning and optimization utility. The application is developed for both desktop and smartphone users so that they can keep running their devices in tip-top shape.
Moreover, it works brilliantly to declutter unnecessary occupied storage space, fix invalid Registry entries and keep your security intact by removing browsing history, identifying privacy-exposing traces, caches & more. You'll be surprised to see the amount of storage space that has been recovered by CCleaner Professional in a single scan. 
The PC Cleaner and Optimizer even offers a one-click cleaning module that helps users to comprehensively clean the nook and cranny of the device and repair all the potential issues that might hamper your overall speed and performance. It even provides a dedicated Scheduler, so that you don't have to worry about keeping a check on your system.
Hence, you can run a regular maintenance task, at your convenience. Talking about its dashboard, the UI is straightforward and easy to use, so almost every kind of user can get started with it. 
If you want to take advantage of tools like Software Updater, Priority Customer Support, we recommend users go with the CCleaner Professional version.
CCleaner Professional Review: Features & Highlights
CCleaner Professional is one of the most popular and reliable computer cleaning and optimization software for desktop users. And, it goes beyond the basic PC maintenance, explore the list of features: 
As the name entails, the module focuses on keeping your system healthy and in stable condition. The application helps users to close all the potential security loopholes, clean junk files and update apps to their latest versions in a few clicks. 
It's quite a broad module and responsible for taking care of your computer's storage, applications and other critical areas of the system. Using it, one can easily detect and eliminate Internet caches, cookies, downloads, offline junk, temp files, shortcuts & more.
With this wonderful module, you can easily Scan for all the problematic registry entries and fix them instantly. It even offers the ability to back up or exclude your Registry entries before initiating a scan. Additionally, it even takes care of the missing shared DLLs, obsolete software entries, MUI caches, and more. 
This module is further divided into eight sub-modules to keep your computer comprehensively cleaned, optimized, and protected. With this module, you can find multiple options to uninstall unwanted applications, update outdated programs, manage useless startup items, remove unnecessary browser plugins, analyze disk to find what's taking space, etc.
It even offers tools to find and delete duplicate files, perform a system restore and wipe your drive without any manual intervention. 
Last but not the least, CCleaner offers an Options module, under which users are given the opportunity to customize the settings. This includes the ability to alter the home screen, set which websites' cookies should be kept, which files and folders should be included/excluded from the scanning process, and more.
You can even manage the Scheduler settings from here and set the date/month/time for the automated cleaning process. 
Tech Specifications, System Requirements & Other Details
Here's the list of prerequisites you need to follow before buying this best computer cleaning and optimization software. 
Compatibility: 

Windows XP & Above (32-bit & 64-bit) 

macOS X Mountain Lion and later 

Android Lollipop and later 

Processor: 

4000MHz or higher processor 

RAM:

128 MB or More

Minimum Disk Space Required: 

5 MB of free space 

File Size: 

30.5 MB 

Latest Version:

v6.00.9727

Last Updated: 

12

th

May 2022 

Multilingual 

Yes, available in 58 languages 

Free Trial 

Yes, 14 Days 

Official Website 

https://www.ccleaner.com/ccleaner
CCleaner Review: Pros & Cons 
Check out the list of advantages & disadvantages offered by CCleaner: 
| | |
| --- | --- |
| Pros | Cons |
| Quick installation process.  | Gets bundled with other software during installation. |
| User-friendly dashboard.  | Not available for iOS devices.  |
| Supports real-time monitoring.  | |
| One-click cleaner and optimizer.  | |
| Lightweight PC Cleaner & Optimizer.  | |
| Ability to schedule scans for cleaning.  | |
| Packed with advanced tools for power users.  | |
| Solid privacy protection & security tools.  | |
| Receives regular updates to enhance user-experience.  | |
How to Use CCleaner On Windows PC?
If you don't have enough time to read the entire process, go through this video tutorial and learn how to install and use CCleaner on your Windows PC. 
Follow the instructions stated below to comprehensively clean and optimize your Windows PC using CCleaner. 
Step 1 = Download, install and launch CCleaner on your computer. The installation process is quite fast. 
Step 2= Launch CCleaner on your system and you'll be greeted with a clean and straightforward dashboard. By default, the PC Cleaner & Optimizer finds and deletes all unwanted files like browser history, cookies, temp files, and other redundant data. 
Step 3 = To initiate comprehensive cleaning, you can hit the Run Cleaner button, located at the bottom right corner of the screen. 
Further, you can take advantage of tools to uninstall apps, clean duplicates, manage startup items, fix invalid entries, manage browser plugins, update obsolete software with the latest versions, and so on.
All the modules are properly labelled and you can easily navigate to each one by one and automate the process of cleaning, optimization, and protection. 
NEW UPDATES = Lately they have added a Performance Optimizer & Driver Updater module to the latest version. The first module is responsible for boosting your computer's performance by putting programs you're not using into Sleep Mode. It also helps in boosting battery life, start-up time and certainly gives more control of your PC.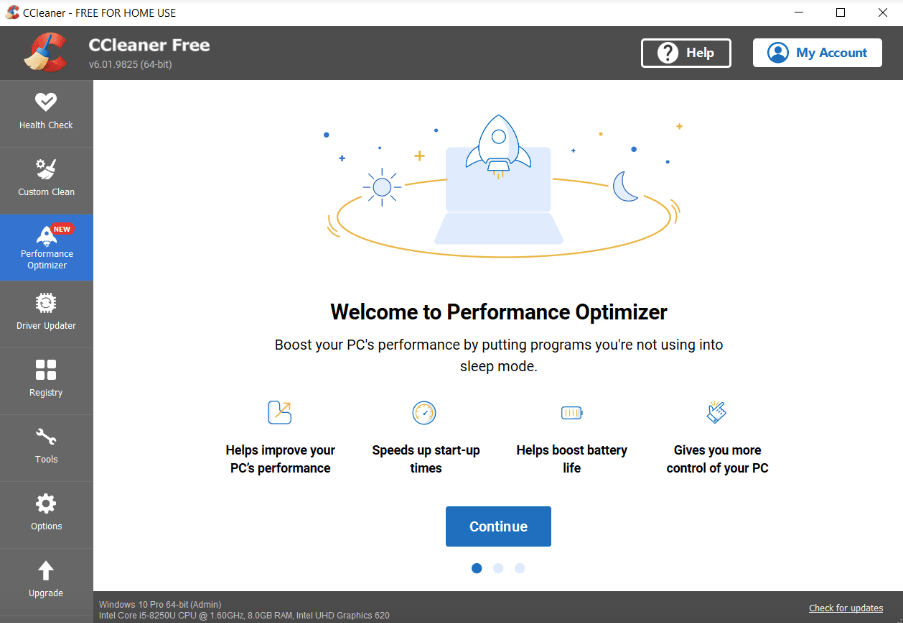 The latter module ensures better performance, more stability, enhanced security & smoother gaming by updating drivers to its latest and most compatible versions. 
Depending on your system needs, you can choose any of the modules and initiate a system scan according to your convenience.
Isn't this PC cleaner and Optimizer an effortless utility to keep your system up-to-date and in tip-top shape? If you try using this product, feel free to share your opinions in the comments section below! 
CCleaner: Pricing Models 
CCleaner is available in three models: CCleaner Free, CCleaner Professional, and CCleaner Professional Bundle. All are differently priced and offer an incredible set of features to keep your system in stable condition for a longer duration. 
CCleaner Free Edition 

Free, Basic computer cleaning and optimization features. 

CCleaner Professional 

$24.95/Year, Swift product upgrades and priority customer support 

CCleaner Professional Bundle

$34.95/3PC's/Year, Enjoy CCleaner Professional for three PCs. for a limited time, you can get it for $29.95 
Is CCleaner Professional Worth It
Absolutely! It's a great choice to make your system run faster than ever before!  
Overall, we highly recommend using CCleaner by Piriform for your desktop and Android smartphones. It offers a perfect blend of both basic and advanced utilities to ensure your system keeps running smoother and faster.
We personally love its Automatic Scheduler which ensures your system gets frequent maintenance without any manual intervention every time a scan is conducted.  
Frequently Asked Questions: CCleaner Review
Q1. Is CCleaner trustworthy?
Yes! Millions of users worldwide are using this best computer cleaner & optimizer software to maintain their desktop and smartphone performance. 
Q2. Why you should not use CCleaner?
CCleaner gets bundled with a couple of annoying and unwanted programs during the installation process, which probably is of no use to you and take up significant storage space, so you may want to ditch the program. 
Q3. Is CCleaner still unsafe?
Well, in 2017 CCleaner malware was discovered. Certain hackers took the legitimate program and inserted malicious codes that were further installed in different users' desktops and stole their personal information and other data. 
Q4. Is there a better cleaner than CCleaner?
Currently, Restoro and CleanMyPC are considered one of the best computer cleaning and optimization software used by millions of users from all around the globe. 
Q5. Do I still need CCleaner?
If you are looking for a robust desktop cleaner and optimizer available free of cost, choose none other than CCleaner. Its duplicate file finder and uninstaller are still the best as compared to its competitive PC Cleaners. 
Q6. Does CCleaner slow down your computer?
No! It's a lightweight computer cleaning, optimization, and protection software that doesn't take a lot of system resources or RAM and ensures a significant performance and speed boost in a single scan.
Also Read