Chrome Components: Chrome is a web browser that is developed by Google, which got automatically updated as the update came. If you got a Component not updated error on the Google Chrome browser, now you should check the chrome components page. The main features of Chrome are synchronization with Google services and accounts, tabbed browsing, and automatic translation and spell check of web pages.
For improving the user experience, they continuously update chrome. Generally, Google updates chrome with major new versions every six weeks. Many times when we use chrome, it faces issues like adobe flash player is not updates or your chrome gets crashed. You are less vulnerable to online threats such as spyware, phishing, browsing hijacking, and so on.
In this article we are going to discuss how to use chrome components to update individual components, what is the relevance of chrome component and how can you update your chrome manually.       
Chrome Components Update List
Chrome Improved Recovery

PNaCl

Swift shader
Chrome Improved Recovery
It makes sure that updates install correctly on Google Chrome. This component is used to repair any problems occurring during Google Chrome Installation. 
PNaCl
It stands for Portable Native Client. This chrome component allows running of untrusted code in the secure sandbox in Chrome.
Swift shader
This can be regarded as a 3 D render that enables you to use CSS 3D. 
How to update your Google Chrome Components
You must follow these steps, to update your chrome components–
Step 1: Open Google chrome in your system.
Step 2: enter "chrome// components" in the search bar of the browser.
Step 3: chrome components will appear on the next webpage.
Step 4: choose the component and update it according to the requirement individually.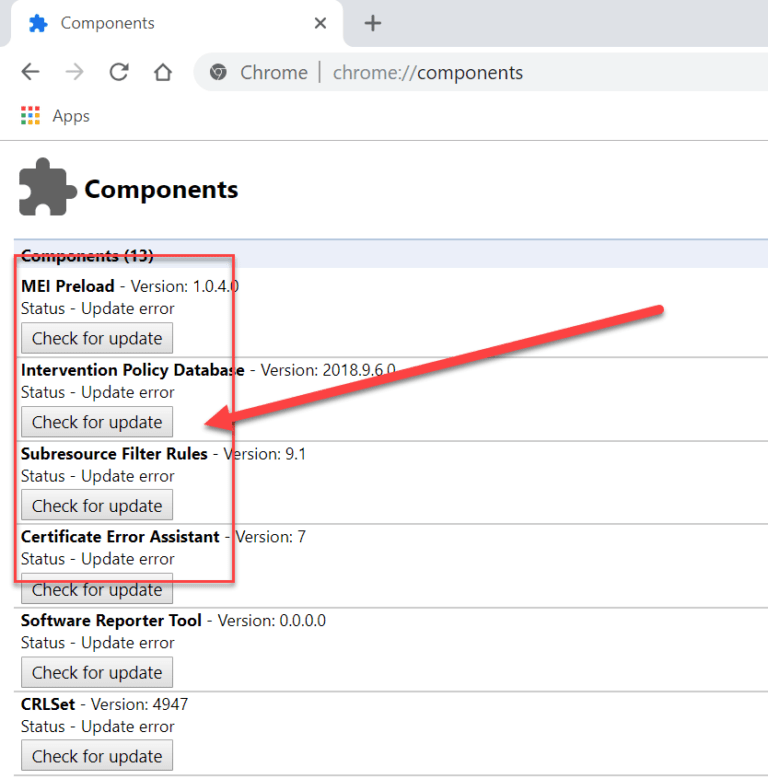 Installed chrome components are now displayed on your screen.
Update individual components like Adobe flash player
chrome //components flash update:- If your Adobe Flash Player is not working properly or becomes corrupted then you need to update it. Follow these steps for an update this chrome component:
Select "chrome//components from the browser. 
After pressing the enter button, look for Adobe Flash Player.

Click on "check for updates".

Wait for some time, to get the component updated.
Now, you will observe that your Adobe Flash Player is working properly.
 Keep in mind if: "chrome//components" not updated, it means that something stopping you from updating Adobe Flash Player and Widevinecdm and you have to again started to update Google Chrome to update components for chrome. You can choose other browsers such as Firefox and Microsoft Edge to update the browser and also to delete Adobe Flash Player not working.
How to Update Google chrome
Step 1: Open Chrome browser in your system.
Step 2: Go to the search bar and search for "chrome://chrome". 
Step3: A webpage will get open, which will give you detail about the update of your browser. It will show "Google chrome is up to date" if your browser is updated otherwise "Check for updates" will appear here.
You need to restart your browser to perform the installation. 
You have to know what chrome components are.  
The individual components of chrome that work in the background and make features possible are known as chrome components.
How do I update Adobe Flash Player in Google Chrome?
You can go through the above-given method to get your update.
Also, Read