It is not surprising to see that MacPaw has hit something perfect with the latest version of the CleanMyMac X. You might be surprised to see that it has caught by all the Mac utility serving as the junk remover and software crud. Plus, it is a great macOS extension manager, malware scanner, and interesting universal updater for installed apps. Here is the complete CleanMyMac x review In 2021 – Is It Safe To Use
CleanMyMac X Review 2021 – A Detailed One
One thing you might like is that CleanMyMac X has various kinds of new apps that would keep your Mac in the best shape. More importantly, it comes with various apps having an uninstaller, hard drive management, web browsing cookies, and history, file shredder for faster and permanent file deletion, a wizard for cleaning unused apps, etc. So, in short, it has all the necessary tools for ensuring that you can take care of your Mac easily.
1. Handy Modules
Is CleanMyMac X safe? This would be the first question that you might ask. Well, the MacPaw has made the Menu Bar utility much better and no doubt, it has indeed succeeded. With a quick click on the icon, handy details are revealed like how much is the MAC's CPU load, the amount of space available in each of the drive, how much RAM is available, the operating temperature of your computer, and other major useful details.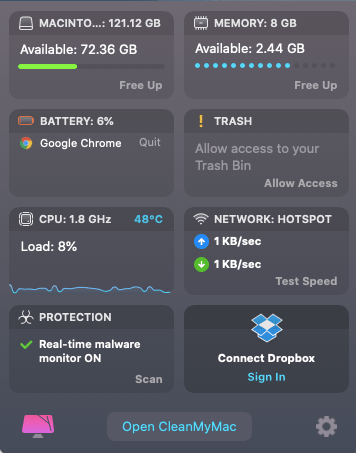 Of course, this is a nice touch menu and it can easily be customized as you like. Now the modules are the major key of CleanMyMac X review and it can quickly disable and enable the MacOS extensions using the Extensions module. You can even hunt down the extraneous files using the Large and Old Files module. This will allow you to view which files are devouring the unnecessary space and even be able to remove them immediately.
Now the Uninstaller module was easily able to locate as well as the pick of the unwanted applications in the testing phase. This lead to accomplishing something that was not available in the application removal utility. Frankly, it was able to take away the various applications in a single click. So, it is indeed useful.
The Maintenance module can easily take care of the tasks like running maintenance scripts, clearing RAM, clearing the DNS cache, tidying the MacOS's underpinnings, repairing the file permission faster, etc.

2. Monitoring & Handling Performance
It is not surprising to see that modern software has the major tendency of leaving temporary data to scatter all around. Also, most of them will be containing personal information. With the CleanMyMac X review the files will be removed as and when there are not required and avoids them hanging on for many years. 
It will even do a check while running in the background. This will help in avoiding the unnecessary files that have personal information from being left lying around.
3. Smart & Easy Cleaning
With the Smart Cleanup, it helps in checking your computer for finding out all the available possibilities and issues. Plus, it corrects them as much easy as possible. Frankly, this is a great feature that you would like to use more often as it will allow you to easily optimize resources and its usage in a minimal effort. So, is CleanMyMac X safe and you are right to believe it?
4. Maintenance for Optimizing Storage
The optimized storage is one of the features that can help you to know if it is CleanMyMac X review safe to use. The design will assist you to find as well as take away all the specific file types. This is only those wasting disk spaces as it scans all the things, and gets rid of the unnoticed trash. 
System –

 The tool can easily take care of removing the binaries, language packs, and even the temporary cache file, so that there is free space. Frankly, this will help in easily recovering the major space present in the Mac compared to what you have expected. 
Photos –

 Any individual who is using Mac's photo library can end up with an accumulation of junk. This can be a great space consumer. By quickly working through the user-feature setting, you can remove an item that isn't affecting the things present in the picture service and these even include the cached thumbnails. 
Mail Attachments

 – You might be using the program Outlook. Sometimes your computer would be getting attachments like company logo, images, documents, etc.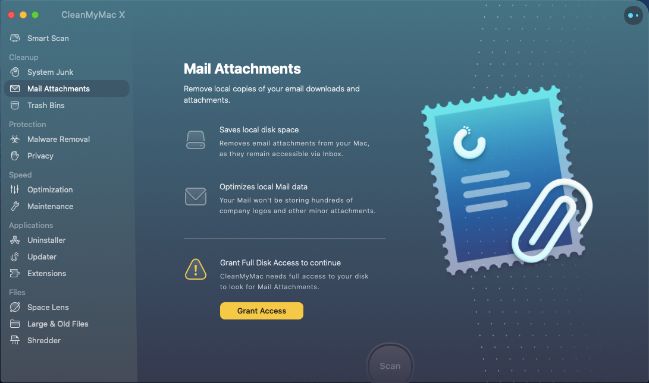 Trash Bins

 – Not many people know that Macs keep various multiple bins for different kinds of drives. CleanMyMac X now will empty all that iOS scatters around all right at the same time.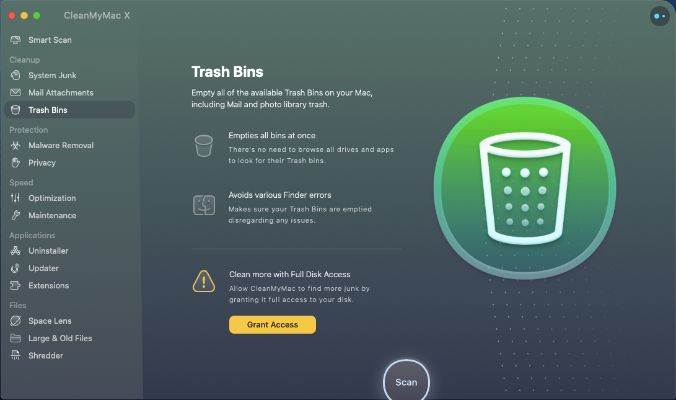 ITunes

 – Phone backups, broken download, etc are automatically stored. If you check, each of the versions is major responsible for the huge amount present in your hard drive. Here you can view the huge list of such things and this will assist you in deciding what needs to be done.

Old And Large Files

 – The older the MacBook Pro is, the more likely you are going to have old and forgotten files. The oldest and largest will be scanned for recovering the lost gigabytes. 
5. Utilities
Here you will have a strong kind of new tool for managing cookie policies, programs, add-ons, and get to learn more about Mac. Most importantly, these are laid out in an intuitive and user-friendly way, thereby making them greatly user-friendly. But, without losing the functionality and power that you can get from an excellent Mac app like CleanMyMac X review.
Malware Detection

 – You can use the CleanMyMac X for detecting as well as cleaning up the malware present in your apps.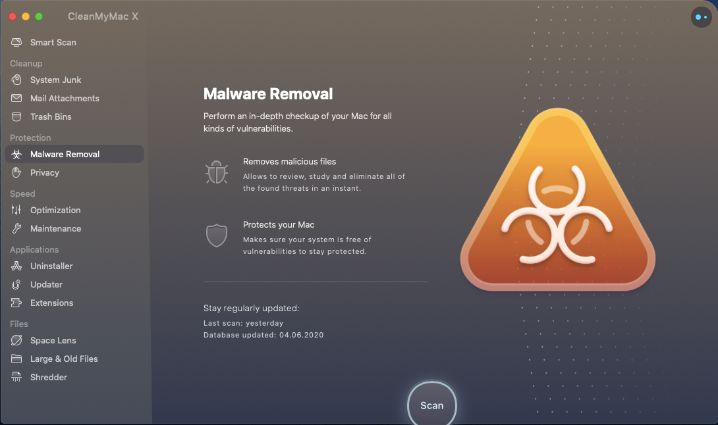 Privacy

 –Contact lists, cookies, and even other items will get accumulated over time. Plus, they would take up a lot of space. Besides that most of the users would end up storing many things that they would never use and even won't need again. Not only that security will be improved as and when you clean up the browser cookie info, digital information, and other kinds of form. Here, it will even remove the tracking logs leftover after the Skype or Messenger chats, and this is good.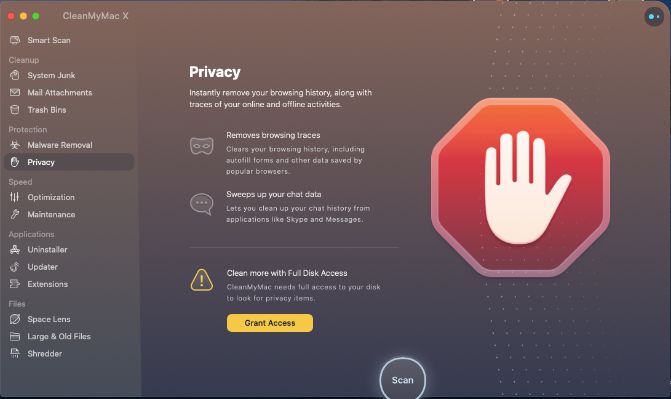 Maintenance

 – It will scan for errors and events to try to resolve them for improving health. Here the menu will consist of checking the Disk Utility functions as well as application errors. This will run a check for issues having indexes.

Uninstaller

 – Here you will have a management interface that can fully remove the app in a single click and that is integrated into the SetApp. Here the version of the MacPaw's product will easily find permissions, folders, and registry entries simple manual deletion and the automated uninstaller won't clear. 
Extensions

 – Widgets, Browser add-ons, Mac OS X apps, login items, dictionaries, etc will end up in slowing down the MacOS. MacPaw provides wizards that assist in managing and improving the start-up speed, reduces memory (RAM), increases the current storage, and CPU usage. 
Shredder

 – It is common for each individual to handle sensitive things. They won't want it to fall into the wrong hands, irrespective of whatever the reason is. Now, these will be permanently deleted and one won't be able to recover it. 
Speed Up Mac

– Sometimes you would have to speed up the Mac to make it quite responsive. Also, if it is not as fast as it was when it is new, it won't be. Now, this is not because it is getting old or the components are getting degrading. However, this could be because using a computer over time might lead to a somewhat less-than-optimal configuration. Here CleanMyMac X can easily reverse this, thereby making your PC feel as good as new. 
Pricing and Availability 
Now regarding the CleanMyMac X pricing, it varies. It depends on how many kinds of Macs you are planning on installing this app. If you are going with a single Mac, then the cost would be $89.95, and the yearly subscription would be $34.95 per year. About two Macs, then you can purchase it for $134.95 and subscribe to it for $54.95 per year. 
If you are going to use it for five Macs, then you can purchase it for $199.95 and even subscribe to it for $79.95 per year. If you are going for upgrades, then it would simply cost 50% of the normal price. So, the ongoing purchase would be a bit more attractive. 

CleanMyMac X Vs CleanMyMac 3
As per various computer experts, the CleanMyMac X is somewhat a super and excellent version of the previous one. Well, it shows the kind of upgrade it has undergone. Also, it describes it as the brand new kind of app as it does things even the CleanMyMac 3 won't do. And this answers your question regarding is CleanMyMac X safe. These consists of – 
Speeding up of the Mac with latest tools

Removal of malware

Updating the applications

Finding out the system junk at more places

Providing you with personalized cleanup tips through an assistant
An important thing to note down is that developers have greatly improved the accessibility as well as the ease-to-use of the app. Plus, it has improved the icons, sound, and animations, along with boosting performance. MacPaw would boast that it can clean three times more faster compared to the previous versions. 
Pros And Cons Of CleanMyMac Review
| | | |
| --- | --- | --- |
| S. No | Pros | Cons |
| 1 | Recommends things for removal | Certain minor functions are confusing |
| 2 | Has a beautiful interface | A bit pricey for certain people |
| 3 | Updated menu displays a lot of information | |
FAQs
1) Is CleanMyMac By MacPaw Safe?
Yes. The CleanMyMac is quite safe to use. Not only it is a popular tool but it is a well respected MacOS cleaner too.
2) Is CleanMyMac X Free?
No. The CleanMyMAc X only comes as retail software with a free trial. As soon as the trial period is over, it needs to be purchased.
3) Does Apple recommend CleanMyMac?
CleanMyMac is a great software product developed by a commercial company called MacPaw Inc and it is not related to Apple.
4) Is CleanMyMac worth it?
Yes. But you must keep in mind that it is not recommended for everyone. Some people might not like it if they are new to using Mac OS.
5) Is CleanMyMac X Safe to use?
Yes. The CleanMyMac is safe as it only cleans the files and deletes ones that are outdated caches, old logs, etc.
6) How much does CleanMyMac cost?
Well, it depends on how many Macs you plan to install the app. For one Mac, it would be cheap and priced at $89, and more than that, it would increase. 
Also Read: