We suggest you choose CleanMyPC as it is the most effective way of cleaning junk files and optimising your PC. Just saying is not worthy, we need proof. So, for this, you need to go through a CleanMyPC review article that could help you in knowing about its features and other aspects.
Are you suffering from the poor performance of your system and finding several other issues while operating your PC? If yes, then you have landed on the right platform. If your system doesn't function well then there might be a huge chance that it is full of temporary files, cached files, and junk files.
When we use our system daily several junk files keep on being stored. It makes your PC sluggish and you are not able to delete these files manually. It is quite impossible to manually deal with it. Now, it is time to use the best system cleaning tool that can take care of your PC. 
Latest Update: CleanMyPC is not going to provide updates. From December 2021, it won't receive regular updates, only critical ones.
What is CleanMyPC
CleanMyPC is one of the popular PC tune-up utilities and helps you regain your computer performance and speed. It cleans all the junk files, and temporary files, and uninstalls duplicate applications and extensions. 
This tool comes with eight modules to handle all the issues caused by your system. It is very quick in scanning for junk files, uninstalling unwanted applications, outdated and corrupted registry files, etc.
Using this software you can deeply clean your system and make it run like a newly purchased one. It can optimize your PC and boost its performance. It also helps you in tweaking settings to enhance your system speed. Now, let's discuss its features. 
CleanMyPC Review
This review includes the following things in detail.
Features
Specifications
Pros and Cons
Pricing
How to use CleanMyPC
Customer Support
FAQs
Conclusion
Features
CleanMyPC is a powerful and feature-packed tool that is used to clean junk files and optimize our system. It also contains eight modules that help in dealing with the issues that make your PC slower. Let's discuss each module and feature one by one.
Compatible with multiple platforms –

It is compatible with multiple platforms like Windows, Linux, and Mac OS.
Deeply cleans at a single click

– It can deeply scan for junk files and allows you to remove them with a single click.
Maintain Registry

– It maintains all the corrupted and outdated Windows registries and makes your PC run faster.
Cleans all the unwanted files

– It helps you clean all the unwanted files like cast files temporary files, logs files, etc. It quickly scans for all the unnecessary files and helps you in freeing up a huge amount of disk space.
Fastest Speed

– It offers the fastest scanning speed and in a matter of minutes, it finds junk files, temp files, cached files, and other unnecessary files.
Multi-uninstaller – When we remove any application from our system some traces of the app still remain on your PC and hold a lot of disk space. CleanmyPC is the best Uninstaller for Windows PC that removes applications as well as all the traces and also toolbars and cached files. 
File Shredder – When you delete a file or folder you think that it completely deletes from your device but you are wrong. After removing the application or file from the system some remnants still remain on your PC. Sometimes it can be harmful to you if It is misused by any advanced user. File shredder helps you remove all the traces and remnants from your system.
Privacy – The privacy

module helps in removing all the data that puts your privacy at stake. It helps you in removing all the identity traces like browsing history, cached cookies, session history, Search history, Storage history, and Download history.
Hibernation –

If you don't know about hibernation it still exists in your system and consumes a large amount of disk space. CleanmyPC helps you in disabling the file and lets you free up disk space.
Remove unwanted extensions –

This module offers you a list of every extension In your system according to the browser. It also lets you know which extension is consuming how much space. 
Autorun –

This module lets you disable the startup and autorun items that are making your PC slower.
Specifications
System Requirements –

Windows 7 and later versions 

Pricing –

$39.95

Ratings –

4.5 

Latest Version Released –

1.10.4, 9 January 2020

Disk Space –

40 MB
Pros and Cons
Everything is not perfect in this world if it has some advantages then it also has some disadvantages. CleanMyPC has a lot of advantages but it also has some cons. Let's discuss 
Pros
Cons

It has a user-friendly interface 

Quite expensive than other competitors 

All the modules are placed clearly on the left side of the Window

It is not able to fix disk fragments

It can clean all types of junk files

This software doesn't allow you to take backups 

It maintains outdated registries

Can also uninstall unwanted apps 

It removes all the privacy traces 

It offers a file shredder option
Now, let's know about the details of its pricing plans. 
Pricing
CleanMyPC also offers a free version but you can only clean up to 500MB of files and fix up to 50 registry items. After this, you need to purchase its premium version which is quite expensive than other PC cleaning tools but it offers great features at this price.
Every single penny spent to purchase this tool is worth the money. It offers different pricing plans according to the number of computers: 
$39.95 for 1 PC

$59.95 for 2 PC

$89.95 for 5 PC
How to use CleanMyPC
If you are new to CleanMyPC and don't know how to use it don't worry we have mentioned the steps below so that you can clearly know the steps to use it. Here are the steps:
1. Firstly, download the CleanMyPC from the official site and install it on your system. 
2. It offers different languages so you can select a suitable language. 
3. After that, choose the first module that is My Computer Cleanup, and then click on the scan option on the right side of the Window.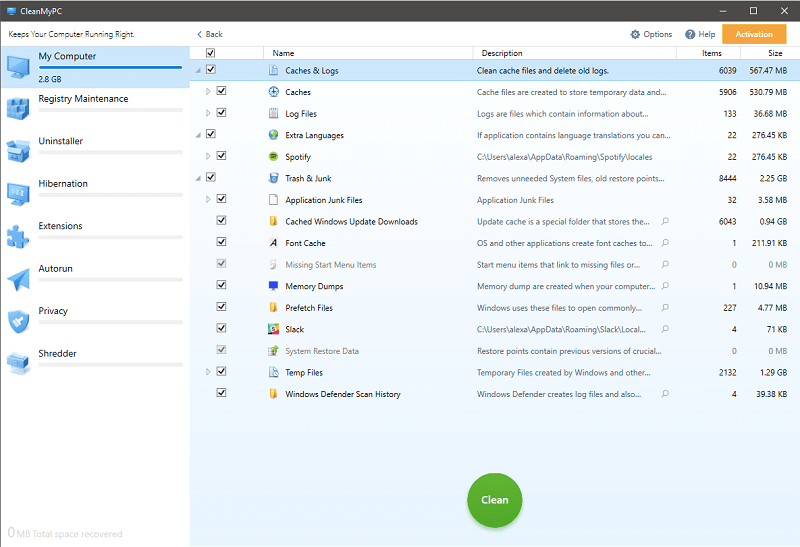 4. After this, click on each module to complete the process. 
If you are looking for PC repair tools for Windows then you must read this blog.
Customer Support
If you find any trouble using the tool don't worry it offers great customer support to fix all your problems. If you have any queries you can send mail or attach a screenshot related to the error and submit it to the Contact Us option. Using its license manager you can manage your license or reset them. You can also get another copy. 
FAQs
Is CleanMyPC safe?
Yes, CleanMyPC is safe and doesn't contain any malware or virus. Make sure you download it from its official website. It doesn't delete any important thing from your PC. But you must pay attention when using the Registry maintenance module and file shredder and take the backup first. 
What is better than CleanMyPC?
CCleaner is one of the effective tools for disk cleaning. It functions like CleanMyPC and also offers several similar features. CCleaner allows you to schedule clean-ups, disk monitoring, and disk analyzer. 
Is CleanMyPC an Antivirus?
No clean my PC is not an antivirus but it is a system cleaning tool that helps you in cleaning all the junk files temporary files, cache, cookies, uninstall unwanted applications, fix registry issues, and deal with other files that are hogging a huge amount of disk space and makes your system slower.
It is great software with a simple user interface which makes it easy even for beginners. It does not contain any malware or virus and totally safe if you download it from the official website.
What are the best free computer cleaners? 
There are many free computer cleaners available. You can choose any of them to clean and optimize your PC. Some of them are: 
Conclusion On MacPaw CleanMyPC review
CleanMyPC is the best and most effective solution to clean your PC and improve its performance. Manually cleaning your system is not possible which is why you need disk-cleaning software. You must give it a try CleanMyPC as it will fulfill your expectations. It is an all-in-one tool that can maintain your PC.
You can download the free version of this application from the official website and after you find it suitable purchase its premium version. In this CleanMyPC review article, we have listed all the aspects related to the software. I hope the article will help you in knowing about the software.
Also Read