Running a business efficiently is not a difficult task. Along with hard work you may require lots of plans and strategies to achieve the desired profit margin. As an entrepreneur you should possess many virtues and should know how to multitask, manage resources, make a robust marketing plan etc. There are different tools and software which is available in the market which helps you in augmenting sales and building other strategies. So here we are going to discuss Clickfunnels alternative in 2020.
Clickfunnel is a software which aids you in a sales funnel strategy and automates the entire sales process. This software helps in the 4 stages of a sales funnel which is awareness, interest, decision and action. It facilitates in building landing pages, carry out monitoring, helps you in upsells and downsells and also sets up email responders. It helps in lead collection, sales generation and aids you in ranking your website in the search results. It also helps in website hosting, training materials, affiliate management, A/B testing and landing page designs. 
However, as a user, you may consider using other programs like Clickfunnels. You may look out for cheaper prices, an increased number of features or other things and hence you may consider investing in other Clickfunnels alternative. Here on this page, we will discuss about 10 Best ClickFunnels alternatives which you should use in 2020.
Best ClickFunnels Alternatives In 2020
1.
LeadPages
LeadPages is a very powerful alternative to ClickFunnels when it comes to making a landing page. It offers you thousands of templates, focussing more on landing pages than sales funnel. It doesn't mean you can't create a sales funnel. With a little more effort you can get a great funnel. There are more than 200 themes including themes from ThemeForest.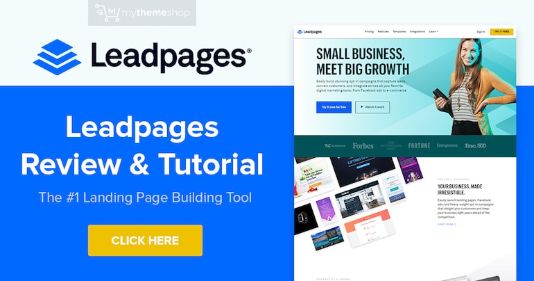 Features:
Here the lead pages offer you webinar hosting.

LeadPages simplify the process of making landing pages providing two-page editors for beginners and advanced users.

Users can create popup windows, alert bars at any corner of the websites, and compel visitors to sign-up. This option probably makes it the best ClickFunnels alternative.

It has a very clean and productive dashboard.
2.
Builderall
Builderall is packed with all the necessary tools in one place that you will need to run a successful online business. It has drag and drop builder- site builder, blog builder, email marketing and automation, sales funnel, analytics and heat maps, etc. Availability of all the necessary tools at a single interface takes this platform to the next level and pushes it into the category of best ClickFunnels alternative.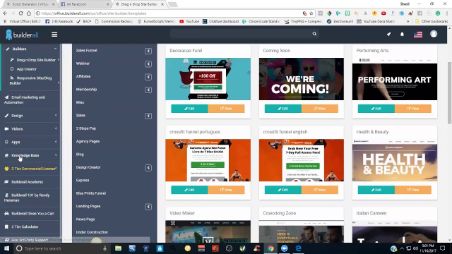 Features: 
It has a built-in application creator which can be utilized for building mobile apps.

Mailing Boss is an email responder and marketing tool with unlimited sendings.

It has an on-page search engine optimization tool showing you where your work needs improvement.

Click map tracks your user interest indicating the areas that users hit most.
3. Thrive Themes
Thrive Themes is known for its simplicity to drag and drop and for creating a comprehensive landing page. This software makes you a lead conversion expert. The WordPress templates and plugins allow you to obtain more traffics and subscribers. It's affordable and cheap ClickFunnels alternative.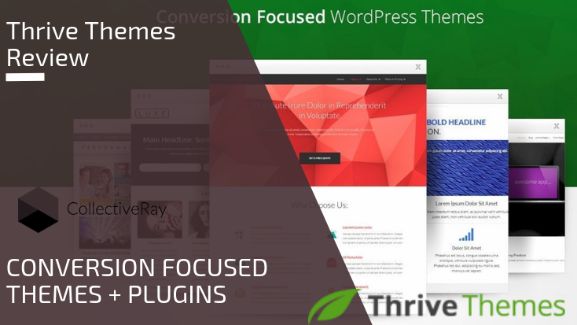 Features:
This software has more than 160+ templates.

It has a content optimizer tool that helps you to produce better and engaging content.

It helps to publish pages to your WordPress website in just one click.

It has the option to create opt-in forms
4. CartFlows
It's a top-notch funnel builder for WordPress and probably the most exciting product in WordPress in recent years.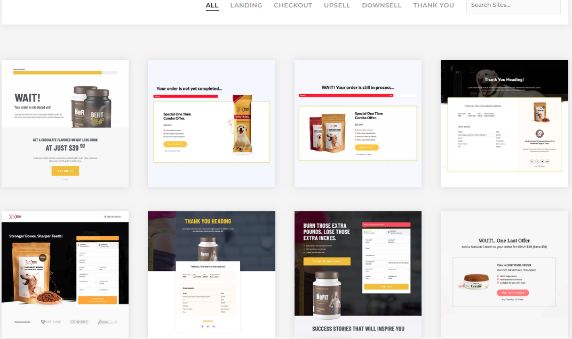 Features:
A wide variety of customizable templates.

It gives you the freedom to use any page builder.

It can gain you full control over the buyer's journey.

One-click order bumps.
5. Simvoli
It saves you a lot of time. Simvoly is the only platform with almost everything that you need for a successful e-commerce website. It has funnel as well as website builder, blogging membership, and more. It is customizable in terms of price plans. You can create your templates from scratch with just drag and drop.
Features:
It has more than a hundred pre-made templates, funnels, and popups. All it needs is your one click.

Suits you most if you want to have an e-commerce website. It has all the functionality, like product listing and filtering.

It's a cheap ClickFunnels alternative having price starting with as little as $12 a month for one site and one funnel.

This is the only platform which is 100% white labeled.
6.
LeadSanity
It's a free ClickFunnels alternative for page building. It's easy to use a program without installing into your system. If you are a newbie and is looking for a free ClickFunnels alternative, then it's the right choice.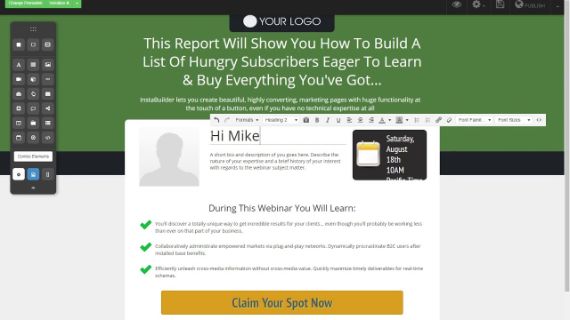 Features: 
A free of cost place.

Easy drag-n-drop page builder.

User-friendly for beginners.

Real-time Analytics.
7.
InstaPage 
Like Leadpages it also provides you with a trouble-free landing page builder. Making funnels with InstaPage is also the easiest among any other ClickFunnels alternative out there. But certainly, it stands out among other web-based page editors.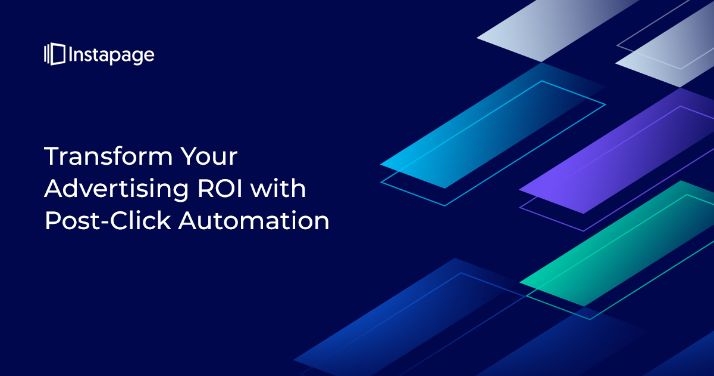 Features:
It comes with a built-in web page analyzer that analyzes as well as optimize the performance of your web pages.

It has a tool called Heatmaps, that tracks your visitor's clicks and scrolls down the length. it can be helpful for a sales funnel.

It's the most sophisticated funnel builder among other software like ClickFunnels.

It's the best ClickFunnels alternative for one who is a beginner as it is straight-forward and user-friendly.
7.
Unbounce 
It is a very known platform focused on faster page building. This best ClickFunnels alternative have its features and characteristics. Unbounce has a revolutionary touch in the page building experience. It has helped brands like Vimeo and The New York Times to optimize their landing page. you can design your template from scratch or can convert their pre-designed templates.
Features:
Unbounce builder is a drag and drop mobile-friendly builder.

It has 125+ convertible pre-build templates.

It provides you with easy integration with analytical tools like Zapier and WordPress etc.

Unbounce convertibles targets landing page visitors setting custom frequencies.
8. OptimizePress
It lets you build everything right inside WordPress. it's also considered more affordable than others. 
Features: 
Easy Paypal integration.

Availability of 300 landing page templates, a plus point over the other best ClickFunnels alternatives.

Provided A/B testing of landing pages.

It has premium blogging features to grow traffic.
9.
10 Minute Funnels
As the name suggests, it focussed more on building sales funnels in very less time. Creating funnel is comprehensive with this software but being simplistic, it lacks many features that others provide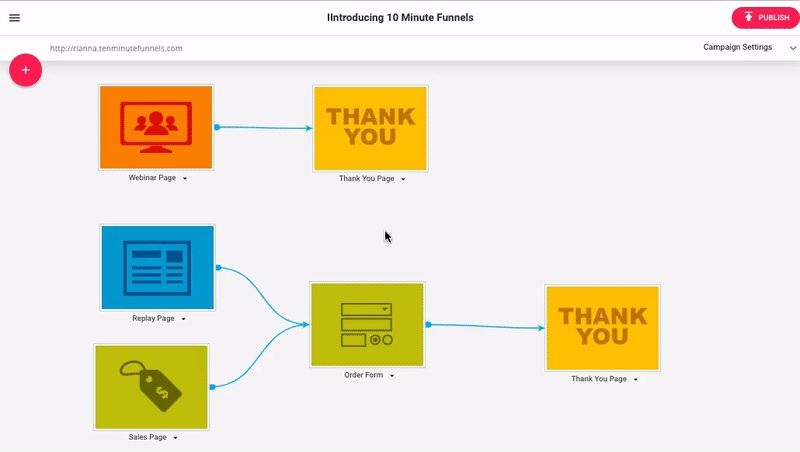 Features:
Simple, user-friendly, and mobile-responsive.

Great for creating sales funnels.

Cheapest in the market. Close to a free Clickfunnels alternative if you can build greatly with drag and drop.

Built-in analytics and SEO widgets.
Why Clickfunnels Alternative is Best
Clickfunnel is a powerful software and the other software mentioned above are also equally efficient which can help your business to reach the pinnacle of success in a short period. Investing in the above-mentioned software can be a prudent business decision and can help you to augment the website traffic. It also helps you to to know your customers in a better way and thus you can improve your tactics by analysing their behaviour patterns. It is imperative to remember that your customers may have different options. Hence if you want your customers to choose your products or services then you have to implement the right marketing strategies. the above software aids in the optimization of sales funnel and captures the maximum leads. Hence take the help of the listed software to survive in the competitive market and to maximize your revenues.  
The funnel can be designed exactly the way you want with the help of Clickfunnels you can add or delete pages, add membership sites and carry out many other interesting functions. The pages can also be customized to ameliorate the look. Through the Clickfunnel software, you can as well follow up with your existing clients through emails, desktop notifications, Facebook messenger etc. This software also helps you to monitor your sales statistics and with the aid of the Clickfunnels dashboard, you can check how your funnels are performing. The best part of this software is that it integrates with several payment processors like Paypal, Stripe etc. and owing to this reason this tool is highly efficient for the online marketers as it enables them to accept payments without hassle. In short, click funnel is a one-step solution for sales and online marketing.
FAQ
Q1. What is better than clickfunnels?
 Ans. If you want to make some amazing pages, then LeadPages can help you a lot, but to create a funnel, you may want to go with 10 Minutes Funnel.
Q2. Is there a free version of ClickFunnels?
Ans. There is no free version of ClickFunnels. During the 14 days trial period it can be used for free. Later you will have to pay for using it.
Q3. Is ClickFunnels legitimate?
Ans. ClickFunnels is a very legitimate business automation software operating over 54000 business as of 2017. 
Q4. How do I use clickfunnels for free?
Ans. You can use it free for 14 days trial period. You can't use any program like ClickFunnels for free forever will all the ease and support. 
Q5. How do make a funnel for free?
Ans. You can try out pre-built funnels for free. It is available in major similar sites like ClickFunnels.
Q6. How do you make a funnel for free?
Ans. Follow the below steps to create a sales funnel for free:
Create a landing page: This is the most important step for marketing. A good landing page attracts potential clients

Make a front-end offer: Here you allow the buyers to buy your product or services.

Produce an upsell offer: Offer an upsizing or upselling offer to your clients.

Offer the downsize option: You also need to offer a downgrade option to clients.

Monitor and continue: The last step is to maintain the momentum and also to supervise your results from time to time.  
Q7. How much ClickFunnels charge a month?
Ans. The basic plan starts from $97 per month. The last ClickFunnels collective is priced at $1497 per month.