If you are also looking for Clonezilla alternatives, then you are at the right place. Clonezilla is one of the crucial system programs that are designed by Steven shiau and developed by NCHC free software labs in Taiwan. The objective of the program is to create clones of your hard disk and perform works like disk imaging, data recovery, and system deployments. It is a free and open-source disk cloning program that creates exact copies of your hard disk content to transfer files from one device to another. The data can be transfer to other system hard drives, DVDs, or USB drives. 
An application like Clonezilla is specially designed for system backups. Whenever you want to copy the system files or folders to another device you need to transfer them one by one which is a time-consuming and boring task. Clonezilla makes it easy and clones your whole drive to a new drive. It is a fast and simple way of transferring your whole system data to other devices even without spending any money. It is one of the must-have the program in your Windows PC to have a duplicate disk. The data on Clonezilla is secured by 256 encryption. 
Clonezilla is best in many ways like it is free and offers several best features of disk cloning and disk imaging but then also people search for its alternatives. There are many similar tools like Clonezilla that offer the same features at low costs and also for free. In this article, we have listed some of the best Clonezilla alternatives that offer you a user-friendly interface and offer you advanced or alike features of Clonezilla.
10 Best Clonezilla Alternatives in 2021
1. AOMEI Backupper
Latest Version: NA
Compatibility: Windows 10, 8.1, 8, 7, Vista and XP (both 32bit & 64bit versions)
Free Version: Not Available
To make your data protected from losing while system crashing or other reasons you need disk cloning software that can create duplicates of your hard drive. AOMEI Backupper is the best Clonezilla alternative that offers the best features like Clonezilla. It is the best software to backup your data. It has a user-friendly interface and easy-to-use software that is compatible with Windows 10, 8.1, 8, 7, Vista, and XP. 
AOMEI Backupper offers free disk cloning with its AOMEI Backupper Standard Edition. The software is created for Windows operating system users both PC and servers to keep operating system and files on PC safe and protected. With the help of AOMEI Backupper, you can restore your data easily in case of a system crash. AOMEI Backupper has several features that help in transferring OS or upgrade the hard drive.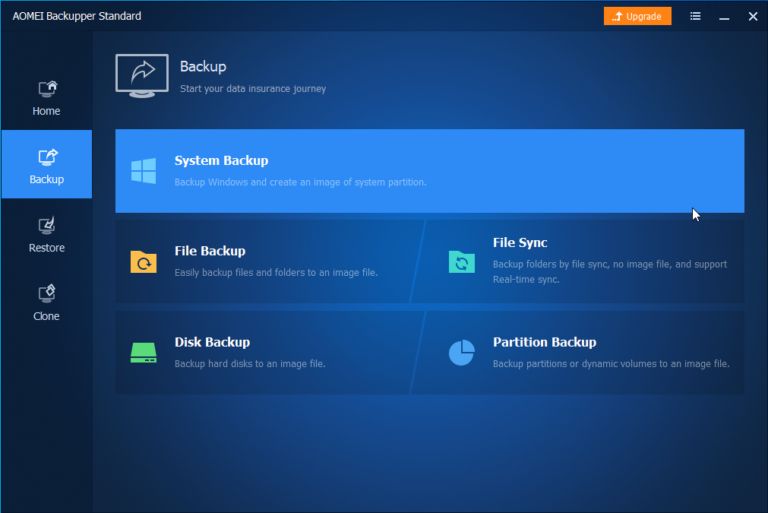 Pros 
It offers P2V option 

It is an Anti-ransomware tool 

It offers big cloud storage 
Cons 
Doesn't offer essential features in the free version 

The paid version is quite expensive 
2. Minitool Partition Wizard 
Latest Version: 12.5
Compatibility: Supports Windows 10, 8 and 7 (both 32bit & 64 bit versions)
Free Version: Not Available
Minitool Partition Wizard is another reliable CloneZilla alternative that is designed by Minitool software for Windows. It offers professional-level solutions for disk and partition copy management. It is compatible with all the Windows versions. With Minitool Partition Wizard hard disk cloning and disk backup has become easier. If a user wants to have a simple and elegant disk cloning tool then you must consider Minitool Partition Wizard as it offers a user-friendly interface with ease.
Apart from cloning software, the software also performs align SSD partition, repartition hard drive, convert FAT to NTFS, etc. With this software, you will get the features like Disk benchmark and space analyzer and the best thing is that it is free software. 
Pros 
The free version has several essential features 

Easy to install 

It has a user-friendly interface 

Free version available 

Easy GUI
Cons 
3. EaseUS Todo Backup
Latest Version: 13.1
Compatibility: Windows 10/8.1/8/7/Vista/XP
Free Version: Trial Available
EaseUS Todo Backup is an alternative to CloneZilla which is loaded with exceptional features of disk cloning. It has an efficient interface which makes it easy to use. The software allows you to create backups of your important files and saves you time. It has a feature of recovery option that protects your data. You can schedule and run backups when you want. It is a free backup and disk cloning software that automatically backup your system drives and full hard drives.
EaseUS Todo Backup is an award-winning disk imaging software that is free backup software. It allows one-click backup, instant recovery and protects your data from losing. About 20,000,000 users are taking advantage of the EaseUS todo backup program. With its easy user-friendly interface, users are creating backups of their important files or the whole system.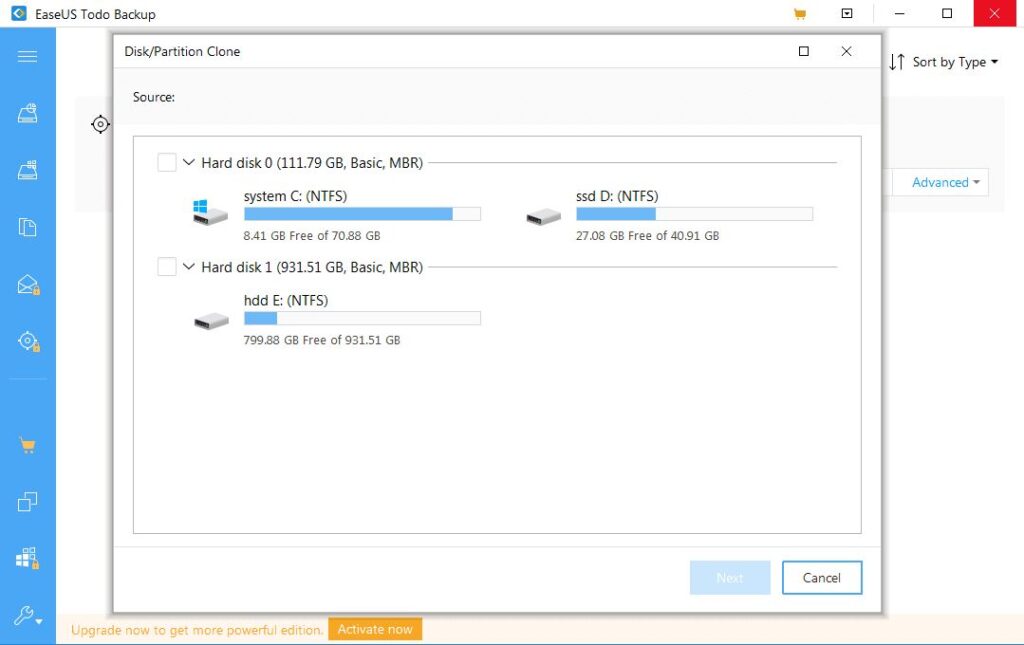 Pros 
Powerful GUI 

Decent backup software for Windows 10

Allows you to create a backup of a specific partition 

It offers a free version 

Cloud storage is available even with the free version
Cons 
Slow speed at the time of image creation

Lack of detailed information on system failures
4. Acronis True Image 
Acronis True Image is also the powerful Clonezilla Alternative that offers data protection for personal users. It protects your data from losing in several ways like take backups and recover data. It supports several platforms like Android, Windows XP, and later, Windows Home Server 2011, etc. It has a user-friendly interface that can protect photos, files, applications, and everything in your system. 
Acronis True Image is the only cyber protection solution available that offers reliable backups with advanced antimalware. Some of the best features which Acronis True Image offers are local backup, encrypted cloud backup, cybersecurity protection, etc. Its pricing plan starts at $49.99/ year. 
Pros 
It provides an amazing graphical interface in backup apps 

Quick backup data 

Ransome protection features
Cons 
It requires domain admin login to run the app in the domain environment 

The setup process of installation is quite lengthy
5. FOG cloning 
FOG cloning is one of the prominent CloneZilla alternatives that work with Windows 7, 8, Vista and XP. Apart from Windows, it also supports Mac OSX and Linux platforms. It is a free and open-source tool that offers features like hard-disk tests, scans, etc. FOG Cloning is a quite helpful tool for small business owners. 
The feature which makes it different and unique from other cloning software is that it can install printers. FOG allows automatic imports host to a database. It has a user-friendly and simple interface which makes it easy to use.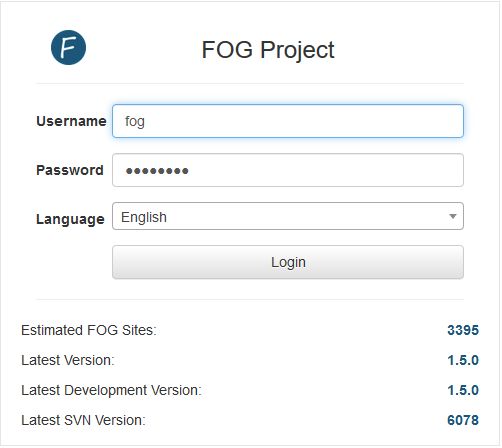 Pros 
Easy installation 

Free 

It offers a Printer management feature

It has an Asset management feature 
Cons 
Set up is quite complicated for beginners
6. Rescuezilla 
Rescuezilla is one of the must-have software for Window to perform disk cloning for system backups. It offers the best data recovery solution for your Windows PC. It is one of the reliable software which has over 2,000,000 downloads till now. Rescuezilla is a lightweight software that doesn't consume too much storage on your PC. 
With the help of Rescuezilla, you can recover the deleted documents and images. Being a disk cloning software, Rescuezilla is that it also acts as an antivirus. Rescuezilla is one of the great Clonezilla alternatives you are looking for.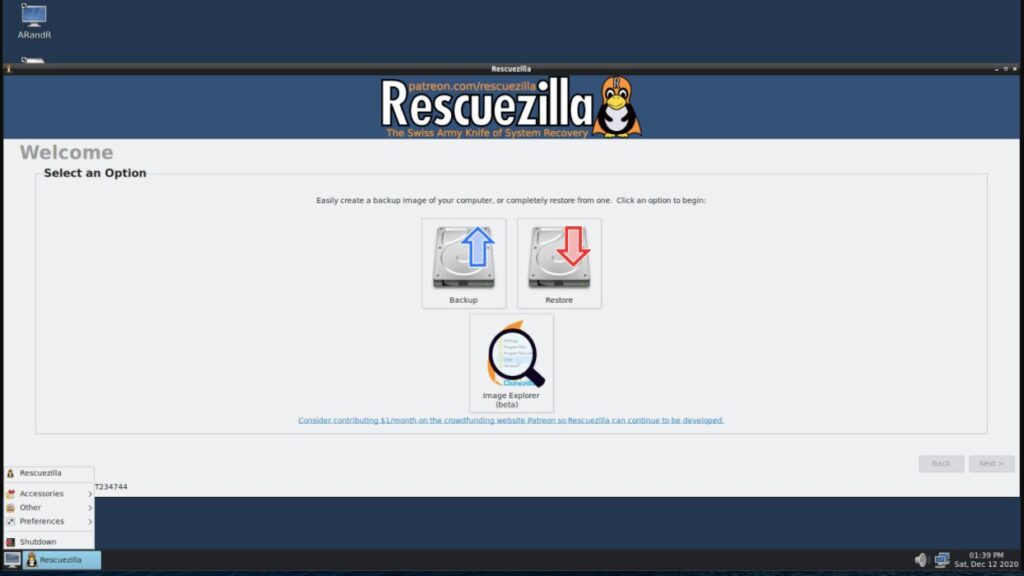 Pros 
It is a light-weight software

It offers a free version 

Its layout is amazing 

User-friendly interface
Cons 
7. Fwbackups 
Talking about Fwbackups, it is the most powerful Clonezilla alternative that consists of amazing and advanced cloning features. It is a free and open-source platform for disk cloning and system backups. The software is compatible with Windows XP and Linux. It is easy to back up any files in the USB with Fwbackups. 
Fwbackups allow you to take backups of your files and folders from anywhere anytime. It has the best and user-friendly interface which makes it easy to use for everyone.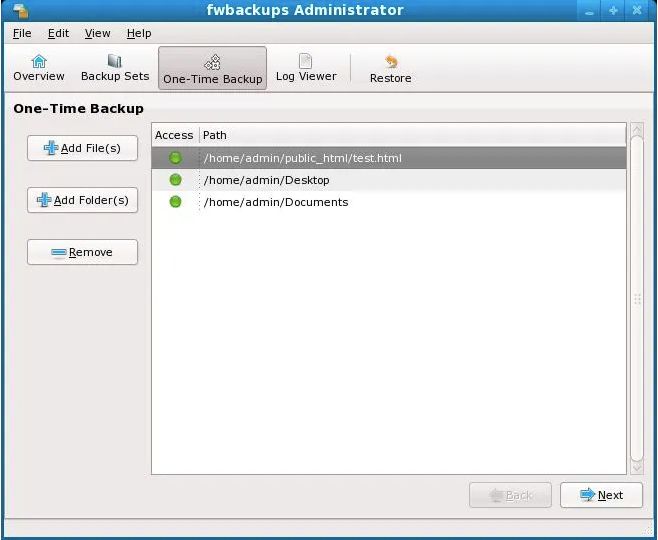 Pros 
It supports cross-platform 

It is available on macOS X and Windows

It offers a clean and managed backup process by deleting expired data

It can recover data from one system and restore data to another system
Cons 
8. HD Clone
Talking about HD Clone, it is the most efficient backup tool and disk cloning software for Windows. It is a free replacement for Clonezilla that supports Windows 7. The software comes with an in-built safe secure system that enables saving files without any external support. It can create a full copy of Windows software and Windows OS. 
HD Clone is the best disk cloning software that creates backups of your files and folders so that in case of a system crash you can recover your files with the saved backups. 
Pros 
It has safe rescue mode 

It can clone USB hard disks, USB sticks, SD, MMC, etc. 

It is free 

Available in many languages 
Cons 
9. Macrium reflect 7 
Macrium is another Clonezilla Alternative which is a new entry in the software cloning technology. The software is compatible with Windows 7, 8, 8.1. The best things about Macrium reflect 7 is that it is the best cloning software for commercial as well as non-commercial purposes. It also offers protection against ransomware. It also allows the system to boot in HyperV-VM mode quickly.
With Macrium reflect 7 enables to restore the non-booting system. All in all, Macrium reflect 7 takes care of the system's health. The software has a feature of schedule and incremental backups. Macrium Reflect 7 allows the creation of disk cloning and transferred the cloned data to the new system. 
Pros 
Reliable and everyday backups 

It creates differential backups that are small in size 

It has a simple interface for creating drive image backups 

It is a fast and easy way to recover files and folders from an image backup
Cons 
Supports Linux platforms 

It uses a different default naming pattern for backup files
10. Win32disk Manager 
Talking about the best Clonezilla alternative then you must consider Win32disk manager. The software lets you create an exact image backup of your hard drive. It is compatible with Windows 7,8,10, and XP. The software also supports versions ranging from 2008 to 2016 but these are neither tested nor officially confirmed by developers. For using this software on Windows XP or Vista, you can use its earlier version (v0.9). It is the best free tool for writing images to USB/ CDs/ DVDs/ or SD/CF cards. It lets you create bootable ISO images seamlessly. The open-source software is developed by gruemaster and tuxinator 2009.
Win32disk Manager is a lightweight program that fits in small sizes and doesn't consume a lot of space. It is free software so you need not pay anything to install it in your system. 
Pros 
It is a light-weight application 

Supports 32and 64 bit in Windows 7, 8 and 10
Cons 
It crashes when working with a RAM disk
FAQs On Clonezilla Alternatives
Is Clonezilla better than Acronis?
Yes, Clonezilla is far better than Acronis in many ways. Talking about Clonezilla, it is free to download whereas Acronis charges $50-$80. Clonezilla supports several operating systems whereas Acronis is compatible with Windows. 
Does clonezilla have a GUI?
Yes, RescueZilla is the CloneZilla GUI that you are looking for. Rescuezilla is an easy to use disk imaging software that is completely compatible with CloneZilla. 
Does Clonezilla copy bad sectors?
No, Clonezilla doesn't copy bad sectors as it has a feature of "intelligent clone" that enables copying only used sectors and avoid bad or unused sectors while cloning. 
What is the best free software to clone a hard drive?
DriveImage XML is one of the best free software to clone a hard drive. It supports several operating systems like Windows XP, 2003, Vista, 7, 8, and 10. But the free version is for non-commercial use. To use DriveImage XML for commercial purposes you need to purchase a commercial DriveImage XML License. 
Does cloning a drive make it bootable?
When you create a clone of your hard drive it makes a bootable new hard drive at the time you undertook the clone. But in Windows 10 users face the error cloned disk won't boot Windows 10 after cloning. 
Also Read