When we use our computers daily that is why multiple files, folders, programs and application icons get stored on your desktop screen. It looks very annoying and we all want to organize it but manually it is quite difficult. That means we all struggle to organize our desktop screens. But now you don't have to worry anymore as we have listed some of the best desktop app launchers for Windows PC.
What is a desktop launcher?
A desktop launcher is a program that allows users to locate and start other computer programs. It helps in organizing your desktop by reducing the number of icons. It creates shortcuts to the system application and programs and stores them in one place for quick navigation. 
Using the desktop app launcher for PC you can quickly and easily access the most used applications, files, folders and programs on your PC. The app launcher helps us to conveniently search for all the important files. Let's have a look at the best app launchers for Windows 10, 8 and 7. 
10 Best Desktop App Launchers for Windows 11, 10, 8 & 7 PC
1. RocketDock 
If you are looking for an app launcher for Windows that can make your PC cluttered free then Rocketdock is the perfect solution for you. It helps you to minimize the number of icons on your desktop. This tool can really help you to organize your PC and with its simple drag and drop process, you can add shortcuts to the desktop.
The app launcher also works on Windows 11 / 10 pc. Using this tool you can easily put all your most used and favorite apps icons in one place. It allows you to easily access the icons quickly. 
Features 
Displays live thumbnail update on the taskbar 

Compatible with ObjectDock, MobyDock, RK launcher and Y'z dock skins 

Drag and drop shortcuts 

Lightweight tool 
2. Listary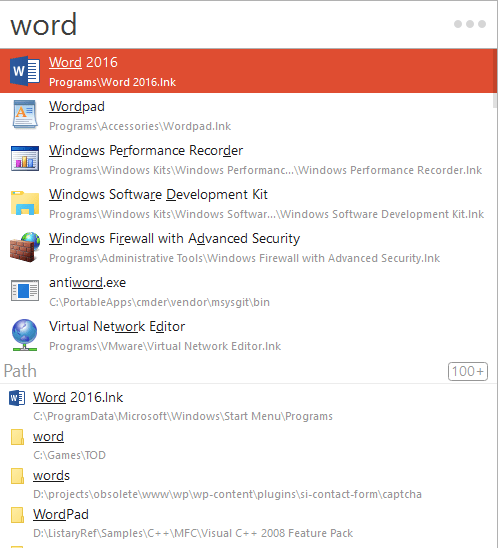 Listary is the best app launchers for Windows 11 / 10 PC. It has been placed in the list due to its simple user interface. It is a lightweight application that is synchronized with other software such as Xplorer 2, WinRAR, Total Commander, etc. This tool costs you $19.95 with some additional features. 
Listary lets you quick access to your valued folders, files, programs and applications. The tool works in the background and we can activate it by double-clicking on the vacant space or pressing Win + W to open the search bar. 
Features 
Integrated with Total Commander

Smart commands 

Find as you type

Regular expression support 
3. RK Launcher
RK Launcher is the best desktop app launcher that helps you to quickly access your frequently used applications and files and folders. Not only that it also helps in organizing your cluttered desktop. It is a free dock that you can also use in Windows 10. Using this tool you can accumulate all your favorite apps and programs in one place. 
You can place the RK launcher on the edge of any side of the screen. You can also customize the dock by applying themes, and adding custom icons and dockets. 
Features 
Compatible with all Windows versions 

Free to use 

You can replace it with your Taskbar

It has a visually pleasing search bar
4. Appetizer
Appetizer is another best desktop app launcher which is available in both portables as well .exe versions. It is the most lightweight program that you can use for quick access to applications and programs on your PC. Using this tool you can also add your favorite shortcuts to Appetizer to get sharper access. Furthermore, you can customize it by using skins and plugins.
The appetizer is a free and open-source launcher that has a simple UI and you can easily use it on Windows 11 / 10 PC. 
Features 
It is available in 25 languages 

Tray icon support

Custom icons 

Support for keyboard shortcuts 
5. Launchy
Talking about Launchy, it is another great app launcher for Windows 11 / 10 PC which doesn't require any further setup after installing on your PC. The tool is available in both portable as well as .exe versions. It is completely free to use and when you install it on your PC you can launch it by simply pressing the Alt + space keys on the keyboard. After that type, the name of the program or app in the search bar and within a few seconds the appropriate matches will appear. Select the desired app or program to quickly access them. 
The tools allow you to open programs, websites, files and folders on your PC.  It is easy to use the tool and also lets you customize using skins and plugins. 
Features 
Free and cross-platform tool

Open source keystroke launcher 

Helps in launching documents, folders, project files and bookmarks 

Powerful and easy to use the launcher
6. ObjectDock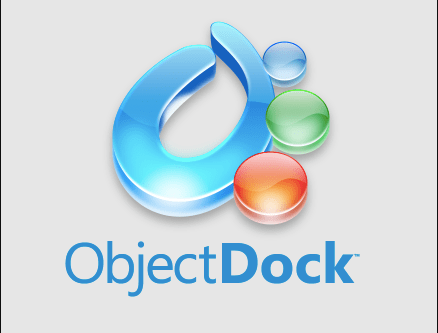 Next, in the list of best app launchers, ObjectDock has placed its position due to its easy to use interface. The dock allows you to add shortcuts to all those programs and apps which you use more frequently. This makes it easy and quick access to the programs. You can also customize the dock using several skins and backgrounds. 
You can also make your Dock look fascinating by adding widgets like a clock, battery, calendar, etc. ObjectDock offers a 30-day trial and also a premium version that costs you $4.99 and comes with some additional features. 
Features 
Multi dock support

Fly-out menus

Multiple monitor support 

Tabbed docks 

Taskbar grouping 
7. XWindows Dock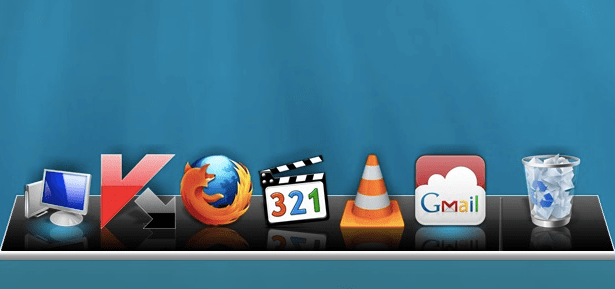 Maybe by its name most of you might be thinking that XWindows Dock only works on Windows XP but actually no. The dock completely works impressively on Windows 10. It mimics macOS launcher toolbars and has some features exactly like Apple's tool. 
You can customize XWindows Dock by applying several graphic effects like blur, shadow, transparency, etc. to make it more unique. This feature you might not get in other app launchers. For many users, XWindows Dock is quite complicated to use initially but is a helpful tool. Apart from the graphical effects it allows you to add plugins. 
Features 
Consists of 2D and 3D full skin customization design

Offers skin maker 

Live reflections of icons and windows 

Customizable sounds

Stacks like in Leopard, rd 
8. Executor 
Executor is a very straightforward app launcher for Windows 11 / 10 pc that allows you to easily navigate to the application that is installed on your PC. It is a free tool that you can install on your PC and it will appear in your Taskbar. 
And whenever you want to use it just click on it and type the desired app name in it and within a few seconds, the application or program will open. Not only app and program the tool also allows you to open a website quickly by just typing its address. The executor can be the best solution if you are facing a problem in using Cortana. 
Features 
Allows you to manage clipboard

Helps in quick launching of internet searches

Quickly launch apps and programs 

Also, manage running apps 

It does fast calculations 
9. WinLaunch 
WinLaunch is a great app launcher for Windows which is also based on the model of app launchers of Apple OS. The tool works in the background and you can activate it by pressing the Shift + Tab keys on the keyboard. When you enable it all the pinned programs list will appear. It comprises a jiggle mode that allows you to shift icons from one group to another. 
You can create groups and also customize them according to your preferences. You can also club the shortcuts in groups by the drag and drop process. 
Features
Quickly launch apps 

Allows you to organize everything into an accessible folder

It offers lots of customizable options

Works on Windows 8 
10. SlickRun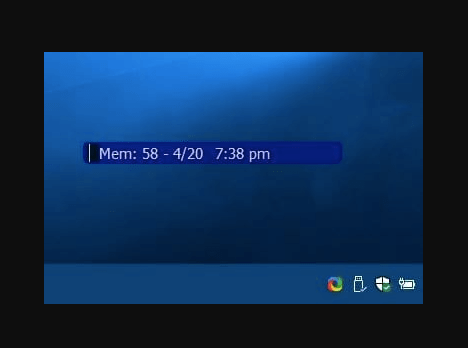 SlickRun is a perfect program launcher for windows PC that allows you easily search for the desired application and also search from the web browser. It consists of several magic words which are specifically designed to open applications. Apart from the predefined magic words, you can also create your own magic words to open the application. 
Using this tool you can get quick access to your favourite programs, files and website. It also allows you to search for the web by just typing its URL. 
Features
It displays current memory usage 

Consists of pre-designed magic words 

It is a free command-line utility

Lets you create command aliases
Conclusion On App Launcher for Windows 11 / 10 PC
Nobody likes a messy desktop screen and that is why app launcher is the program that helps the users easily launch their favourite folders, programs, websites and applications. In the above article, we have listed the most trusted and widely used app launcher for Windows that can create shortcuts for the most frequently used apps and programs so that you can easily navigate them and thus saves a lot of your time.
I hope the article can help you in choosing the right tool for your system. Now, let's have a look at some questions that are frequently asked by the users regarding desktop app launchers. 
FAQs 
What is the best app launcher for windows?
The app launcher is the handiest utility that helps the users to easily and quickly launch applications and open frequently used programs. In the above article, we have listed some of the best app launchers for Windows. Some of the best app launchers are Launchy, Listary, WinLaunch, Executor, etc. 
Are there any launchers for Windows 10?
Yes, there are many launchers available for Windows PC and one of the most popular launchers is RocketDock. It lets you quickly access the frequently used apps and programs by using their shortcuts. 
How do I create a Windows 10 launcher? 
Follow the below steps to enable shell launcher feature:
Firstly, navigate to the control panel and click on programs and features. 

After that click on turn windows feature on or off. 

Next, expand device lockdown.

Lastly choose shell launcher and OK. 
What is the launcher on the computer ?
Basically, an app launcher is a computer program designed to facilitate the users in the quick navigation of system applications and programs. It creates shortcuts for the computer apps and programs and stores them in one place. 
Is there a launcher for windows?
Yes, there are many launchers available for Windows that work on almost all Windows versions. Some of the most popular launchers are:
RocketDock

CircleDock

Launchy

Executor 

XWindows Dock

ObjectDock

RK Launcher
Also Read