Call of Duty: modern warfare is very popular game among youth but while running or launching the game some errors occurred like "dev error 6068″due to corrupt Direct X installation on the PC.
What is DEV ERROR 6068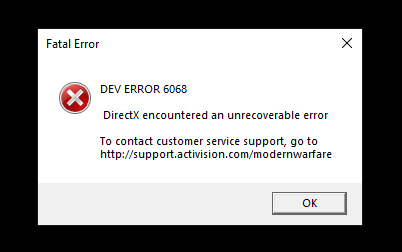 Call of Duty, Warzone is a shooter video game that is one of the most popular games so far. Many gamers are still complaining, however, about a corrupt Direct X installation error known as DEV ERROR 6068. But if you want to know more about this error message and ways to fix it, you will have to read the entire article.
People are confused as they could find no specific reason as to why they would be constantly getting the DEV ERROR. This article would help get all the ardent gamers to go back to their games immediately soon after they solve the error.
Why do I keep getting Dev Error Modern Warfare?
People get the error for different reasons, some of them being;
There could be errors in the graphic settings that might cause the DEV ERROR 6068.
If you have outdated Windows, you might also get this error.
Your game files could be corrupt resulting in such an error as Dev error 6068.
If you have not made the right optimal settings, you could end up having the Dev error 6068.
Check the configuration of files and that could tell you if there is a Dev error 6068 due to them. 
Next, we will get to fixing the DEV ERROR 6068 for you.
How To Fix DEV ERROR 6068
1. You must start Warzone on DirectX 11
 How can you do that? We will show you here how you will do it.
Go to Battle.net and choose Call of Duty:MW from the left side of your screen.
Press on the Options tab and then choose the Game Settings tab.
Tick the box for additional command line arguments and then tap d3d11 in the space provided and further click on the Done tab to complete the process.
This solution should solve your problem but if it does not, you might need to go ahead with it.
2. Get your Windows updated 
This is what you do to update your Windows.
Go to your

Windows Search Menu

and go to your keyboard to press the

Windows key

.

Press on Check for updates and once you find the update, you need to download it.
Reboot your system once you are done with the download and installation of the new Windows update.
3. Get your Game Files via Battle.net repaired
Get your game files repaired and this is how you do it.
Launch the Blizzard Battle.net and move to the Games tab.
Choose Modern Warfare and press on the Options tab
Click on the Redeem a code option and choose the scan and repair option.
After the verification is done, reboot to try and see if it works for you.
4. Run the Game as an administrator
Run your game as an administrator so that you can get complete access to all the files required to complete the game. This is how you do it.
Choose the Properties option by right clicking on your Modern Warfare application.
Move to the compatibility tab and check on the box to run the program as an administrator.
Once done, restart your system to see if you can launch into your game without facing the error again.
5. Shut down Nvidia G-Sync
Resolve your error by shutting down the NVIDIA G-Sync. To achieve the process, this is what you need to do,
Press the NVIDIA Control Panel and click on the Display tab by clicking on the plus sign beside it.
Select the tab to set up the G-Sync tab and uncheck the tab that enables you to set up the G-sync tab.
Once done, press the restart button to see if it fixes your issue.
6. Check the speed settings of the clock start and set it to default
If you have an overclocking of your GPU, CPU, or any other hardware then you must reset it to your clock's speed settings back by bringing it to default settings.
This will fix it mostly, and if you have tried all the previous ways, this one should work as it works for most.
7. Make your Call of Duty Priority as high
If you can change your Call of Duty's processor priority to high in your Task Manager, that could remove the modern warfare dev error for you easily. 
Press Ctrl + Alt +Delete to open your Task Manager and move to the Details tab.
From the list of options, search for Modern Warfare and by right-clicking on the program, change its priority to High.

Try to check if you still get the error, if you do, you still might have one or two more places to look for, if you want to find out a solution for the

Dev error 6068 warzones

.
8. Go to your Programs and Deactivate in-game overlays
Your program's overlay features could be causing Dev Error 6068. All you have to do is deactivate them. To do so, you must do the following;
Start GeForce experience and press the Settings icon.
Disable the in-game overlay and save the changes before you exit.
9. Try Modifying the Graphic Memory Scale
An upper value on the Video Memory Scale could be causing the Dev error 6068. To change it, this is how you must go about it.
Remove the Call of Duty Modern warfare and any task related to it from the Task Manager.
Next, launch File Explorer and then move through your player folder's path.
Open the advanced options (adv.options.ini) in a notepad and choose VideoMemoryScale.
Alter the VideoMemoryScale value to 0.5 and then launch Modern Warfare again.
FAQs
How do I fix Dev error 6068?
Follow any of the Dev Error 6068 resolutions given above to fix the issue.
Why do I keep getting Dev error on PC?
There are several reasons why you might get the Dev Error 6068, and they are talked about in the article in detail.
What does Dev error mean?
It is known as the Corrupt Direct X system installation error.
How do I fix Dev Error 5573 on Xbox one?
Here's what you must do to fix Dev Error 5573.
Conclusion On DEV ERROR 6068 Call of Duty Modern Warfare
Here's a lot about how you can fix the Dev Error 6068 and if you want to solve it on your own, you need to read this blog for more insight.
Also, Read