Computers need updates over time. It is very essential to detect the problems and boost the computer drivers otherwise your device will miss the latest functions and will also run a bit slow. The iObit driver booster is a free driver update program. It supports Windows 10, 8.1, 8, 7, XP, and Vista. Your PC can develop certain problems and issues. A proper driver booster gives a fix to your PC's problem and also updates your system automatically. So read the Driver Booster Review which is totally unbiased.
Your device may face the following problems if you have an outdated driver:
The internet connection of your device may become unstable and insecure. 

You may also face certain screen freezing and system crashing issues.

You may experience sound errors while listening to your favorite songs.  

The hardware devices attached to your computer might run slow. 

You may also experience some problems while transferring files and data.

Your PC may run slow and might hang quite frequently.
Driver Booster Review 2022
Driver boosters are extremely essential for a computer. It provides the system with a new life and support. Let us have a look at the pros and cons and expert advice for using a device booster. Also, here we provide a proper driver booster review including its features and pricing policy.
Free versions of Driver Booster
Driver Booster updater program is developed by IObit company in 2014. It is an indigenously developed tool to fix all the device problems immediately. Malware fighter, virus detector, Smart defrag, and many more Advanced System Care products. 
Pros and Cons of Driver Booster
Advantages:
It is an automatic update tool.

It can repair all your broken and outdated drives.

It is easy going with all Windows versions.

It also creates an automatic backup for all the device drives to prevent any data loss soon.

It can automatically reboot your PC once the drivers are updated.
Disadvantages:
It does not give a detailed description of all missing drivers.

It is not compatible with Android, Linux, and Mac versions.

Sometimes, it is unable to update certain drivers which require to be updated manually.  
iObit Driver Booster features and Description
| | |
| --- | --- |
| Manufacturer | IObit |
| Dominant functionality | Single-click updater tool |
| Recent and prominent version | Driver Booster v.6.5.0 |
| Technical assistance | 24*7*365 support |
| Main menu language | 48 |
| Operating system (Windows) | Windows – 7, 8, 8.1, 10, XP, and Windows Vista |
| File size | 20.6 MB |
| Additional features | Game booster, views system information, fixes device issues, secure and regular device updates, etc. |
According to the Driver Booster review, its free version is Driver Booster 7 (7.3.0.675) and the paid version is Driver Booster 7 Pro (7.4.0.730).  it costs around $20-$21 per year and can be used for 3 systems at a particular point of time.  
Save 50% on Driver Booster PRO
iObit Driver Booster Review: Free Version setting up
Older versions of Windows can be rarely seen these days. Also, Windows 10 falls in the category of most advanced versions of windows. It is among the latest and recently built operating system with all the new features and qualities. Setting up a driver Booster is mostly in use in the 64 bit Windows 7 version. It requires regular updating and cleaning.
For instance, we can review the Driver Booster on two systems:
A PC with 8GB RAM

An Acer Aspire Laptop with 8GB RAM.
PC:  the PC has a screen resolution of 1920*1080 and an Intel Celeron CPU of 2.60 GHz. 
Laptop: it has a screen resolution of 1366*768 and an Intel CPU of 1.30GHZ.
Both these devices have not been updated over the last month. These devices have been showing around 135 significant and about 70 optional updates. 
Step by step process for updating our systems via Driver Booster:
Installation:
The foremost and easiest step is to download the installation file from the publisher's website and then set up. It is around 19 MB.  
For installation, you need to do the following:
Save 50% on Driver Booster PRO
1. Set up the language you are comfortable with on the welcome screen. 
2. You can see two options – one is the installation and the second option says custom installation.
3. You should follow the expert advice and go with the custom installation option as it provides you with other alternatives as well.
4. The custom installation provides you with the option to skip or install further updates and set up a desktop icon for it.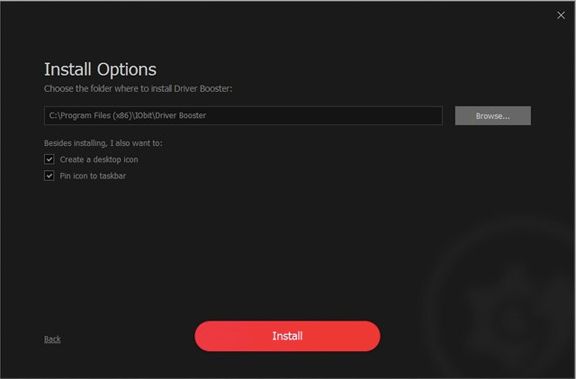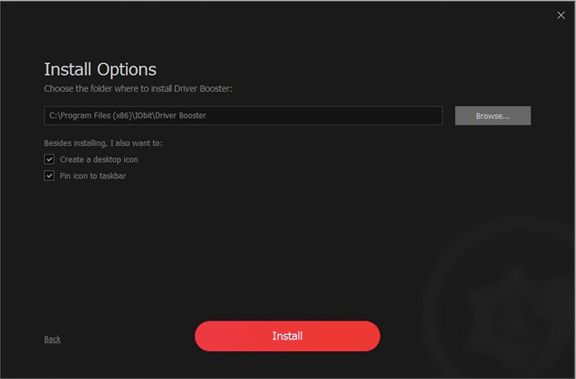 5. You can see other specifications like setting a pin and path to the taskbar.
6. After you are finished with these specifications, you can click on the install icon.
7. After the successful installation of the Driver Booster, you can follow further steps.
System scan:
You can land into a major problem if you did not click on the system scan option within 5 seconds of your driver's installation. Also, the Driver Booster starts automatic diagnoses if the user does not click on the Scan Now option on the screen. The main screen also contains large Scan/ Stop icons in the center and other options at the side like the Game Components and Device Drivers.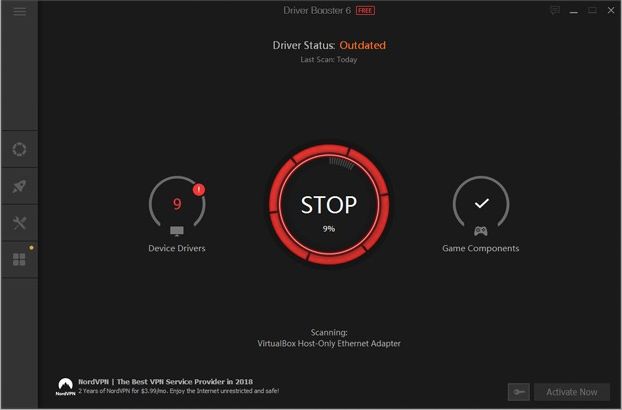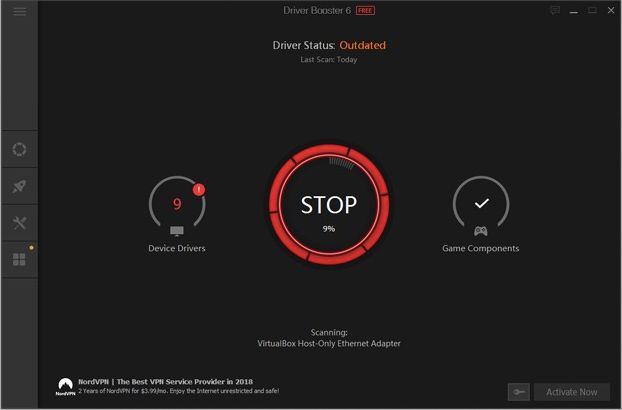 Now comes the most important step to identify the outdated and broken drives. After system scanning, you will be able to see all the broken and outdated drives with many other options, including the following:
The details of the device drivers (including the name and category).

Current version details with publisher's name and date of publication of Driver.

You can either install, update, ignore, or delete the existing broken or outdated Drive.
Fixing the Drivers:
After your device is up with the system scan option, you can now go through the repair process of the outdated drives. You will be notified with all the driver's problems like system rebooting and conflicts with system security software. This window gives you update status. Once you are over with your drivers' update, you will be notified that "All the drivers are up to date". 
Now All your drivers has been successfully updated.
The setting, System support, and other Features:
These tools come with an easy to use functionality these days. 

One can easily customize those tools, screen displays, and layout.

You can also create a backup for all the drives.

It is a complete tool that can easily repair all your outdated drivers, launch system scans, can boost your system, and do many other things as well.

You can also use its 24*7 chat window and clear your queries from the Driver Booster group.
Driver Booster Review also provides the following additional features of the Driver Booster: 
System Optimization: Driver Booster examines your system, removes unhealthy and unwanted files from your system software, and boosts the working of your system.
Dashlane Feature: Driver Booster provides you with the dashlane feature with the help of which you can manage various passwords at a time. 
Additional characteristics: It also provides you with several other clicks like the ability to fix network failure, bad resolution, and other system problems.
Activity and performance distinction among two devices
| | | |
| --- | --- | --- |
| Parameters | PC | Laptop |
| INSTALLATION PERIOD | 35 seconds | 2 minutes |
| SCANNING PERIOD  | 30 seconds | 2 minutes and 30 seconds |
| BROKEN/OUTDATED DRIVERS | 90 outdated and 75 working drivers | 33 broken and 70 good drivers |
| UPDATE TIME REQUIRED FOR DRIVERS | Around 5 minutes 45 seconds | About 22 minutes 10 seconds |
By looking at the above comparison, we got to know that Driver Booster 7 is the best tool to optimize and update your system. It is user friendly and does not use many resources. 
Driver Booster Pro- Paid version
Driver Booster Pro is qualified with many updated features and is also considered better than the free version. It is can determine even the basic and smallest components and has around 3.5 million databases. You can use the pro version with the help of key which you will get after purchasing.
Highlighted Features of the Pro Version
It can be used with a mouse click.

Apart from malware fighter, it is also capable of detecting spyware.

The users can use various screens like blue, black, white, and snow.

It is specifically known for the healthy and smooth functioning of the system in which it works.
Save 50% on Driver Booster PRO
Frequently Asked Questions (FAQ's):
Q1. Is Driver Booster any good ?
Yes, Driver Booster is really of good help. It boosts your system, updates it with a single click, and detects outdated drives in your system.
Q2. Is Driver Booster free ?
Driver Booster Free is a free utility program. However, you will have to bear the cost of the pro versions.
Q3. What does Driver Booster do ?
As described in the above Driver Booster Review, it optimizes the functioning of your system, updates it, and cleans all the unwanted files.
Q4. What is the best free Driver Updater ?
According to Driver Booster Review, Driver Booster 7 is the latest and best free Driver Updater.
Q5. Are IObit products safe ?
Yes, IObit is the most trusted company and all the products provided by it are safe to use.
Q6. Is driver booster safe
Yes, It is completely safe and secure tool
Q7. Is Driver Booster a virus ?
It is a system utility program but if you are not downloading it from the official website, it may contain some malware.