iObit Driver Booster is one of the best driver updater software available in the market which has made updating system drivers easier and quicker. But when it comes to choosing any software users first look for the review article which provides them with all the important details and aspects related to the software. 
We have listed all its features, specifications, and pros and cons so that you can make a better choice if it suits your needs or not. Many users might have a question is Driver Booster safe? Then they will also get to know about it and solve all their queries.
This is the most trusted driver updater software and now it has released its latest version Driver Booster 10.2.  So, without any further delay let's read the whole Driver Booster Review. 
IObit Driver Booster v10.2 Review
Driver Booster is a free driver updater software that can automatically scan outdated, corrupted, missing, and faulty drivers and update them to the latest version. It supports all Windows OS XP, Vista, 7, 8, 8.1, 10, and 11.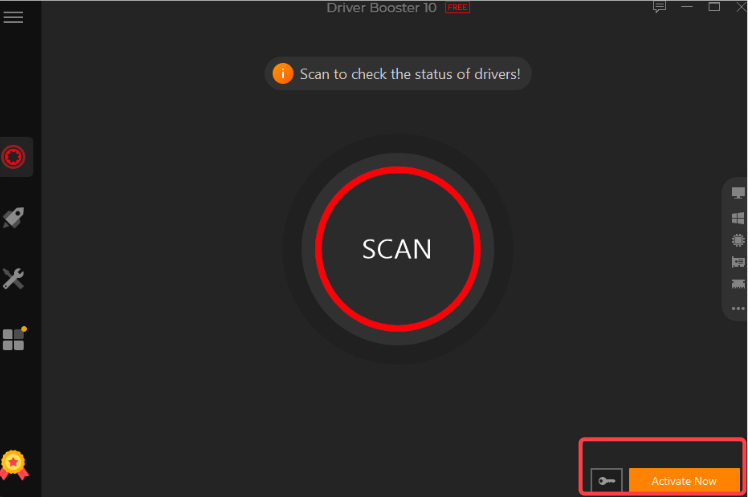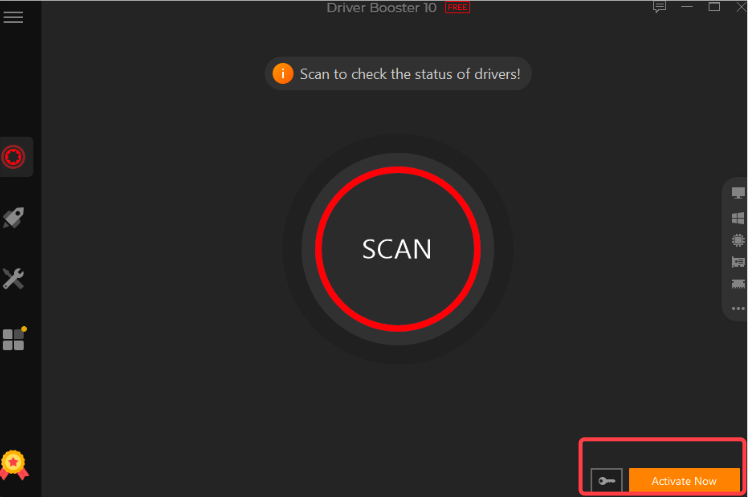 This software helps in avoiding system crashes, freezes, and other system issues. It will help in fixing all the system issues and make it run smoother and faster than before. 
iObit Driver Booster will download and install the latest system drivers from the manufacturer's site which is why there is no chance of downloading the wrong drivers. One of its best features is that it can update drivers offline. It can update graphic card drivers, display adapters, or other missing drivers even without having an internet connection. 
This tool has a database of about 8 million devices and drivers from more than 1200 major brands. The software also has inbuilt tools to fix issues like no sound, fix bad resolution and fix network failure.
Features 
Driver Booster is undoubtedly the best driver update software available. It is the most trustworthy and reliable because of its extraordinary features. So, let's have a look at the features offered by this tool. 
Game Booster and Optimizer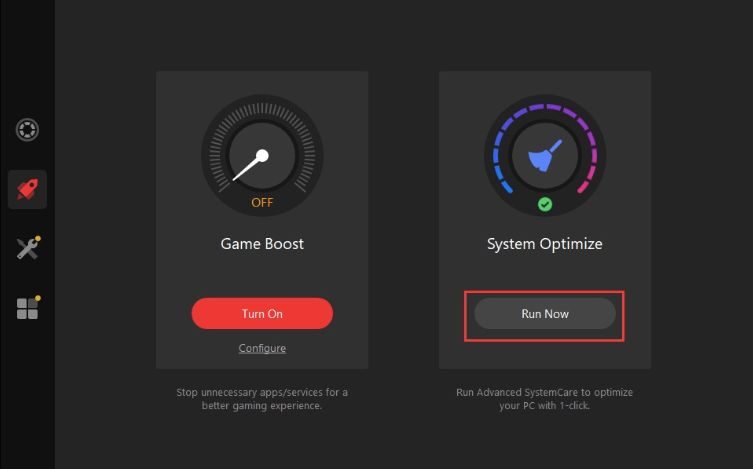 It has a feature of Game Booster which helps in game optimizing and boosting its performance. It helps in avoiding game freezes and crashes. It stops all the unnecessary processes and services running in the background and releases extra RAM if needed by any game to run smoothly. 
Update Driver when offline 
One of its great features is it lets you update drivers even when you don't have an internet connection. So, in any situation, if you don't have a working internet connection you still can use it to update system drivers. 
It automatically scans for drivers 
You can set up schedules so that it can automatically scan for the latest drivers. You can schedule scanning based on weekly, daily, or whenever your PC boots up. 
It can fix common problems 
Apart from updating drivers, Driver Booster also helps in fixing common system issues. It has various inbuilt tools to fix errors like no sound, network failure, wrong resolution, and many others.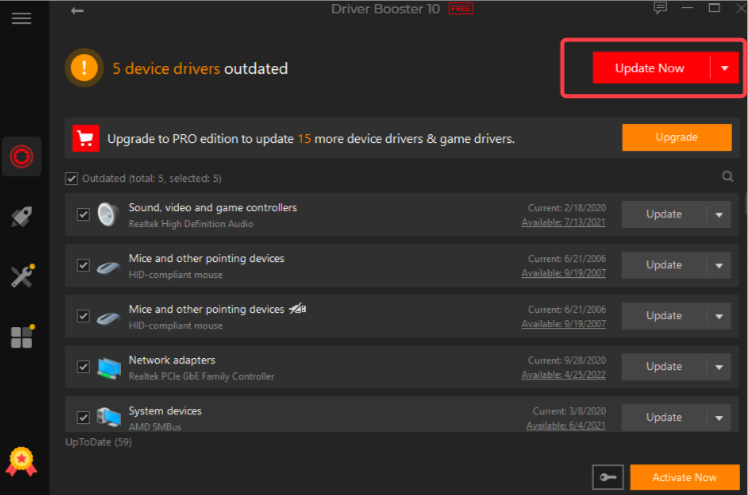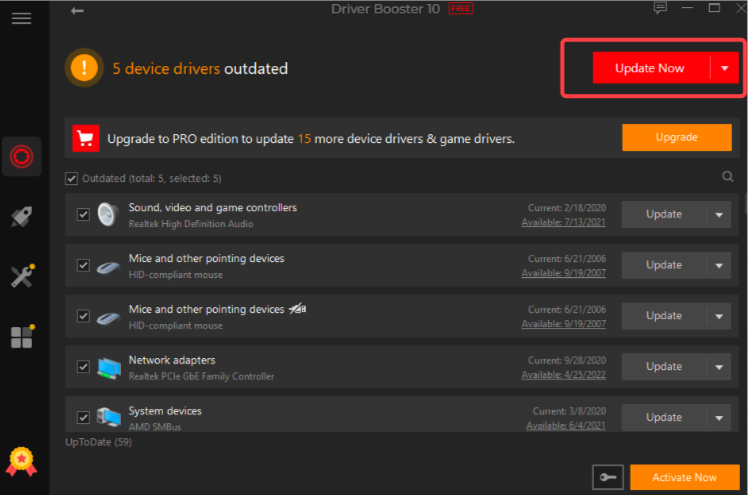 It has a database of about 8 million devices and drivers. It has the ability to scan for the missing, outdated, or broken device driver and let you know about it. If you have outdated drivers then. It will help in updating all of them to the latest version. 
It performs a backup and restore function 
This too takes backup before updating any device driver and allows you to restore it when you need it. Taking backup is very important as it has been noticed several times that after updating the driver your system starts malfunctioning. So, whenever your PC starts misbehaving after any driver updating you can roll back using this feature. 
Driver Booster Specifications 
| | |
| --- | --- |
| Manufacturer | IObit |
| Dominant functionality | Single-click updater tool |
| Recent and prominent version | V 10 |
| Technical assistance | 24*7*365 support |
| Main menu language | 48 |
| Operating system (Windows) | Windows XP, Vista, 7, 8, 8.1, 10 and 11 |
| File size | 20.6 MB |
| Additional features | Game booster, views system information, fixes device issues, secure and regular device updates, etc. |
Pros and Cons 
Nothing in this world is perfect if there are some advantages to something, on the other hand, it also has some disadvantages. But now, let's know about its pros and cons. 
| | |
| --- | --- |
| Pros  | Cons |
| It has a user-friendly interface  | This tool works on Windows only.  |
| Allows offline updating of drivers  | Its free version offers less functionality  |
| Improves overall system performance  | It tries to install other programs  |
| Removes all the common system issues |   |
| It takes backup of drivers  |   |
| Allows you to schedule scans |   |
| It has a vast driver database |   |
| It can export driver information  |   |
| It helps in improving the gaming experience |   |
Is Driver Booster safe & Worth it
Now, you must be thinking Is Driver Booster safe? Then the answer is yes, it is completely safe and you can rely on it and update your system driver using this driver updater. The process of updating drivers is quite easy and requires only one or two clicks to safely update all your drivers. 
How To Use Driver Booster Tool
Step 1. Download iObit Driver Booster from the below button and install it on your PC.
Step 2. Now Click on the scan option.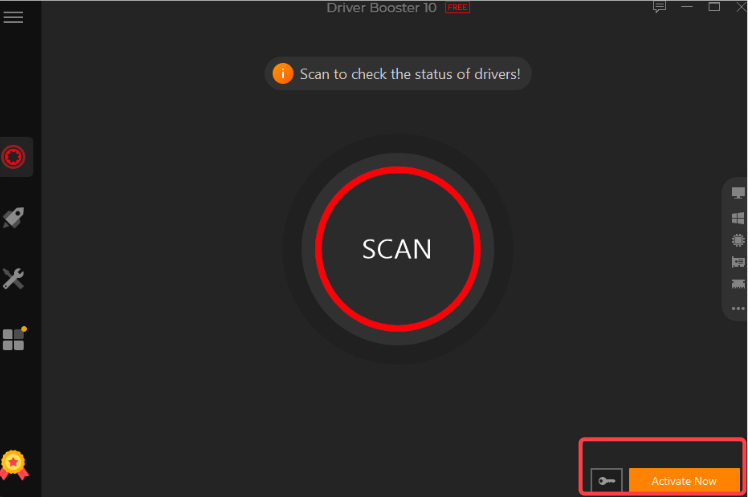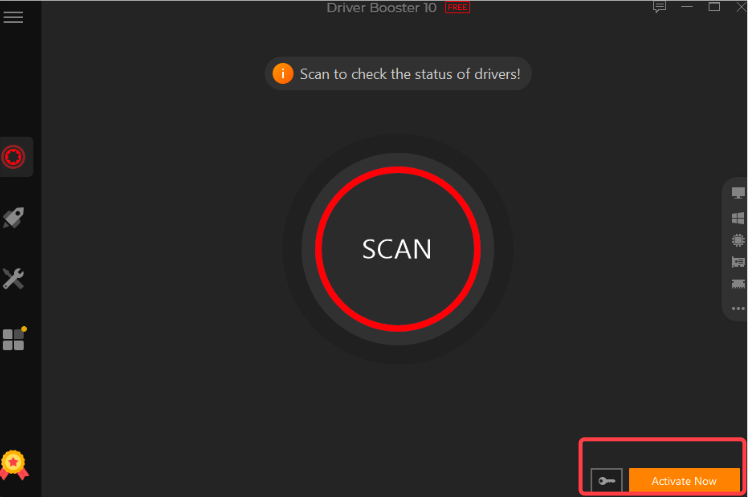 Step 3. It will take only a few seconds to search for the corrupt, missing, broken, faulty and outdated drivers.
Step 4. Now, click on the update option given next to each option.
Step 5. If you want to update them all at once then click on update all.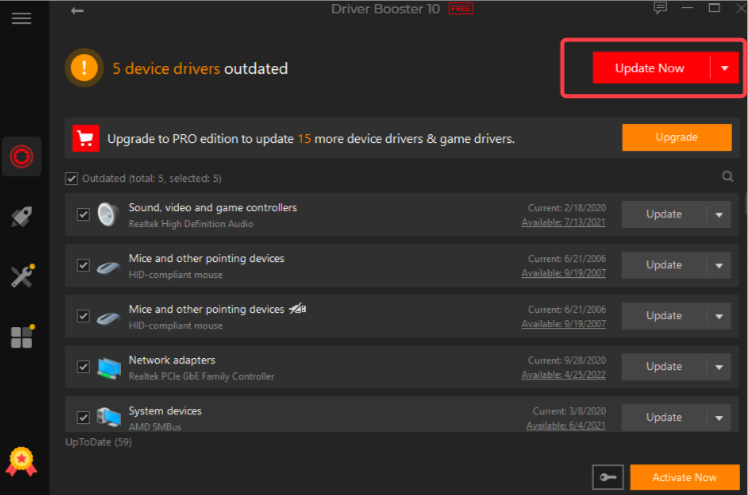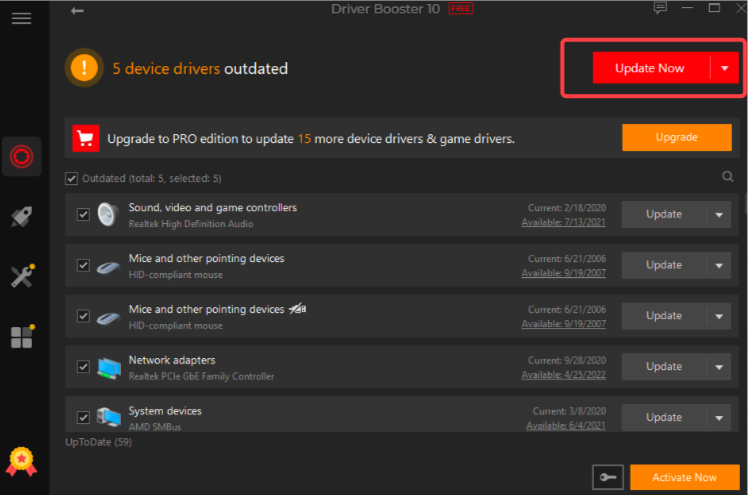 It offers the fastest speed for scanning and installing the latest drivers. It has two more options other than scan which is "Boost" and "scan". 
Activity and Performance distinction among two devices
| | | |
| --- | --- | --- |
| Parameters | PC | Laptop |
| INSTALLATION PERIOD | 35 seconds | 2 minutes |
| SCANNING PERIOD  | 30 seconds | 2 minutes and 30 seconds |
| BROKEN/OUTDATED DRIVERS | 90 outdated and 75 working drivers | 33 broken and 70 good drivers |
| UPDATE TIME REQUIRED FOR DRIVERS | Around 5 minutes 45 seconds | About 22 minutes 10 seconds |
Driver Booster Pricing
This tool offers a free version but you will face some limitations which is why to avoid limitations and utilise all the features you must purchase its premium version. 
It offers two different annual plans; if you want a yearly subscription for one PC then you can purchase a premium plan that costs you $19.95 and for three PCs you need to pay $22.95. You will get a 14-day free trial period which offers you a 60-day money-back guarantee. 
This tool will offer 24/7 customer support and you can ask for help through telephone and email. 
Conclusion On Driver Booster 10 Review
It is an all-in-one tool that helps in fixing all other common issues faced by your system. It is a perfect solution to update all your system drivers without having the fear of downloading the wrong drivers.
I hope this IObit Driver Booster Review article can help you in knowing the features of Driver Booster and you can know why this tool is best and why you should use it. 
FAQs
Is Driver Booster trustworthy?
Yes, it is trustworthy and completely safe to use. It can scan for outdated drivers and update them to the latest version. It is trusted by millions of people and that is why we also recommend you to use Driver Booster for PC optimization and updating drivers. 
Is Driver Booster Pro worth the money?
Yes, Driver Booster Pro is worth the money. It offers a free version and two annual subscription plans. This tool has various features that help you not only update device drivers but also fix several other common errors faced by your PC. It avoids system crashes and freezes and enhances overall system performance. 
Is Driver Booster completely free?
Yes, Driver Booster is completely free as it offers a free version. However, the free version has various limitations and restricted features. If you want to get all the features and utilize them fully then you should buy its premium plans. 
Is there a free driver updater?
Yes, there are many free driver updaters available in the market but Driver Booster is the best one. It is compatible with all Windows OS. It automatically detects and updates the latest drivers. You can use Driver Booster for free to update all the missing and outdated drivers. Also, it offers various inbuilt tools to fix other errors. 
How much does Driver Booster cost?
Driver Booster offers two annual subscription plans; $19.95 for one PC and $22.95 for 3 PCs. If you purchase a premium plan then you will get a 14-day free trial period and if you don't like the features or don't find it suitable then it provides you with a 60-day money-back guarantee. 
Also Read