If you are looking for software that could help you in cleaning duplicate and similar files from your system then you can choose Duplicate Cleaner Pro. But we can't trust any software without knowing about its features, specifications, advantages, and disadvantages. To know full details related to the software we are here with the Duplicate Cleaner Pro 5 review. 
When we use a PC in our daily life somewhere several duplicate files and folders keep stored and this causes low system space. These duplicate files consume a lot of disk space and that is why the system performance gets affected and we face problems in running the PC more smoother.
Although we can remove these duplicate files manually it is a time-consuming process and also it is not possible to check each and every folder and search for duplicate files. In that situation, you can rely on decent Duplicate file cleaner software. 
Note: This review is of Duplicate cleaner Pro latest version 5 supports assistant tool, which was released recently. Please let us know if there's any new version.
What is Duplicate Cleaner Pro 5?
Duplicate cleaner pro 5 is software that can Quickly and deeply scan for duplicate files across your system. It offers fast scanning speed and takes a few seconds to clean the duplicate files from your system. The software is reliable and offers you the best results so that you can run your PC with greater speed and improved performance.
This software has the ability to locate all types of duplicate files including images, music, documents, and all other types of right duplicate files. 
In this article, we will be discussing a detailed review of duplicate cleaner pro which is the best duplicate file cleaner software for your Windows PC.
Duplicate Cleaner Pro 5 Review
Duplicate cleaner pro 5 is one of the duplicate file finders for windows that are designed by DigitalVolcano company. With the help of this software, you can free up disk space by deleting duplicate files, folders, images, documents and other duplicate files. 
It can boost your PC performance by cleaning unwanted duplicates. The software is available in both paid and free versions. It also offers a 15-day free trial for free so that you can decide whether to go for pro version or not. The free version is useful for personal use but comes with only basic features on the other hand the paid version is equipped with several advanced features which help you in detecting duplicate files more accurately.
Features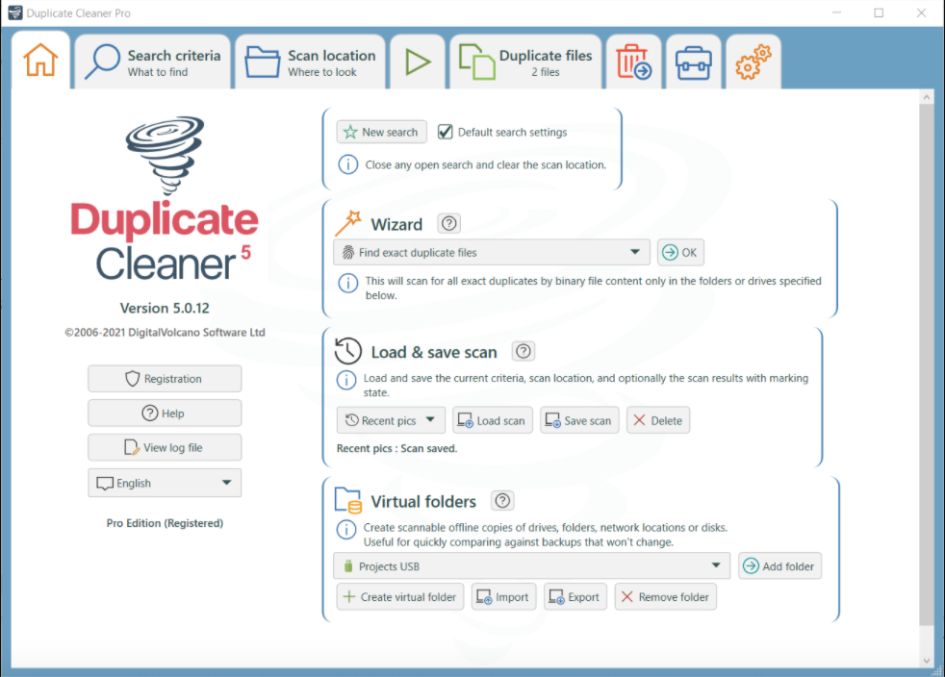 1. Quickly erase duplicate files 
The software uses advanced visual comparison techniques to detect all types of duplicate files saved in different formats. It can find duplicate files whether they are resized or edited. 
2. Locate duplicate files
The software has a user-friendly interface that helps you in the quick scanning of duplicate files. The selection assistant helps you in choosing the right folder. It can scan duplicate files and find each type of duplicate file in a matter of seconds. This tool allows you to search files on the basis of file, size, and data. 
3. Scan identical music files 
The software can scan identical music files by comparing them through different formats including artists, titles, and albums. It also lets you compare the files in different formats like MP3, OGG, M4A, FLAC, AAC, WAV, and WMA. 
4. Filter Scan Option
The software also lets you choose the folder you want to search for the duplicate files. It has a filter scan option for that. 
5. Allows you to save results for later 
It allows you to save results for later. The feature helps you when you don't have enough time to review all the scanned results. It will help you in reviewing and delete files when you have time. 
6. Provides a detailed description for comparison 
It also has a feature that offers you a detailed description of the comparison. You can compare the files by name, size and extension. Similar images can also be categorized based on their color, size, and rotation. 
7. Fast and Accurate
Duplicate Cleaner Pro is super fast and offers the fastest scanning speed. Along with the fast results it also offers great accuracy. It is the most reliable software that offers both accuracy and fast results. 
From the above features, you must have gotten an idea that Duplicate Cleaner Pro is the best in finding and erasing duplicate files from your system and boosting its performance. Now, let's have a look at its specifications. 
Specifications and Minimum System Requirements For Duplicate Cleaner Pro
| | |
| --- | --- |
| Parameter | Minimum System Requirements |
| Publisher | DigitalVolcano |
| Latest Version | 5 |
| Operating System | Supports Windows Vista, 2003, 7/8/10 |
| Processor | Minimum 1GHz |
| RAM | 512 MB, 1 GB (Vista) |
| Disk Space | Requires at least 20 MB |
| File Name | DuplicateCleaner-Setup-5.msi |
| Language Support | English, Arabic, Chinese, Korean etc |
| Price | Free |
As we have known about its specifications so you can know about the PC requirement to download it in your system. Now, let us have a look at its advantages and disadvantages. 
Pros and Cons
| | |
| --- | --- |
| Pros | Cons |
| One-click cleaning | Most of the features are restricted to the paid version |
| Easy to use for beginners  | It has an outdated interface  |
| It offers a fast scanning speed | The software has not been updated for a long time |
| Does not display any ads  | Does not support Windows XP |
| It can scan even the smallest image and low-quality MP3 | |
| You can set a location for scanning | |
| It can check and analyze the search results and also allows you to mark the files you want to delete | |
| This tool allows preview files before deleting | |
| It can locate duplicate files whether they are edited, rotated or resized | |
How to Use Duplicate Cleaner Pro 5
If you don't know how to use Duplicate Cleaner pro then you can read the below steps to use it: 
Download the tool from the link. 

After installing the software, run it. 

Choose the mode you want to scan the system from the home screen. You can make a choice between the same content and similar content.
Now, select the file you want to exclude or include. If you desire to scan the whole system then there is no need of excluding any file. 

Now, click on the start option to start scanning the duplicate files. 

It will show the scan results within a few seconds. 
Now, you have to choose between deleting the files or moving them to a new folder. 
Conclusion 
From the above duplicate cleaner pro review, you must have got an idea about its features and pros and cons. I hope the article would help you in clearing all your doubts related to the Duplicate cleaner pro. Enjoy cleaning the disk space and enhancing the system performance with Duplicate cleaner pro.
FAQs
Is Duplicate cleaner pro free?
No duplicate cleaner Pro is not free but it offers 15 days trial version for free. You need to purchase it subscription package that cost you $ 29.95. 
Is Duplicate cleaner pro safe?
Yea, Duplicate cleaner pro is completely safe and you can rely on the software to remove duplicate files of your system. Not only that it will also help you in boosting your PC performance. 
How much does Duplicate cleaner pro cost?
Duplicate cleaner pro is available as a free trial for 15 days. Its paid plan costs you $29.95. 
What is Duplicate cleaner pro?
Duplicate cleaner pro is the best tool to find and remove duplicate files. The software saves you time and deeply scans for duplicate files. 
Also Read