Do you wish to delete duplicate files from your PC then the Duplicate files fixer is the right software to use. Here is the detailed Duplicate files fixer review which will help you with detailed features, pricing and other information.
It is a great tool that can do the job for you quite effectively. A tool by Systweak Software, Duplicate Files Fixer is a trusted tool that can scan for duplicate files from every corner of your computer and help you reclaim valuable storage space. In this Duplicate Files Fixer Review, let us find out more about the tool's offerings, specifications, merits & demerits, and much more.
Duplicate Files Fixer Review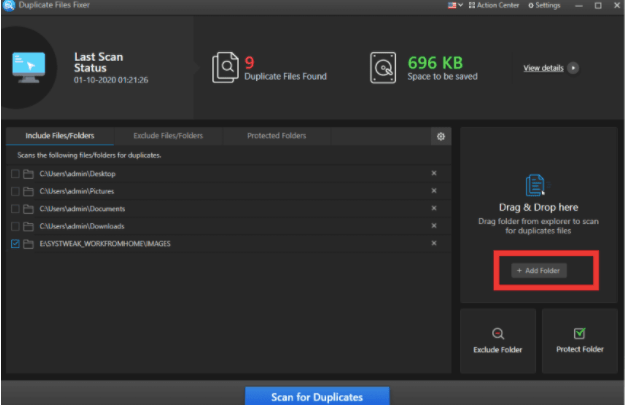 A lightweight, fast, and cross-platform application, Duplicate Files Fixer is your ultimate solution to deleting identical files of multiple formats. It is trusted by millions and has been performing incredibly in the market for more than 20 years. This app is certified by AppEsteem and enjoys a four-star rating by Trustpilot. 
Not only does this tool efficiently identify duplicating files across various folders and locations of your local machine but also detects duplicates in cloud storage locations like Google Drive and Dropbox.
It has an effective interface and easy-to-use features. What's even more interesting about this app is that it gives you the option to exclude folders and protect folders from scanning. Once you download the app, you can use it to clean duplicates of up to 15 files after which you have to subscribe to the premium version of the tool.
Download Link: https://www.duplicatefilesfixer.com/
Note: This review is of Duplicate Files Fixer latest version supports cloud storage to find duplicates, which was released recently. Please let us know if there's any new version.
Features of Duplicate Files Fixer 
Following are the powerful features of the Duplicate Files Fixer.
The user interface is neat with easily navigable features and distinct buttons. It is split into two parts. It offers a Drag & Drop feature that lets you easily add folders for scanning. The Scan Mode lets users select scanning locations and allows them to choose between the local machine or cloud storage locations.
This app is designed to work on Windows, Mac, and Android operating systems.
An essential element of a duplicate file finder tool is speed and needless to say, this app exceeds expectations in this category. The scanning speed and precision of the app are quite commendable.
Supports Lots of File Formats
Duplicate Files Fixer offers support for a huge range of file formats. It can find duplicate files in documents, image files, music files, videos, etc. Another interesting feature of this app is that it categorizes the preview results also based on file types for better review and they are – All Files, Documents, Images, Music, Videos, and Other Files.
Customization Option for Scanning 
The Duplicate Files Fixer tool offers a lot of customization options for scanning duplicate files. Users have the option to include and exclude certain folders from scanning. It can also customize the file size. 
Automark Feature & One-Click Removal Option
The automark feature lets you select all preview results at one go and delete them with just a simple click of the button.
Scan External Devices and Cloud Storage 
This app offers plenty of options for scanning and finding duplicates from different corners of the hard disk drives of the local machine to finding duplicates in Google Drive and Dropbox. Not only this, but the tool can also scan external drives effectively. 
The makers of the app ensure to maintain the app is in excellent condition by frequently updating the app automatically. Alternatively, users can manually update the app by clicking on the Settings icon located above and choosing the "Check for updates" option.
Duplicate Files Fixer: Tables for Specifications
The minimum and recommended system requirements for downloading the Duplicate Files Fixer are listed below.
| | |
| --- | --- |
| Parameters | Minimum System Requirements |
| Developer | Systweak Software |
| Latest Version | 1.2.1.56 |
| OS | Windows 11/10/8.1/8/7 (32 & 64 Bit), Xbox, macOS 10.8 and above, Android |
| Processor | x86, x64 |
| Memory | 1 GB |
| Free Disk Space | 28.9 MB |
| File Size | 10.2 MB |
| Price | $39.95 |
| Supported Languages | English, Japanese, Russian, French, Spanish, German, Italian, Dutch, Portuguese, Finnish, Danish, Norwegian, Swedish |
Benefits & Drawbacks
There are always certain merits and demerits of every tool. Let's find out below what they are for Duplicate Files fixers.
Pros
Cons

Super-fast scanning ability.

The free version functions only up to 15 files

Varied scanning categories.

Ability to scan Google Drive and Dropbox too.

Scanning functionality even extends to external drives.

Features an auto-mark function.

Offers a preview feature.

Option to Exclude and Protect folders from scanning
How to Use Duplicate Files Fixer
If you are wondering how to use the Duplicate Files Fixer on your Windows PC, then find the steps for the same below.
Step 1: Download & Install
First and foremost, you can download the Duplicate Files Fixer from the official website of the app. Installation happens in three simple steps which include:
Downloading the setup file.

Clicking "Yes" when prompted for installation.

Following the on-screen instructions of the setup wizard including accepting the app's T&C.
Step 2: Set the scanning mode
After the installation is complete, the app will launch on your computer screen automatically.
The dashboard of the app will show the scanning folders and locations which you can deselect or go with the current selection as per your wish.
You can also choose the Scan Mode – Computer, Google Drive, Dropbox, Delete Empty Folders.
Step 3: Scan for duplicates
Then, click the "Scan for Duplicates" button.
Step 4: Preview results
On the dashboard, you will be able to preview the results obtained after scanning. The preview results will be categorized into All Files, Documents, Images, Music, Videos, and Other Files. You can also sort the results by size. On the right-side panel, you will also be able to see a summary.
The duplicate results can be auto-marked for deletion; however, if you wish to remove any file, then you can untick the relevant box.
Step 5: Delete duplicate files in one-click
Finally, with a click of the "Delete Marked" button, you can remove the duplicate files.
Conclusion
Duplicate Files Fixer is a best-in-class tool with handy features that can wipe off your computer clean without any hassles. Designed with a powerful algorithm, this tool is the ultimate go-to solution for you to delete all kinds of files including audio, video, images, and even documents. It also supports Google Drive and Dropbox to delete duplicates. 
Frequently Asked Questions
Is Duplicate Files Fixer free?
Well, the tool does offer to remove 15 duplicate files for free; however, beyond that, you need to purchase the full version of Duplicate Files Fixer at $39.95.
Is Duplicate Files Fixer safe?
Yes, this is a safe and genuine file when downloaded from the official website or from other third-party software download sites. The app is certified by AppEsteem, Norton Secured, and enjoys a four-star rating from Trustpilot.
How much does Duplicate Files Fixer cost?
The premium version of Duplicate Files Finder is available at $39.95.

Also Read