Having difficulties going through your duplicate photos? We understand how tough it can be to sift through a large number of similar photographs to obtain the most excellent quality shots. Going through pictures by hand can take hours and leave you disappointed.
Using a third-party tool like Webminds Duplicate Photo Cleaner to maintain an image collection is a simple approach.
This article will go over duplicate photo cleaner reviews in detail, including its features and pricing alternatives.
Duplicate Photo Cleaner Review
Duplicate Photo Cleaner is one of the many tools that can help you identify and eliminate duplicate photographs on your computer. It is unlike any other application in that it has a variety of features and scan modes for more precise results.
Professionals and amateurs alike use DPC to compare photographs, discover and delete duplicates, and properly organize their photo albums.
Duplicate Photo Cleaner is a powerful image comparison tool that compares photos based on how similar they appear. This enables you to quickly compare images of the same subject in preview mode by arranging them side by side and deleting low-quality shots. DPC also has a tool for organizing photos by size, format, and image conversion.
When comparing photographs, DPC allows you to choose the amount of resemblance. By default, the volume is set to 50%. When you increase the level to 100%, you'll uncover exact duplicate photos. To get varied outcomes, move the slider according to your needs.
Is Duplicate Photo Cleaner Safe?
Yes. Duplicate Photo Cleaner is a highly safe and simple-to-use tool; however, make sure you acquire it from a trusted source (download from the official website). DPC is free of any type of adware, malware, or virus.
Features and Performance
Different Scan Modes: Different scanning modes are available in Duplicate Photo Cleaner in order to more correctly detect and identify images. Windows and Mac users can choose from nine different scanning modes. The three most popular scanning methods are Standard Scan, Sector Detail Scan, and Folder Comparison.
Standard Scan: This is the scan mode that you'll utilize the most. You may use it to scan certain folders, or your entire hard drive for duplicate and similar photographs, and then delete the ones you don't need.
Sector Detail Scan: In this mode, a minor detail in a reference photo is picked, and the program searches for photographs with similar details.
File Comparison: This scan is useful for comparing photographs in many directories. Match a source folder with a destination folder that contains original images. You can delete the duplicates while keeping the originals (DPC will warn you if you try to delete an image from the source folder).
Other scan modes are the Same subject scan, iPhoto scan, photo scan, Adobe Lightroom scan, Picasa scan, and Corel Paint scan. The same subject scan requires a reference photo to find the exact match of the photo. iPhoto scan and photo scan are used by only Mac users; these scan modes are specifically designed to be integrated with Mac.
Excluding Folders from Scan: The software takes a long time to scan the entire drive, and the results aren't always accurate. As a result, it is preferable to use just particular directories and to delete any files that you suspect may not contain photos. This speeds up the scan and improves the accuracy of the results. To remove a folder, click the minus sign and pick the directories you want to exclude from scanning when adding new folders. You can also specify file types and size limitations here.
One-Click Removal: Manually deleting all of the duplicate photos can be challenging. With just one click, the application may erase all of the duplicate images. After you've decided which image to remove, go to the bottom of the panel and choose "Select All Duplicates," then click the "Delete" option. Duplicate files can be moved to the Trash or permanently removed. You can also choose to relocate chosen files to a different folder.
Scanning Speed: When it comes to evaluating little data, the program is quite quick. When dealing with a large number of files, however, it may take many hours. According to Cisdem.com's Rosa, The scanning process stayed at 0% after 7 minutes in a test where they attempted to scan a whole hard drive. If this is also the case for you, try relaunching the app and running the scan again.
They also ran another test, scanning the identical folder with Duplication Photo Cleaner and another duplicate finder. The former discovered 50.83 MB of duplicate photos, while the latter discovered 54.55 MB, with the latter taking less time, implying that the scan speed is generally acceptable.
Pricing
Although Duplicate Photo Cleaner is not freeware, it does offer a free trial that allows you to remove ten duplicate image groups. You must register and purchase a license to use the full version and eliminate duplicates without limits. A single-computer license costs $39.95. For an additional $9.95, you can get two years of free upgrades.
How to Use Duplicate Photo Cleaner?
Download the application from the below button, and follow the instructions below to learn how to use it.
Step 1: To begin scanning for duplicate items, add a folder or disc. The standard scan will be selected by default.
Step 2: After you've added folders, go to settings and alter the Similarity Threshold Slider, which is set to 50% by default. You can boost it to 100% for discovering exact copies. To save your settings, click OK.
Step 3: To begin scanning, click the 'Start Scan' button.
Step 4: Select the scanning mode that best suits your needs. Scanning time is determined on the scanning mode and the number of photos being scanned.
Step 5: The scan is now finished. A summary will be displayed, along with the amount of space you can reclaim and the number of duplicate photographs identified.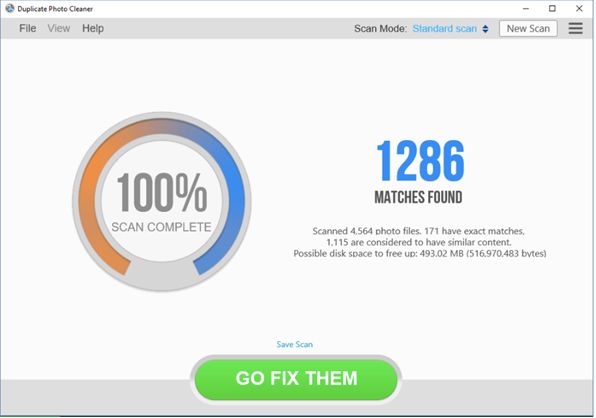 Step 6: To delete duplicate photographs or relocate them to a new folder, click 'Fix them.' You can also see a preview of them before you delete them.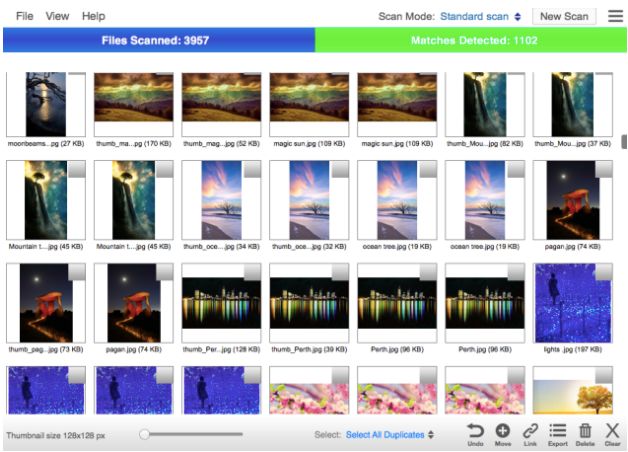 Step 7: Once you've decided which photographs to delete, go to the bottom corner and pick a duplicate image, then click the delete option.
Pros:
Let you preview photos before deleting them.

All removed duplicates go into a separate Trash folder.

Bulk scanning is available, as well as a variety of scanning modes.

Duplicates are selected with a single click.

An interface that is easy to use

Both Windows and macOS are supported.
Cons:
The scanning process can take a long time at times.
There are no free updates available.
It is not always possible to detect all duplicates.
Customer service is unresponsive.
There aren't many advanced features available.
Only ten duplicates are removed for free.
Specifications & Other Information
Here are the full specifications for the software:
Publisher: WebMinds
Compatibility: Windows XP/Vista/7/8/10, 32 & 64-Bit versions
File Size: 23.51 MB
File Name: duplicatephotocleanersetup_dwnldcom.install.exe
Price: Available for Free Trial, for more features, you can buy it at $39.95
Minimum System Requirements:
OS: Windows XP

Mac OS X Lion 10.6 – Mac OS X Sierra 10.12

CPU: 400 MHz or above
RAM: 128 MB or more
Hard Drive: 5MB of free space
FAQs
Q: Is Duplicate Photo Cleaner Any Good?
ANS: Duplicate photo cleaner does a pretty good job at identifying duplicate and similar images with its nine different scanning modes and two different algorithms for identification. However, the application takes some time to scan bigger files. It is one of the best applications in doing so.
Q: What is the best duplicate photo remover?
ANS: There is a variety of duplicate photo finding and uninstaller programs available on the market. Using these excellent applications to eliminate duplicate photographs has become a simple task.
We recommend Duplicate Photos Cleaner since it has all of the attributes of an excellent Duplicate Photo Remover.
This duplicate cleanup application is jam-packed with powerful features, and it not only locates and deletes exact photographs but it also detects similar-looking images. It's compatible with both Windows and Mac. Now is the time to download and organize your system/phone for a notable performance gain.
Q: Is photos duplicate cleaner free?
ANS: No, Duplicate photos cleaner is not freeware, although it has a free trial with ten duplicate images search.
Q: How do I get rid of copies of photos?
ANS: To manually clean the duplicate photos keep all your photos in a single folder and then go through them one by one.
Another way is to use third-party software to detect and delete duplicate images.
Q: What is the best photo cleaner?
ANS: It can be overwhelming to decide which application is the best photo cleaner. We recommend using a duplicate photo cleaner; the application is robust and also rated one of the best photo cleaners.
Also Read