Who doesn't love posing in front of their smartphones? With smartphones in our hands, we all love clicking selfies and photos nowadays, imprinting all our memories digitally while striking our best poses and flashing our brightest smiles.
Naturally, this leads to the accumulation of a large number of duplicate image files on our Android devices, and manually cleaning them is obviously next to impossible. So, what can we do about it then? We can use duplicate photo remover apps to rescue us from a sea of duplicate photos hogging storage space on our Android smartphones.
10 Best Duplicate Photo Finder & Remover Apps For Android
1. Remo Duplicate Photos Remover
Looking for an app that deletes duplicate photos? Well, try the Remo Duplicate Photos Remover app which can find and delete duplicate photos and empty storage space for your Android device. This app requires Android 4.2 and above to function, is lightweight, and enjoys a rating of 4.3 stars on Google Play.
Features:
Remo's proprietary De-Dupe Algorithm can instantly scan and identify similar photos taken in burst or HDR mode.

It can also find and delete resized or edited photos.

The app can find identical copies of images received via social media apps.

It can determine and display the memory consumed and also offers a preview feature before deletion.
Fact Check: All duplicate image remover apps can be found in Google Play for download. Alternatively, you could use APK files too. Google Play has recorded more than 48 billion app installations to date.
2. Duplicate Photos Fixer Pro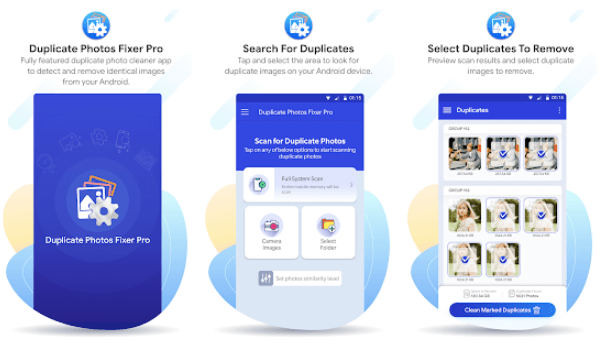 Deleting duplicate photos is a breeze with Systweak's Duplicate Photos Fixer Pro app. This lightweight app functions on smartphones with Android version 4.1 and above. It has an intuitive UI and offers easy navigation. It helps to regain the phone's storage place and is also capable of scanning external media.
Features:
Offers flexible and full scan modes that can sweep through the phone's internal storage as well as SD card for similar image files.

It sorts and provides group-wise results.

Comes with an auto-marking feature.

Offers a preview feature before complete deletion.
3. Duplicates Cleaner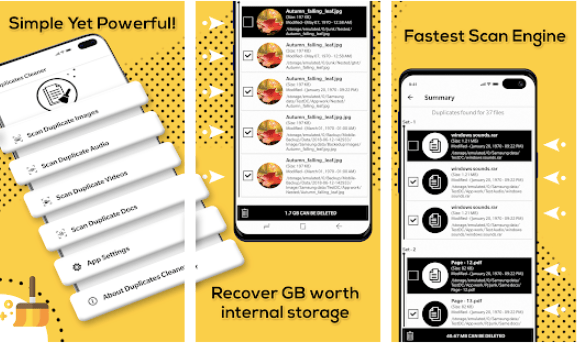 If you want a simple yet powerful tool to remove duplicate images from your smartphone, then you cannot miss installing the Duplicates Cleaner app. This app enjoys a rating of 4.6 stars on Google Play and more than 1 million downloads so far. It can function on Android 6.0 and above.
Features:
It can scan internal storage and SD card simultaneously for duplicates.

This app is enabled with proprietary intelligent detection techniques.

It can find and delete duplicate image files, audio files, documents, and video files.

The app size is 13 MB.
Note: Some Android devices have an in-built tool to find and delete duplicate images from the smartphone. So, you can first use the built-in app and see if it provides satisfactory results, otherwise, you can download the above-mentioned apps.
4. Duplicate Photos Remover
Duplicate Photos Remover is a free app that finds duplicate photos and removes them from your system. This app by Tweaking Technologies is the ultimate storage slimming app for Android smartphones. Here are some of its most interesting offerings. This is a lightweight app requiring Android 4.1 and above to function.
Features:
It offers intelligent scan modes. 

This app offers support for scanning duplicates in both the phone's internal storage as well as the SD cards.

With this app, you could do a selective search for similar images.

It comes with an automarking feature.
5. Photo Cleaner
Photo Cleaner is a powerful app for cleaning duplicate images and videos from your Android smartphone and organizing your album. This app is compatible with Android version 5.0 and above. The app is free but comes with some in-app purchases.
Features:
It facilitates checking the storage capacity for all your albums.

It can find similar and completely identical images.

The app offers several filters for searching duplicates date-wise, according to the file size, and as per the albums.

This is a lightweight duplicate photo remover application.
6. Clutterfly Dupli Photo Remover
With this photo finder app, you can remove and delete different photos whenever you plan to clear your Android phone's memory. It is also efficient enough in removing the replicated videos and photos from your external memory like the Micro SD card to save data and memory on your device.
Features:
Access your photo library to remove duplicate photos from the list.

It facilitates easy scanning of your phone's memory.

The app scans for DP's and helps in deleting blur images from the photos.
7. Duplicate Photo and Video Remover
Once you install the app, you can easily and comfortably remove photos and videos from your device. Removal of different types of photos are possible from the app. Through the app, you can check for all your duplicate videos and photos and conveniently remove the ones you don't need.
Features:
Previewing duplicate photos is possible before removing them from the list.

Eliminating duplicate files can also be done through it.

It is a user-friendly app and is great for beginners.
8. Duplicate Photo Finder 
Duplicate Photo Finder is an easy-to-use tool that easily identifies all the similar-looking photos and duplicates and removes them from your Android device to free up storage space. It allows you to scan for duplicate files and once the scanning ends you can search for similar and exact matches. 
Features:
It lets you set the matching level from its settings

Offers a feature of previewing duplicate photos 

Supports all the popular image formats including RAW and PSD

Delete duplicate images in one click
9. Files By Google
Next, we have Files by Google a file management app created by Google which helps you clean duplicate photos from your device. It helps you to get rid of those files which are occupying storage space unwantedly. You can easily detect and remove duplicate photos, cache, and junk files. 
Features:
Works as a storage optimizer for freeing up storage space 

It is backed by Google 

It offers syncing abilities 
10. Duplicate File Remover
If you want to get rid of unwanted applications, photos, videos, and other files which are consuming a lot of storage space on your Android device then Duplicate File Remover would be the best tool to use.
It can free up your phone memory including its SD card, internal storage, and external storage. It quickly detects all the duplicate files present on your device and deletes them with just a single click. 
Features: 
It can identify all the identical images, videos, and all other files

Delete all the duplicates in one go

It offers a smart scan mode 

It has a beautiful user interface
Pro Tip: When using a tool to delete duplicate images, you can consider using an all-in-one tool that can find and delete all sorts of duplicate files including image files. This way you can declutter your Android smartphone faster and keep it light, fast, and reclaim storage space.
In this blog, we will walk you through the offerings of 10 duplicate photo cleaner for Android smartphones.
Conclusion On Duplicate Photo Remover For Android
So, here is a complete round-up on duplicate photo cleaners on Android smartphones. The seven apps mentioned above have adequate programming to find and delete duplicate files cluttering your Android device and thereby helping you reclaim storage space.
Deleting unused duplicate images can also elevate your smartphone's performance. So, hopefully, you can take your pick from the above listicle and get rid of those duplicate images instantly.
FAQs
What is the best app for deleting duplicate photos?
Although there are plenty of duplicate photo cleaner apps in the market, you can learn about the seven best ones in the above article.
How do I mass delete duplicate photos?
You can mass delete duplicate photos with the help of duplicate photo cleaner apps for Android devices.
What is the best duplicate photo remover for Android?
Duplicate Photos Fixer Pro, Remo Duplicate Photos Remover, and Duplicate Photos Remover are some of the best duplicate photo removers for Android devices.
What is the PhotoSweeper app?
PhotoSweeper app is found on the Mac App Store that can delete duplicate photos instantly and works with Photos, iPhoto, Aperture, Capture One, Lightroom Classic Media libraries, hard drives, and external drives.
How do I find duplicate photos on my Samsung?
Samsung devices come with an in-built facility to find and clean duplicate photos. Here's how you can do it.
Launch Files by Google and hit "Clean" located at the bottom.
Choose files from the "Duplicates files" card.

Once you have chosen the files that you want to delete, hit the "Delete" button.

Confirm your action post this once prompted.
Also Read