If you want a duplicate photo fixer pro review then you are at the right place. We are here with a detailed review to solve all your queries related to the application. We have listed all the important aspects related to duplicate photo fixer pro so that you can create a clear picture in your mind about the application. 
Do you want to get rid of duplicate photos that are causing storage issues in your PC and slowing down your system? If yes then it is high time to use decent software that can fix this issue. We suggest you use duplicate photo fixer pro as it is one of the best duplicate photo finder and cleaner tools.
It offers quick scanning and helps in freeing up a huge amount of disk space. But before choosing any tool you must know about its features, advantages, disadvantages, pricing, and other aspects related to the software. For this, you must go through a review article so that you can know more about the software.
So without any delay let's read the further article to know about duplicate photo fixer pro, its features, Pros and cons, specification, and pricing.
What is Duplicate Photo Fixer Pro
Duplicate photo fixer Pro is one of the best applications to find duplicate photos in your system. This application is available on Windows, Mac, iOS, and Android devices.
It offers a quick scanning and deeply scans all the folders for duplicate photos. This tool uses a smart algorithm to offer accurate results and find all identical images. The application not only allows you to search for exact images but also scans similar-looking photos.
Duplicate photo fixer pro helps you in managing your photo library and makes it clutter-free. It removes all the junk that makes your hard drive full. You can choose the comparison methods to find duplicate photos as per your choice. It lets you preview the photos and mark them before deleting the duplicate images.
Using this software, finding and deleting duplicate and identical images becomes very easier and more effective. It takes only a few seconds to deeply scan for all the exact and similar-looking images stored in your system.
The software also supports external devices. It supports several Windows versions like Windows XP/Vista/7/8/8.1/ 10 and 11 (both 32 and 64 bit). Now, if you know enough about duplicate photo fixer pro, let's know about its features.
Note: This review is of Duplicate photos fixer latest version supports both internal and external storage, which was released recently. Please let us know if there's any new version.
Features 
Duplicate photos fixer Pro is the most powerful and feature-packed application. Using this application you can free up a large amount of disk space and make your photo library organized. Some of its features are:
1. User-friendly interface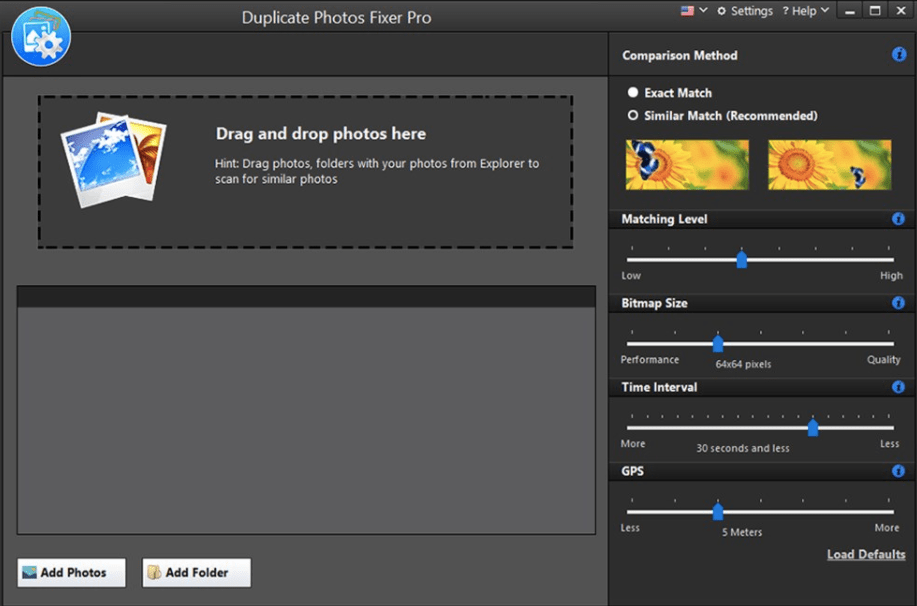 One of its major features is that it has a user-friendly interface that makes it easy to use and even if you are a beginner you will not find any difficulty in using this application. When you land on its home page you will easily get to know about its functionality. You can easily navigate to its features.
On the home page itself, you can add the folder You want to scan and on the right pane, you can choose the comparison method. You can choose a matching level, GPS, Bitmap size, and time interval for comparing duplicate photos.
When you are done selecting the comparison methods you can click on the scan for duplicates option. It will scan all the exact and similar looking images and will take you to the next screen where you can preview the results. Now you can choose duplicate photos you want to delete. The process is as simple as that. The dashboard is user friendly and has a sleek interface.
2. It supports internal and external storage device
Duplicate supports internal and external storage devices and lets you find duplicate images stored in it.
3. Scanned all types of Duplicate photos
If you use this tool it will make sure that all the Duplicate and similar looking photos are scanned from your device. Not a single duplicate can remain on your PC if you use this application. When you add the folder to scan it also lets you compare the duplicate images based on bitmap size, matching level, GPS, and time interval.
It will present the list of duplicates in the form of groups in the next window Which makes you delete the identical images.
You can also use the auto-mark functionality to remove the chances of deleting wrong images. It also lets you change the auto-marking functionality. It also allows you to check the metadata of every image on the right-hand side of the window. You can also change the appearance of the dashboard.
4. Supports Multiple Languages 
Duplicate photo fixer is available in English and also supports 13 other languages.
5. Photo recovery 
You can click on the delete marked option to delete all the duplicate images at once. If you have mistakenly deleted an important Photo don't worry it has a feature recycle bin. You can easily recover the photo which you have accidentally deleted.
But if you are using it on your mobile then you will not get this feature so it is important to pay attention while deleting duplicate images. 
6. Offers quick scan results
The scanning speed is super fast and takes only 15 seconds to scan 1000 duplicate images.
7. Auto mark Duplicates 

When all the duplicate photos are listed in front of you. You can click on the auto-mark option and delete all the similar-looking photos at once. 
8. Several File Format Supported 
Duplicate photo fixer pro supports different file formats including TIFF, JPEG, TGA, GIF, PNG, and many others. 
9. Offers Different Comparison Modes 
Duplicate photo fixer pro offers two different comparison modes to scan for duplicate images. 
Exact Match –

This feature lets you find and delete all the duplicate photos in your device that are completely identical. 

Similar Match –

It allows you to identify and delete those duplicate photos which are not completely identical but has some similar elements. 
10. Matching Levels 
Low Matching level

– If you want the low matching level set the slider to the left end. It allows you to scan and delete images with a deep level of diversification. 

Middle Matching level –

When you placed the slider in the middle it reduces the degree of similarities between the two photos. 

High Matching level –

To set the matching level to high you should drag the slider to the extreme right side. The two images would be much identical if you set this. It would be the better choice if you want exact duplicate images. 
11. Bitmap Size 
This feature only works when you have chosen to find duplicate photos on the similar match option. 
12. Time Interval 

The default setting of the time gap between the two photos is set to 30 seconds. Using this feature you can detect duplicate photos by adjusting the slider between the time gap of the photos. 
13. GPS
You can scan the duplicate images based on geological tags in the images. It is set to five meters by default you can change the settings. 
14. Load Defaults 
This feature allows you to switch to the default settings to find identical images. It is useful when you don't want to modify the parameters manually. 
15. Settings 
General –

it allows you to select hide or unhide configuration dialogue boxes shown in the tool while performing actions like delete, auto mark, moving back, launch at startup, and product messages. 

Scan Criteria –

It allows you to select the image file extension. The

minimum file size included in the scan

is set at 50KB by default. Users can change the size as per their preference. The data storage unit can also be changed to MB. The minimum file size is 10 KB and a maximum of 1023 MB.

Exclude Folder – Through this, you can exclude the folder you don't want to scan for duplicates.
Pros and Cons
Pros
Cons

Scan duplicate photos in seconds

Free trial you can remove only 15 duplicate images.

It also supports Mac OS, iOS, and Android.

Ability to scan Google Drive and Dropbox too.

This tool consists of several powerful comparison filters.

It offers auto-marking functionality.

Offers a preview feature.

Supports different image formats including BMP, TIFF, GIF and JPEG. 
Pricing 
Duplicate photos fixer offers free as well as paid versions. With its free version, you can delete up to fifteen duplicate photos. You can purchase its premium version at $34.73 on offer.
In case Duplicate Photo fixer doesn't meet your requirement after purchasing the paid plan then don't worry it also offers a money-back policy. You can get a 100% money-back guarantee with this software. 
Specifications 
Platform Supported –

Windows, iOS, Mac, and Android 

Latest Version –

1.1.1086.10077

Memory & HDD –

256 MB RAM and 2 GB free space 

Developer –

Systweak Software Pvt. Ltd

File Size –

6MB

Languages supported –

Chinese, Japanese, and other 12 languages 
How to use Duplicate Photos Fixer
Duplicate Photo fixer has a simple User Interface and easy to use tools. If you don't know how to use it then simply follow the given below steps: 
Download the Duplicate Photo Fixer application on your Windows PC. 

After downloading, install it.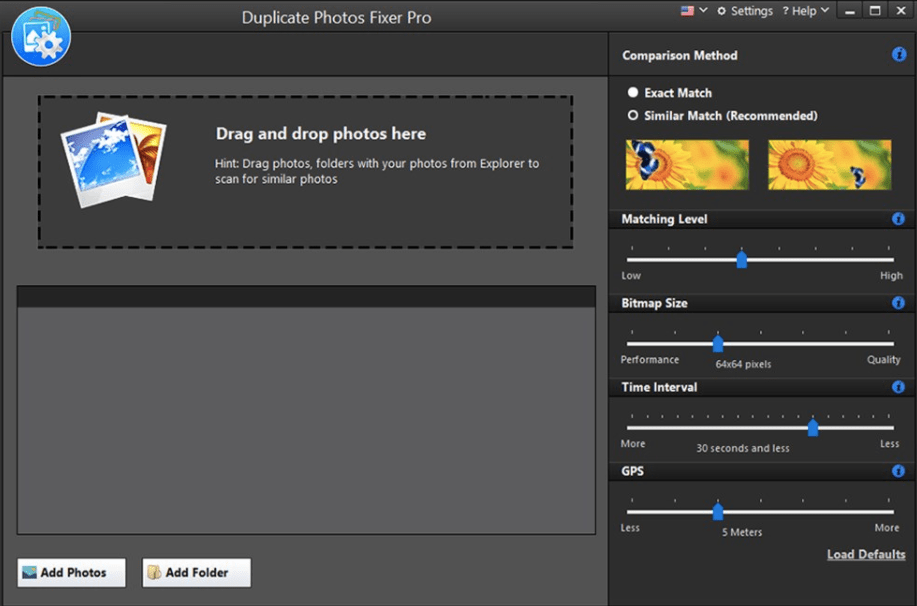 Now, add the folder you want to scan and choose the comparison method.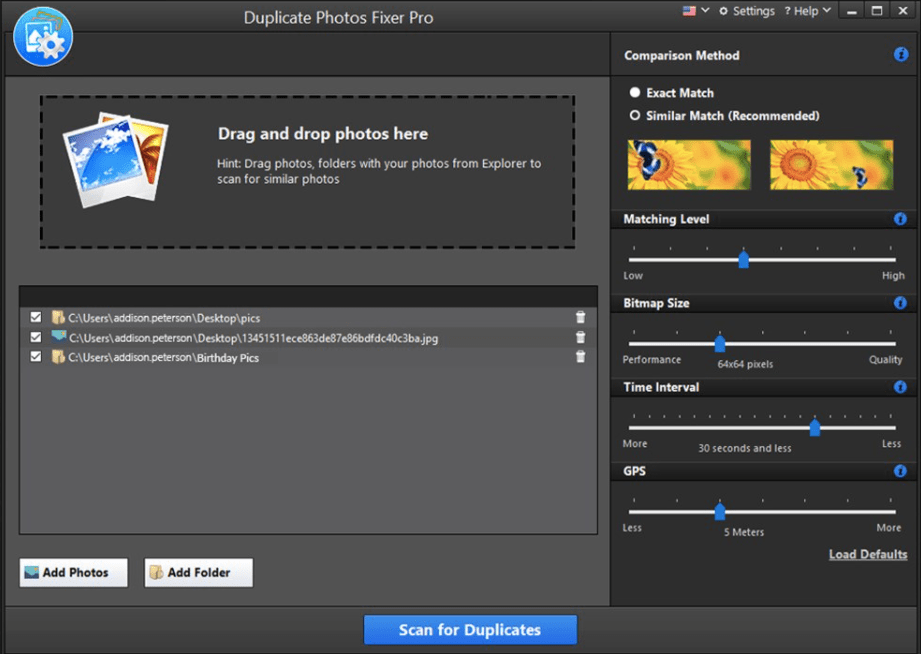 Then, click on the

scan for duplicates

option. 
It will take a few seconds to search for identical and similar looking images and present a list on your system.
Now, click on the delete option to remove all the duplicate images at once.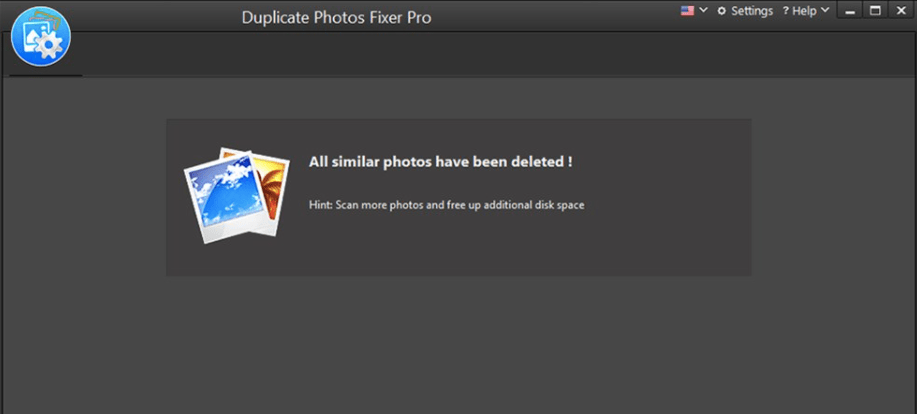 All these steps are required to delete duplicate photos using Duplicate photo fixer Pro. 
FAQs 
Is Duplicate photo fixer free?
Yes, duplicate photo fixer pro offers a free version. But the limitation is that you can clean up to 15 duplicate images. 
How much is a Duplicate photos fixer?
It offers a free version but it has some limitations and if you want more extraordinary features you can purchase its pro version. It costs you $71.90 for Windows. If you are using macOS then it costs you $18.99 and for iOS users only $6.99. It is totally free to use if you are an Android user. 
Is a Duplicate photo fixer safe?
Yes, Duplicate photo fixer is a safe application to use and highly trusted by more than 10 million users. You can easily remove duplicate and similar-looking photos using a Duplicate photo fixer. It doesn't include any malware or virus and will not harm your device. Make sure you download the application from a reliable source. 
How do I remove duplicate photos?
Duplicate photos fixer is the best way to find and remove identical and similar-looking photos quickly and easily. You just need to download the application in your system and follow some basic steps to delete duplicate photos.
Conclusion On Duplicate photos fixer review
Duplicate photos fixer pro has the capability of scanning and removing all the exact and similar looking photos in your device you can free up a large amount of disk space and make your system run smoothly. Can make your photo library clutter-free.
We have provided you with the Duplicate photos fixer review. Now, you must have got an idea about its features, pros, cons, and its pricing. We have mentioned all the essential aspects related to the software. I hope the article would be useful for you.  
Also Read