Easy duplicate finder is one of the best duplicate file finder and remover software which is designed by Webminds Software. It can remove duplicate files, duplicate photos, similar music files, duplicate video files, etc. It can also remove duplicates from cloud storage like google Drive and dropbox.
Most of the users are facing a slowdown in their computers. If you're facing the same issue then you don't need to be panicked because the Easy Duplicate Finder will help to get rid of extra files and free up disk space.
Easy Duplicate Finder Review
Generally, duplicate and junk files are responsible for the slow working of computers because they consume both space as well as power. So you need to remove those files from your computer.
But the task of removing such a duplicate file is very difficult and complicated if you're trying it manually. You need to install a tool that can automatically find such files and can delete them.
The easy duplicate finder software is considered one of the finest tools which are available for such activities. Go through the detailed Easy Duplicate Finder Review which will help you to understand the specifications and features of the tools which will be extremely helpful for you.
| | |
| --- | --- |
| Features  | Rating |
| Effectiveness | 4/5 |
| Price | 4/5 |
| Ease of use | 4.5/5 |
| Support | 3.5/5 |
| Overall Rating  | 4/5 |
Features 
1. Scanning
This is the best feature of this tool which makes it unique among other applications. It provides a lot of variation in scanning the computer for the user. You can choose any suitable filter for searching the duplicate files.
So this feature of the duplicate finder application saves your time and maintains accuracy during operation. 
2. Undo
If you delete any important personal file then you don't need to worry. This tool will solve this problem because it comes with an undo feature. So, if you delete any file then it can be restored easily. It is considered one of the rarest features which are available in the duplicate finder software. 
3. Editing
During scanning, you may find out that you don't want to delete some duplicate files as they are important for you. So, this tool is providing you with editing options that will allow you to edit your file so that it can be saved from automatic deletion. You should store such files in different locations. 
4. Cloud dropbox
If you're running out of storage space then it will use the cloud storage data. This is a fully secured and safe operation. You don't need to worry about private data leakage. But this will take some time but the rate of processing is very fast. It can scan more than 1500 duplicate files in just 5 minutes.
 5. Comparison between two folders for duplicates
If you are searching for duplicate files in two folders rather than the whole hard drive then you must use these features. It will allow you to compare the data between two selected folders and will automatically scan the duplicate files which aren't important to you and hamper the performance of the computer.
We advise you to try to use this method because it is extremely fast which will save you precious time and data. 
6. Delete Duplicate Contacts
This isn't a severe issue if you are considering it enhancing the speed of the computer as contact consumes a little storage space of the device. But if you want to find the right number without any delay then you must delete some duplicate contacts. For such purposes, you need to run a contact scanner from the duplicate finder software.
You need to note one thing some contacts may be important to you and you don't want to lose them. In such a situation it provides you an alternative to store such contacts in different folders or you may export or merge such contacts. 
7. Wizard tool
It's another wonderful feature of the duplicate finder tool which will help you to remove duplicate files very easily.  The main aim of this tool is to increase its efficiency of the tool. 
8. Remove Duplicate Email
Generally, Gmail is loaded with large emails but most of the emails are spammed or unnecessary. They consume only the storage space of your device and sometimes may be a reason for the slowdown of your computer.
So, we will suggest you operate duplicate finder software on Gmail once so that you can find out the duplicate emails which need to be removed from the device instantly otherwise they will reduce the efficiency of the computer. This tool can act as a mail cleaner too. 
How to use Easy Duplicate finder
It's very easy to use and the user-friendly graphics are the main reason behind Easy duplicate finder reviews. In this section of our article, we will give you a brief detail on how to use this tool. So let's start it. 
First of all, Download the software from the Below button
Open the program and choose the type of files that you want to scan. There are two modes:- easy mode and advanced mode. 
1. Easy mode
Click on the scan button after selecting the easy mode. 

It will give you results in the form of a chart that will depict duplicate files in the percentage form category-wise. 

It provides you to delete duplicate files automatically or manually at your convenience. 

You can delete duplicate files by just clicking on the trash option. 
2. Advanced mode
To work with advanced mode, click on the open wizard options. 

Choose the file which you want to scan and after this, it will scan the files. It also provides you with two methods to delete files auto-remove and the other is manual review.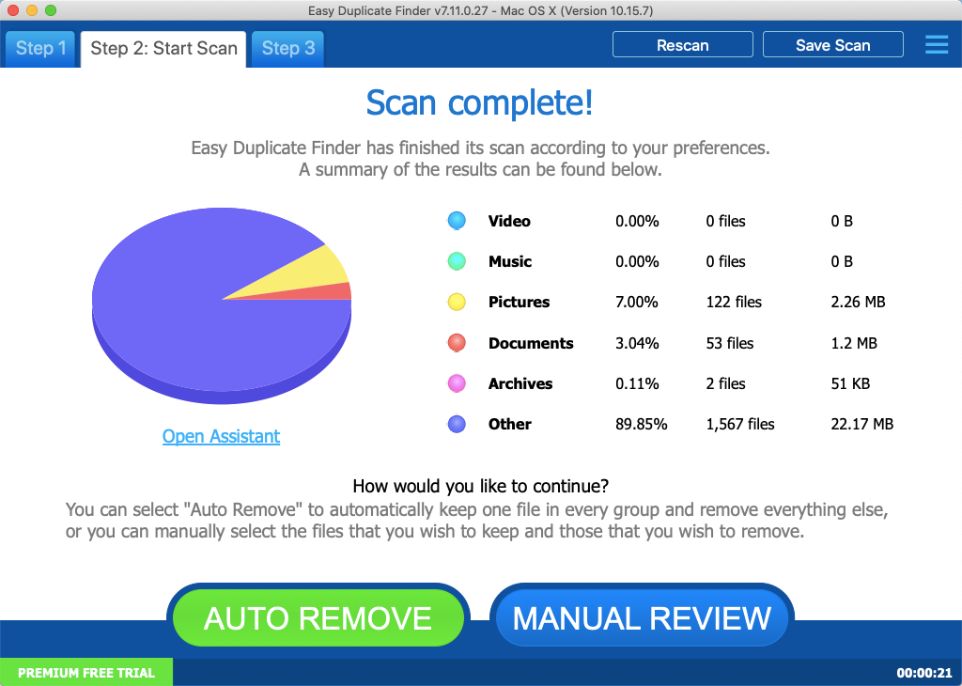 We are hoping that now you will understand how to use easy duplicate finder software. But one thing is pending that you should know is about the pros and cons of this awesome software.
Pros
Lots of editing options

User-friendly interface

Cloud storage for improving the storage

Automatic as well manual removal of duplicate files

Throughout scanning with many filters

Statistics of duplicate files in graphic

Safe and secure to use 
Cons
Slow scanning in some instances

Limited features for free users
FAQs On Easy Duplicate Finder Review
How much does an easy duplicate finder cost?
Easy duplicate finder is available for both Windows as well as macOS for just $39.95. There is also a free version with limited features. 
Which is the best duplicate file finder software?
There are a lot of duplicate file-finder tools available in the market but you should use the best tool for your device. As per the review of customers, the easy duplicate finder is proved to be one of the best software for finding duplicate files. 
What is the best free duplicate file finder?
If you're looking for the best free duplicate file finder then you must go with Auslogics duplicate file finder. 
Is there a free duplicate file finder?
Yes, there are many duplicate file finders. You can easily find them on the internet. But they are less efficient as compared to paid tools. 
Does Windows 10 have a duplicate file finder?
No, Windows 10 doesn't come with a duplicate file finder. You need to install some duplicate file finder tools for removing duplicate files. 
Conclusion
In this article, we will provide you with a brief description of the various features, specifications, pros, cons, and a lot of things about easy duplicate finder tools. We are hoping that you will use this tool for removing duplicate files from the device.
We provide you with every little detail about how to use this tool in our article but still if you are confused regarding the working of an easy file finder tool you may contact us. 
Also Read