Nowadays, people have changed their reading habits and despite reading books they love to listen to audiobooks. If you are fond of reading digital books then you must require an eBook converter which helps you to make the digital eBook compatible with the reader device. Various eBooks come with DRM protection which you need to remove if you want to read that book. 
If you are looking for such a tool that offers both an eBook format converter and a DRM protection feature then Epubor Ultimate is a great choice for you. But you can not trust a tool until you learn about its details, features, and all other specifications. 
So, let's have a look at the Epubor Ultimate review and know all the aspects related to Epubor Ultimate such as its pricing, specifications, features, and pros and cons.
Epubor Ultimate Review
Epubor Ultimate is a dedicated software that helps you to convert audiobooks into the desired format and remove DRM protection. This is a tool that makes your favorite digital book compatible with your reader device. Due to the DRM protection, you will not able to read the purchased eBooks on multiple devices. So, this tool will let you convert the eBook into the desired format and you can enjoy reading your favorite eBooks. 
The software is available on both Mac and Windows platforms. It enables us to fix compatibility issues and convert the eBooks into a format that is acceptable to your eBook reader.
Epubor Ultimate also allows you to connect with Kindle, Kobo eReader, and Adobe Digital Edition to quickly scan your library and add your eBooks to the conversion process. It uses low system resources and works finely on your PC with minimal system requirements. 
Specification
Epubor Ultimate requires some system requirements to get downloaded on your PC. The specifications are: 
Memory –

1GB RAM or more 

Operating System –

Windows Vista, 7, 8, and 10 (both 32 and 64-bit)

Processor –

At least 1 GHz CPU
Hard Disk –

2 GB free disk space 
Video Card –

1 GB or better GPU 

Support Services –

Email, Live chat, submit a ticket, and Skype

Input format  – AZW, AZW1, AZW3, AZW4, EPUB, HTML, KFX, Mobi, PDF, PRC, Topaz, TPZ, and TXT
Languages – Dutch, English, French, Italian, Japanese, and Spanish
Support eBooks brought from –

Amazon Kindle, Barnes & Noble Nook, Fictionwise, Google Play, Kobo, Lulu, Smashwords, and Sony

Output format – EPUB, AZW3, Mobi, PDF, and TXT
Is Epubor Ultimate safe
Is Epubor safe will it be a question when it comes to free download? Epubor Ultimate free is for one month only. Either this is the trial period. The developer will not track any of your activities on this software. Therefore, it is safe to use for personal and commercial purposes.
If you have a home personal computer or PC and a laptop, you can download and install them and take double advantage. However, these are personal hacks.  When you buy the paid version, they do return your money, if you are not satisfied with this software. 
When it comes to DRM, you have to check the legality with your nation. This is because you must not be penalized due to digital piracy. This can be taken by the e-book, which you have converted. Such kind of activities will come to know when you make use of those converted files online or share them with a needy person.
Features of Epubor Ultimate 
Easy-to-Use Interface

– The software is a great tool that helps you remove DRM protection from the purchased eBook with ease. The interface is so easy as beginners can also use it without having any technical skills or guidance. You can easily navigate all the functions and use them. 
Supports Batch Conversion –

To make it easier for you Epubor offers a batch conversion feature. You can easily convert multiple audiobooks simultaneously. 
Remove DRM Protection –

Epubor Ultimate is a well-known software for removing DRM from purchased eBooks so that you can read books that are incompatible with your reader device. It can remove DRM from eBooks purchased from Kobo, Google Play, Kindle, Barnes & Nobel, and other eBo retailers. 
Edit eBook MetaData –

The software offers you a feature that lets you edit eBook Metadata. It allows you to edit the album, title, copyright, artist, year, comments, genre, and album artwork. 
Offers super fast speed –

When choosing the best audible audiobook converter the speed of the conversion process matters a lot. Epubor Ultimate offers the fastest speed and completes the conversion process within a few minutes. 
Offers 24/7 customer support –

It offers great customer support. The team is ready and resolve all your queries. It provides customer support in several ways including live chat and email.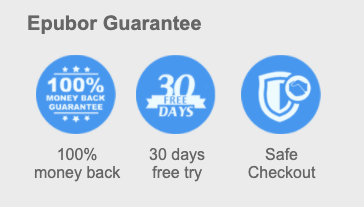 How to Use Epubor Ultimate 
To use Epubor Ultimate first you should download Epubor Ultimate on your PC. 

When it is completely installed on your PC, launch it. 

Then drag the eBooks from the left panel to the right to eliminate DRM. 

Choose the output format and click convert to…. To start the conversion process. 

Click on the folder icon given at the right bottom corner to find your converted DRM-free eBooks.
Epubor Ultimate Pros and Cons
Pros
Easy to use 

Offers 60x faster speed for conversion 

Allows splitting audible books into multiple chapters 

30 days money back guarantee 

Replace eBook covers 

Convert eBooks to PDF, TXT, MOBI, etc. 

Offers drag and drop support
Cons
Doesn't offer a splitting feature with the free version 

It is not a freeware 

The free version only can remove DRM protection from 10 eBooks
Pricing
Talking about its pricing, Epubor Ultimate is not a completely free program. It only offers a free trial version for 30 days which you can use to understand its features and functions. You can then purchase the premium plan if the software satisfies your needs.
It offers different pricing plans you can choose the one which is appropriate for you. The free version lacks many features so if you want to test the advanced features then purchase the plan and test it.
With the free version, you can only remove DRM protection from 10 eBooks. If you don't like the software then don't worry it also offers a 30-day money-back guarantee. 
Conclusion 
If you are looking for a decent audible audiobook converter and DRM remover then Epubor Ultimate is the perfect solution for you. It is a powerful software and after reading the Epubor Ultimate review you have better understood the software. It is loaded with great features and you will be able to listen to the audiobook on any device.
I suggest you use the free version initially to exactly know its features and functions and when you think it is a reliable tool then purchase its premium version to access more features. I hope Epubor Ultimate Review will help you know about the software deeply. 
FAQs
Q1. Is it legal to remove DRM from eBooks?
Yes, it is legal to remove DRM from eBooks. For this, you have to use a DRM removal tool.
Q2. How do I remove DRM from eBooks?
You have to install a DRM tool for an e-book on your computer or laptop. Next, you can remove DRM without any access control.   
Q3. How do I use Epubor Ultimate?
Epubor Ultimate comes as freemium. You have to download it on your computer. Next, you have to click which e-book you want to convert. The rest of the conversation will be done automatically.   
Q4. Is removing DRM illegal?
This is a disputed question in many countries. As per the e-book publishers, it is illegal. Yet, you can remove DRM from e-books for your convince of good purpose and usage by using DRM removal software.   
Also Read:
9 BEST Spotify to MP3 Converter For Windows & Mac
10 Best YouTube To WAV Converters (Offline & Online)
11 Best YouTube to MP3 Converters For Windows 11, 10 PC