Are you also getting error code 0xc0000005 while launching any program or updating windows? Looking for the solutions that can help you in getting rid of it then you have landed on the right platform. In this article, we will guide you about some methods that will help you in fixing the error code 0xc0000005. But before going further let's discuss why you get error code 0xc0000005 for Windows 11 / 10.
Why 0xc0000005 Error code occurs 
Basically, 0xc0000005 error code occurs due to the access violation. When you update your OS to Windows 11 then there might be a chance that you will encounter this error and the other reason can be when you start any application and due to the wrong configuration process it may end with an error code and the application automatically shuts down.
There can be many reasons behind the occurrence of error code 0xc0000005, some of the most common possibilities are:
Deficient RAM

Due to malware and viruses 

Incompatible drivers 

Invalid DLL files

Corrupted Registry

Windows security features

Wrong installation drivers or software 
How to Fix Application Error 0xc0000005 Windows 11/10
All the above are the reasons of the error but you need not worry further. We have come up with an article that will surely help you in fixing the error code 0xc0000005. Let's take a look at the 7 solutions we have mentioned in the below article.
Method 1: Check if your PC fulfils the minimum requirements to operate Windows 11
The first and basic thing you must consider before updating to Windows 11 is that checking if your Windows OS meets all the minimum requirements or not. If you PC doesn't fulfils the basic requirements then while updating to Windows 11 you will face the error code 0xc0000005. Below is list of requirements:
4 GB or higher RAM

64-bit processor

1 GHz clock speed (2 or more cores)

Trusted platform module version 2.0

HD 9 inch display with minimum resolution 1366×768

Compatible with DirectX 12 or later with WDDM 2.0 driver

UEFI, secure boot capable
Method 2: Check RAM
As we have already mentioned above the error code 0xc0000005 can be occurred due to the faulty RAM. So in this condition replace your RAM or you can also swap RAM slots. Start your PC and check if you still facing the error or not. 
Method 3: Use System Restore to fix the error
System restore can also help you in getting rid off the error code 0xc0000005. But this method works only when you have generated a restore point. Below are the steps you need to follow:
Open Run box by pressing

win + R keys

and type

sysdm.cpl"

 and hit enter key. 

System properties window will appear and click on the

system protection tab. 

Now, click on

system restore

option. 
Click

next

in the

system restore window. 

At last choose the restore point you want to roll back and follow the instructions to finish restoration process. 
Method 4: Deactivate Data Execution Prevention (DEP)
Data Execution Prevention (DEP) is a windows feature that safeguards your system from the destruction caused by viruses and other threats. But sometimes you will face the error code 0xc0000005 due to DEP as some programs are not compatible with it. In that condition you need to disable DEP. Following are the steps you need to follow to deactivate Data Execution Prevention:
Firstly, hold

Windows + R keys

together to open Run box. 

Now, type

"sysdm.cpl"

and hit enter key. 

A

system property

window will appear and select the

advanced

tab. 

Look under the

performance

section and click on

settings.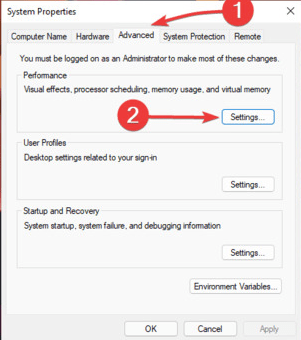 Now, a pop-up window will appear, select the

Data Execution Prevention

tab. 
After that click on

Turn on DEP for all programs and services except those I select. 

Now, click on

add

option and search for the .exe file of the problematic program.

At last, click on

apply

and then

Ok.
After following all the steps properly shut down your PC and start it again and see if the error is fixed or not. The error will only be fixed when any program is incompatible with this security feature. 
Method 5: Fixing Registry can resolve the error
One of the reason behind the error code 0xc0000005 is corrupted registry files. It would be beneficial if you have the backup of your registry files. In case you don't have the backup then you need to modify them. But it could be risky to modify the registry files so make a backup before applying any changes. 
Below are the steps you need to follow to modify registry files:
Firstly, press

Win + R keys

to open Run box and type "

regedit"

and hit enter key. 

Registry editor window will appear go to the given below path:
HKEY_LOCAL_MACHINE\SOFTWARE\Microsoft\Windows NT\CurrentVersion\Windows
Now, look for the

LoadAppInit_DLLs

and double-click on it to change the value from 1 to 0. 
After changing value click on

OK. 

At last close the Window and restart your PC to check if you are still facing the error or not. 
Method 6: Check for General updates or update system drivers to fix error code
Sometimes due to the outdated drivers many errors occur. If you update or install Windows updates could resolve your problem. That is why you should check for the general update to fix the error code 0xc0000005. Following are the steps you need to follow:
Firstly, go to the

start

icon and select

settings. 
When

Windows settings

page appears, click on

Windows Update.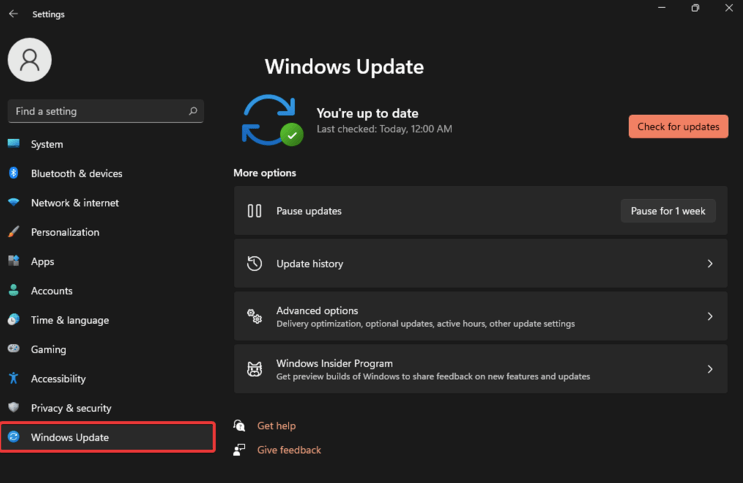 On the next page, click

check for updates

option. 
If there is any general windows update available, Windows will let you know. 
To look for driver updates follow the steps:
Click on

advanced option

and then

optional features.
Windows will display a list of available driver updates.

Choose the one you want to update and click on

download and install

option. 
This is a manual method of updating outdated system drivers but if you want an automatic method then you can choose any Driver updater software that will automatically scans for missing or outdated driver. 
Method 7: Run System File Checker to avoid error 
Running a system file checker can remove all the corrupted files that can help in fixing error code 0xc0000005. For executing this method you need to follow some steps that are given below:
Firstly, go to the search bar and type

cmd

and under the

command prompt

click on

Run as administrator.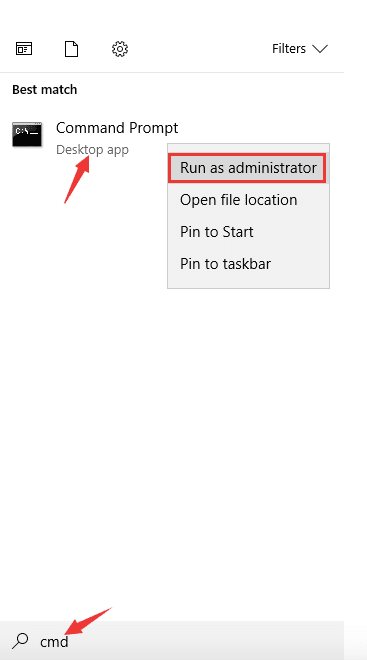 A window will appear and type sfc/scannow command and press enter key.
It will scan all the secure system files and if there is any corrupted file then it replaces it with a cached copy. 

When the verification process is completed shutdown your PC and restart it to check if the problem of error code 0xc0000005 is fixed or not. 
So this is another way to fix application error 0xc0000005 in your system.
Conclusion On 0xc0000005 Error in Windows 11 and 10
The application Error code 0xc0000005 can be resolve by checking the RAM, disabling the antivirus software, restoring the previous version of Windows, Restoring the drivers, System file checker, and Boot configuration data checkup, etc.
Also Read