Error code 0xC0000005 is a type of error which is sometimes occurs in your PC when it's not be able to process some files and setting which is required to run a particular application of software. This error is popularly known as Error: access violation 0xC0000005. This type of error comes when a user try to open or start a program. This "Error: access violation 0xC0000005" result in blocking the smooth functioning of the software or application. Here are best and easy guide to fix this error code 0xC0000005 in windows 10  and error 0xc0000005 windows 7.
How to fix Application Error 0xC0000005 in Windows 10
There are three different types of messages which occurred commonly
Error message 1 – The application was unable to start correctly (0xc0000005)
This type of error message occurred when you open an application like any browser application, VLC media player, games etc. This error can be solved by solving the invalid, corrupted and incomplete DLL files which is the major files which helps to run the application in windows system.
Error message 2- Exception: Access violation error (0xc0000005)
This type of error message occurred when you try to access the data or location  from a different place which is not assigned to you. There are multiple reason for this error like virus issues, corrupted ram, bad security updates etc.
Error message 3- Windows installation encountered an unexpected error
This error message 0xC0000005 occured when there is a temporary hardware problems and when there is problem like corrupted hard drive.
Above the screenshot of error 0xC0000005 which come when you try to access any program.
Solution 1 – Restore Windows
You should try to uninstall or restore the previous version of Windows. Check if this error has been resolved. Switching to older version can help you to resolve the error 0xC0000005
Step  1- Right click on the my computer and select the properties options
Step  2- Now open the advanced system settings which is given in the picture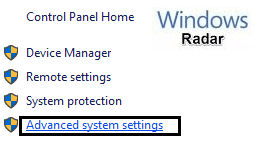 Step  3- Now in "advanced system settings" find out the "system protection" and then upon "system restore"
Step 4 – Now click on next and click on box
Step 5 – Now select one of the critical update and restore your Windows
Step 6 – This process will take some time to get restore to the older version of Windows.
You can check if the error code 0xC0000005 has been fixed or not.
Solution 2 – System file checker
This sfc /scannow commands protect all the windows files and replace all corrupted data or damaged version with the correct files and data.
 Step 1 – Press Windows + r button in keyboard
Step 2 – Now in command prompt type sfc / scannow
Step 3 – Just wait for the system file checker to complete the process
Now again try to open or launch the program which was giving error
Solution 3 -Boot configuration data check up
You have to see or check the boot configuration data means you just have to check your computer that it does not have any hacked or infected files present. The files may be affected by virus 
Now you just have to see your BCD and follow the fix process of this error code 0xC0000005 . Just open the command mode as administration and type BCDedit and click on enter.
If you see Windows loader path is xOSload.exe then you just have to delete some files and keep your boot configuration data in a proper manner.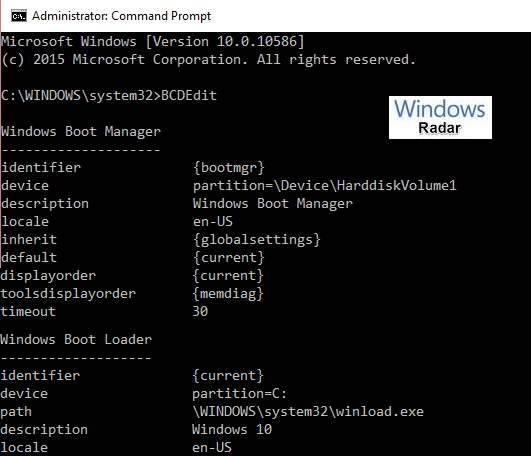 Just make sure that you just have to restore reactivate your Windows
ALSO READ : Best Uninstaller for Windows 10
Solution 4 – F

ix all the Windows Registry
The windows registry is a place which contains all the important information about your system hardware, installed application and settings. It stores the the temporary data and user account on your computer. 
Windows registry get destroyed due to some damage files which has to be fixed to make sure it works properly. these registry may be infected by the viruses and malware so just follow the steps to resolve your application error. 
Step 1 – First of all download install the registry cleaner software
Step 2 – Now just click on the registry tab and click on scan for issues.
Step 3 – Now the software will automatically start searching for the errors in registry. When this process has been completed now just click on fix selected issues. 
Step 4 – now your complete issues has been solved. Restart your PC and check again for the application error code 0xC0000005
This process has been completely resolved by this process for many of the users.
Solution 5 –

RAM memory
The application error 0xC0000005 can occurs because of the destroyed RAM memory. The application error 0xC0000005 can be resolved by storing the new RAM memory. Step by step process to do this to resolve the error.
Step 1 – Switch off your computer and remove all the cables
Step 2 – Now just eject the battery
Solution 6 – D

isable all the antivirus
There are number of times that third party applications like anti virus programs are stopping the software to open. So in order to solve this problem you just have to disable these anti virus software to resolve these problems. Now check if the file you are trying to open is getting open or not.
So this is the another way to fix application error 0xc0000005 in your system.
Conclusion
The application Error code 0xc0000005 can be  resolve by checking the RAM, disabling the antivirus softwares, restoring the previous version of Windows, Restoring the drivers,  System file checker, and Boot configuration data check up etc.