If you are a game lover then you must have known about the Fallout 4 game. It is one of the popular games but users are finding errors related to Fallout 4 crashing on Windows PC. If you are also facing the same error while playing the game then you are at the right place.
Fallout 4 crashing on PC is the most common issue gamers are facing while playing the game. The major reason can be that your system doesn't meet the minimum requirements for playing Fallout 4 games. Apart from this, Fallout 4 is highly graphic intensive and that is why you need to have an updated graphic card to get a better gaming experience. Due to the hardware issues and inappropriate video resolution causes Fallout 4 crashes. 
If the Fallout 4 crashes at start-up and you are looking for the solutions to get rid off the Fallout 4 crashing on PC then you can take a look of this article. But before going further lets take a look at types of Fallout 4 crashing and why the game crashes at start-up?
Fallout 4 crashing related issues
Fallout 4 crashing issues can be found in different situations. Let's read about them
Fallout 4 keeps crashing –

In the first situation, Fallout 4 keeps crashing. Whenever player tries to play game it crashes every time. It is the severe problem and can harm your PC. 
Fallout 4 crashes on launch –

In this situation Fallout 4 starts crashing while launching the game on your PC. To avoid this situation run Fallout 4 in

compatibility mode.
Fallout 4 crashes on startup –

In this situation gamers find the crashing error while starting the game. Fallout 4 game doesn't start and stop working on startup of the system. 
Fallout 4 crashes on Xbox one/PS4 –

if you are facing crashing issue in any of the devices then power cycling the console, restart game, disabling mods, deleting mods, reinstall the game to resolve the error. 
Why does Fallout 4 game crash on startup
You might face Fallout 4 game crash on start-up. The issue is very common and many users have encountered the same problem. The error can be occurred due to several reasons some of them are outdated graphics card driver, graphics settings of the game is too high, game is running on the outdated version, corrupted or missing game files, antivirus blocked the game or when the system doesn't meet the minimum system requirements. Let's read the system requirement to avoid fallout 4 crashing on PC.
Fallout 4 system requirements
It is necessary that Fallout 4 fulfil the system requirements to avoid errors like game crashing.  
Minimum system requirements:
RAM –

8 GB

CPU –

Intel core i5-2300 2.8 GHz/AMD Phenom II X4 945 3.0 GHz or equivalent 

OS –

Windows 7, 8, 8.1 and 10 (only 64-bit OS is required)

Graphics Card –

NVIDIA GTX 550 Ti 2GB/AMD Radeon HD 7870 2GB or equivalent
Recommended System Requirement 
RAM –

8 GB

CPU –

Intel Core i7 4790 3.6 GHz/AMD FX-9590 4.7 GHz or equivalent 

OS –

Windows 7, 8, 8.1 and 10 (64-bit OS is required)

Graphics Card –

NVIDIA GTX 780 3GB/AMD Radeon R9 290X 4GB or equivalent
5 Ways To Fix Fallout 4 Crashing on PC
Method 1: Update Graphics Driver 
Updating graphics card drivers can resolve the fallout 4 crashing on PC error. Any missing, corrupted, outdated or incompatible graphic card driver  may cause the error like game crashing. That is why you need to update graphic card driver for proper functioning and better gaming experience. You can update graphics driver by using driver manager for this you need to follow  some steps that are given  below:
Firstly, open the  run window by holding windows  and are keys together and type devmgmt.msc and click Ok or press enter key.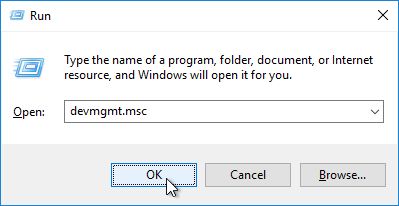 Now on the device manager window navigate to display adapter to expand its category and right click on the graphics card driver and click on update driver option.

In the next window search automatically for updated device software options. It will allow windows to search for new update and  if there is any update available windows will automatically  install new update for your device driver.
If you want to update graphic card drivers by manual method then you can  follow the above steps  otherwise you can choose driver updater software to automatically update graphics driver to the latest version. Here we will suggest you to use driver booster to update your graphics driver to boost the gaming experience and enhance system performance. Driver booster requires only few clicks to scan outdated, missing or broken driver and update them automatically.
Method 2: Change game settings 
Sometimes changing the game settings can fix fallout 4 crashing on PC. Below are some steps that you need to follow to modify fallout 4 settings:
Firstly you need to check the computer resolution. Both the computer resolution and game resolution should be same.

Go to the settings by pressing win + I keys together to open windows settings page.
When the windows settings page appears click on system.

Go to the left pane and click display option. Now go to the right side of the window and navigate to resolution.

Check the fallout 4 resolution and then ensure that your computer resolution is same yes fallout 4 resolution.

in the

fallout 4 options

Window go to the graphics adapter and resolution setting of the game and tick The windowed mode and borderless options.

In the next window of

Fallout 4 Tweaker

unmark

enable intro video

option or choose the

disable intro video. 
At last click on

save

option. 
Method 3: Update Fallout 4 game 
Sometimes the cause of Fallout 4 crashing on PC is running old version of the game. Game Developers keep releasing new patches to boost the game experience and offer some advanced features. So missing the latest  patches can cause the crashing  issues. If you download the latest version of the game it will enhance the experience and also boost security.
Look for the latest patch of the fallout 4 game and if any new patch or update is available then install it. After installing the game update restart your game and check whether the error is fixed or not.
Sometimes just updating the games can fix the error . But if you are still facing the  crashing issue then go for the other option given in the article. 
Method 4: Disable Antivirus 
Antivirus software protects your system from viruses, malware and other malicious threats that can harm your computer. But sometimes it block the applications and causes error like game crashing.
There can be a chance get the reason behind fallout 4 crashing on PC is because of the antivirus software because it has blocked the game features. Now to fix the error you need to disable the antivirus temporarily to get the better at game experience. 
After disabling antivirus restart your PC end launch fallout 4 and check if you are still facing the crashing issues or not.
Method 5: Verify integrity of game files 
One of the major reasons behind Fallout 4 not working on PC is corrupted or missing files. To verify the game files follow the given below steps:
Firstly, launch

steam

client on your system.

Now, go to the

library

and right-click on

fallout 4. 

Then choose

properties. 

Navigate to

local files tab

and then choose

verify integrity of game files

option. 

Wait until the game cache verification process completes and close steam. 
After performing all the above steps relaunch the game and see whether the Fallout 4 crashing issue is still occurring or not. 
FAQs
How do I stop Fallout 4 from crashing?
Below are some ways through which you can stop Fallout 4 from crashing: 
Reinstall Fallout 4 game 

Monitor GPU and CPU temperatures 

Update drivers 

Uninstall mods 

Validate steam files 
Why does Fallout 4 keep crashing In 2021?
The reason behind Fallout 4 keep crashing In 2021 can be the bugs in the current version. To fix the error you need to install the new patch update version. 
What do I do if Fallout 4 is crashing after I click play?
If you are facing fallout 4 crashing after I click play then firstly you should check if PC meets the fallout 4 system requirements or not. If you are getting the error then to fix or you can update graphics drivers, remove mods, verify integrity of game files and run as administrator.
Why does my game keep crashing?
The main reason behind the game crashing is low memory. If you run multiple applications at the same time it will consume more resources and affect the gaming experience and that results in game crashing. 
Also Read