If you are facing the blue screen of death error on your PC then you have come to the right platform. This is a common issue occurred in Windows 10 and many users face this at some point in time. It is a Windows stop code faulty hardware corrupted page error which is quite annoying.
You can fix the issue after knowing the causes of the error. In this article, we are going to discuss the major reasons for faulty Hardware corrupted page errors and the best ways to fix them. So, without any delay let's start with the best fixes.
What does faulty hardware corrupted page mean?
Faulty Hardware Corrupted Page error code occurs in Windows 10 while performing actions like uploading documents, copy paste files to external storage devices, and various others. It makes your PC stuck in a booting loop or sometimes causes crashes and other issues. So, before it brings up severe damage to your system find out the reasons for the cause and fix it as soon as possible.
What causes faulty hardware corrupt?
Here we are going to mention some of the possible reasons for Faulty Hardware Corrupted page error:
Virus or malware attacks can corrupt your system files.

Due to corrupted or damaged hard disk 

The device driver is configured incorrectly 

Outdated system drivers 

Due to the incorrect installation or uninstallation of drivers or programs 

Corrupted registry files 

Inappropriate windows update
8 Ways To Fix Faulty Hardware Corrupted Page Error
Method 1:  By Disabling fast start-up
Faulty hardware corrupted page error can be occurred due to the fast startup option. You can fix this issue by disabling fast start-up. Follow the given below steps to execute this method.
For this first go to the search bar on your desktop and type

control panel.

Click on the control panel to open it.

Click on the

power

option and in the left pane click on

choose what the power button does.
After that Tap on

Change settings that are currently unavailable.

Then under

shutdown settings

untick

turn on fast startup [recommended]
Lastly, tap on

save changes

to complete the process.
Method 2  Run the CHKDSK command
If the above method does not work for you then you can use this method. It has been noticed that running the CHKDSK command using a command prompt can fix the issue. It helps in fixing the hard drive corruption and errors along with scanning bad sectors on the hard drive.
Before executing this method first thing you should keep in mind is that taking a backup of your system data is mandatory. As this method involves the risk of losing data.
Follow the given below steps to execute this method.
Go to the search box of the computer's taskbar and type

CMD or command prompt.

Then right-click on the

command prompt

and click on

run as administrator.

In the command prompt, type

chkdsk f: /f

and press

enter

key. 
To locate bad sectors, run

chkdsk f: /f /r.
Method 3: Run RAM check and SFC
Sometimes it is noticed that the faulty hardware corrupted page error occurs due to a problem in your hardware memory or missing or corrupted system files. If you run a RAM check and SFC you can fix this issue. Follow the given below steps to use this method:
Press the Windows + R keys

together on your keyboard to open the

run bar

and type

mdsched.exe

and hit the enter key.

It will open the

Windows memory diagnostic page

.

Under

check your computer for memory problems

choose to

restart now

and

check for problems [recommended].

Wait until this process ends.

After that press Windows and X keys together on your keyboard and choose the command prompt

(admin).

Type

SFC/scannow

and hit enter key.
Restart your PC and check if the problem still exists or not.
Method 4: Update all the drivers Including the display driver
And the reason for the issue is outdated, corrupted, or incorrect system drivers. To avoid this issue you should check for the faulty drivers, uninstall the correct ones and if any driver is outdated make them updated.
Updating drivers requires computer skills, patience, and time. If you lack these things then it is advised to use driver updater software which is quite helpful for you and automatically updates your system drivers in no time.
If you want to update drivers manually then follow the given below steps:
Go to the search bar of your taskbar and type Device Manager

.

Click on the device manager to open it.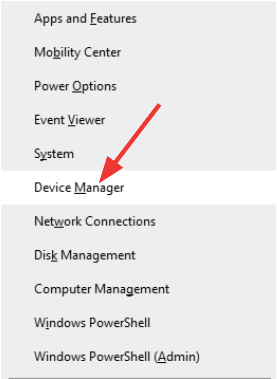 When you land on the

device manager window

navigate to the

device category

for which you want to update drivers. Right-click on the

device driver

and choose the

update driver

option.

In the other window click on

search automatically for drivers

and let Windows search for the available updates for the device.
If any update is available windows will display it on your PC and follow the given instructions to update the drivers.
Method 5: Reset your PC
If the above methods don't fix the faulty hardware corrupted page error then the only option is left resetting your PC. Before executing this method first take backup of your system data. Follow the given below steps to reset your PC.
Firstly, go to the Windows search bar and type

settings

on it. 

When the Windows settings page appears click on update and security. 
From the left panel, click on the recovery option. 

Go to the

reset this PC

section and click on

Get Started.
When the next window appears, choose the Remove Everything

option. 
Next, click on

just remove files. This is quicker but less secure. 
Click on

next

and then

reset

option and lastly click continue. 

When the process ends, restart your PC. 
Conclusion
Faulty Hardware corrupted page error is a common issue in Windows 10 PC. It disturbs you while performing your work on your PC and may harm your PC further.
If your PC files get corrupted then you can try file repair software which will fix and repair your files. Those mentioned above are some of the top ways which help you fix the issue. If you are suffering from the same error then use these methods to recover your PC from that error. 
Also Read