Many users face File Record Segment is Unreadable error while using their PC. The error is unavoidable and you need to pay attention to fix this error otherwise you may face more severe damage to your PC and also result in losing hard drive data.
If you are one among them and looking for the ways to fix File Record Segment is Unreadable error then this article is definitely for you. Here we have listed the four ways through which you will surely resolve the error and prevent your data from loosing.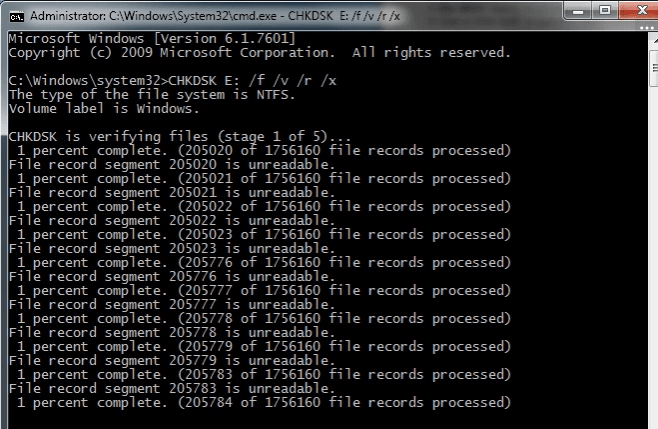 Before going further let's discuss more about File Record Segment and the cause of occurring file record segment unreadable error.
What is File Record Segment
File Record Segment is a type of file system that keeps all the information related to a file. The information includes file name, date, type and physical address about files on internal and external hard drive, SSDs, etc. 
NTFS store these file records in Master File Table (MFT) and the FAT file system maintains them in a File Allocation Table (FAT). 
When the OS has to access to the file it firsts scans the file records in the system file table. Then it reads the physical address of the file and when it fetches the address it attains to the original location on the hard drive to read the data. 
Why does the 'File Record Segment is Unreadable' issue comes
The main reason behind the File record segment is unreadable error is the bad sectors. When your hard disk has bad sectors it does not respond to any read or write operations.
It means that the sector goes bad where the file record has been stored and thus you receive the error. There will be a huge risk of loosing data if numerous file record segment become unreadable. 
When you face the error of file record segment is unreadable there might be a chance that your hard disk is corrupted either physically or logically and your hard drive become RAW and unorganised by the Windows PC. Usually, Windows automatically scans and run the CHKDSK command at the time of startup if it discovers any drive errors. 
4 Ways to Fix File Record Segment is Unreadable
The file record segment is unreadable may cause a severe damage and probability of loosing your data. The error can't be ignored and you must do something before you loose your data.
Don't worry we are here with the solutions. In the article we will going to discuss of four methods with the proper steps so that you can easily execute them to get rid of annoying errors.
Method 1: Clone your Hard drive 
The best way to fix file record segment unreadable is by cloning your hard drive. You can clone your present drive to a new one to save your data. This will save your files and data but there is no guarantee to save 100% of the files.
Mention one thing before cloning your Hard drive is that this method only works when the file is neither corrupted nor damaged. To perform the drive cloning you need a new working drive and drive cloning software like acronis true image.
After cloning your hard drive format it. You must notice that after formatting the drive all your stored data will be deleted. After this, you can use the drive further without any error only if the damage was logical. 
Method 2: By Connecting your Hard Drive to a different computer
If you are getting the File record segment as an unreadable error due to the physical damage (like scratches) of the hard disk then connecting your current hard drive to a different PC to save the files is the better option. If you don't know how to perform the task then we recommend you to take the help of an expert technician. 
When the hard drive is connected to the working PC you will see it as this PC or my computer. But make sure the disk is not too damage then only you can copy the files to an internal or external drive. 
After this format your destroyed drive and check if you can install the Windows PC or you need to replace it. 
Method 3: Run CHKDSK Command from Safe Mode 
This is the best thing of Windows 11 / 10 that it has a built-in tool to check the integrity of disks. It scans the disks and also fix them if there is any error. You can run the tool through command prompt or graphical interface. Here we will show you how to run a CHKDSK scan through the command prompt. 
Below are the steps you need to perform to run CHKDSK command:
Firstly, go to the start icon and type command prompt.

When the search result appears, right click on the

command prompt

and choose

run as administrator

. 
Now, the Administrator: Command Prompt page appears type chkdsk C: /r

and hot enter key ( replace C with the drive letter of your system hard drive). 

After that windows will ask you to restart your PC to perform the scanning process then type Y and hit enter key. 
Wait until the chkdsk process completes and then restart your PC to check if the error has been fixed or not. 
Method 4: To make a use of Data Recovery tool 
If you want to protect your files and data from losing then it is advisable to use a reliable data recovery tool. Although there are many tools available I recommend you to use MiniTool ShadowMaker Pro Ultimate. 
It is one of the reliable tools that you can use when you get a File record segment unreadable error. It is capable to recover data files that are lost due to system crashes, damaged hard drives, virus infections and other causes. 
When you recover your files reformat your old drive which will allow you to use it in the future without having any issues. This is not a permanent solution we recommend you change your hard drive. 
The error will occur again if there is physical damage in the drive. Due to the physical damage to the hard drive, you can't fix it and it is advised that replace your troublesome drive with a new working one. 
FAQs
How do I fix the File Record Segment that is unreadable?
There are many ways through which you can fix the error of the file record segment that is unreadable. In the above article, we have listed the top four ways which could help you in that. The best way is to get rid of the error is by running the CHKDSK command. 
Does CHKDSK fix unreadable?
When there is a bad sector in your drive it may cause harm to your data which is stored in it. There is a way to fix the unreadable error using the CHKDSK command. Otherwise, you can also clone your hard drive to get rid of the error.