You are not alone who is facing an error while running Filmora X in your Windows 11 many other users have also encountered the same problem. 
Don't worry we are here with the article that can help you in fixing the Filmora X not opening on Windows 11. But before going further let's know more about Filmora X.
Why isn't Filmora Opening on Windows 11
Many times you have encountered an error in opening Filmora on your system. Wondershare Filmora works smoothly on Windows 10 PC, but it is the latest version that is Filmora X doesn't run well if you have upgraded your Windows 10 to 11. You may face several issues like system crashing or Filmora is not opening in Windows 11.
There are several reasons the Filmora won't open in Windows 11. Your system may have any kind of malware or virus or due to a compatibility issue. Let's discuss briefly the reasons which are causing Filmora X not to open in Windows 11.
1. Viruses and Malware in your System
Too much downloading of third-party apps can be the biggest reason for having viruses and malware in your system. Whenever you download any app or browse any website you may get the virus and sometimes you don't know that your PC is infected with the virus. It can severely damage your system and prevent the apps from working. To avoid this situation you need to make sure to download the app from reliable sources. 
If Filmora is not opening in Windows 11 then there is a higher chance that your system has a virus and malware. 
2. Windows update 
If you do not have updated your Windows drivers for a long time you may get the error Filmora X not working in Windows 11. As Filmora X is a video editing tool and to run smoothly it requires updated videos and graphics drivers installed on your PC. Due to the outdated drivers, it can cause you the error. 
3. Running any Antivirus Program on your PC
When you run antivirus software in your system to get rid of the virus and malware. There is a chance that along with the virus it also removes the files from Filmora. As it has been noticed many times that while performing a virus scan users have lost their data. So, it can also be the reason if you are facing an error in opening Filmora. 
All these are the major reasons causing Filmora is not opening in Windows 11. Now, let us know about the methods through which you can fix the error.
How to Fix Filmora X Not Working in Windows 11
Many methods can help you in getting rid of the error but after great research, we have listed the top 4 ways that can resolve the issue.
Method 1: Reinstall the Application 
Sometimes reinstalling the application can fix the issue. You can reinstall Filmora X by following the given below steps: 
Open

windows settings

 by pressing

Win + I

keys on the keyboard. 
When the

settings

window appears, click on the

apps

option. 
Now, navigate to the

apps & features

option and click on it. 

Look for Filmora X and click on the three dots. Now, click on

Uninstall

option. 

After completely uninstalling the application go to its manufacturer website and download the software again. 

At last, follow the given instructions to reinstall the program without any trouble.
Method 2: By Running the Troubleshooter you can fix the error
To fix the filmora is not opening in windows 11 you can run the troubleshooter. You can follow the below steps to run the troubleshooter.
Open the

windows setting

.
Now Choose the System option and then navigate to troubleshoot

option on the right side.
Then Choose

other troubleshooters options

navigate to

program compatibility Troubleshooter

and click on the

run

option given next to it.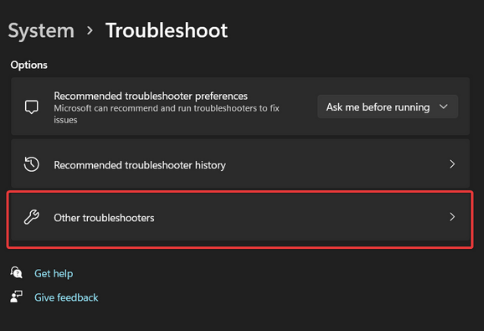 It will fix all the errors related to filmora X. 
Method 3: Make sure to Update the Windows 
As we have read earlier Filmora X not Working in Windows 11 is caused due to the outdated Windows update. You can fix the error by updating Windows. Following are the steps you need to follow to update Windows:
Open Settings

and click on

Windows update

and then select

check for updates. 
If there is any update available it will show you a list of them.

Now, go to the

Optional update

section and check for the

Drivers update.

Download and install all the latest drivers of your system.

After installing the updates restart your PC. Now try to open filmora X and check if you are still facing any error in opening the application.
Method 4: Update the Graphics Driver 
You need to have a graphic driver in your system to run Filmora X. If the graphic drivers are outdated it may cause an error in opening Filmora X in your windows 11. Follow the given below steps to update the graphics driver.
Open

device manager

by pressing

windows + x

keys together on the keyboard.
Now navigate to the

Display adapters

option.

Now select your graphic card right-click on it and then click on

Update driver.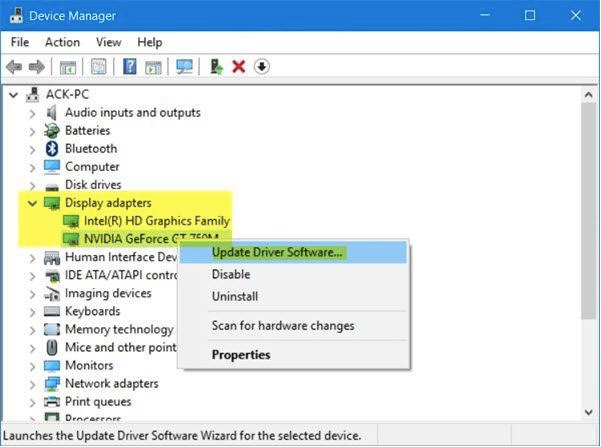 On the next window select

Search automatically for drivers.

It will allow your windows to automatically search for the available update. 
If there is any update found it will install it on your PC. Now close all the applications and restart your system to check if you still face the problem or not.
How much does it cost you to purchase Filmora X
Filmora X is one of the budgets friendly and offers three different plans according to the time duration. 
Monthly Plan – $19.99

Annual Plan – $59.99

Lifetime/Perpetual Plan – $79.99

Business Annual – $155.88 

Student plan – 20% off on all plans 
Filmora X is also compatible with Mac and its pricing plans are also the same. But the Windows License works on only Windows and you need to purchase a Mac license to use this tool on Mac devices. 
Filmora X also offers a free version so you can download it on your system and use it for free. 
Minimum Specifications to Run Filmora X on Windows PC
Operating System –

Windows 7,8,8.1 and 10 (64 bit OS)

RAM –

At least 4 GB 

Processor –

Intel i3 or better, 2GHz+

Hard Disk Space –

At least 10GB

GPU –

Intel HD Graphics 5000 or later, AMD Radeon, R5 or later; NVIDIA GeForce GTX 700 or later. 2 GB vRAM. 
Minimum Specifications to Run Filmora X on Mac OS
Operating System –

macOS 10.13 High Sierra or later versions 

Processor –

Intel i5 or better, 2GHz+ 

RAM –

At least 8 GB

Hard Disk Space –

At least 10 GB

GPU –

Intel HD Graphics 5000 or later; AMD Radeon R5 or later; NVIDIA GeForce GTX 700 or later. 2GB vRAM. 
How Filmora X is better than Filmora Pro
Filmora X is far better than Filmora Pro if you are a beginner and want to edit videos perfectly while Filmora Pro is suitable for only professional users. It has simple user interface and is easy to use. It is also budget-friendly as its monthly plan costs you $19.99/month and it also offers a free version.
Filmora Pro consists of several amazing sets of advanced tools and more customization features but only for professional users due to its complicated interface. Filmora X offers several ready-made items to edit your videos for free like split-screen templates, transitions, elements, text and titles while in Filmora Pro you will not get this feature. But Filmora Pro wins if you are looking for more advanced features and video editing capabilities. 
Filmora X would the best choice for you if you are a beginner or non-professional user and looking for decent software for video editing with ease. 
Conclusion on Filmora X not Working In Windows 11 PC
In this article, we have learned a lot about filmora X and the reasons which are causing filmora not working on windows 11. We also have discussed the top four methods through which you can get rid of the error and again use the application for the best video editing. I hope the article would help you in fixing the issue and get the benefits of the features of Filmora X. 
FAQs
Does Filmora X work on Windows 11?
Yes Filmora X work on windows 11 but sometimes it finds trouble in opening it. The reasons can be many like due to outdated drivers, any virus or malware in your PC can prevent Filmora X opening in windows 11. but you can fix the error by performing these several methods given in the above article.
How do I use Filmora on Windows 11?
You can use filmora in your windows 11 by downloading it from the manufacturer website. After downloading, install it on your PC. For this double click on the downloaded file to initiate the installation process. When the installation window appears click on the install option. It will install filmora X on your PC in some time now you can use it on your Windows 11.
Can my PC run Filmora X?
You need to fulfil the PC requirement to use filmora X on your PC. In the above article, we have already discussed the minimum specification which is requires to run Filmora.  Like filmora X is compatible with windows 7, 8, 8.1 and 10. Your system needs to have at least 4 GB of RAM, 10 GB free disk space, etc.  
What to do if Filmora is not responding?
If Filmora X is not responding to your PC there may be a chance that your system is infected with a virus or due to outdated drivers. Apart from this, there can be other reasons that can crash your system while opening Filmora X. This error can be fixed by performing any of the methods listed in the above article. Like you can update the graphic driver, run a troubleshooter, update your windows and reinstall the application.
Also Read