OSB Studio is the short form of Open Broadcaster Software and it is a free and open platform. It is just not a screen-casting app but also a streaming application used widely by people and it is quite famous. However, many people are facing the OBS Studio NVENC Errors and their devices are malfunctioning due to it.
The OBS Studio app is available for Windows, macOS, Linux, and even BSD operating systems. Using it, you can create different kinds of scenes using multiple video sources like putting use to computer displays, webcams, video games, and also different video files along with much more.
You can also find out the best ways you can resolve the OBS Studio NVENC error here.
What causes OBS Studio NVENC Error?
Usually, there are several common reasons underlying the OBS Studio NVENC error.
1. If your GPU Driver is outdated, you might face the issue.
2. When the GPU is not supported, you will land up in trouble with your OBS Studio which will lead to an NVENC Error.
3. When you are running a lot of NVENC sessions concurrently, you can have trouble with the OBS Studio.
If you wish to enable hardware encoding, start the OBS system, and from the Settings click on the Files option, choose the Output option, and then click on NVENC H.264.
When it opens the Encoder dropdown, you must enable hardware encoding.
NVENC Codec is a tool to encode hardware in both Windows and Mac.
How to Fix OBS Studio NVENC Error
There are several ways in which the NVENC Error can be fixed and the processes are given below.
Fix the OBS Studio NVENC error issue using the following ways if it ever appears on your device under any circumstances.
1. Restart your computer
To reboot your device is one way to mend ways with the OBS Studio NVENC errors.
Once you reboot your personal computer, you will be able to free up a lot of your GPU resources. Too much use of GPU resources will indefinitely slow down your system and the entire process.
If there are many concurrent sessions ongoing then also this problem could arise.
There are only three NVENC sessions that can go on in your system at one point. Thus, freeing up space is very important and rebooting is one way to do it.
2. Update your GPU Driver to stop the OBS Studio NVENC error
Your device manager can be updated and by doing so, you will be able to keep an eye on all your drivers from any peripheral within your personal computer. Your NVIDIA GPU Drivers update can be done in the following way.
1. Go to the Start option and then choose the Device Manager option from the menu.
2. From the available Display Adapters, you need to find out your graphic card's name and then you will have to right-click on it and then pick on the Update Drivers option there.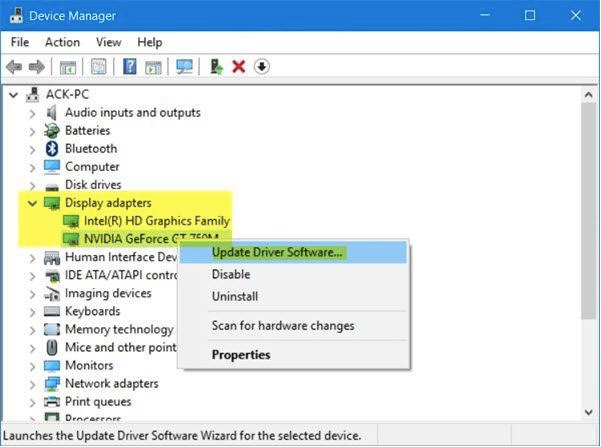 3. Next, press on the search automatically for the Drivers option and download the latest driver from the particular GPU.
Those of you who want to start fresh can start by uninstalling the device and then restarting your system.
If you do so, it will force Windows to install the required driver again. Updating can be done later.
3. Switch to the QuickSync option
For those facing unsupported browsers, you will need to switch back to QuickSync as it will revert the system to software encoding and curate the OBS Studio NVENC error.
1. Open the OBS settings and then click on the Files option.
2. From the Output tab, choose QuickSync H.264 from the Encoder dropdown. Next, put on the Advanced Output Mode if you are unable to view the settings as per requirements.
3. In the streaming box, press the Encoder option, and change to QUicksync or x264 in place of NVENC.
4. If you cannot make changes then you should go ahead with your Advanced Output Mode where you will be able to save it and your OBS will work fine now.
4. Reduce your NVENC resolution
H.264 can support your 4K (4096 x 4096) resolution and H.265 can support 5K (8192×8192 pixels) but since H.265 is not available in almost all devices, you will have to restrict your resolution to 4K.
5. Close too many OBS NVENC concurrent sessions
Older drivers can support up to two sessions and the updated drivers can support up to three sessions. If you don't have so many concurrent running sessions running, it's best to reboot your system.
6. Rectify the OBS NVENC Error Failed problem
NVENC will not support more than 4096 resolutions on the higher side. It fails to capture the OBS NVENC error issue. Your output resolution needs to be lower than 4096 and the base resolution can, however, be larger than that.
You can also fix an OBS NVENC Encoding overload using the given steps.
1. From the settings press on the Video option and the Common FPS values, and select 30 or less.
2. Press the OK tab and then check on the stream after rebooting your device to find out if the error appears again.
3. ICQ values can be set between 20 and 23.
OBS has a wonderful video encoding library – x264 and set it to x264 encoder preset to increase the speed and to decrease excessive usage of the CPU.
If you follow this step-by-step guide, it will surely solve your OBS Studio NVENC error easily.
Also Read