You may get several error messages while opening a file like a file is corrupted and cannot be opened, there was an error opening this document and various other messages related to not opening the file. This error is common and can occur due to corrupted files. Don't worry you can fix corrupted files by using decent file repair software.
We have researched a lot and then listed the most reliable and efficient tools. So, without any delay let's start with the article.
7 Free File Repair Tools to Repair Corrupted Files
1. Repair Toolbox 
Repair Toolbox is a popular file repair tool which can repair various types of corrupted file including PowerPoint, PDF, Outlook, Word, Excel, Photoshop, One Note, Illustrator, etc. It consists of not one but 22 different utilities to repair different kinds of broken files.
The process of repairing files is quite fast and easy. It is an all-in-one solution for the Restoration of data from corrupted files. It is a free file repair tool to diagnose and fix corrupted files.
Features
It has a user-friendly interface 

Repair ZIP files 

Supports almost all types of file format 
2. Stellar Microsoft Office Repair
Next, on the list comes Stellar Microsoft Office Repair which can repair corrupted files including Word documents, PowerPoint presentations and Excel spreadsheets. The software lets you scan the whole PC for a corrupted and damaged file or you can scan a specific file to repair it.
It offers a free version but it is limited to only scanning and previewing broken files. To access all the repairing functionalities you need to purchase a premium plan that costs you $69.
Features 
Supports repairing files in batch

Preview repaired files 

Repair files even when they are password protected 

It can repair severely damaged excel files 
3. Digital Video Repair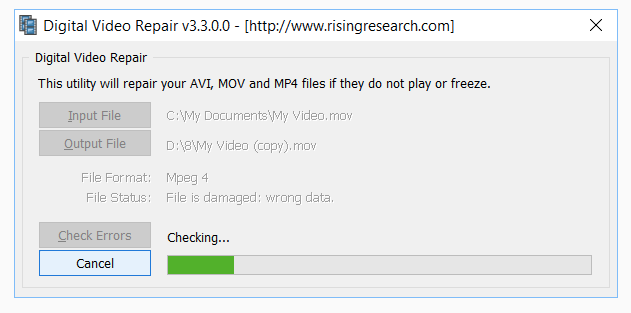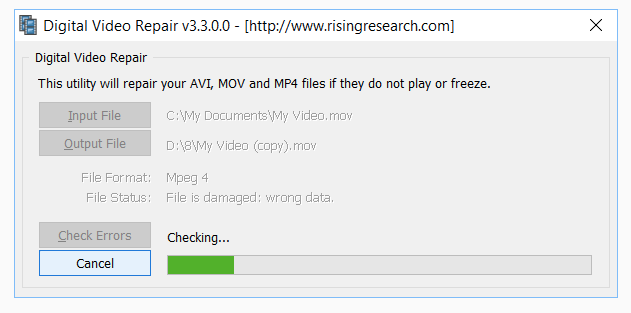 Digital Video Repair can repair corrupted files but only MP4, MOV and AVI videos until they are encoded in Xvid, 3ivx, DivX, MPEG4 and Angel Potion. It can easily repair Mpeg4 and AVI videos in just a few seconds. It helps you provide a smooth viewing experience. Moreover, the software can also fix issues like video freezing while playing and difficulty in activating fast-forward mode. It is a free file repair tool you can use to fix corrupted video files. 
Features
Supports multiple languages like English, Chinese, German, Italian and Russian 

Processing multi-track video files 

Detect corrupt data 

Fix AVI files that failed in recording
4. Wondershare Repairit
Wondershare Repairit is professional file-repairing software that can repair photos videos and other types of files. It can repair Microsoft Office files like Word, Excel, PowerPoint, etc. It has a user-friendly interface and you can easily access all its features.
One of its best features is it supports almost all file formats including MKV, MPEG, MP4, M4V and many others. It is a free file repair tool which can repair corrupted files including videos, images and other files.
Features
It supports batch file repairing 

It works on both Windows as well as Mac devices 

Requires three clicks to repair corrupted files 
5. Remo File Repair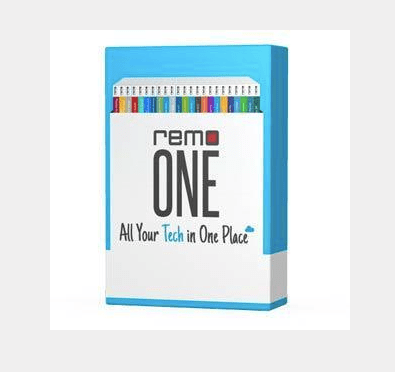 If you are facing a problem opening files due to corruption you can repair corrupted files by using Remo File repair. It can fix various types of corrupted files like Word, PowerPoint, Photoshop, MOV/AVI video files, ZIP/RAR files, etc. Using Remo software you can repair corrupted files including Windows 10 system and Microsoft files. 
Features
Allows you to preview the repaired files before saving them

Supports file formats like DIVX, MP4, etc. 

Fix photoshop files of different formats including PSD, PDD and PSB
6. Picture Doctor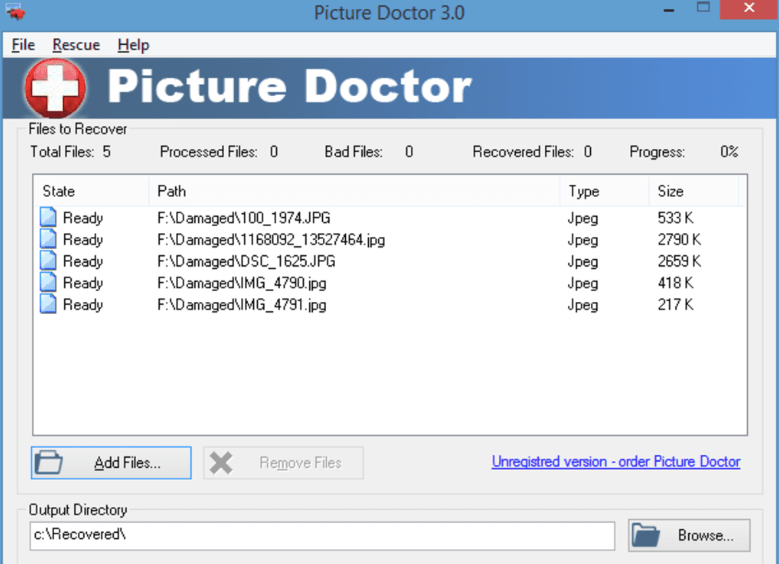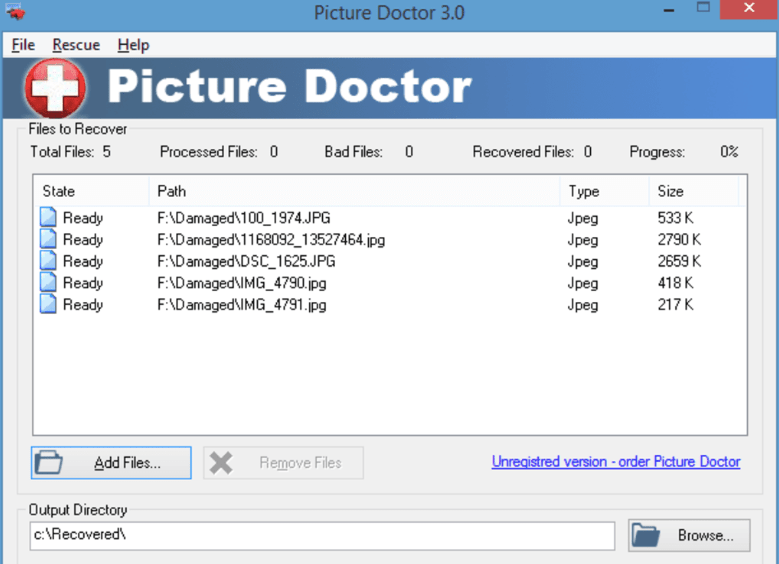 Next in the list, we have mentioned Picture Doctor which offers various required features to repair damaged and corrupted files. It first fixes the damaged files and then saves them in a BMP format. It also repairs PSD and JPEG files.
The software provides a batch file repairing feature which saves a lot of your time and restores data from damaged or corrupted hard drives or flash drives in a few seconds. 
Features 
Suitable for recovery of PSD files 

Recovers images with original dimensions and palette 

Preserve layered data in damaged PSD files 
7. Hetman File Repair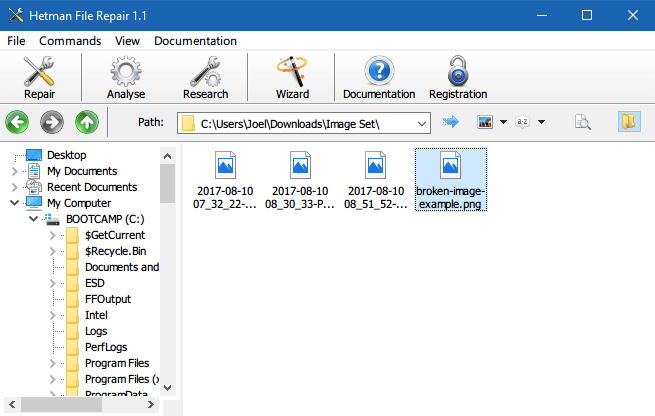 Hetman File Repair is a software which is specifically designed for opening corrupted image files. It supports repairing image formats including JPEG, BMP and PNG without losing the image quality and recompressing the image data. It is a free file repair tool which can scan files for free but repair the issues you need to purchase the licence. 
This tool offers two plans one is the home edition which is for personal use and costs $60 and the other is the office edition for business use which costs $140. 
Features
Supports TIFF, JPEG, PSD and JPEG files 

Repair damaged digital image files

Available in installation file as well as a portable version 
Conclusion 
Corrupted files are annoying and whenever you face trouble opening any file you get frustrated. The only way to get rid of the error and fix corrupted files is by using File repair software.
In the above article, we have described each software in brief and also listed their best features so you can make a better decision while choosing the best file repair software which fulfils your needs. I hope the above article would be useful for you and helps you to repair corrupted files.
FAQs
How do I fix a corrupted file?
When you try to open any file and if it is corrupted then you won't be able to open it as the files are inoperable. But you can fix the corrupted files by using file repair software. We have listed the most effective and efficient file repair software along with its features. 
What is the best file repair software?
When it comes to choosing the best file repair software it becomes quite difficult to choose one. Many file-repairing tools are available some are free and some are paid. Some specialise only in fixing corrupted video files and some supports all kinds of file formats. So, read the above article and choose the most suitable software according to your preferences. 
Is there a Windows 10 Repair tool?
Windows 10 doesn't use the repair tool to fix corrupted and damaged files. It uses troubleshooters to solve the error. Follow the below-given steps to execute this method:
Go to start and then click the power button icon. 

Now, press and hold down the shift key and then click restart. 

Click on troubleshoot 

Then navigate to

advanced options

and then click on

startup repair. 

When the startup repair process completes, restart your PC. 
How do I fix corrupted files in Windows 10?
Remo file fixer is one of the best file repair tools that can fix corrupted files including Windows 10 system files and Microsoft files. You can also use other methods to fix corrupted Windows 10 files: 
Run SFC in Windows 10

Windows system repair 

Reset Windows 10 
Also Read