The Flowing software helps users to analyze Flow Cytometry Standard (FCS) data. Many of the flowing programs also support .txt files and many graphical plots. Some popular graphical plot types readable from this flowing software include intensity plots, overlay histograms, density plots, dot plots, and so on.
This software also allows users to see vital statistics about one or more datasets and is a popular option to view, analyze, and interpret FCS data. 
Take advantage of these apps to make the most of viewing and analyzing FCS data without hassle!
5 Best Free Flowing Software for PC
In this article, we have tried and tested several programs and listed the flowing software for windows devices.
1. FlowPy
FlowPy is the best flowing software for windows pc to help users to view and analyze standard FCS data. It comes with support to help represent multiple data parameters in easy-to-read graphs. 
Main Features
Multiple tab support provides options to open different tabs with unique plots on one project at the same time

The clustering feature creates cluster data by picking many parameters. 

Comes with intuitive tools for de-cluttering data for easier analysis

Has an impressive collection of data analysis tools for easier presentation and analysis of information
2. Cellular Symphony
The Cellular Symphony app represents flowing software in form of musical notes. Users just need to drag an FCS file into the app and choose the required pitch parameters. It is one of the best flowing software for Windows that represents data for easy viewing and analysis.
Main Features
The record option allows users to record MIDI files of generated sounds from FCS data

The display option shows multiple plots in an easy-to-read format

No-installation template means it can run on any Windows device in a matter of moments

Has 9+ parameters to represent complex cytometric data with ease
3. FCSalyzer
The FCSalyzer is an open-source app for Windows that allows users to represent FCS data in different readable formats. The application comes with several impressive tools users need to view and interpret complex datasets for easy interpretation.
Main Features
Comes with 4+ available plots to allow viewers to present and analyze FCS data 

Has tools to adjust several essential analysis processes so users can conveniently interpret information

Export tool to save results as a text file, PNG image, CSV spreadsheet, and much more

Native file format saver allows users to save standard cytometry projects in their original format
4. Flowing Software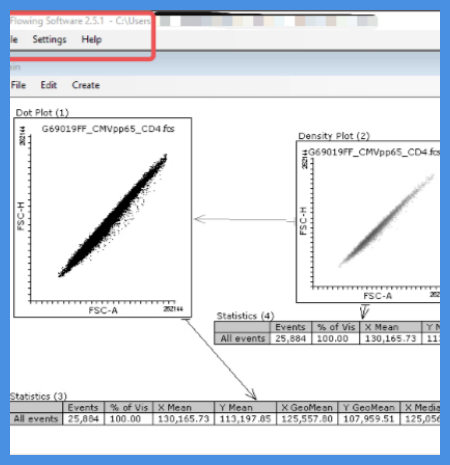 Flowing Software is one of the most comprehensive FCS data readers among available apps. The software comes with a 3-step format that allows users to view, analyze, and make sense of entered data without hassle. 
Main Features
The simple interface allows users to read FCS files in moments

Comes with an impressive toolkit to visualize, analyze, and interpret FCS data easily

Has 6+ metadata tools to help users properly define datasets

Allows users to save data in .txt file for easy viewing, transfer, analysis, and interpretation
5. Cyflogic
The Cyflogic app allows users to manage flowing data with improved accuracy. In this app, users can conveniently analyze standard cytometry data in form of dot plots, histograms, 3D plots, and other simple graphs. 
Users of this app also gain access to see vital statistics about data like their sample mean, geometric mean, and other averages. It also features customization options where users can conveniently visualize data in different forms without hassle. 
Main Features
Data visualization options provide tools to customize datasets to give more insights 

Users can copy and paste plot data in a text file or as a BMP image

Added tools allow batch printing, data rotation, file searching (within data), and much more

Allows users to set the maximum number of events and set draw limits
Conclusion
Choosing from the list of flowing software ensures users get to read FCS data with ease. Some devices can offer multiple exciting features required to see, analyze, and interpret complex data. 
Check out these top five options and their major features before adopting any of them for your projects. 
Also Read