Is your Windows 10 stuck on getting Windows ready error In 2021? Even if you have patiently waited for a long time, you may still not get rid of this error. If you are unfortunately being bugged by this error, then don't worry because just like all other Windows errors, even this one has got remedies. 
One possible reason for this error is that Windows might be downloading and installing some files in the background. It could also be that Windows is executing some background operations. Under such circumstances, Microsoft's technical support team would recommend you to wait for a while and see if Windows can fix the issue by itself. 
However, if being patient is not an option for you, then you can try the recommended fixes outlined in this blog to get rid of the "getting Windows ready" stuck error.
How To Fix "Getting Windows ready" stuck error In 2022
Here are five of the handiest methods for the mentioned Windows error.
1. Completely shut down your Windows PC
Switching off your computer completely and power resetting your PC can potentially resolve certain problems with Windows. You need to shut down your computer forcefully by pressing down the power key for a while. At this position, it is also advisable to remove all external drives, disconnect headphones, mouse, and the power adapter. In the case of a laptop, you must also detach the battery.
After this, it is recommended to drain off the remaining charge from the capacitors. To do this, you are advised to press down and hold the power button of your keyboard for another minute or so. 
Finally, you can reconnect the power cable to the system, or in the case of a laptop, you can attach the battery to the battery compartment of your laptop. Now you can press and hold the power button to start your laptop or desktop again. Do not connect the external drives while your system is booting up. This should resolve your problem; however, if the problem persists, then move on to the subsequent fixes.
2. Perform System Restore
This is an advanced way of fixing the "getting Windows ready" stuck error. Restoring Windows back to a previous state which was more stable or error-free can help resolve numerous errors. 
System Restore is possible only when you have created system image backup with the aid of snap-in tools or a System Restore point. However, as the Windows stuck error prevents you from moving to other screens on your Windows PC, hence you can take the help of the below steps to perform a System Restore.
Visit the Microsoft site to install the

Media Creation Tool

. 

Execute the program to make a Windows installation media via a USB drive. Do these preps in advance and keep the drive handy with you.

When you encounter such an error, then boot your system using the drive.

Now click the option Repair your PC.

Further, select Troubleshoot, followed by Advanced Options, and then System Restore.

The System Restore wizard will pop open to help restore the system to an earlier version.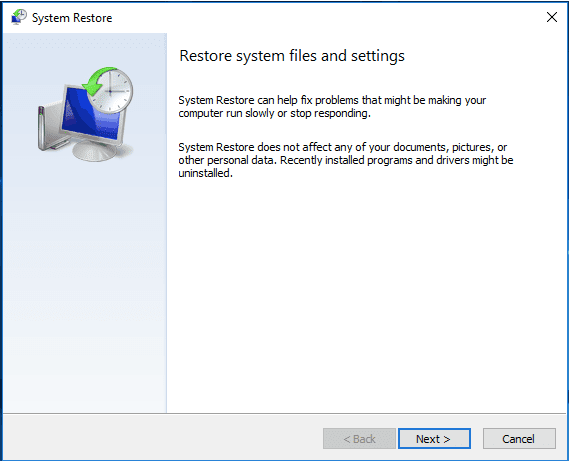 Follow the on-screen prompts and finish the process.
2. Disable automatic updates
As already mentioned above, the "getting Windows ready" stuck error might be occurring due to automatic updates of Windows, therefore turning it off can fix the issue permanently.
Type "services.msc" in the Run dialog box and press "OK."
Once the Services window opens, you need to double-click on Windows Update.
Once the Properties window opens, under the General tab, choose the option Disabled from the drop-down menu under Startup type.

Now click Apply and then OK.

Finally, restart your computer.
3. Run System File Checker
The System File Checker program is an in-built tool of the Windows OS that can repair corrupted file systems smoothly. The below steps will guide on how to resolve the Windows 10 stuck on getting Windows ready error. 
Use the USB drive as mentioned before to boot your computer.

Now select the "Repair your computer" option followed by Troubleshoot from the "Choose an option" screen. 

Now from the Advanced Options page, you can go to Command Prompt option.

After this, type the following command in the Command Prompt window and press Enter afterwards.
sfc/scannow
Wait for the process completion and then reboot your system.
4. Reset the system
If the above methods have failed to solve your problem, then you can try this ultimate fix which is easy to perform and quite effective. You can reset Windows 10 in the following way:
Start your Windows system and then on the Windows Setup window click "Next."

Re-open the Windows Automatic Repair tool and then choose the option "Repair your computer."

Next, choose "Troubleshoot."

After this, choose the option of "Reset this PC" from the Troubleshoot Advanced Options menu.

Then, from the drop-down menu select "Remote everything" followed by choosing the "Just delete my files" option.

Ultimately, click "Reset" to let Windows 10 begin resetting itself.
Conclusion
Time and again, it is quite for Windows users to face some abrupt errors. As errors like "getting Windows ready" stuck are a common occurrence, therefore, it becomes essential for Windows users to know the definitive fixes for them. 
In this blog, you came across five fixes that can help you resolve the error on your own and continue with your daily chores on your Windows laptop or desktop. Keep watching this space for more updates and tutorials.
FAQs
How long should I wait for getting Windows Ready?
Usually, Microsoft's support team recommends waiting for a span of one to two hours before "getting Windows ready" stuck error resolves on its own.
Why is it taking forever for Windows to get ready?
This error might be popping up on your Windows computer screen either because Windows is downloading and installing files in the background or else Windows is busy performing some background operations.
How do I fix Windows 10 stuck when ready?
You can try the above-mentioned solutions provided in this blog to fix the Windows 10 stuck on getting Windows ready error.
What do you do if Windows Update is stuck?
If Windows update is stuck then you can turn off automatic updates or reset your PC. Uninstalling recently installed software will also help fix the error soon.
Also Read: